It's 2023, and we tweet everything now.
Babka recipes, updates from warzones, gun violence statistics, coffee wars... it's all on Twitter. With 206 million daily active users, Twitter is one of the most engaged online communities in existence. Moreover, 48% of Twitter users use this social media platform to get the latest news.
So, it's safe to say that you should be on Twitter if you want to be heard by a global audience.
Now, if you're trying to maximize reach on Twitter, I humbly recommend a Twitter thread instead of a regular post. Twitter threads have been shown to generate higher engagement, reach, and referral traffic.
Naturally, everyone's looking for ways to write the best Twitter thread; the kind that will get them a barrage of likes and retweets (some Google searches even try "thread twitter" as an alternative term).
In this piece, I'll discuss how to create and publish an awesome Twitter thread, as well as back it up. That's right, you can now back up your Twitter threads, and I'll show you how.
But first, a quick look-through into the obvious questions.
So, Twitter's great differentiator is that you have to say anything you want within 280 characters (remember when the character limit was 140?) However, not every point can be made within 100 words or so.
But, no fear: the Twitter thread is here.
A Twitter thread (sometimes also called a tweetstorm) is basically a series of related tweets. A single Twitter user can post multiple connected tweets, and the entire thread can tell a more detailed, contextual story. Basically, you use a Twitter thread to bypass the limitations of individual tweets.
Here's an example of a Twitter thread. Look at the images below. You'll see a "Show this thread " message under the main tweet: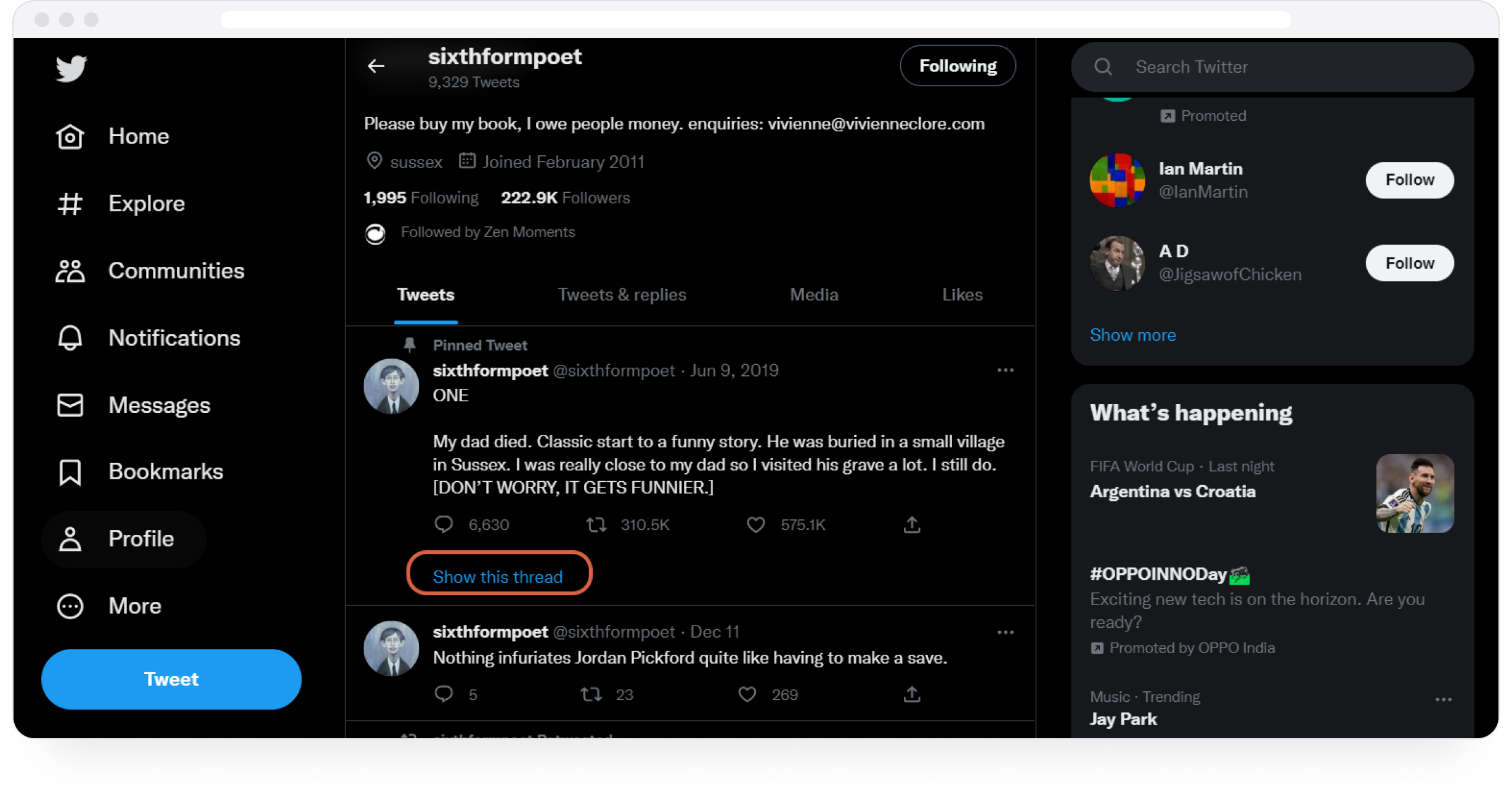 If you click on "Show this thread", it will unroll to reveal a series of connected tweets posted, as seen below: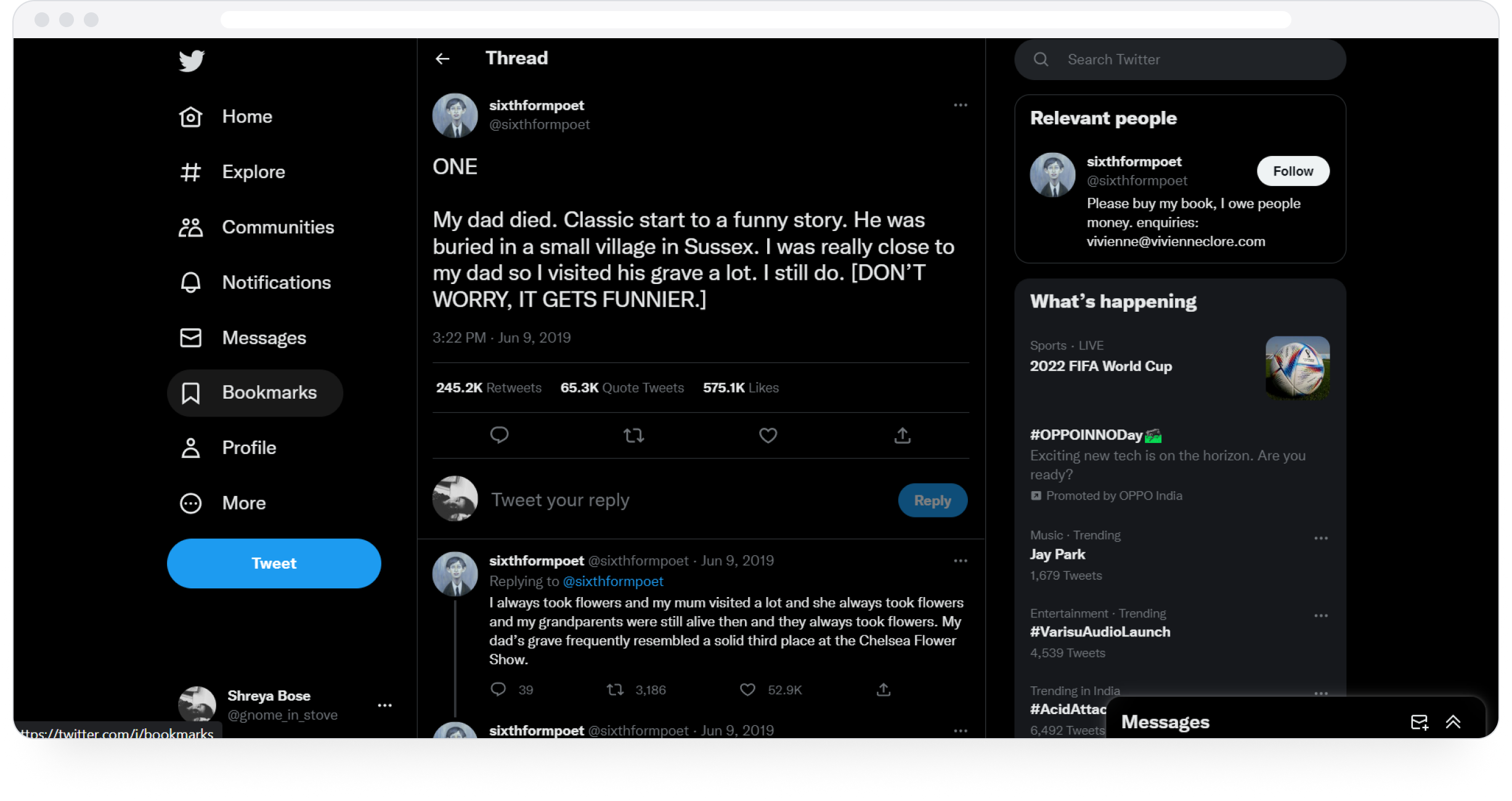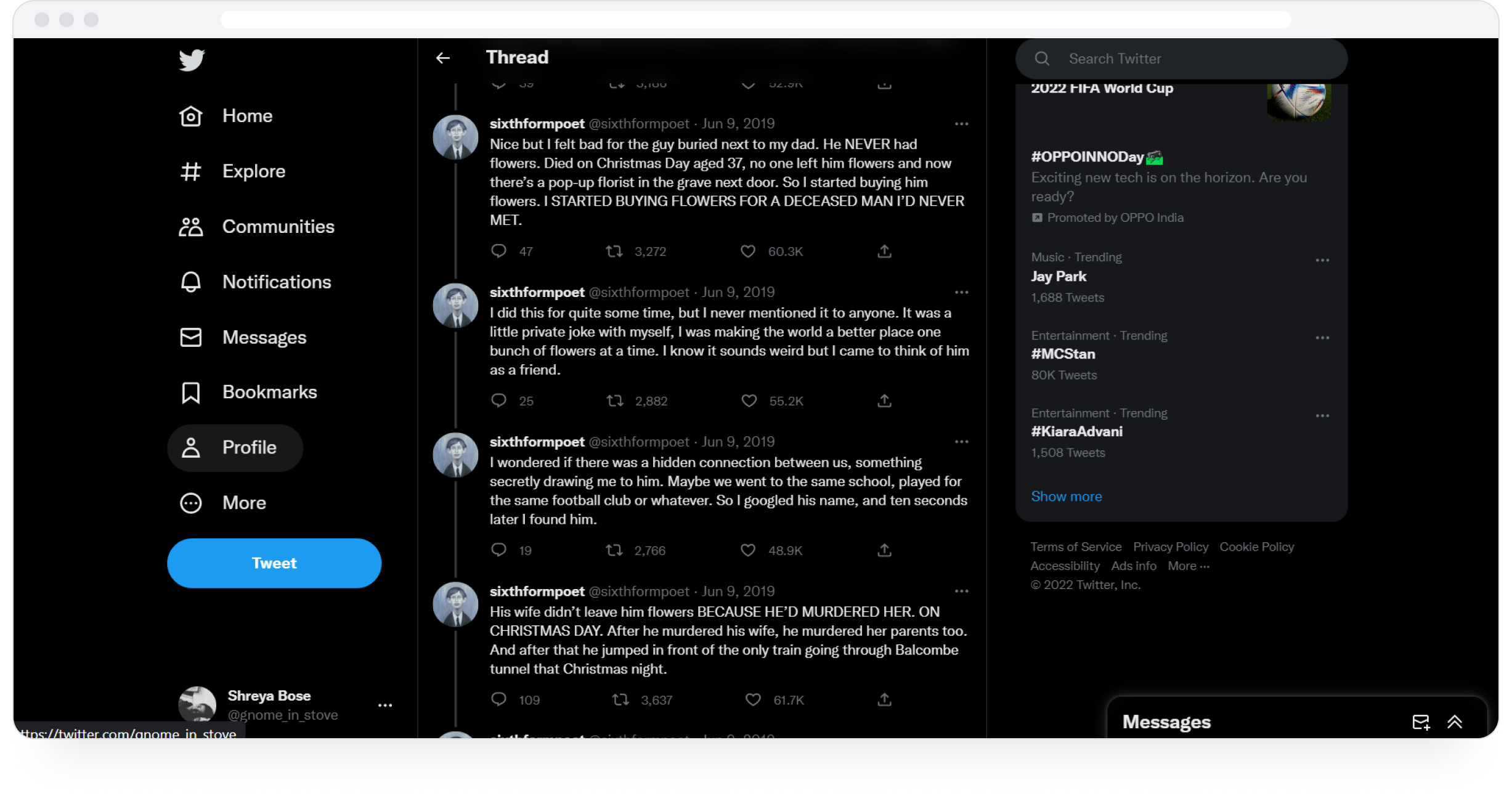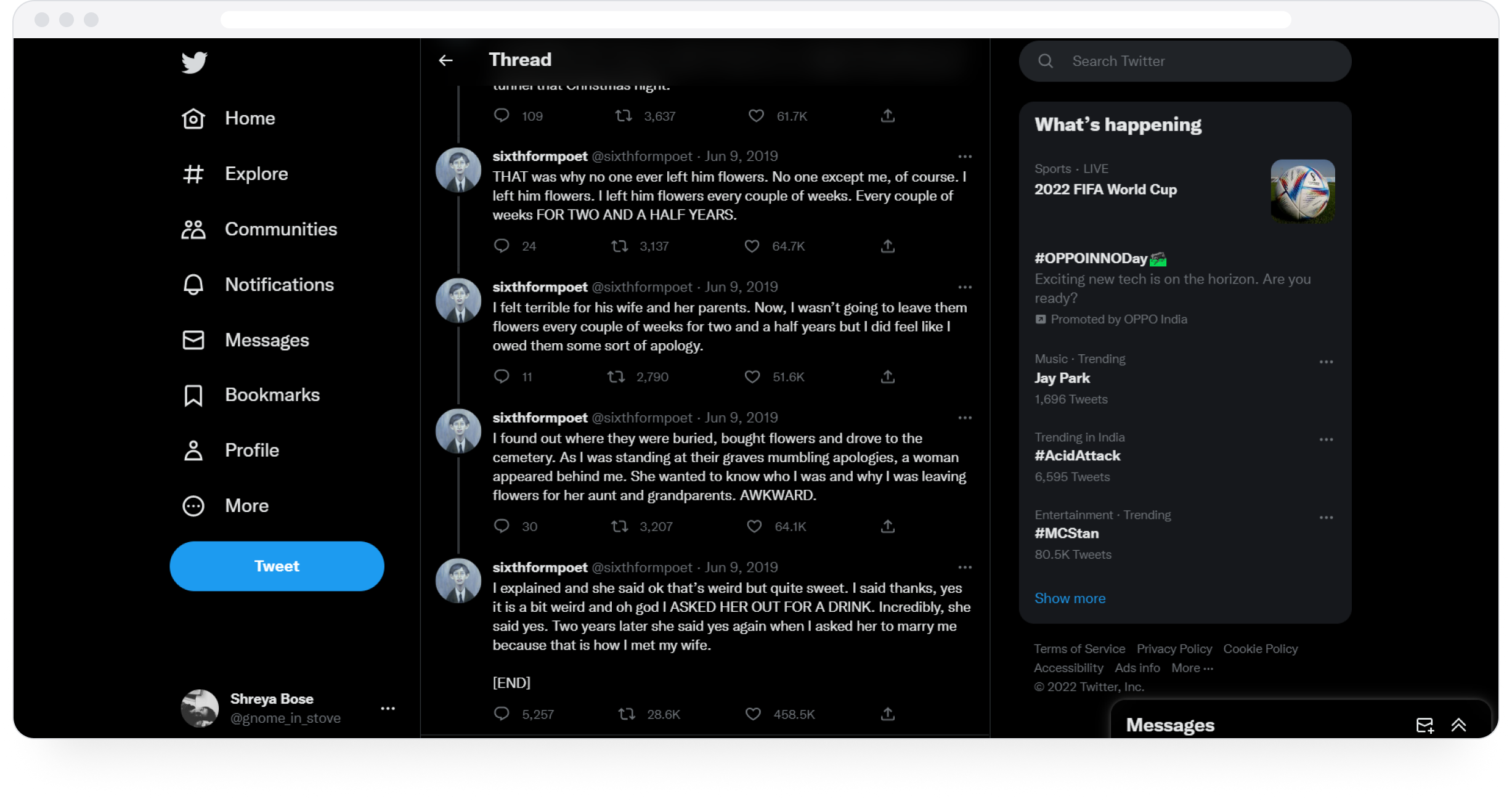 As you can see, sixthformpoet has created this awesome thread, writing out a quirky, chills-down-your-spine story without being limited by 280 characters. In this case, each tweet in the thread is obviously connected to the one before and after it, allowing the user to present nuanced, complex information.
Needless to say, Twitter threads can be incredibly versatile. You can use an entire thread to tell a fictional story as seen above, present expert advice on a topic, post news updates, give continued coverage of any event/situation as it unfolds, or even lay out how you or your organization achieved a certain milestone. The applicability of Twitter threads is determined by your imagination.
How to create a Twitter thread
As long as you have a Twitter account, creating a Twitter thread is a simple task.
Write your first tweet
Click on the blue "Tweet" button on your Twitter dashboard to get started.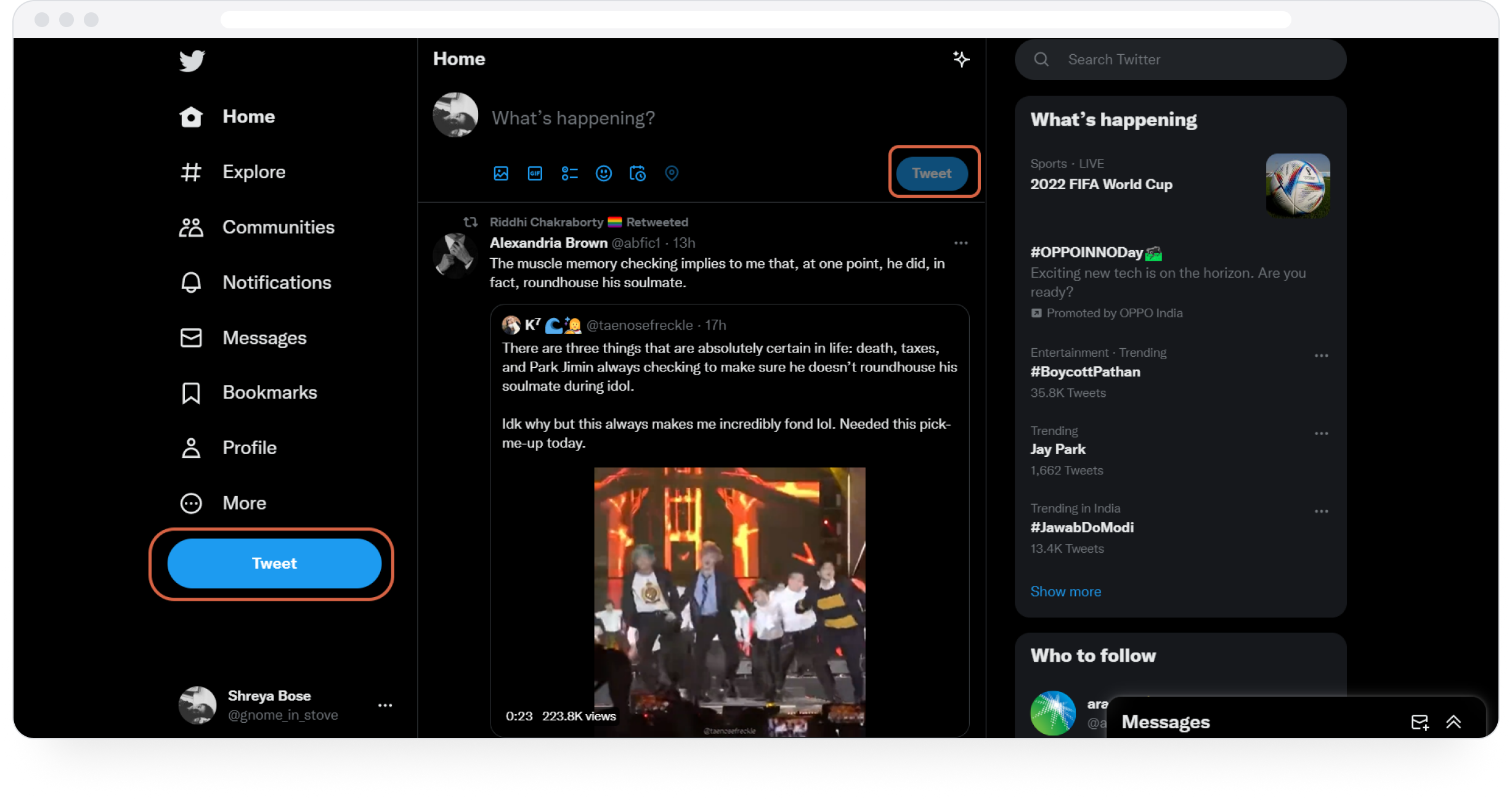 Write out a great first tweet.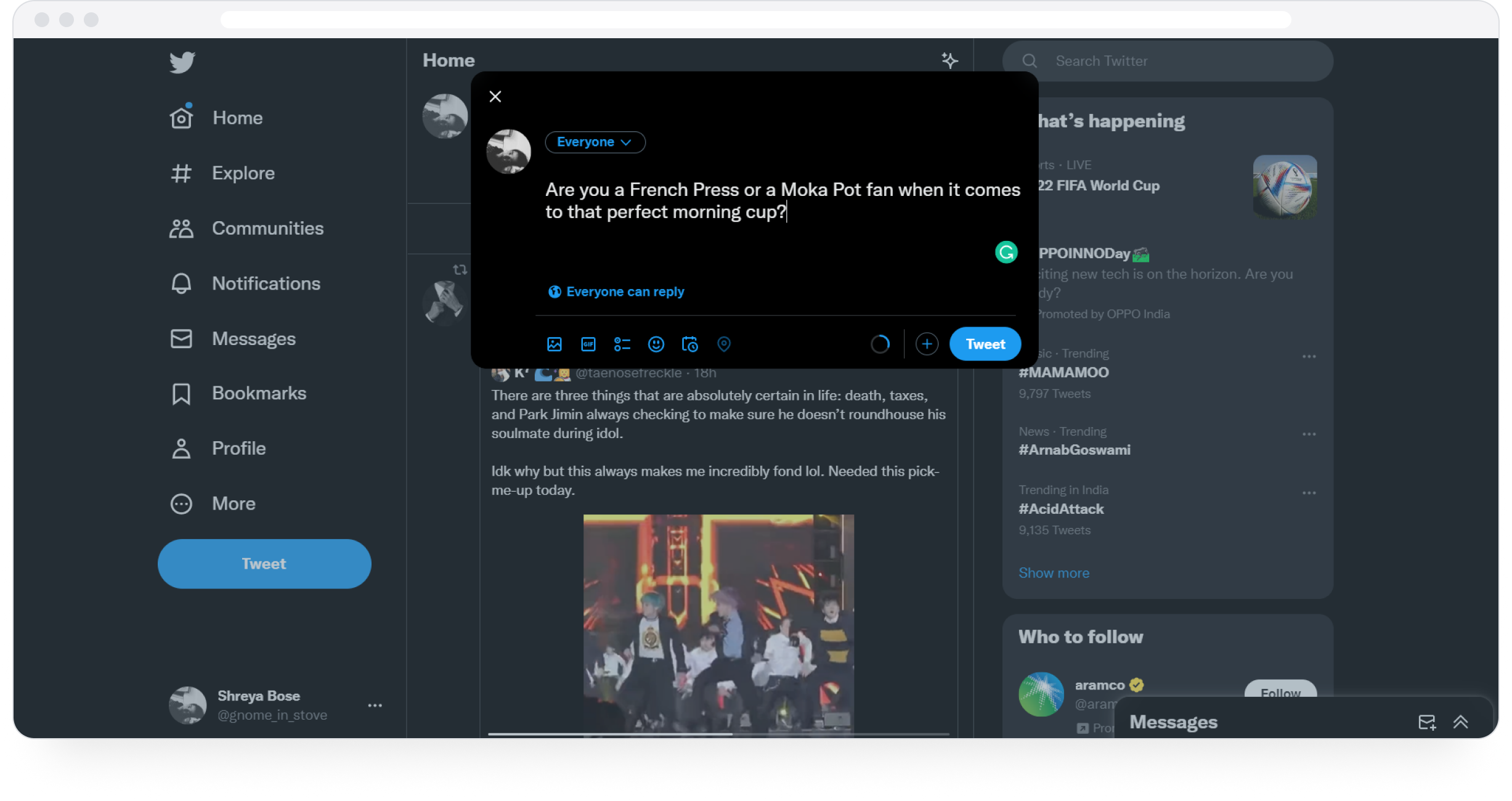 To add a second tweet, click on the '+' sign to the low right of the tweet box.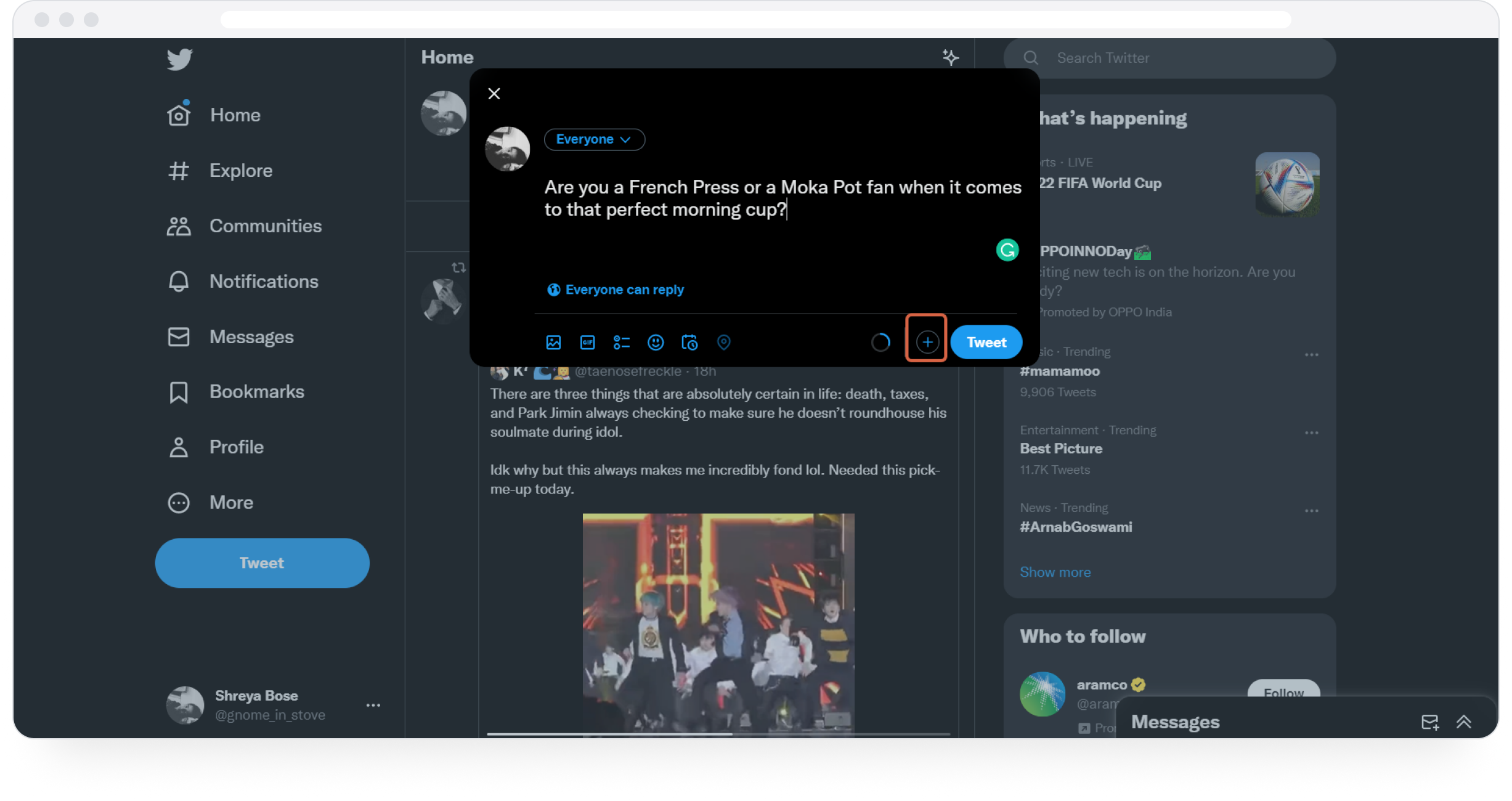 Click on it, and you'll be able to additional tweets.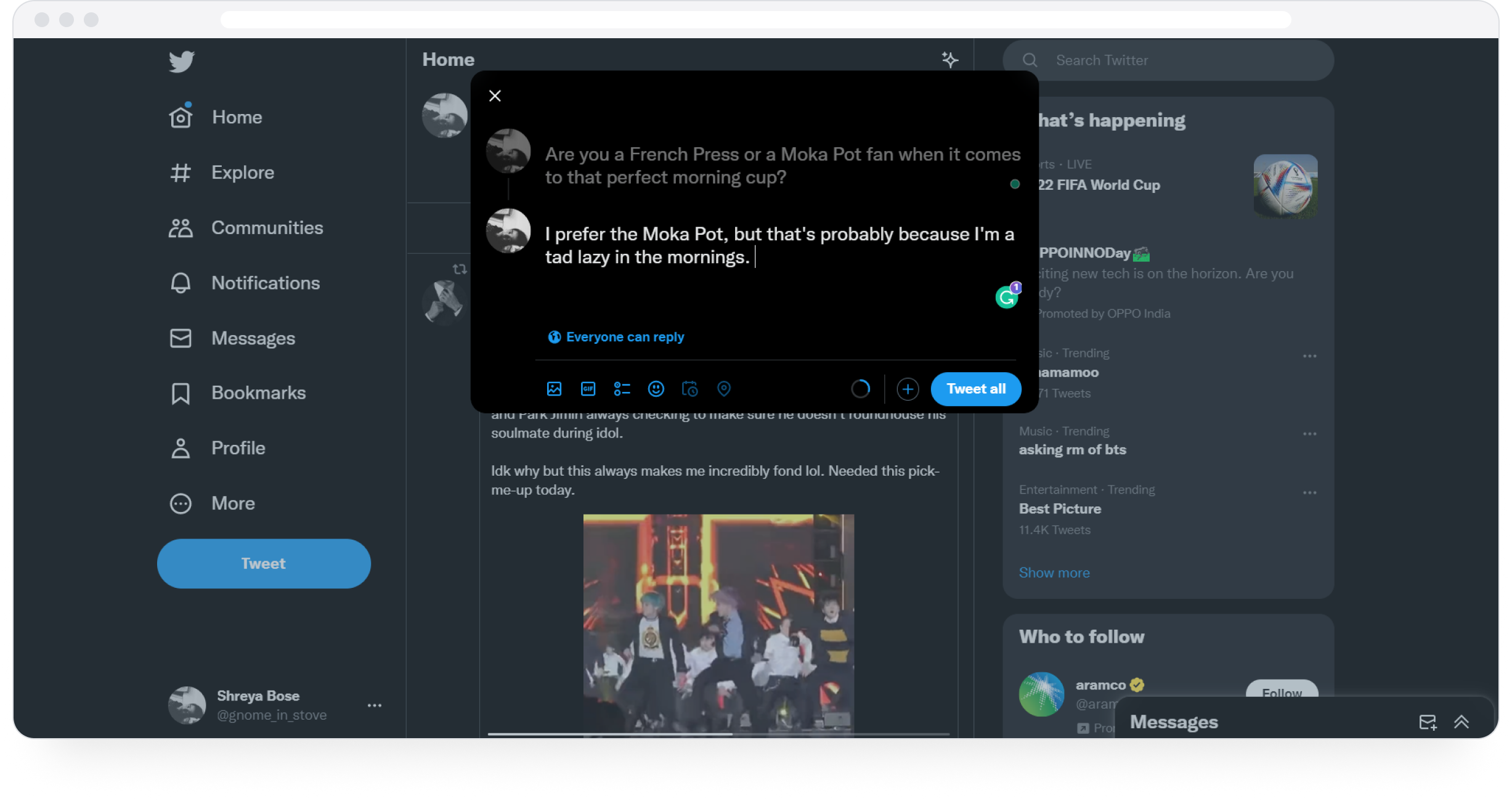 Keep clicking the "+" sign, and you can keep adding as many tweets as you want. Once you're done, click "Tweet all."
Once you click "Tweet all," your Twitter thread is live!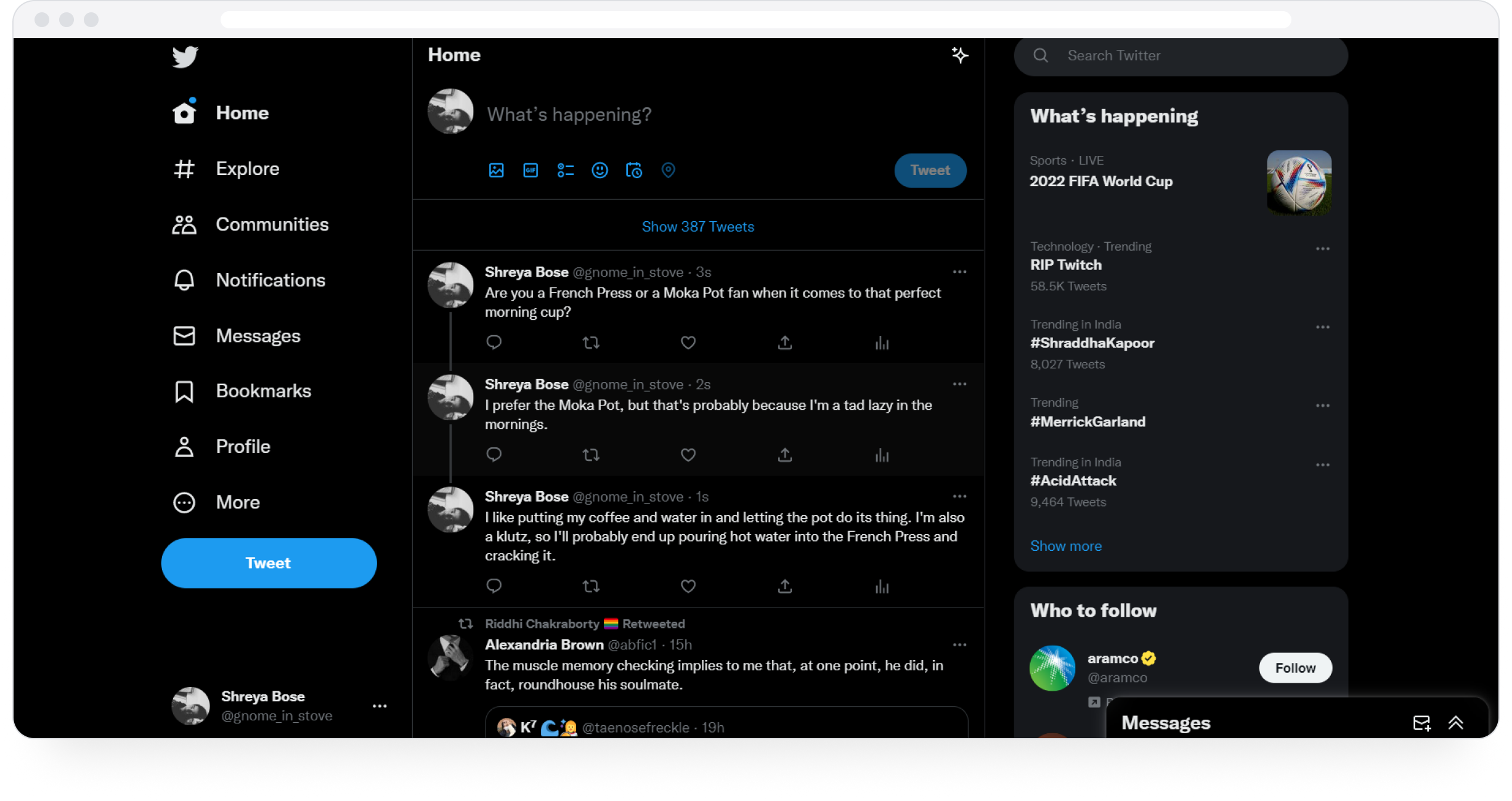 And you're done! You've published your own Twitter thread.
Now, onto the backup bit. But I'm sure you're asking...
Why back up my Twitter threads?
Uncontrollable external changes
Over 30 million users are expected to leave Twitter over the next two years. The reasons can vary from disagreeing with Twitter's new management, being too distracted by this social media platform, being bothered by too many bots to just not feeling it anymore. But that doesn't mean that Twitter accounts don't already have valuable, backup-worthy information on them. If you've painstakingly created highly popular Twitter threads on how to bake Rum n' Raisin Christmas cakes, would you want that information to be left to Twitter's mercy?
Lack of ownership
Even if most Twitter users are likely to stay on the platform, they still have to deal with the fact that Twitter owns their content.
The content on your Twitter thread, or anything on your Twitter account, doesn't actually belong to you. It is stored on Twitter's servers and can be removed anytime without your consent.
In other words, you don't own the content on your Twitter thread or your Twitter accounts. In light of this, wouldn't it be useful to have an archive of all the data you've put out there?
What if you get banned?
Twitter is constantly trying to purge its platform of the millions of bots that trawl it all day, every day. This purging process is at least somewhat automated, and depending on the algorithm's variables, you can have your account deleted/removed/banned. Twitter may think you're a bot, and you end up losing your whole account, or best case scenario, you lose several tweets.
Additionally, Twitter's new management could create new guidelines/rules that your account may not align with, and you end up being removed and losing years' worth of content. This is a nightmare for any content creator, be they writers, journalists, marketers, influencers, thought leaders, or anyone else.
But this nightmare can be assuaged with a solid backup option.
How to back up your Twitter threads
To back up Twitter threads, I've used Authory, a content backup tool (but not the only thing it does) that allows you to back up a Twitter archive. However, Authory-backed archives are auto-updating, i.e., all your new tweets and threads will be automatically updated. Additionally, said backup of Twitter content has "fuzzy search," i.e., it is searchable.
Let me take you through the process.
Step 1: Sign up for Authory
Step 2: Add Twitter to your content sources
On Authory, you can add digital sources. The tool will automatically import your content from said sources and back them up. To add a source, navigate to the "Add Content" button under the "Content" tab.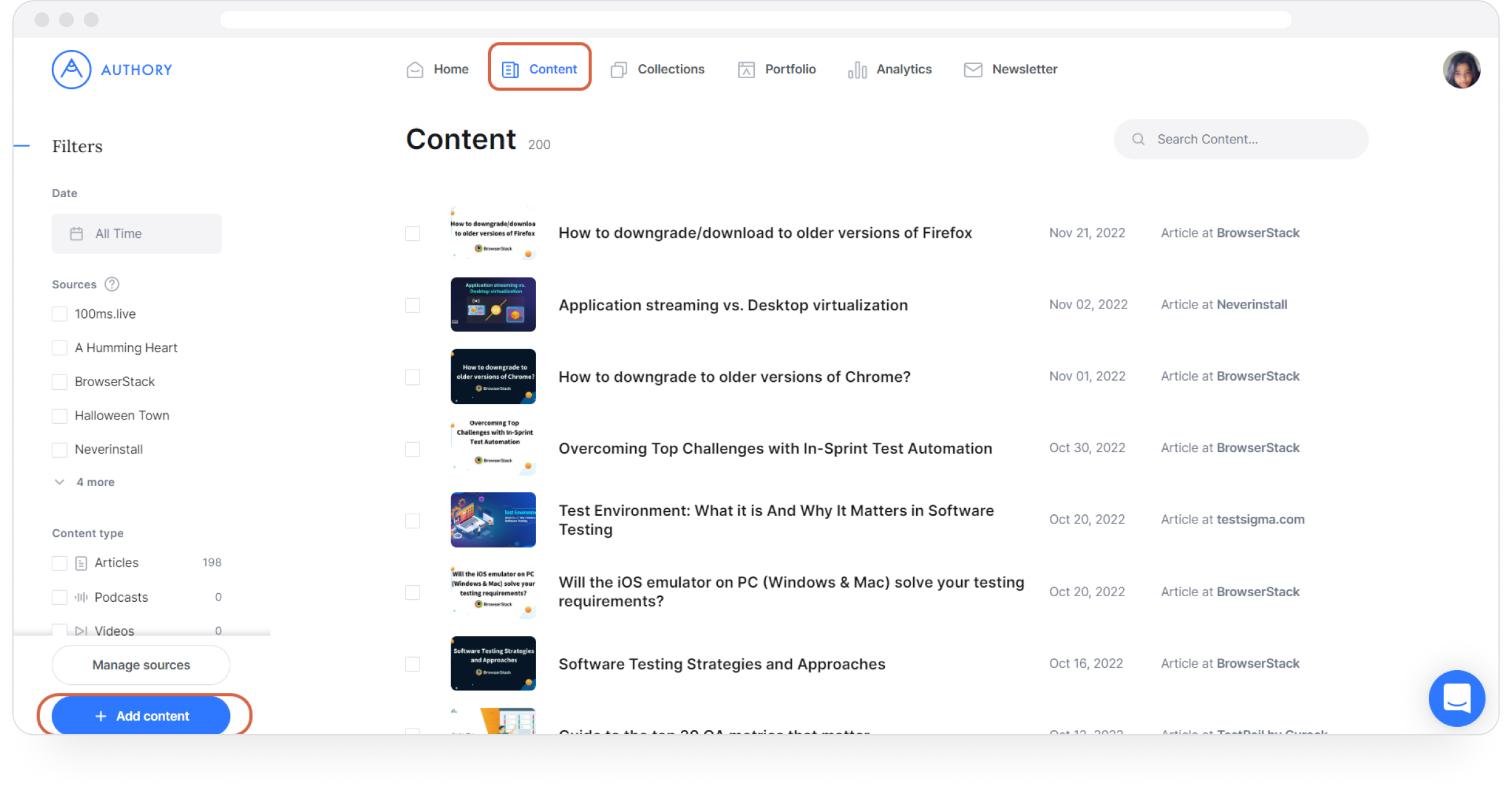 Click "Add Content," and you'll get the option to add sources for Automated import.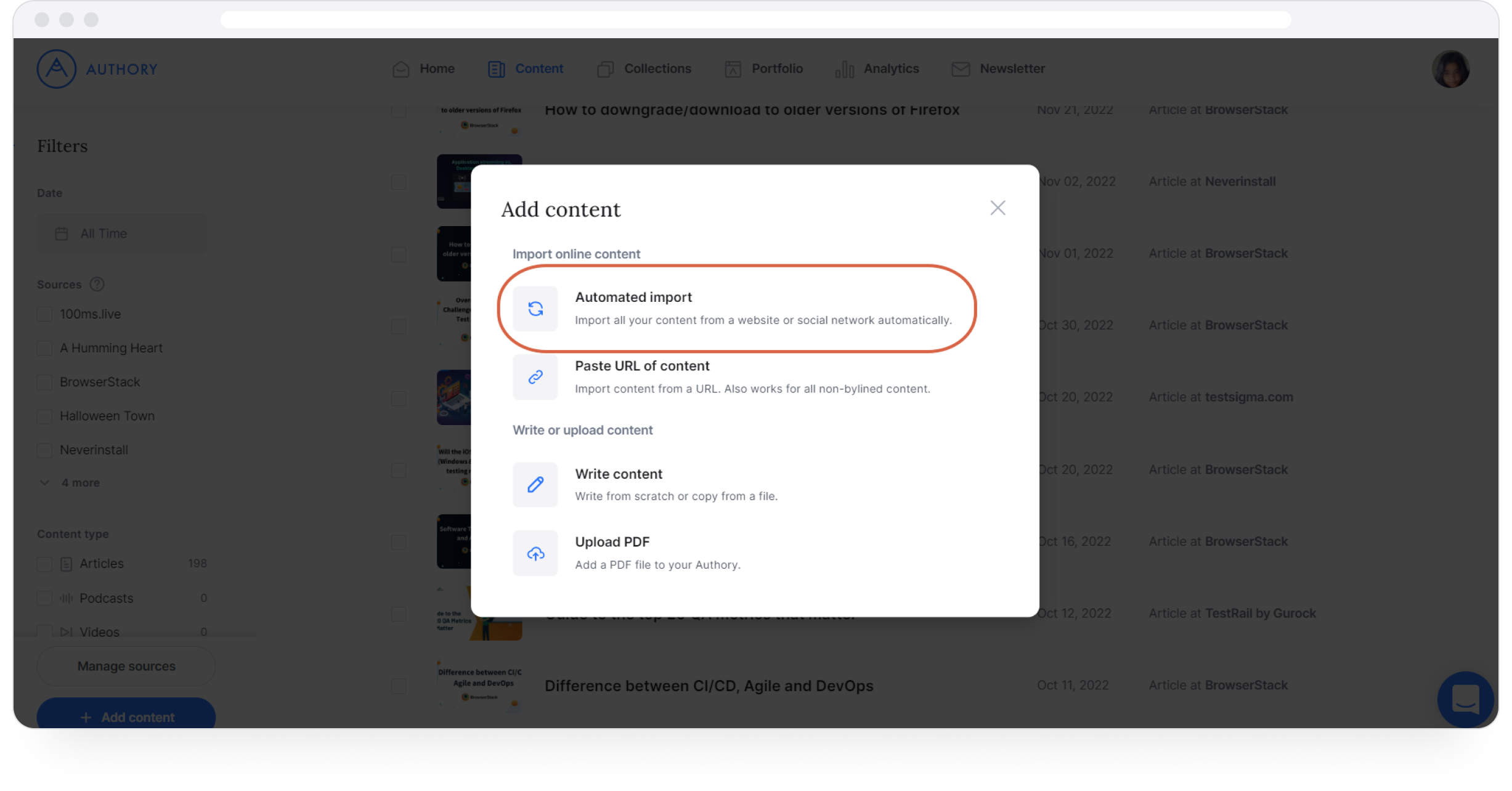 Click on "Automated Import," and you'll be taken to the screen below. On the screen, click "+ Add source."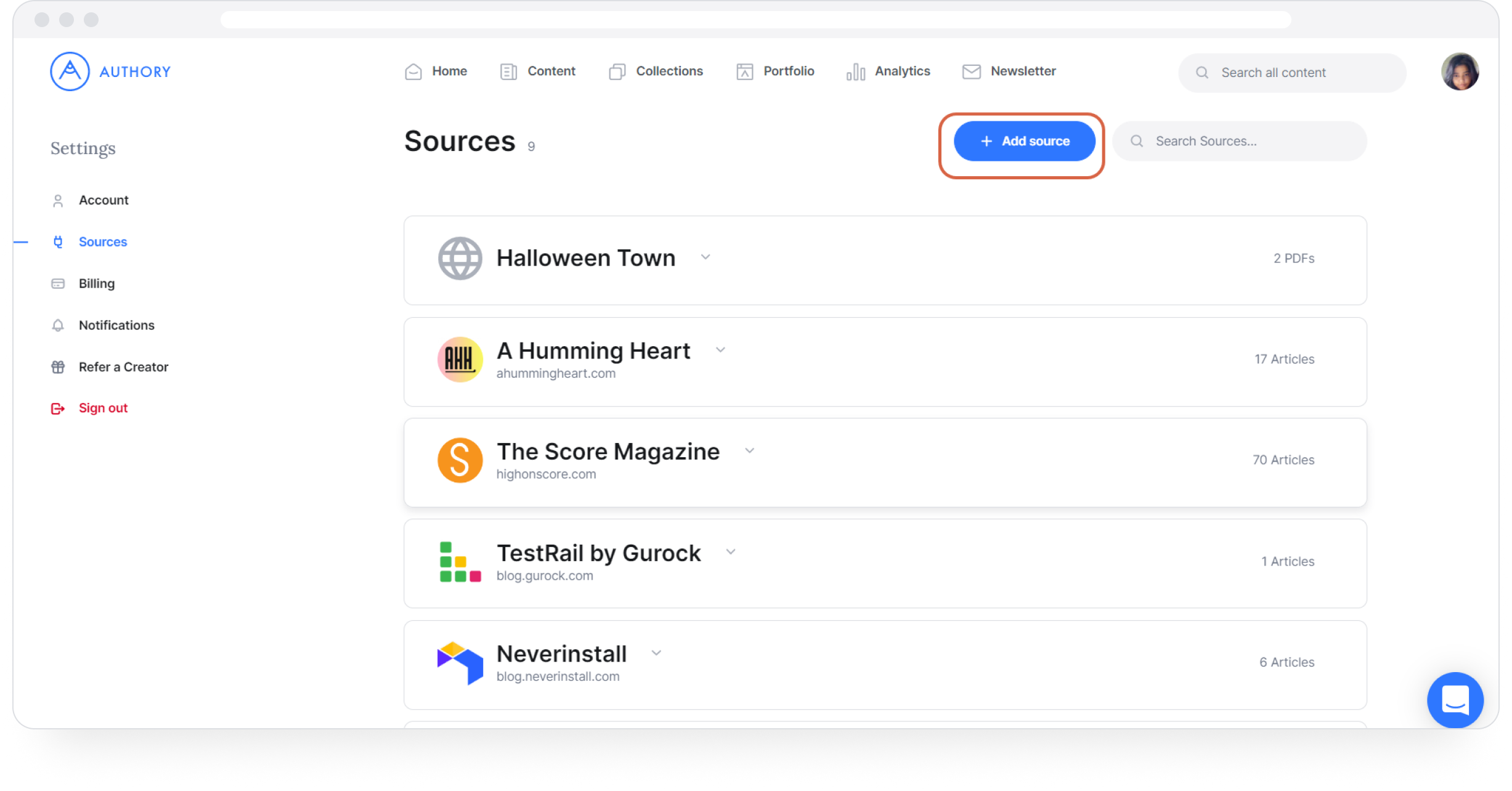 On clicking "Add Content," you'll get the option to add a Twitter profile as a source.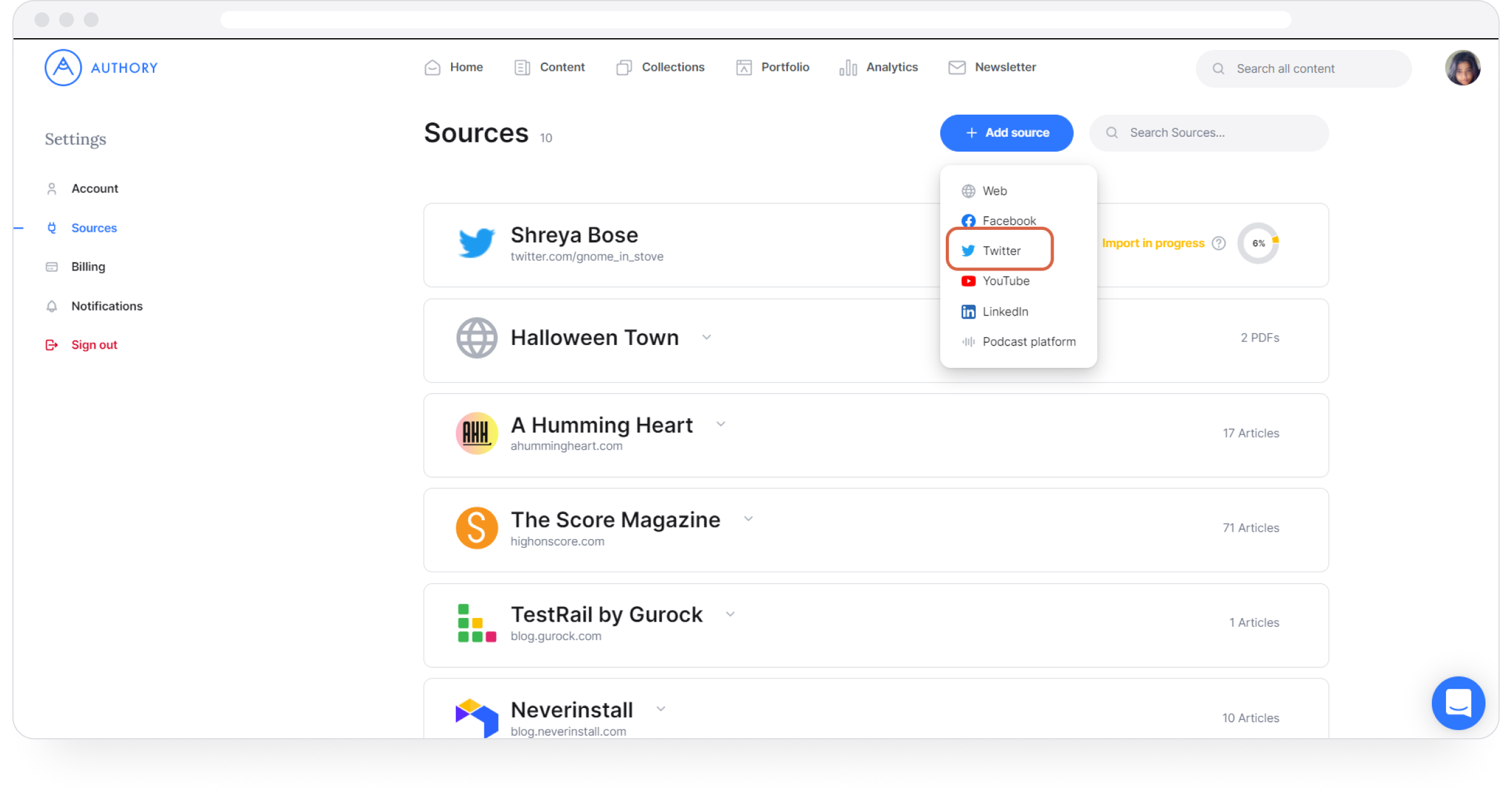 Enter your Twitter handle and click "Add."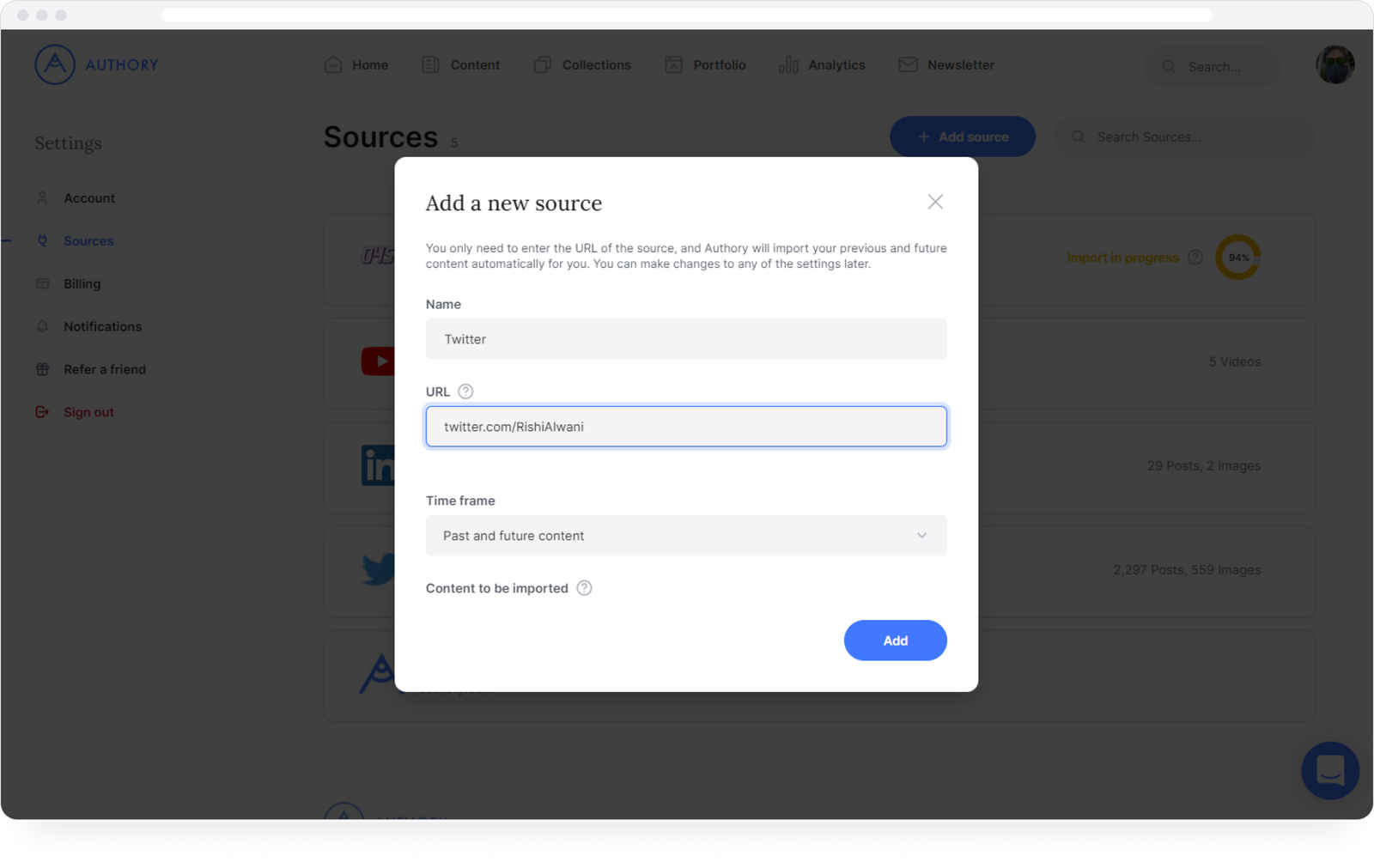 Click "Add" after you've added your Twitter account.
Authory takes about 48 hours to import and collate all your content. A member of the Authory team will personally check to ensure that the import has been successful and all things are in place. Once the archive is ready, and your Twitter threads are backed up, you'll get an email notification informing you of the same.
Step 4: Look through your Twitter threads with "fuzzy search"
When Rishi searches for "gaming" in his Twitter archive on Authory, he will see the posts related to games, Xbox, controllers... anything that is remotely related to gaming show up. In other words, your Twitter archive on Authory has "fuzzy search" — you can search for posts without being specific.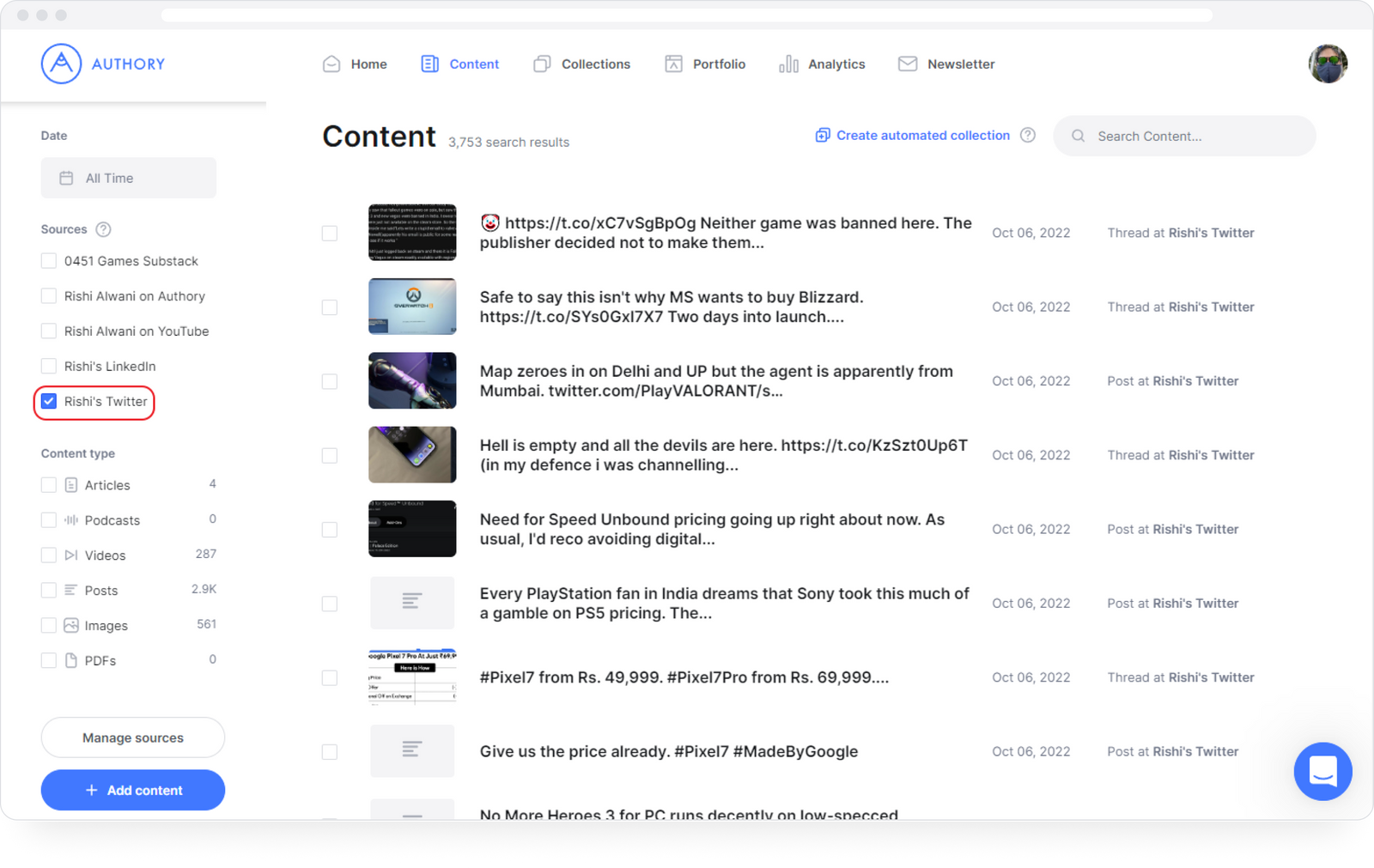 And now, you've managed to create an archive of your Twitter threads and posts that will be permanently safe and automatically updated with every single tweet or Twitter thread. You can search through your archive as and when you see fit.
You'll never lose a Twitter thread again.
So, what's the deal with Authory?
Authory is a portfolio builder that goes above and beyond what that descriptor usually entails. As I mentioned above, it automatically imports all your content from a digital source, be it a website or a social media platform like Twitter, Facebook, LinkedIn, YouTube, or a podcast platform.
The big draw here is that Authory builds your portfolio for you. That includes your Twitter portfolio. Rishi, whose Twitter account we've shown above, actually has an auto-updating Twitter portfolio.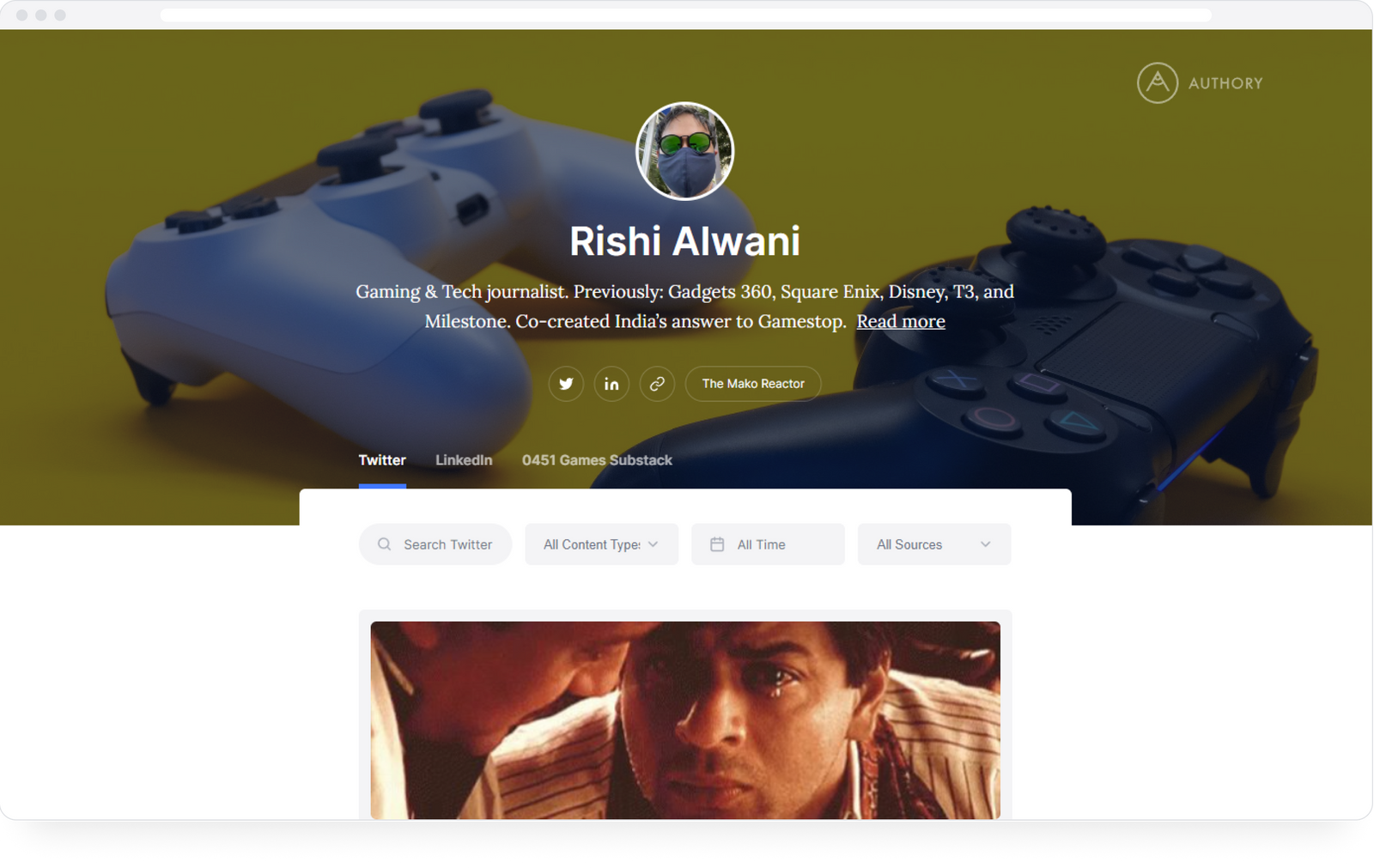 Authory also offers excellent analytics support. Go to the "Analytics" tab on your dashboard, and you can search for keywords. The numbers depicted under this tab show actual reach, i.e., the total number of interactions your posts have received on the entirety of Twitter, not just your account. Needless to say, this offers a far more comprehensive picture of each post's performance.
Of course, it isn't my experience you should be relying on, but your own. Sign up for Authory for free, and see what this tool can do for you.