Hi Glenn, thanks for agreeing to share your experience with Authory so far. Please tell us a little bit about your background as a journalist.
I came in through the back window, as I had thought I was on a career path to be a graphic designer. I learned to typeset in high school and helped fund college by typesetting during breaks and the summer while working towards a B.A. in graphic design. But alongside my interest in graphic design, I'd always been writing. I think I had a column (a gossip column of all things) in a class newspaper when I was… 10? I never stopped writing.
Name: Glenn Fleishman
Authory page: authory.com/GlennFleishman
Number of articles: almost 3,000
Number of publications: 20
My first paid print article appeared in 1994, and I've worked professionally since then for publications that include the New York Times, the Economist, the Atlantic, Smithsonian, Fast Company, Macworld, and many others that no longer exist, like Business 2.0. I've written extensively online since the early 2000s, and much less in print.
I think I had a column in a class newspaper when I was 10. I never stopped writing.
I tend to focus on cutting-edge stuff that's useful or very interesting, and that falls outside coverage that staff writers at publications tend to handle. That led me to write very early on about Wi-Fi hotspots in public spaces (a New York Times section cover story in 2001), CubeSats, or tiny satellites that pack a lot of power in a 10cm cube (a section cover at the Economist in 2014), and Bitcoin, among other topics.
You have been using Authory for almost a year now. What did you look for initially when you signed up?
I've been burned many times by publications that went under, were acquired, redesigned, switched their content management system, or just unceremoniously seemed to dump old content without warning. At times, I was rigorous about making PDFs by printing Web pages, and I keep all my drafts. But I think I've lost hundreds of final edits and layouts since the mid-1990s of stories — often longer feature stories rather than some of the more routine stuff I write in much greater quantities.
Authory seemed like a great way to grab published pieces as they went live, and then maintain my own private archive (plus the benefit of public searchability). I don't really want to lose final versions of articles and essays again, and it's inevitable some will disappear from the public Web.
I remember you saying that you never thought all of your work would be in one place. So, how did it go? Has Authory managed the "impossible"?
It's definitely a relief. It feels like a solved problem that I don't have to devote any time or effort to anymore. I routinely get your automated emails that let me know new articles have been added. A few sites, notably the Economist, make it a little tricky to grab every article, so I make sure in those limited cases to add the URL manually. That's less than 1% of what I publish, sometimes far less; most of it is entirely automated.
Authory has become my own outboard memory.
I've found that Authory has become my own outboard memory, and when I can't remember if I've written about something, I'll search my Authory index to see if I can find it there! I can, of course, search my local disk drives, but I have about 35 years of data accumulated on them, and that can make it difficult to find needles in my own haystack.
---
---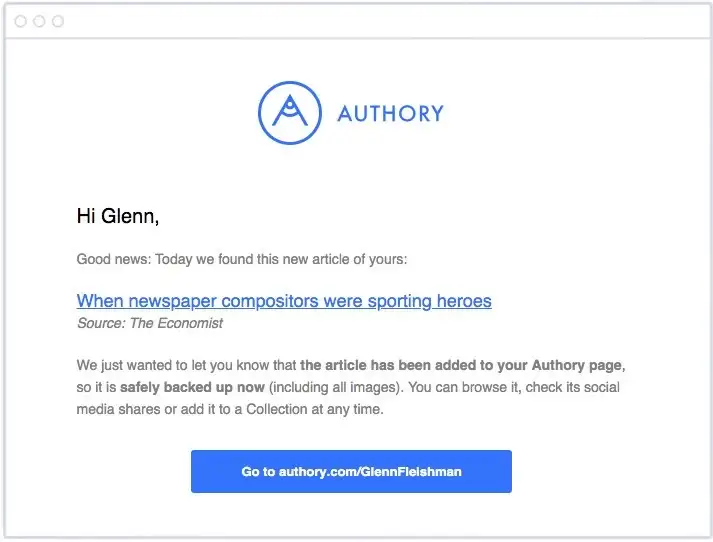 You've probably heard of publications like DNAinfo and Gothamist that deleted large parts of their archive, leaving journalists with years of work lost. Has anything like that happened to your work in the past?
Yes, there are a few publications that went down without a trace, even though they were purchased by conglomerates or much-larger publications that remain going concerns. I mention Business 2.0 in particular, as I wrote a huge amount for it. When the dotcom crash ate ad pages and publications shrunk, another magazine acquired Business 2.0's brand and some relationships (eCompany Now) — and then changed its name to Business 2.0. I wrote some for those three iterations. None of it is left online.
Is there a certain feature of Authory that you'd say helps you the most?
I do like that visitors to my public profile can select publications and browse — and I use the same feature, both browsing and searching by publication, to pinpoint articles I've written.
To preserve a consistent record of your journalism, Authory offers the only comprehensive approach I know other than using screen captures and PDFs, or writing your own software!
What would you say to your journalist colleagues about Authory?
It's inevitable that with the exception of some larger publications, everything we write will eventually be erased from a publication's archives. And my experience shows that over 25 years, even some of the largest publications in the U.S. have, at least temporarily, lost some or all of the articles I wrote. To preserve a consistent record of your journalism, Authory offers the only comprehensive approach I know other than using screen captures and PDFs, or writing your own software!
Thank you, Glenn!
Glenn and thousands of other journalists are using Authory to take control of their content and their audience. Join Glenn for free at authory.com.