Hi Ali, thanks for agreeing to share your experience with Authory so far. Please tell us a little bit about your background as a journalist.
To be honest, in some ways I fell into journalism and in others, it was very clear I would end up a journalist.
When I finished undergrad from the University of California at Santa Cruz I tried to work for a documentary film company (that also made Lifetime movies), but it was really difficult being one of the only people of color in a liberal media agency in 2007.
Name: Ali M Latifi
Authory page: authory.com/Ali
Number of articles: 426
Number of publications: 19
Then I tried to work in politics in DC, but again, it felt like to succeed in DC you had to conform to the status quo, which I didn't fit into. So, in grad school, at the American University in DC, I decided to study International Media and started freelancing for small local outlets (most of which don't exist anymore).
When I graduated in 2011 I got a job at the global headquarters of Al Jazeera English in Doha. In 2013, I moved back to Kabul (where I was born). I started out working for AJE in Kabul but by 2014 I had become the sole journalist for the Los Angeles Times in Afghanistan.
Since then I've written for everyone from The New York Times to CNN, Deutsche Welle, Business Insider, Foreign Policy, DAWN News in Pakistan, the Middle East Eye, ThinkProgress, VICE, and countless others. In that time, I've written about everything from the rise of the so-called Islamic State in Afghanistan to young Afghan women who have become social media influencers with hundreds of thousands of followers.
It's not just those big names, though, there are dozens of smaller outlets that would pop up and go out of business. A lot of times that meant there was no real archive of things you worked really hard on. They're just lost to the Internet ether. It also meant that you would have to find other outlets to try to maintain several different sources of income.
In 2018, I started doing live video reports for CNN and Deutsche Welle. As with anything, when I first started out it was terrifying and I was constantly second-guessing myself, but now it's just something I've learned to turn on. That's a really cool feeling, to know that you're comfortable doing something you were once so put off by.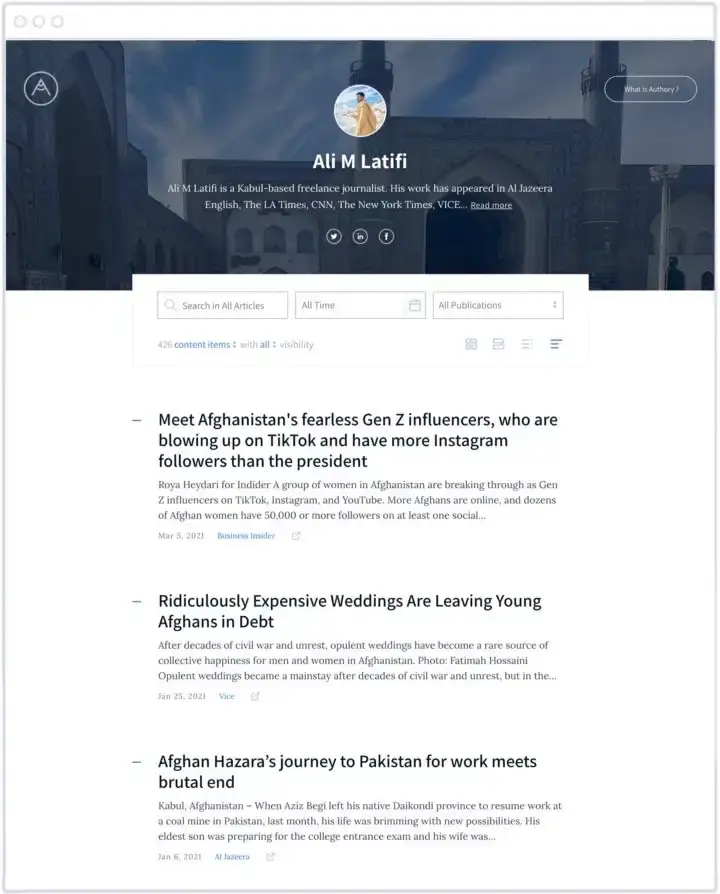 You have been using Authory for a few weeks now and I remember you mentioned that you were looking for a way to improve/manage your brand as a journalist. What did you look for initially?
Really, I just wanted a place to show the world who I am as a journalist. A place that would show the diversity of outlets I've worked for and the number of issues I've written about over the years.
It's really quite remarkable to see all your work from so many different outlets in one place. You realize how far you've come and just how much you've been able to accomplish over the years.
I wanted aplace that would show the diversity of outlets I've worked for and the number of issues I've written about over the years.
It's also really important to have one place for all your work because there are still some outlets that won't create an author page for you if you're a freelancer.
I used to know some web design but I let go of it a long time ago, so a few years back I wanted to hire someone to create an app, plug-in, or script that would be able to scan the Internet for my byline and import those articles onto one page online. Even if it was just a plain-text, a simple list with links I would have been satisfied. Like a lot of people, I got lazy and kept putting it off. It was always something I said I wanted to do but never actually did. At a certain point, it just seemed too unruly to try to do myself or try and explain to someone else.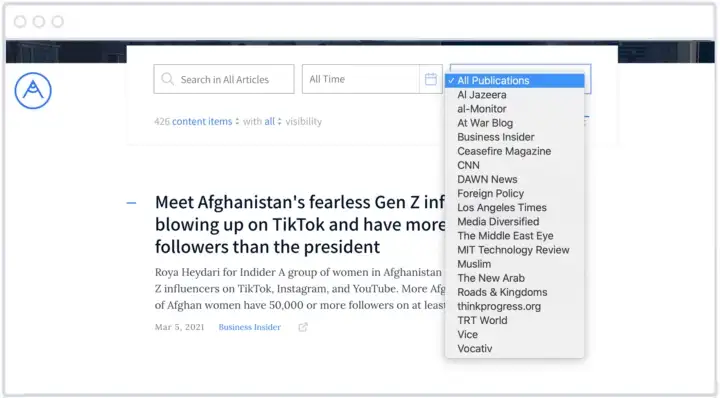 ---
---
And how has Authory worked for you? Have your expectations been fulfilled?
It's worked really well because it's exactly what I was looking for. To be honest, when I first heard about it I said to myself 'I'll try it and see how well it actually performs.'
I was very surprised by how well Authory worked.
I was very surprised by how well it worked because it really did exactly what I'd been trying to do for so long.
What would you say to your journalist colleagues about Authory?
I know a lot of journalists who say 'I have to create my website' or 'I haven't updated my website in years,' and honestly, almost all of us put those things off, but Authory makes it super easy.
Authory is probably the only service I've seen that actually does what it promises and does it well.
There are a lot of services online that promise to automate tedious things for you, but Authory is probably the only one I've seen that actually does what it promises and does it well.
Thanks, Ali!
Ali and thousands of other writers and journalists are using Authory to take control of their content and their audience. Join Ali for free at Authory.com