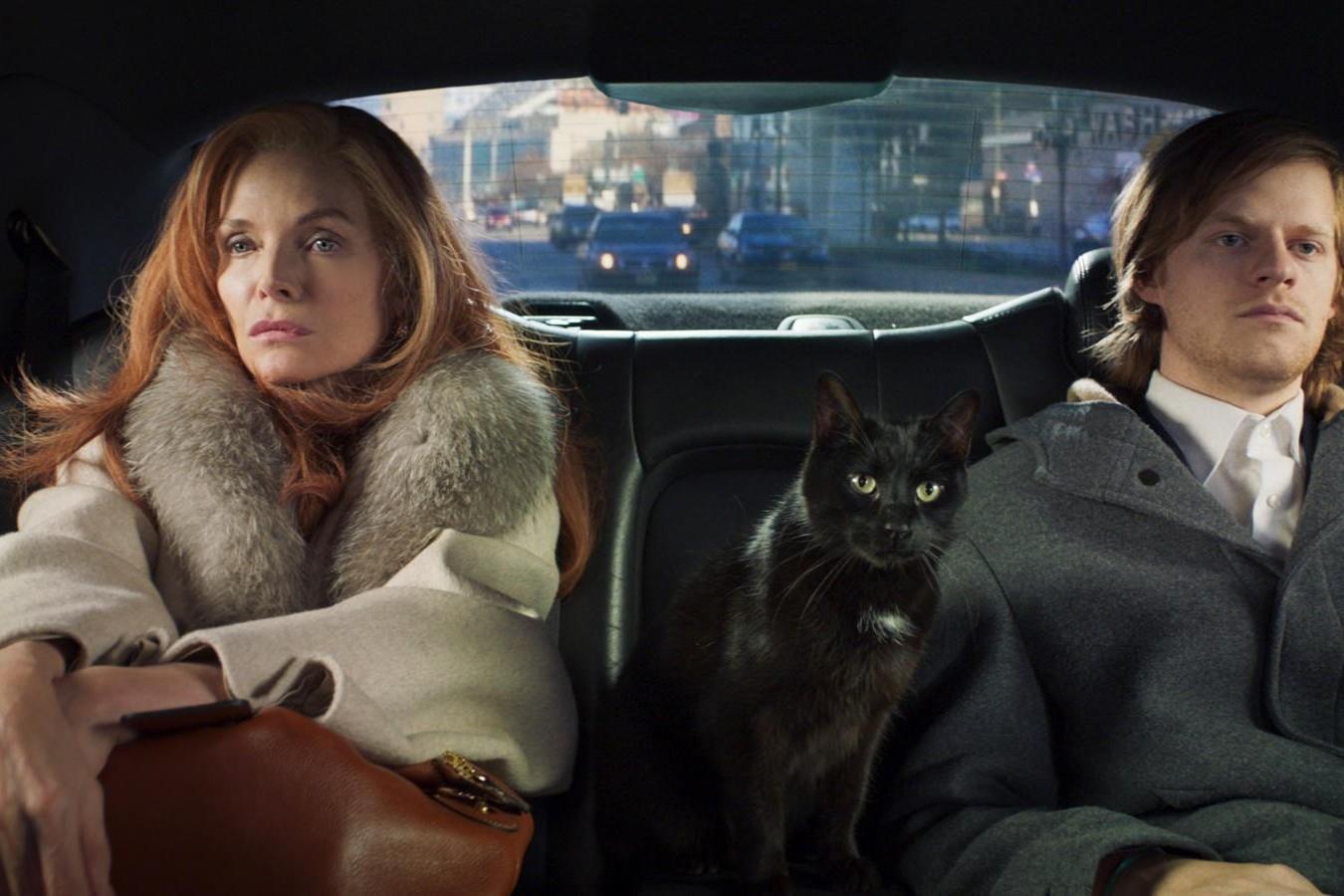 Michelle Pfeiffer plays the diva in a slow, stubbornly quirky comedy
Dir: Azazel Jacobs. US/UK. 2020. 113 mins.
The phrase "French exit" is slang for a hasty departure, said when someone rushes out with even a fast farewell. The film French Exit, alas, is anything but hurried, and lingers long after it has worn out its welcome. The closing feature at the New York Film Festival is a determinedly offbeat and occasionally surreal comedy which boasts some deadpan humor, and a delightfully diva-ish turn by star Michelle Pfeiffer. That's not enough, however, to make up for its poky pace or strained quirkiness. A theatrical run, scheduled to begin next February, may be destined for its own speedy end.
Pfeiffer is clearly having the time of her life, and completely carries the film. Unfortunately, she has to.
The film begins promisingly as Pfeiffer, playing newly widowed Manhattan socialite Frances Price, swoops into a huge and forbidding boarding school to rescue her young son, Malcolm. Dripping glamour and bitchy barbs, Frances is just a cigarette holder away from pure camp, and hope briefly springs that this will be an arch, old-fashioned romp, with a stuffy young man falling under the spell of an aging grande dame.
Unfortunately, not only is Frances not Auntie Mame, but French Exit may be the anti-Mame. Frances' impressionable young son quickly grows up into the oafish, twenty-something Lucas Hedges, whose character has no purpose and even less personality. And far from being a flighty extrovert, Frances is soon revealed as a sour cynic who finds no joy in anything except insulting people and wasting money – practices which are redoubled when she, Malcolm and their cranky cat Small Frank decamp to Paris.
After an interminable trip by ocean liner, they eventually settle in, while the film goes off the rails. Take a typical Wes Anderson ensemble epic about a dysfunctional family, subtract the obsessive art direction, wry Bill Murray performance and most of the wit, and you get something like this. The film's characters include a fortune teller, an unlucky African detective, and several homeless men; the plot devices comprise a séance, a missing pet, and a frozen sex toy. If, as Mame once exulted, "Life is a banquet!" then this is a smorgasbord of spoiled food.
The conspicuous waste is a shame because Azazel Jacobs is a filmmaker with an intriguingly unpredictable touch; his modest, self-contained Terri (2011) and The Lovers (2017) were unafraid to present sympathetic people occasionally doing unsympathetic things; stories would set up comic situations, then take dark and daring detours. But Patrick deWitt's adaptation of his own book never zigzags; it settles into its so-rich, so-pretty, so-what socialite rut early on, and pauses regularly only to let yet another eccentric visitor force their way into Frances' already over-crowded home.
Pfeiffer, a criminally underused actress, is clearly having the time of her life playing the coldly chic Frances, and completely carries the film. Unfortunately, she has to. There's little sense of place (that's Montreal doubling, unconvincingly, for Manhattan, and most of Paris) and no one in the cast makes much of an impression. But how can they, when they're not playing characters, but devices: Imogen Poots as Malcolm's inexplicable love interest, Isaach De Bankolé as a token attempt at diversity.
"You know what a cliché is?" Frances asks at one point. "A story so fine and thrilling, it grows old in its retelling." It's a rare, if fleeting, burst of self-knowledge for her; this story about a globetrotting, over-the-top elitist is indeed a cliché. But it's not fine, and it's not thrilling. And why it needed telling at all is the only mystery around.
Production companies: Blinder Films, Elevation Pictures, Rocket Science, Screen Siren Pictures
International distribution: Sony Pictures Classics
Producers: Trish Dolman, Olivier Glaas, Christine Haebler, Katie Holly, Christina Piovesan, Noah Segal
Screenplay: Patrick deWitt, based on his book
Production design: Jean-Andre Carriere
Editing: Hilda Rasula
Cinematography: Tobias Datum
Music: Nick deWitt
Main cast: Michelle Pfeiffer, Lucas Hedges, Imogen Poots, Isaach De Bankolé