Jayalakshmi Satyendra nee Rajandram was born on 12 September 1936, in Colombo, Ceylon (now known as Sri Lanka). She left the land of her birth in the aftermath of the genocidal onslaught on the Tamils in Sri Lanka in July 1983. In 1988 she was recognised by the United Kingdom as a refugee under the provisions of the 1951 UN Refugee Convention. In August 2008, she was diagnosed with Lewy Body Dementia and four years later, on 27 November 2012, she passed away peacefully in her home.
Jayalakshmi Satyendra lived a full and fulfilling life - a loving and much loved Baba to her parents, brothers, sisters, to her husband, and to her father in law and mother in law; a loving and much loved Amma to her four children; Paati to her grandchildren and always a caring and helpful fellow human.
She was a carnatic music enthusiast who had sung on national radio; a cook whose heart was reflected in the food that she prepared and served with warmth and affection; a painter who won national awards for landscapes and portraits and held well received one person exhibitions in Sri Lanka and abroad: and a voluntary adviser at the Citizens Advice Bureau in Cambridge for several years .
She was a life long devotee of Baghavan Sri Sathya Sai Baba. She sought understanding from Jiddu Krishnamurthy in both Adyar and Colombo; spent time at the Aurobindo Ashram in Pondicherry, ...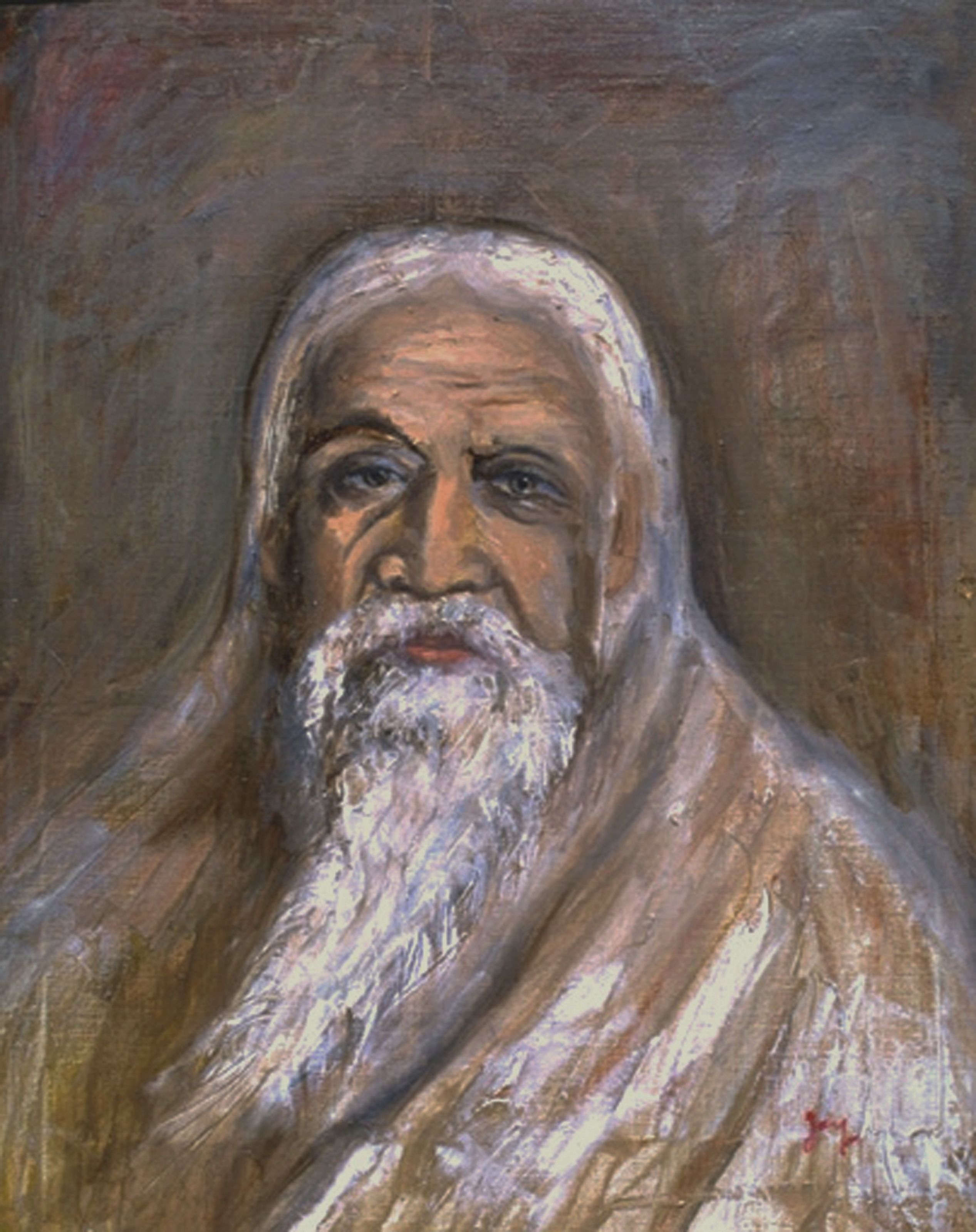 .... and at the Ramana Ashram in Thiruvannamalai; practised pranayama and hatha yoga with Swami Gitananda and meditation with Mahrishi Mahesh Yogii. She regularly lit candles in prayer at St.Anthony's Church in Colombo. She would often say that if she was born again she would devote her life to singing to the Lord.

Jayalakshmi Satyendra commenced painting in Sri Lanka as a teenager. She later joined St Martin's School of Art in London in 1956. During the years 1973 to 1976 she came under the influence of Ivor Baptiste. One of her paintings 'Palms' was awarded the Landscape Prize for 1973 at the 73rd Annual Exhibition of the Sri Lanka Society of Arts
and two of her paintings 'Shadows'...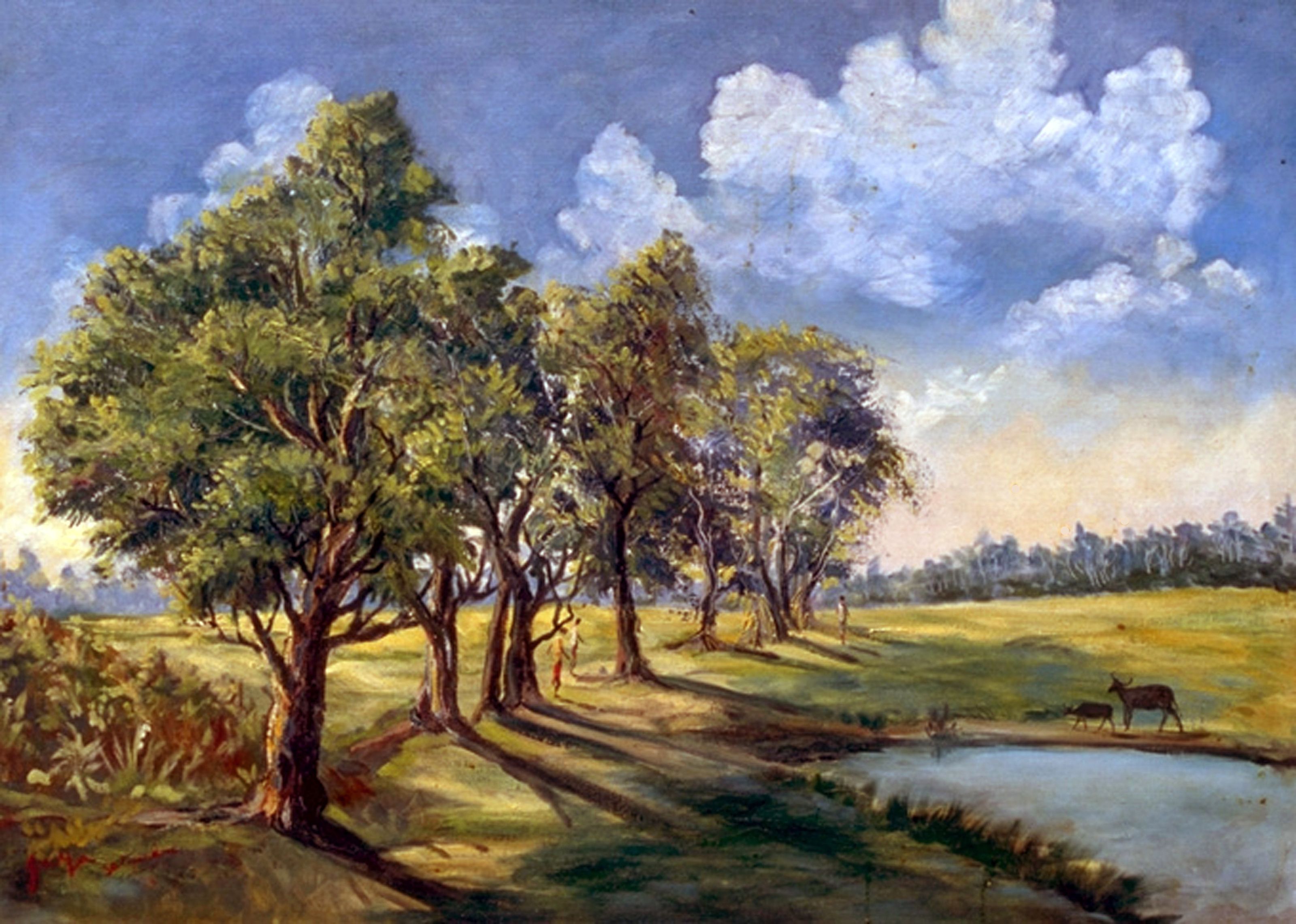 and 'Falls'...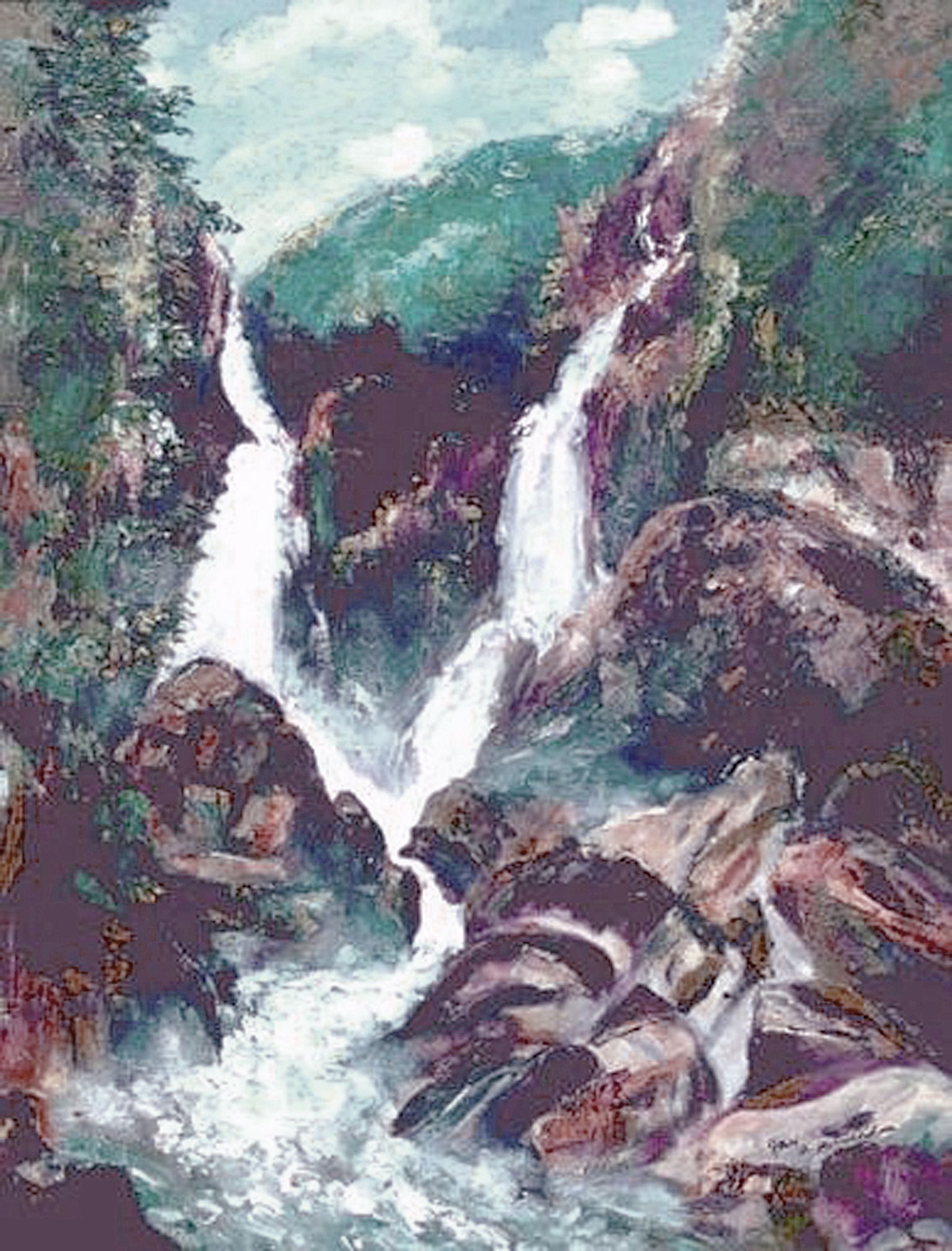 ...were highly commended landscapes in the same year. Her painting 'My Daughter' secured the only prize that was awarded for portraiture at the 74th Annual Exhibition of the Sri Lanka Society of Arts held in 1974. Her first one-person exhibition was at the Lionel Wendt in Colombo in 1975. She was one of five artists of Sri Lanka whose work was exhibited at the Grande Galerie in 1975. She found a new understanding and a new awareness at lectures and discussions on Fine Arts at the University of Cambridge in 1977. Her second one-person exhibition was sponsored by the German Cultural Institute at the Lionel Wendt in 1979. Her first overseas exhibition in Moscow was at the invitation of the Ministry of Culture of the U.S.S.R and of the Union of Artists of the U.S.S.R. in 1981.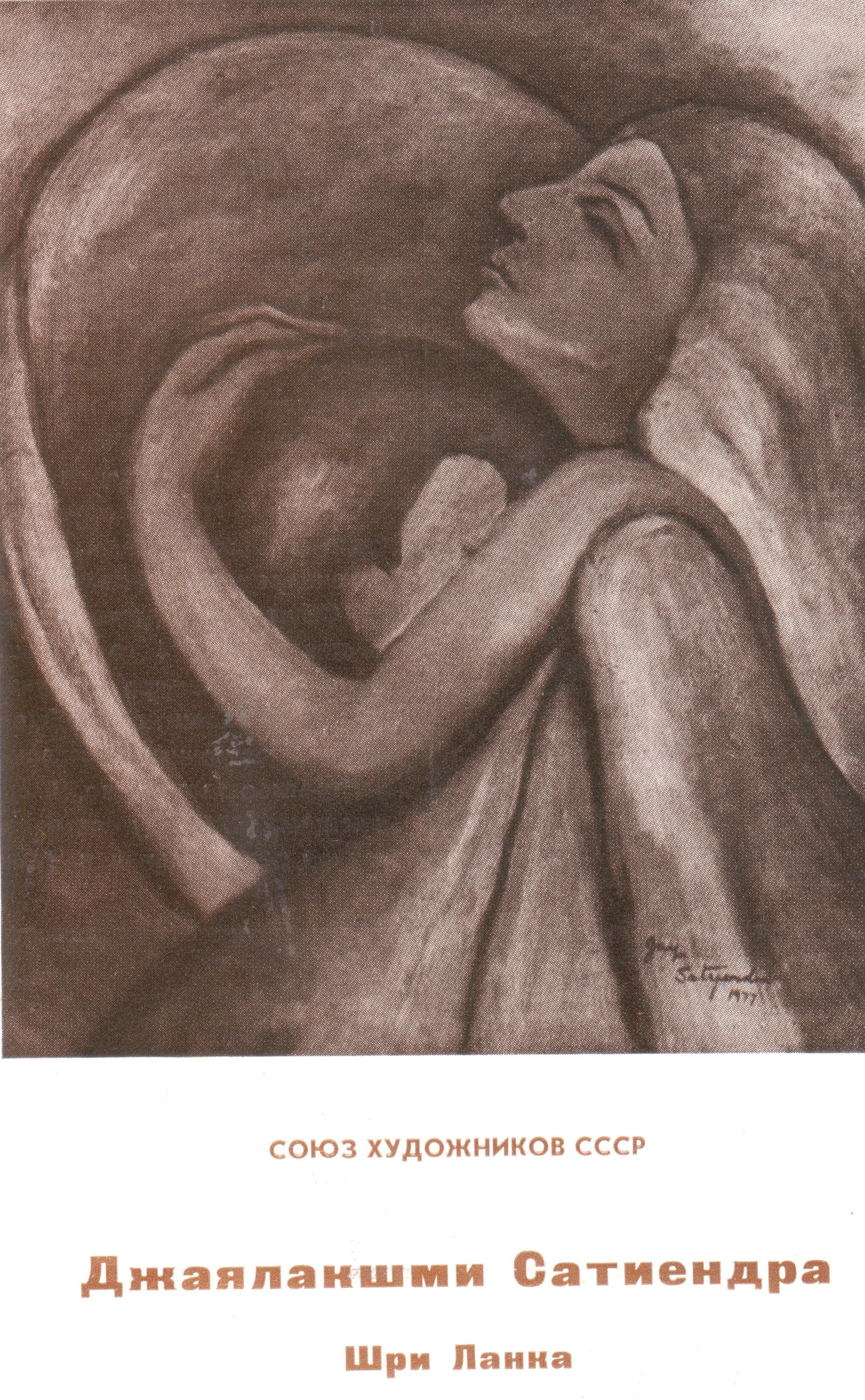 Each of us is unique. At the same time, deep in our most personal lies the timeless universal. Each of us makes a difference to the world in which we live and 'die' – however small or large that difference may appear, whether to ourselves or to others. Jayalakshmi Satyendra made an enduring difference to the lives of many who came in contact with her - and her paintings live and continue to afford glimpses of her feelings and her thoughts, her lightness of touch, her feisty directness and authenticity, her infectious joy of life, her deep spirituality and her unconditional and abundant love and care for others… 'Those who do not know say that God and Love are two' (Thirumular's Thirumanthiram) …
From the Reviews...
The Subconscious on Canvas - Rita Sebastian in Sri Lanka 'Sunday Times', 18 November 1979 - "It was Rabindranath Tagore who said 'Art belonged to the region of intuition, the unconscious, the superfluous' when at 67 this great figure of Indian literature turned painter. Jayalakshmi Satyendra was echoing that same thought the other morning (when I interviewed her at her home)... 'It is the subconscious that we bring out on canvas'... 'Each painting is an experiment' ... Her paintings depict her mood, like the one titled 'Turbulence' a woman splashing away in the grey- white fury of the sea,'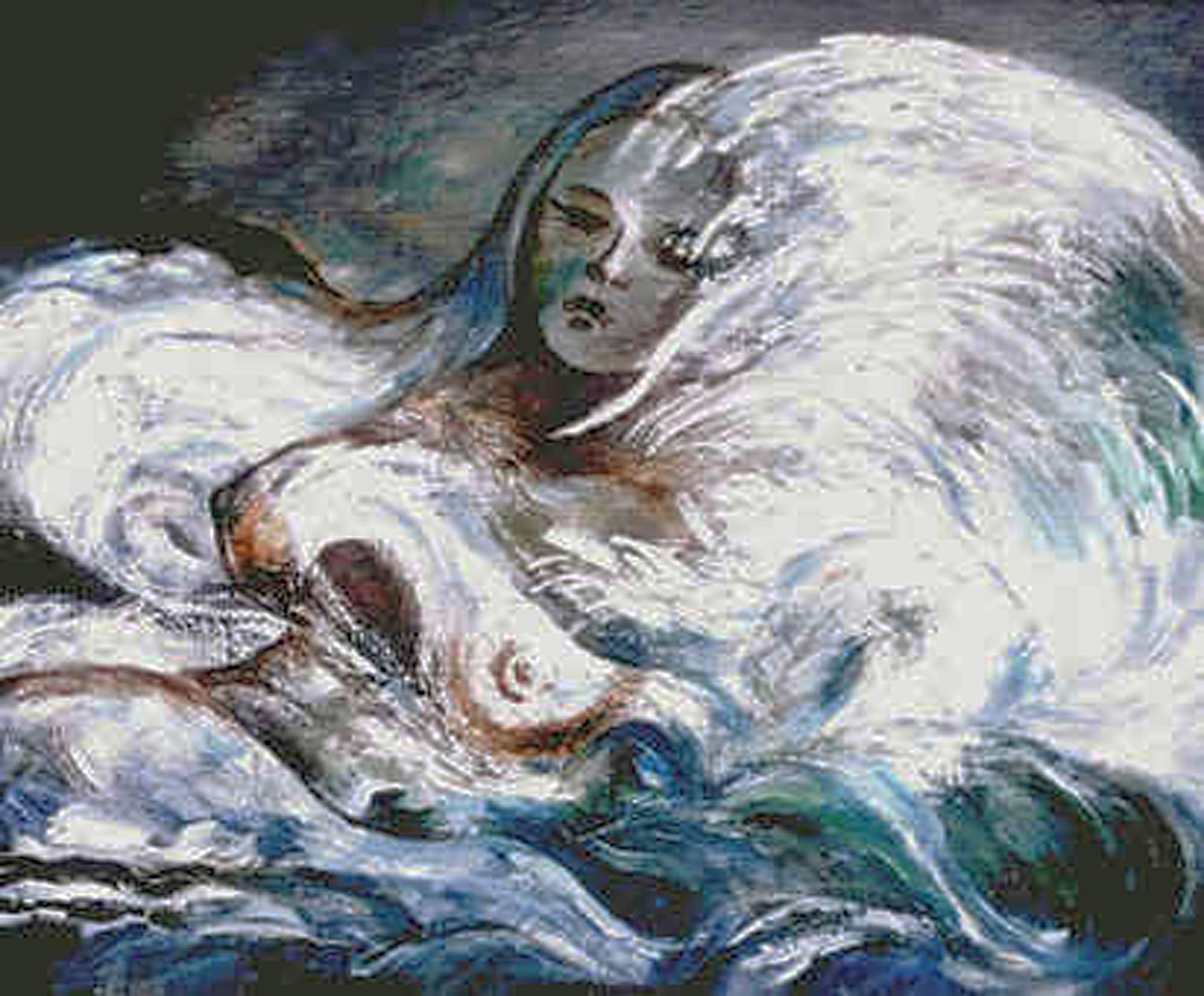 A smile; a face with an anatomy that is all coils, 'that's all we are if we strip ourselves, just coil and air"...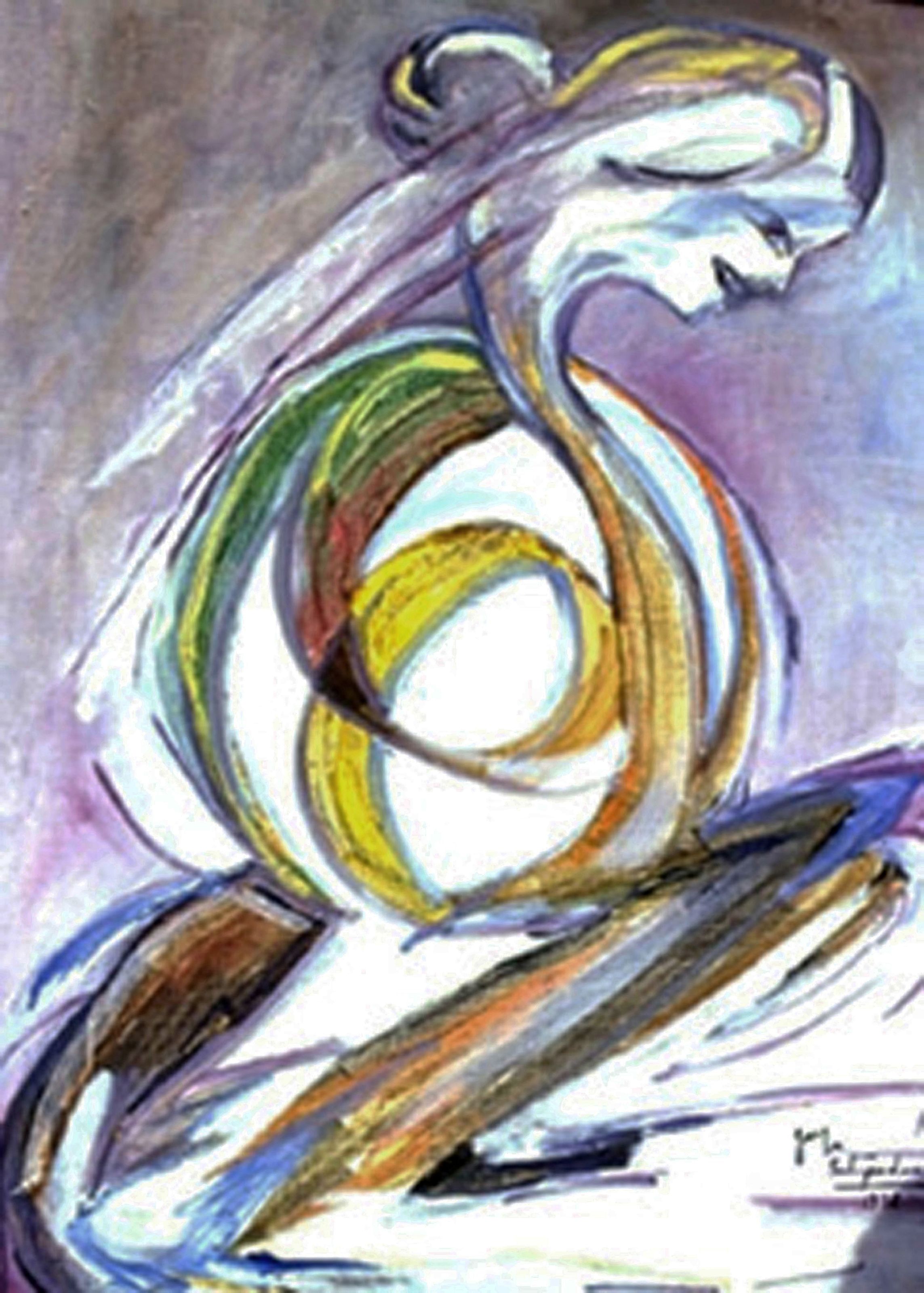 There is a semi abstract titled 'Oneness', the love of a man and woman which is a 'complete fusion of body and feeling which no space can contain. A love that is one, yet not a slave with each person still retaining their individual identities.'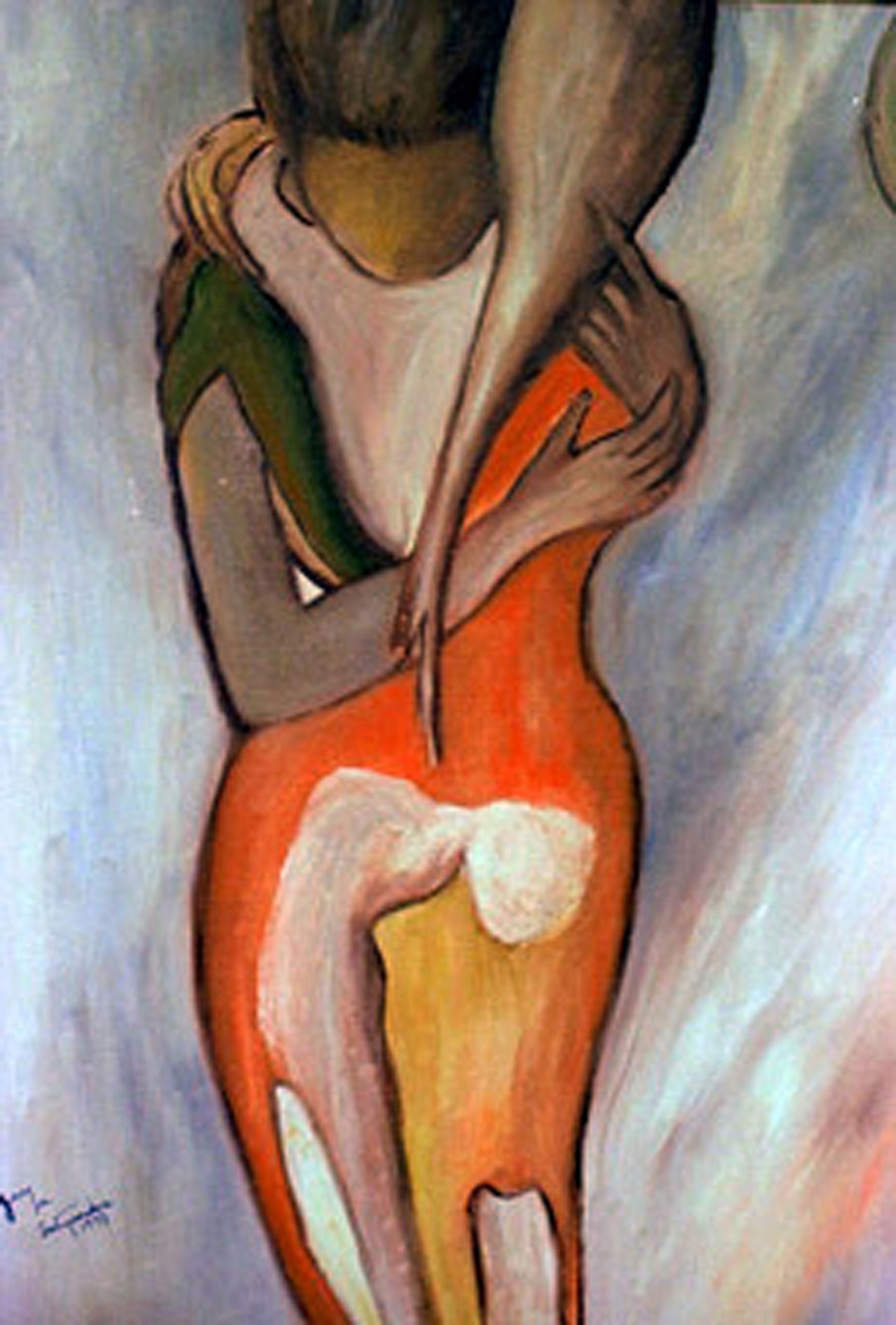 Her paintings she admits, are an expression of her feelings and she identifies herself with them. There are a number of landscapes too. The red-rich flamboyant,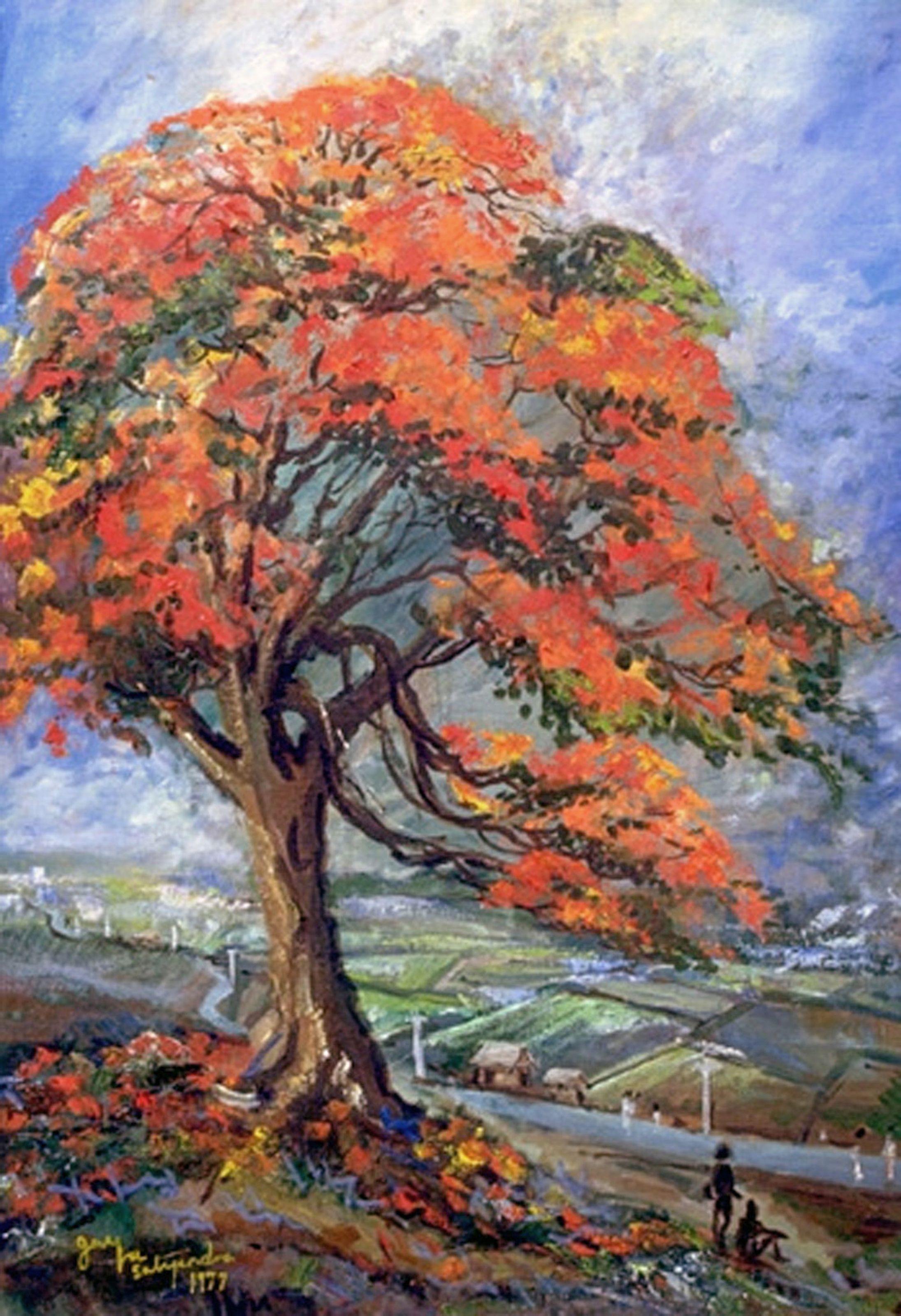 ....the seeming tranquility of Yala, the jungles and the sea. 'I love the sea and I get carried away in the clouds.'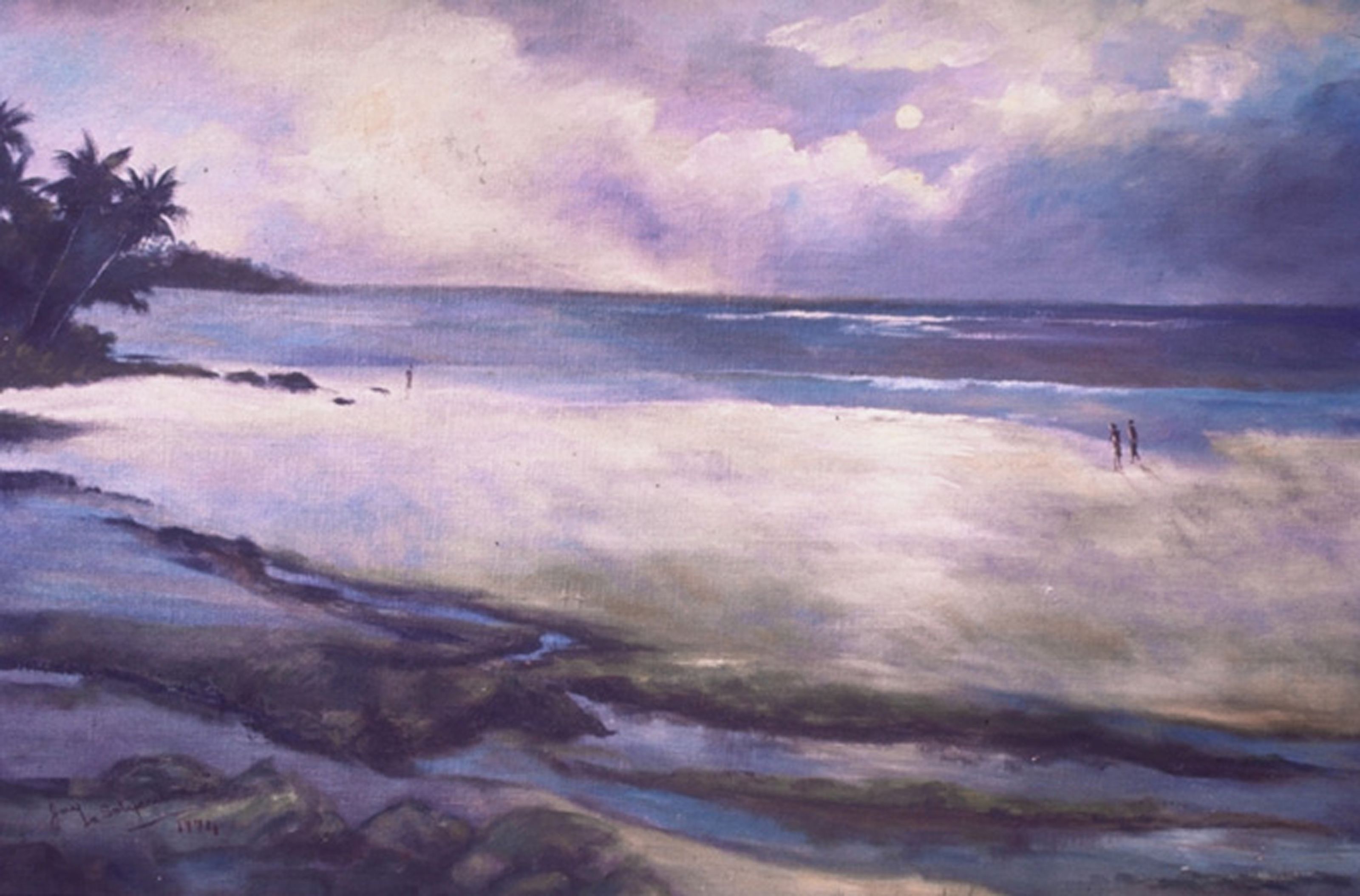 'Three Nudes' are trees in their nakedness stripped bare. 'I have a passion for dead trees. They have more life, more feeling. I see beauty in them.'"
Awareness of Self through Art - Jeane Samuel in The Ceylon Daily News, 23 November 1979 - "Jayalakshmi Satyendra believes her paintings are the impressions of experiences of the past which have been stored in her memory and subconsciously risen to the surface – memory unfolding on canvas... Painting has intensified the artist's awareness of herself.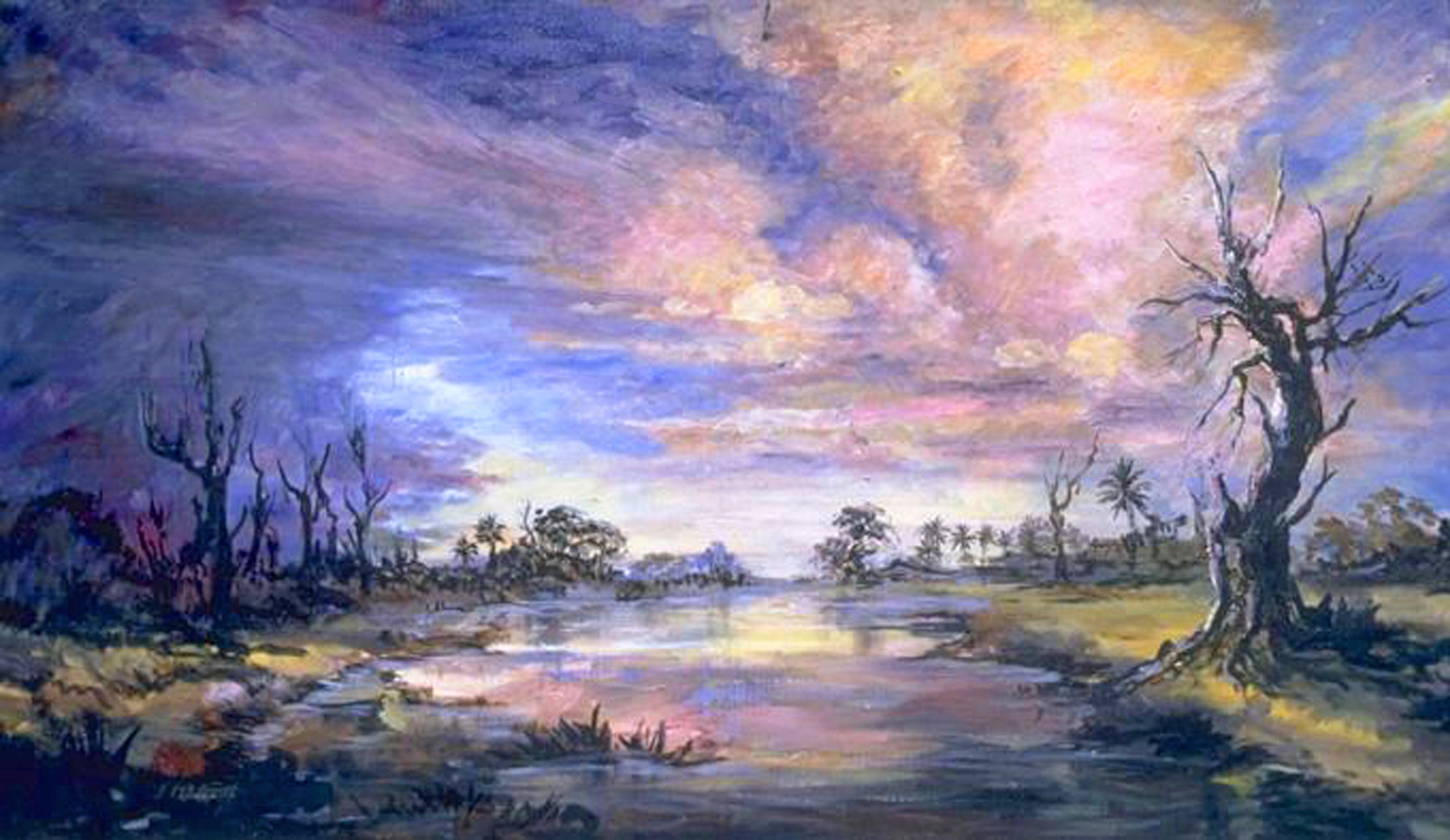 In her painting 'Still life': she has captured the transient quality of clouds which burst forth in pink and orange "
Moments of Awareness - S.P. Amarasingham - Editor 'Tribune' 24 November 1979 - "This is the first time that the 'Tribune' has a reproduction of a contemporary painting on its cover. It is one of the paintings of Jayalakshmi Satyendra . .. The picture on the cover is wreathed in a quaint and enigmatic 'Smile' that lies buried in the swirling lines that enfold it.. .... 'The Leopards of Wilpattu' are amongst the best wildlife paintings one has seen for a long . time in this country. There is also a whimsical touch of her own individual personality in all her work... from dull pastel shades to alarmingly bright and brilliantly flamboyant red splashes-which she uses, now with gay abandon and at other times with great restraint...."
Art that Reflects the Emotions - Rajitha Weerakoon in Sri Lanka Sunday Observer, 25 November 1979 "Jayalakshmi Satyendra is an artist who paints for the sheer joy of it. And when she paints, she does it with feeling so that her paintings pulsate with life .... 'When art reflects emotions there is life in it. And this is possible when one paints for pleasure and not merely for the sake of art or money'.. Today she leans more towards abstracts and her art is distinctly individual. 'Each painting is an experiment,' she says, 'not only in appearance but in subject matter as well.'... Jayalakshmi sometimes paints two or three pictures simultaneously. 'That's when I have mixed feelings and I am in great haste to put down all of them on canvas at once.'"
Painting as Music and a Melody - Reggie Michael, Editor, 'The Independent', 27 November 1979 - "Michael Angelo's definition of good painting 'as music and a melody' leaps to mind as one's eyes feast on the visual repast served by Jayalakshmi Satyendra's 80 canvases in this belated exhibition of her paintings - the second but a long delayed second at that. Jayalakshmi uses paint and palette, the conventional brush and the unconventional 'knife brush' for the conquest of beauty... We recall the French romanticist Eugene Delacroiox's eloquent summing up; 'A picture, he said, is nothing but a bridge between the soul of an artist and that of the spectator.' Jayalakshmi Satyendra with consummate skill of brush and fine feel for colour has surely 'painted' that bridge between herself and art lovers."
Painting her many moods - Chandrakanthi Dharmadasa - Sri Lanka Sunday Times, 29 November 1981 - '"Every man's work is a portrait of himself the saying goes and it could not be otherwise when its a woman painter. Jayalakshmi Satyendra confessed she is a person of many moods. This has enriched her style resulting in variety which is the most striking feature in her paintings. Each painting conveys a different mood and done in different style.. She is spiritually inspired by many philosophers - Krishnamurti, Sai Baba..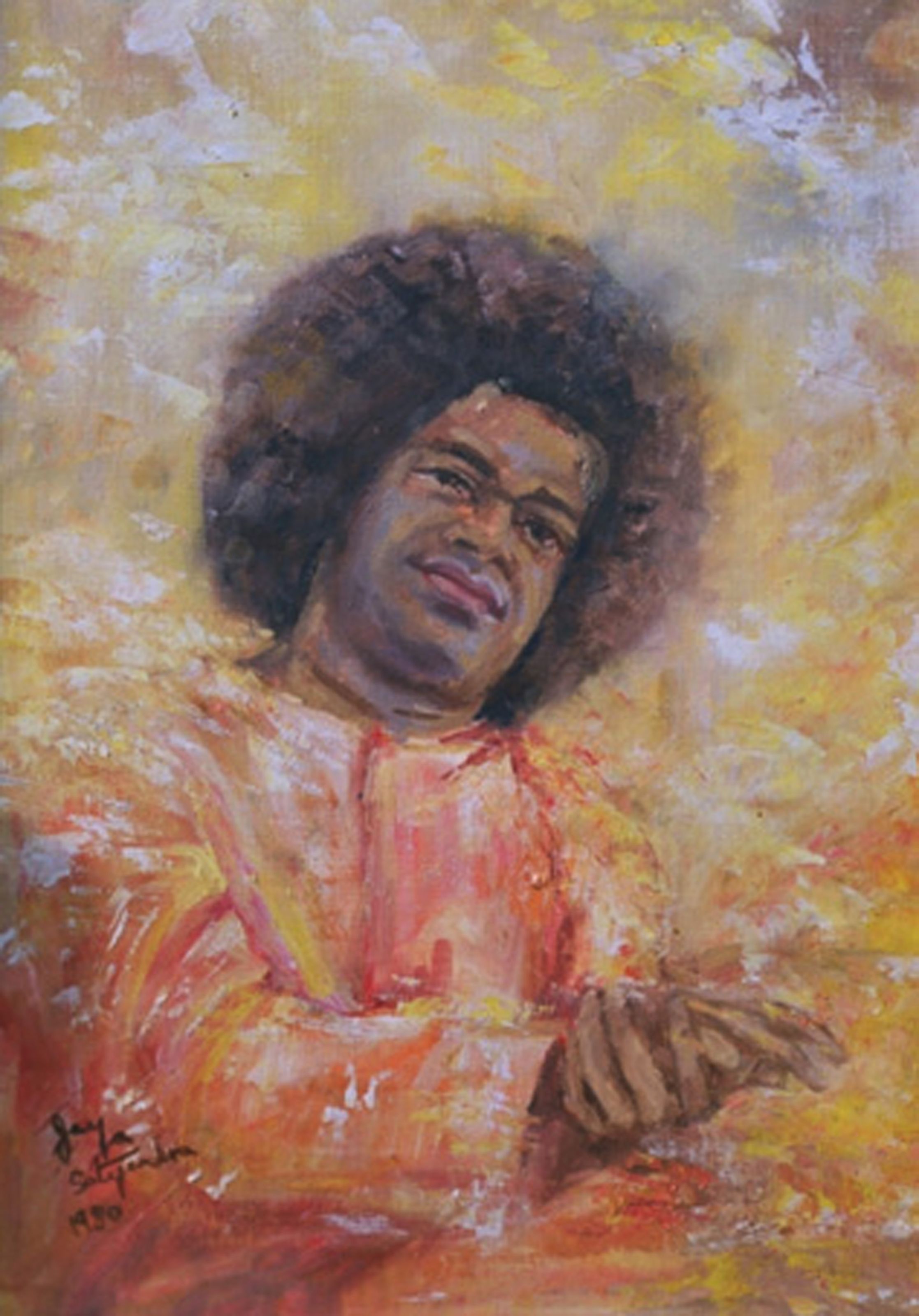 She meditates and is interested in Yoga and is a keen student of the mind. All these are well portrayed in her paintings. She has done many paintings on the mind - the thought process. In youth one is surrounded by thoughts, but they are often happy and hopeful. This is symbolized by the white birds flying all over. In middle age one's thoughts are more complicated, problematic, which is symbolised by dark thick trees..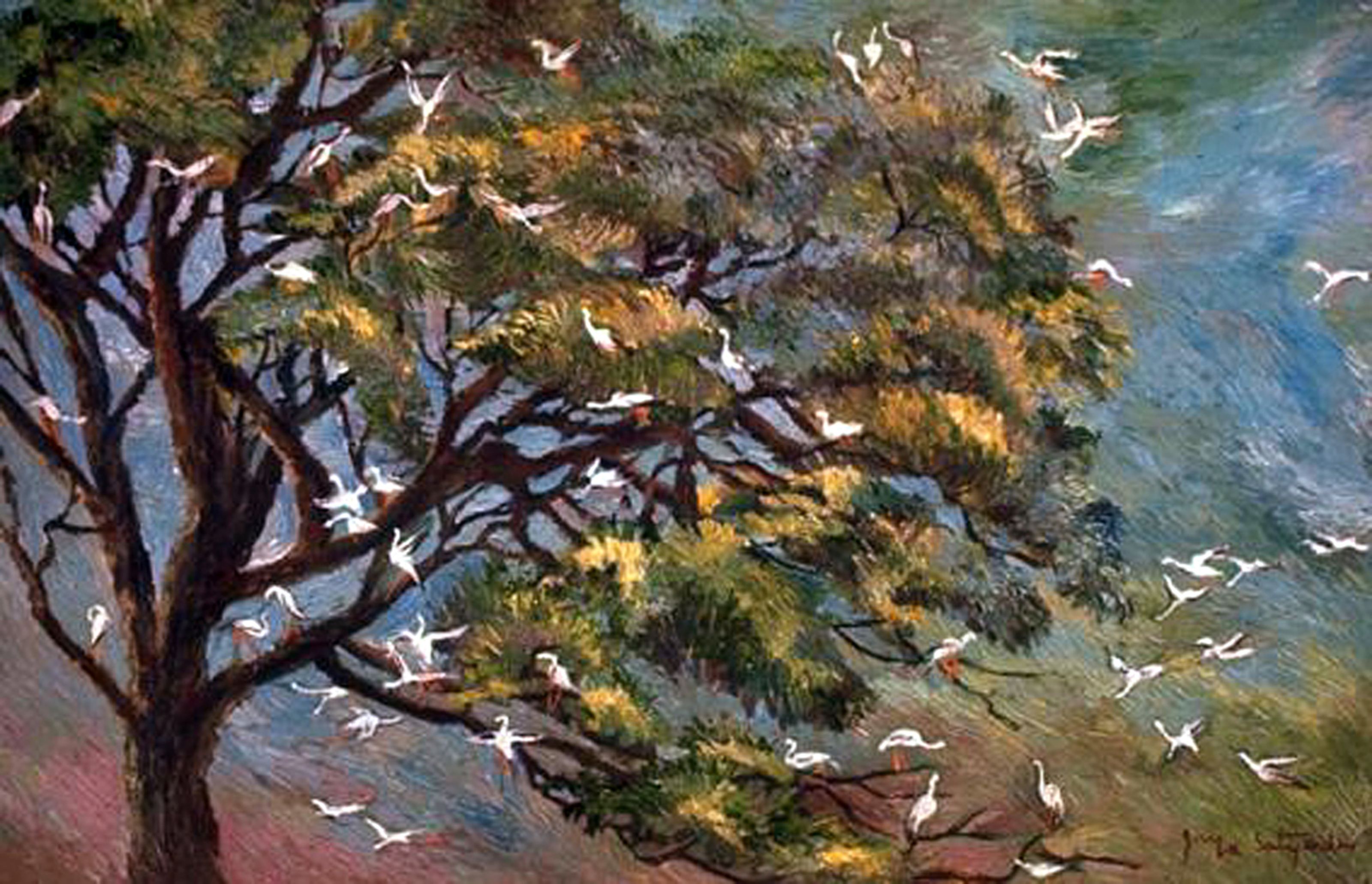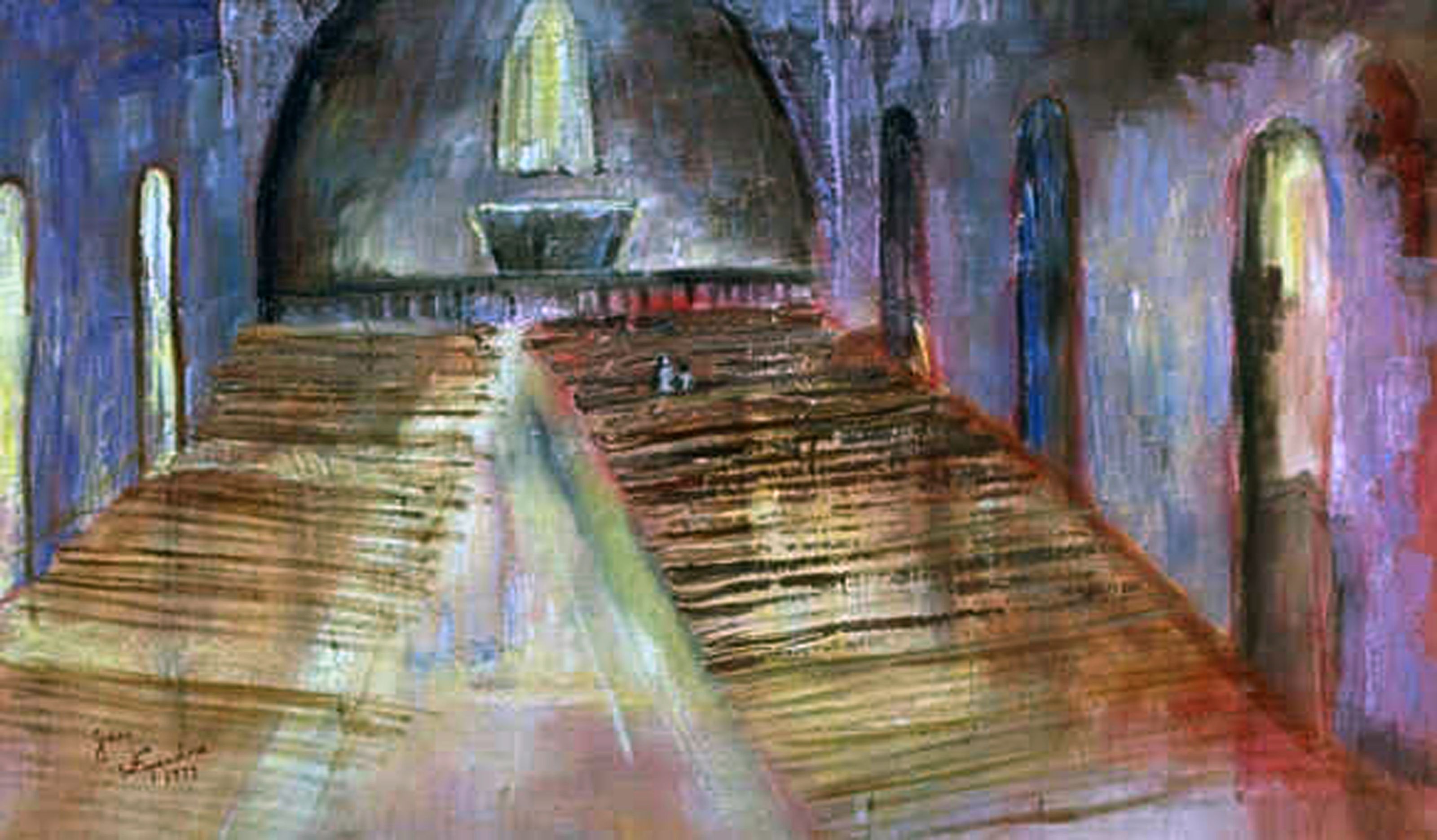 Her painting titled 'Prayer' - the lighted interior of a church symbolises the purity and harmony of the deeper mind where we struggle to reach - a state one can enter through meditation "
A Touch of Van Gogh... - K.V. in Sri Lanka Sunday Observer, 29 November 1981 - 'To me painting is a way of expression. It is a way of saying what I see, what I feel and what I think. But sometimes the result surprises me as well. It was Jayalakshmi Satyendra talking about painting and herself. Jayalakshmi's extraordinary command and use of colour gives her paintings a vibrancy and power which attracts and rivets attention. . There is a touch of Van Gogh in some of her landscapes, particularly where she has used the palette knife as a substitute for the paint brush.
.... in an art world full of isms and arbitrary categories Jayalakshmi Satyendra's paintings refresh."
Jaya's Paintings Exhibited in Moscow - Delrine Wijeratne, Sri Lanka 'Sun', 1 December 1981 - For Jayalakshmi Satyendra, painting and music has been ideal expressions of her imaginative soul. She has created a world of colour in the exhibits she is taking to her first overseas exhibition in Moscow this month.... From cubism to naturalism, modern to abstract, portraits to landscapes, everything has so much meaning in them. As if she had captured the inner emotions in each picture. ... 'I paint for myself' she says... A portrait of a girl, lost in thought, watching the dawn sky. She calls it 'Far Away'.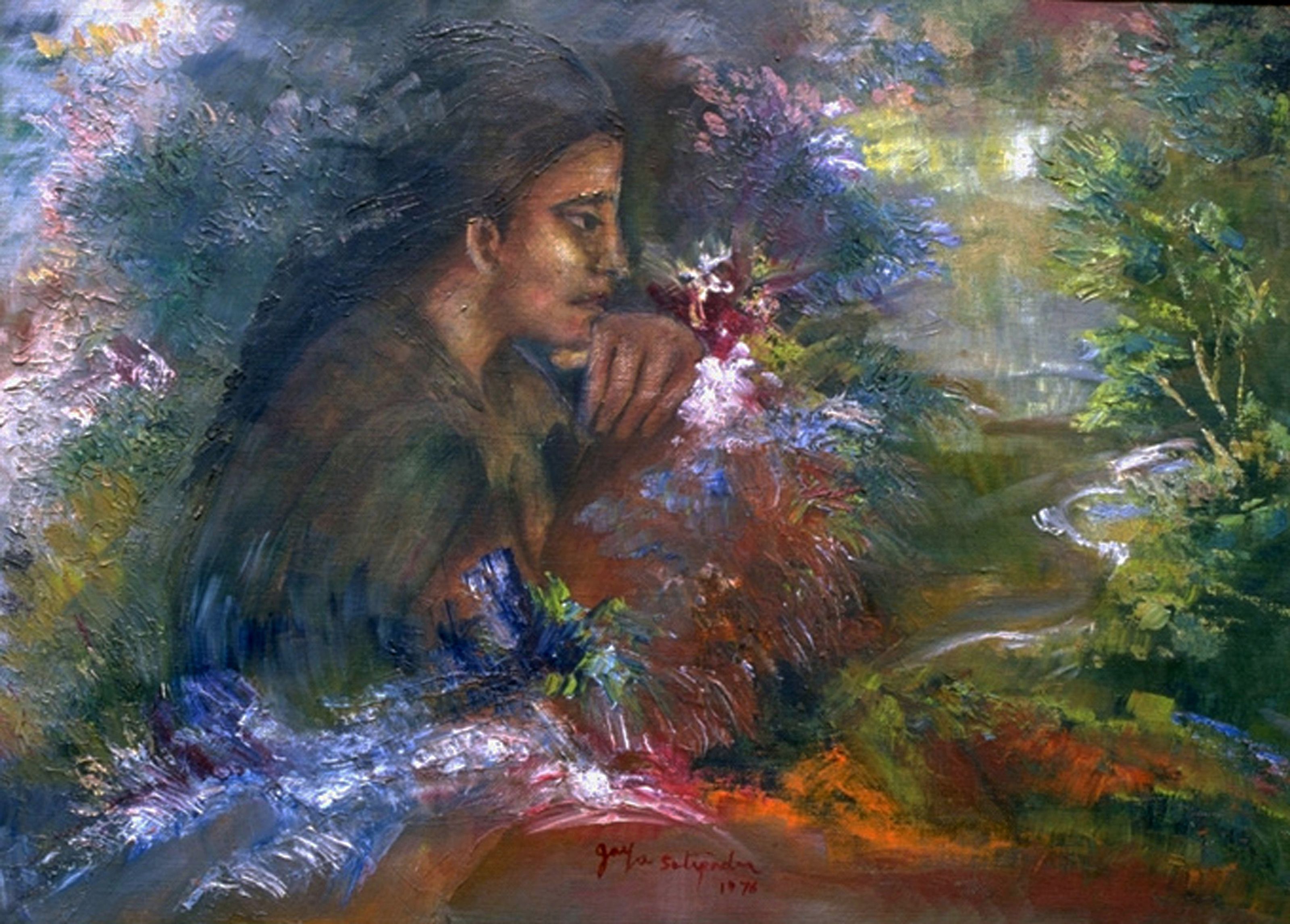 'It depends on my mood' Jaya says picking out one of her favorite paintings 'Rhythm' as an example in which she had music playing in her background when she was painting. Music was the soul of that painting, a picture of a forest... where deep dull shades blended with flamboyant reddish brown splashes.
As she said, music inspired her to combine her stray thoughts on canvas. Every painting is an experiment to her. Landscape with fine details, portraits of people she associates, ... everything has a story behind them, a story as colourful as the painting itself. So with a palette knife and brush or even her fingers she brings out her deepest emotions in streaks of line and colour."
Versatile Painter - Jeanne S. Withanage, The Ceylon Doily News, 1 December 1981 - Rather unusual was 'Rhythm' a painting of trees which Jayalakshmi said she painted to the beat of music.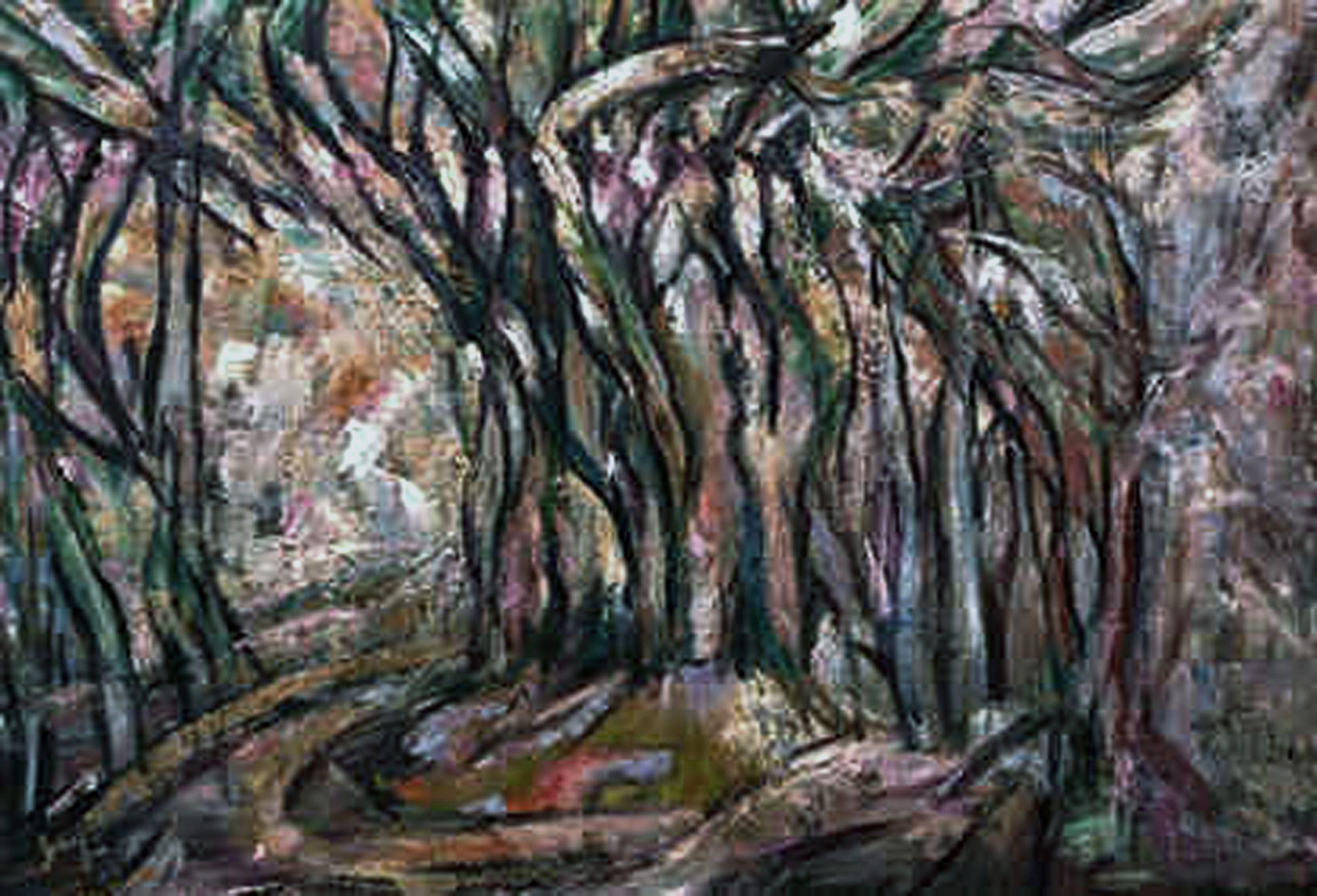 It is composed of several tube-like lines of different colours which fuse together forming a geometrical design. She uses just a few colours in each of her paintings and blends them together by her lavish use of white.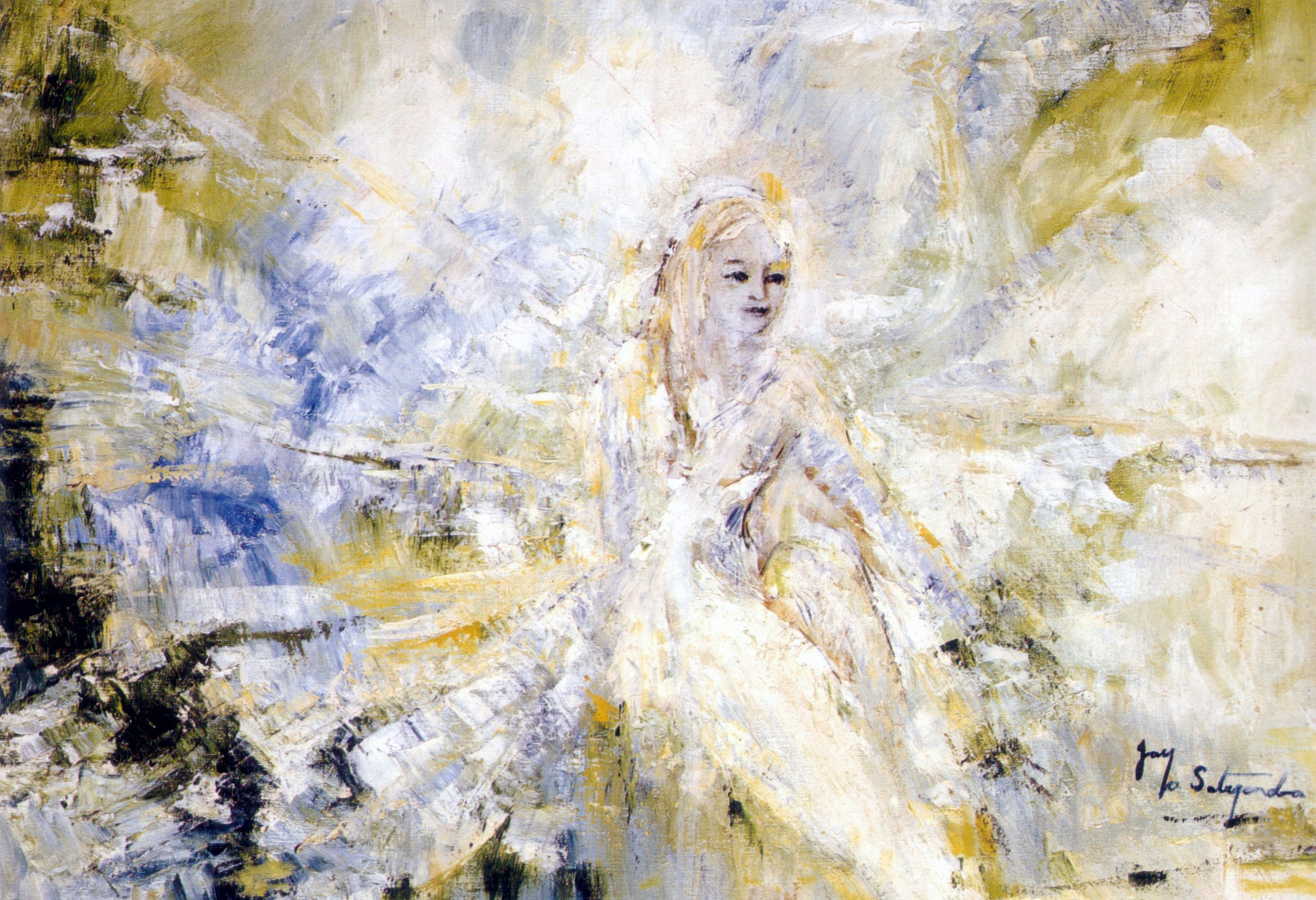 This was particularly noticeable in the calm and contemplative painting 'Lady in White' where the woman merges into the white and light green background, into nothingness.
Three Poems in Canvas - C. V Velupillai - The Ceylon Observer, 5 December 1979 - Glimpses of her pictures suggest her quest, a search within and outside In her ability to blend colours there is a touch of alchemy - a sense of pain. Looking at them you vaguely remember an avenue of trees bursting into flowers of flame red, orange and crimson. And the streams in the glades caught in the net of eventide, their turbulent flow intercepted by boulders, their impatience burst in 'Flakes of Foam'.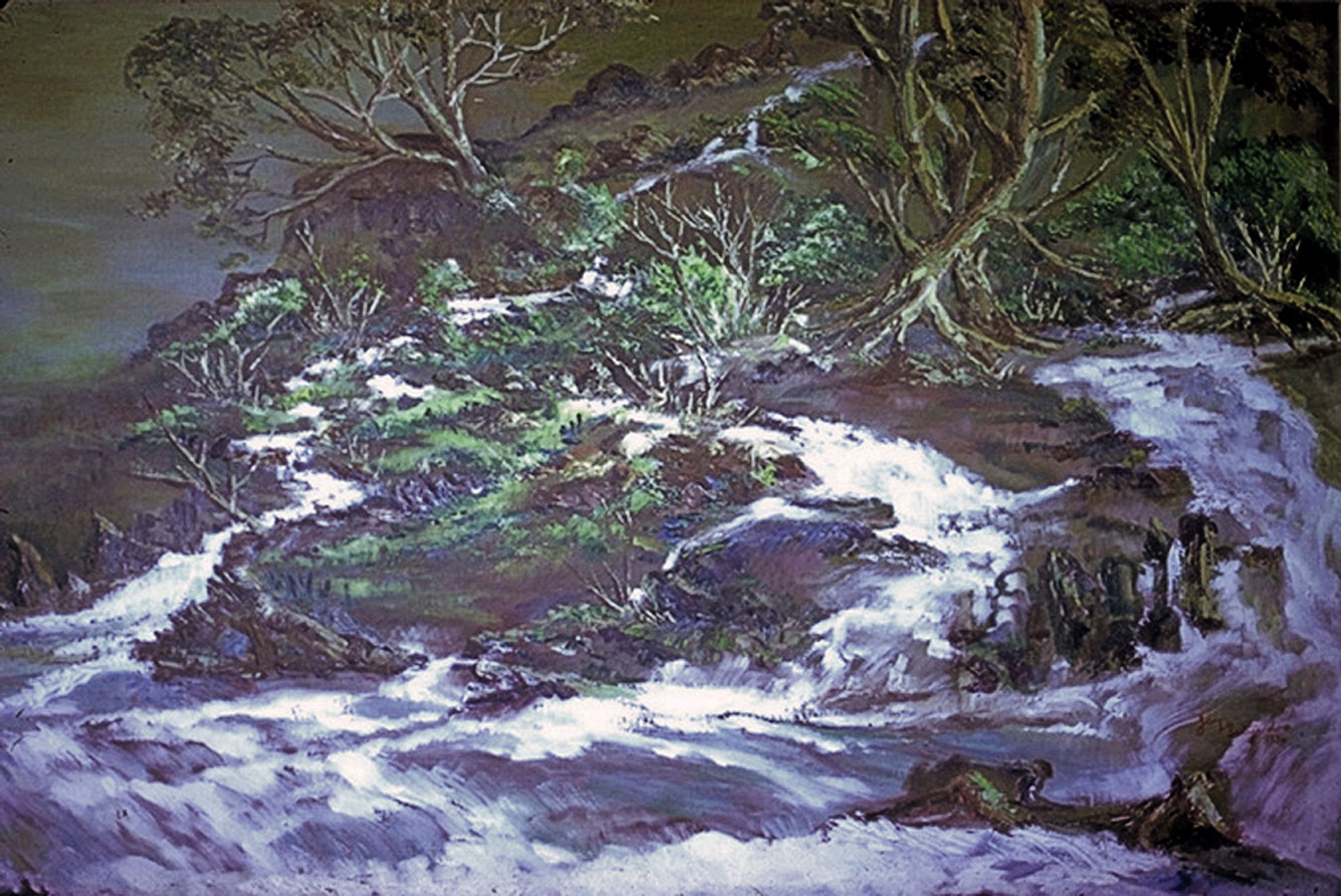 There stand widowed trees (Three Nudes), shorn of their leaves and bark, stark and pitiful, with outstretched arms seeking to be taken into nothingness.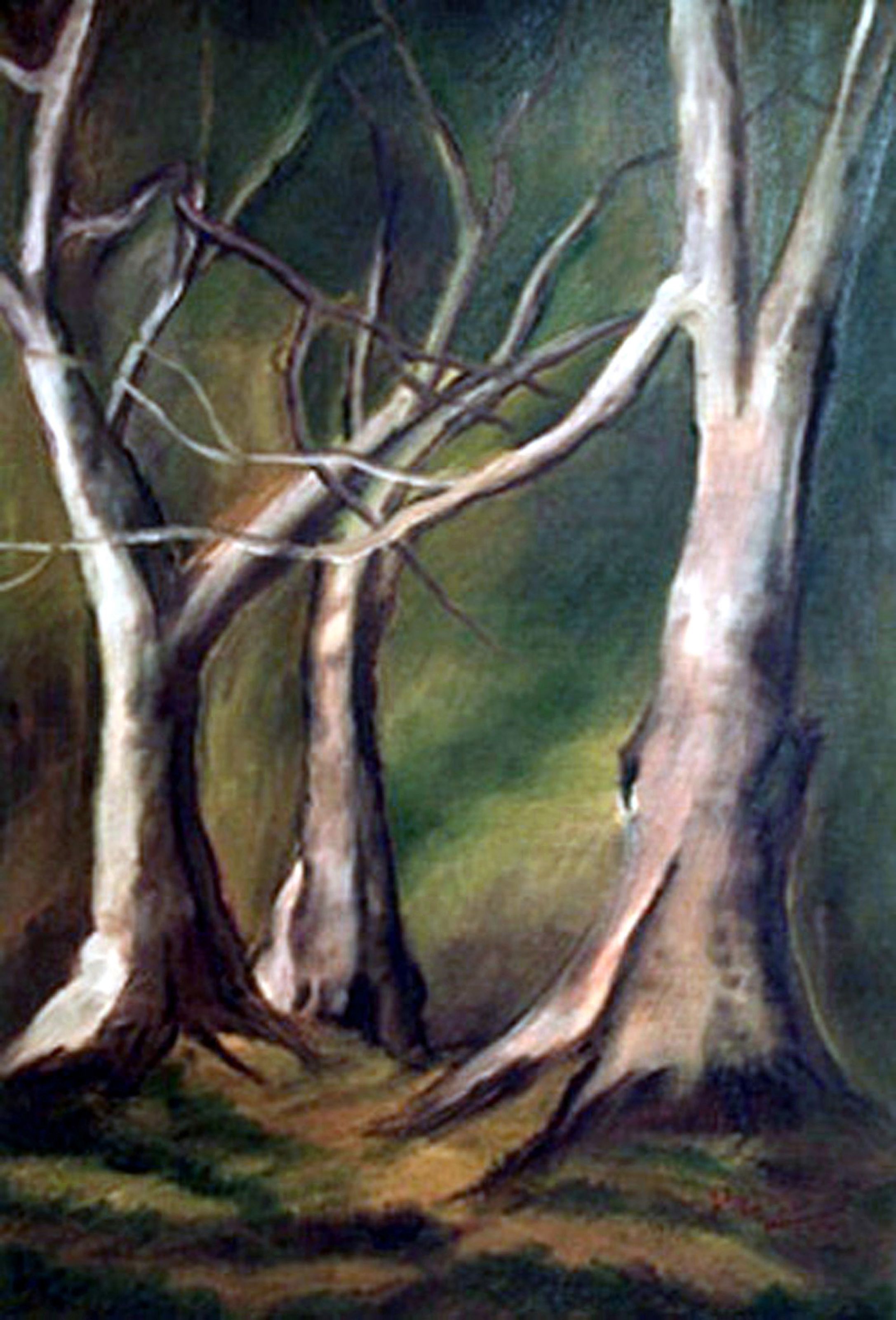 More than anything else in these paintings, the grass, the twig and the dust and the light behind the shade give Jayalakshmi Satyendra the name of an artist.. . :'
All the Colours of a Rainbow - Anatoly Filatov in Sri Lanka Sunday Times, 9 May 1982 - "Some time ago lovers of art had a chance of acquainting themselves for the first time with the creative work of artist Jayalakshmi Satyendra whose paintings were on show in Moscow.... On more than forty canvases Jayalakshmi Satyendra depicted both the unique world of her beautiful and ancient land with its rich culture and her own artistic world reflecting such subjects as love, motherhood and the triumphant joy of the surrounding world. ... the art of Jayalakshmi Satyendra is diverse. Sometimes it is difficult to say what is more typical of her art -'pure' realism as in her picture 'My Daughter'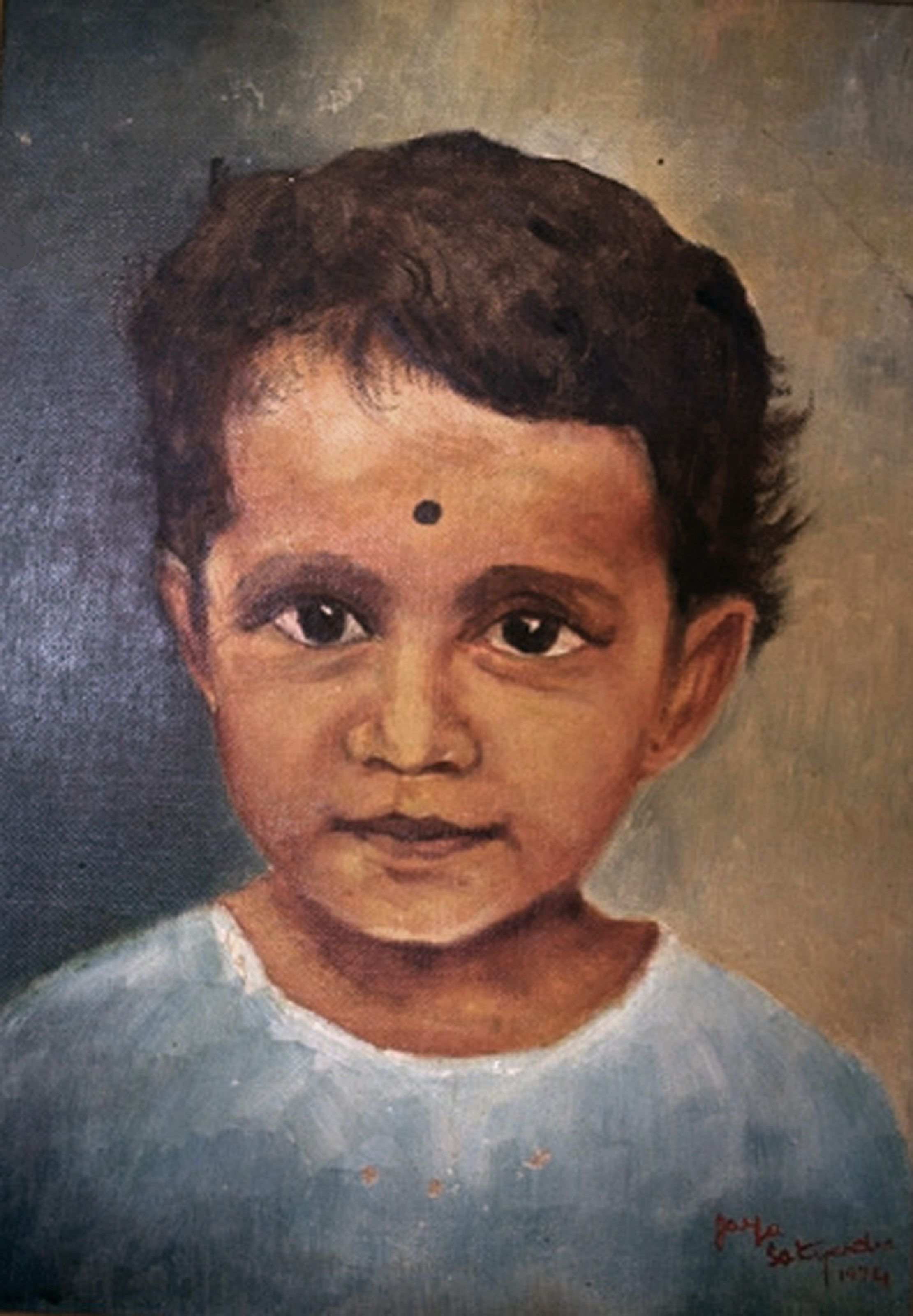 or philosophical metaphors of her 'Moonlight'.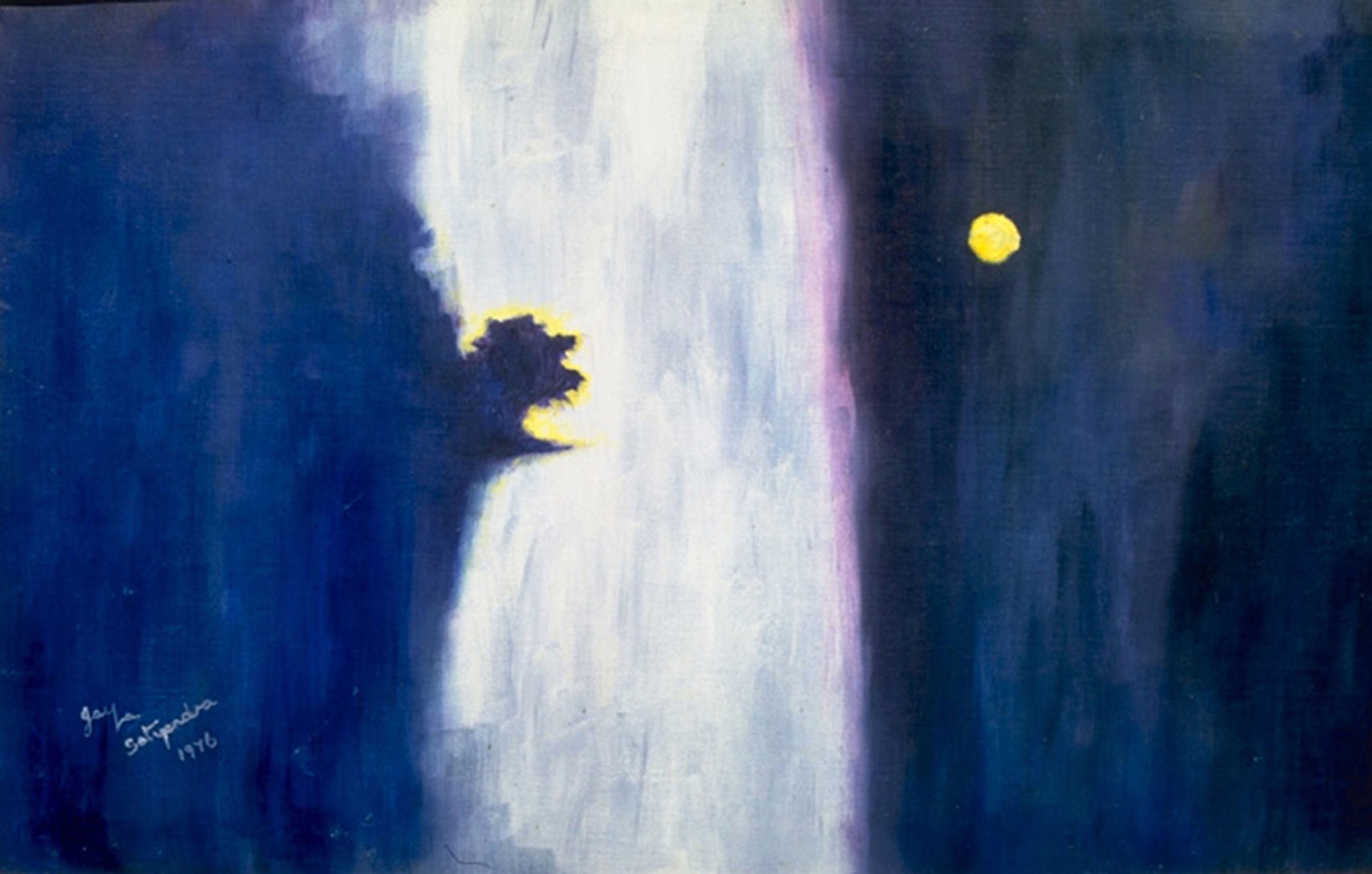 I would rather say that she is a master of both. She possesses an enviable technique without which there can be no real artist. But besides professional skill she has succeeded in blending in her works the artistic achievements of her country,. . . and the attainments of such European luminaries of our times as Cezanne and Vincent Van Gogh.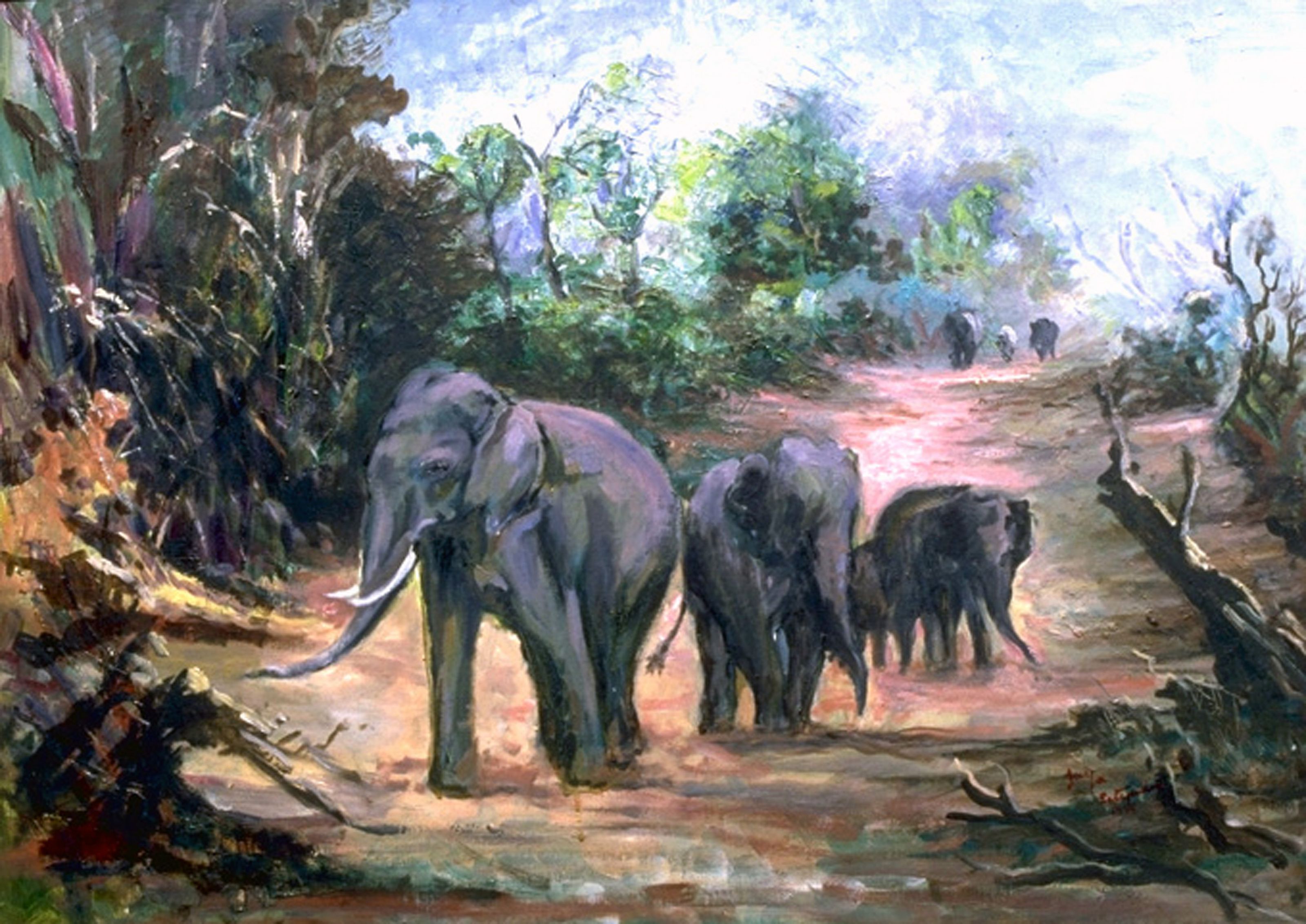 Such a small canvas as 'Elephant Walk' produces an impression of power usually characteristic of monumental mural paintings."
See also
https://www.facebook.com/media/set/?set=a.1451583348498034&type=3 https://tamilnation.org/art/penn/index.htm
https://tamilnation.org/art/moments%20of%20awareness/index.htm
https://tamilnation.org/art/moscow/index.htm
https://www.vasuhan.com/jayalakshmi-satyendra
http://www.oodaru.com/?p=10494