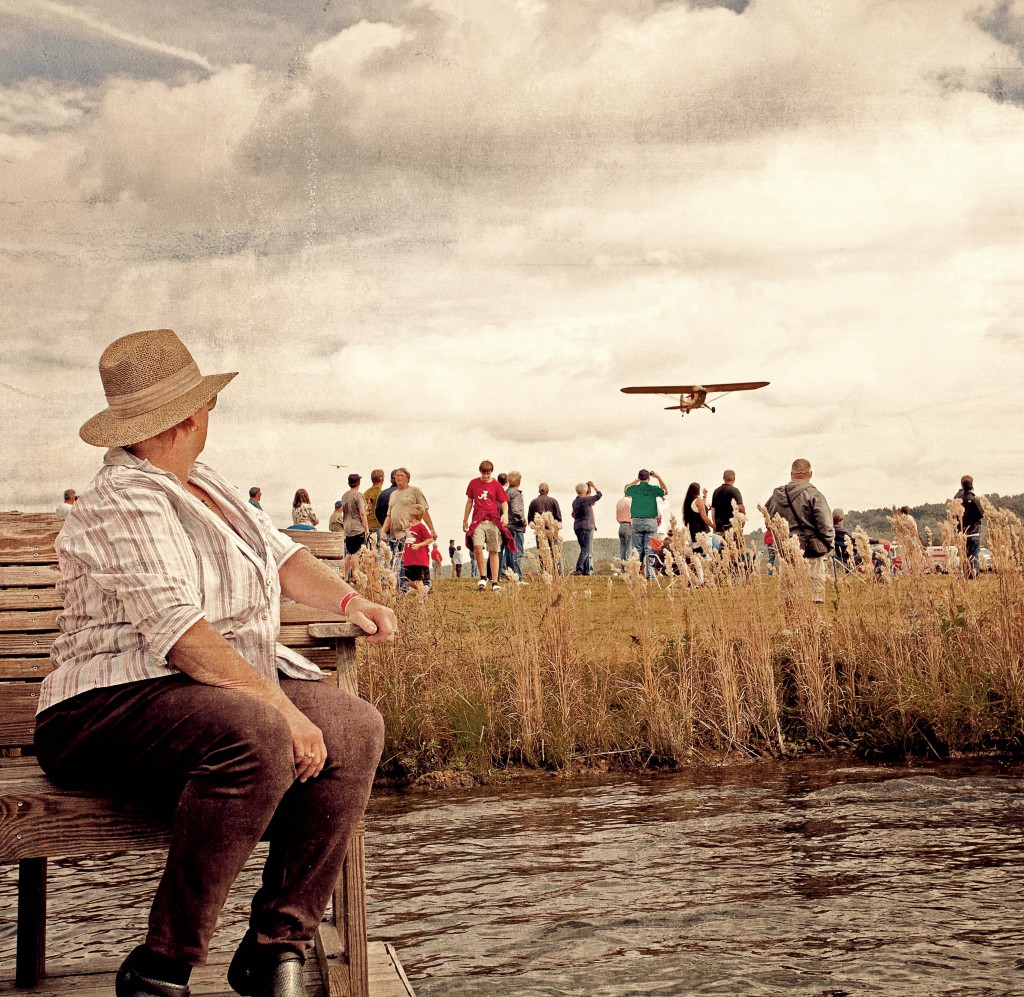 For some pilots, the adventure begins before they take to the skies.
Photography by Beau Gustafson
There's a bumper sticker on the pickup truck belonging to a pilot in town that reads like this: "Don't tell Mom I'm a pilot. She thinks I'm a piano player in a whorehouse." The meaning, of course, is that pilots are a different breed, perfectly willing to cheat the laws of physics, nature, and death itself for the ultimate thrill.
We all fly on jets and the occasional prop plane from time to time, but to put yourself in the cockpit and spit in the face of gravity takes some cojones and, as the stereotype suggests, a cocky bravado and type-A personality. You know—it's the kind of person who makes this joke fitting: "What is the difference between God and a pilot? God doesn't think he is a pilot."
And what about these experimental aircraft pilots? I mean, if it takes a certain cowboy-like swagger to simply fly a plane, what kind of personality traits must it take to cause someone to want to build and fly a plane? A combination of Val Kilmer from Top Gun, Murdock from The A-Team with, say, a touch of MacGyver thrown in for good measure?
The truth is that there's a large and active community of pilots throughout Birmingham made up of some interesting and gregarious men and women with one thing in common—they love to fly. Many of them are tinkerers as well and have discovered a passion for taking to the great wide open in aircraft created by their own sweat and blood.
Alan Walker
"I love building them as much as I love flying them," says Alan Walker, an Ashville, Ala., resident, aircraft mechanic, and experimental aircraft pilot. Walker was introduced to home-built aircraft, commonly known as kit planes, while in the Marine Corps in the mid-1980s and has been building and flying planes ever since.
I caught up with him at his hangar at the St. Clair County Airport, a small flight procedures office (FPO) in Pell City, on a beautiful day in early October. The sky was clear and blue with just a wisp of clouds floating about; there was little to no wind, and it was 70 degrees—perfect flying weather, in other words. He showed me his pride and joy, a Van'S Aircraft RV6. "Actually, a friend of mine owns it. I just keep it up for him and, in exchange, he lets me fly it whenever I want," Walker explains. "It's a good arrangement for each of us, because the single most expensive thing about owning an airplane is the maintenance."
After spending the better part of three years building the aircraft, Walker's RV is a suped-up hot rod. The plane is simply gorgeous and, when contrasted with comparable factory-built planes (like the Piper Tomahawk or the Cessna 150), Walker's RV is in a different league. "A Cessna is a Volkswagen. That's a Lamborghini," says Walker, nodding toward his plane. "This is all-metal, two plate, side-by-side, 4G positive, 6G negative, fully acrobatic, and gets 200 mph. It's not a toy. This thing will run circles around them."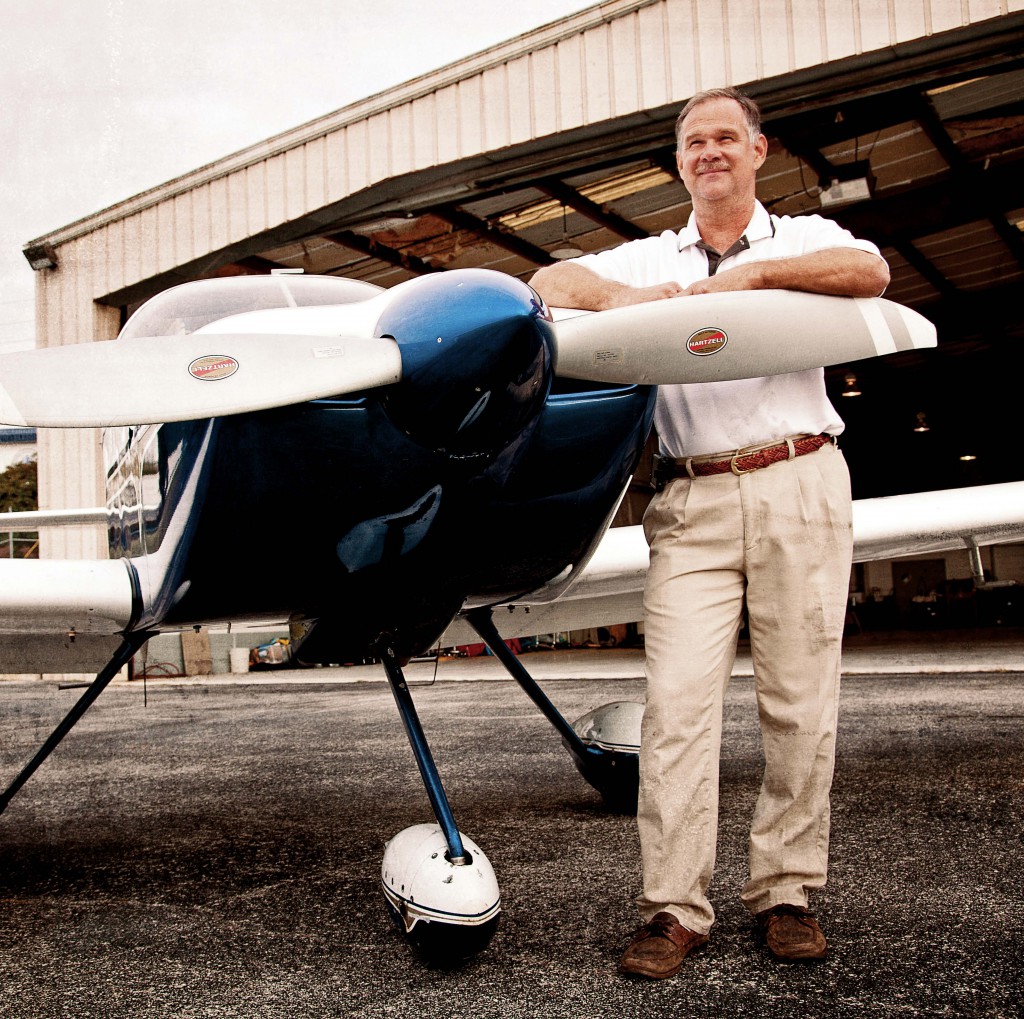 Eager to show off his handiwork, Walker offered to take me for a shot flight. With the sun beating down through the cockpit, we took off and flew over the local golf course, then banked to the left, where I was able to get a look at the roof of my home just a couple of miles away. We straightened up and flew toward Logan Martin Dam, which is when Walker allowed me to take the controls. Similar to taking the wheel of a high-performance sports car, the slightest touch on the stick can bank the plane to the right or left or dip the nose up or down. The lack of struggle to control this beast was impressive and, frankly, unnerving.
Before long we were back on the ground, shooting the breeze in the hangar. Walker told me about his current project, an audacious idea in the world of kit-built planes. He and a partner are building an RV10, a "roomy" four-seat plane designed to use a 260-horsepower piston engine. For this plane, Walker needs a little more oomph. "We're using a 317 Horse Allison Turbine. It'll be the first turbo prop built in an RV," says Walker. He says the real reason he wants to use such a huge power plant is reliability, although he readily admits that the serious ass-hauling capabilities are a nice fringe benefit. "It's one of those things where we actually get the cake, get it iced, and get to eat it. This thing will climb about 3500 feet a minute," says Walker. "It'll be like a homesick angel."
Terry Capps
In the adjacent hangar, a gentleman named Terry Capps was hanging out in what looked like the ultimate man cave. There was a large flat screen television hanging on the wall, showing the Alabama game; a propane grill sitting in the corner; and a bar with a few barstools for endless bull sessions. But the real eye catcher was a little black airplane that looked like little more than a Go Kart with wings.
Commonly referred to as a "breezy," this type of home-built aircraft is the ultimate challenge for the do-it-yourself pilot. With a fuselage made of metal tubing, the engine, wings, and propeller are all up to the builder. "I think you take a little more care and pride in building it knowing that you've got to fly what you've built," Capps says. "Airplanes are not forgiving."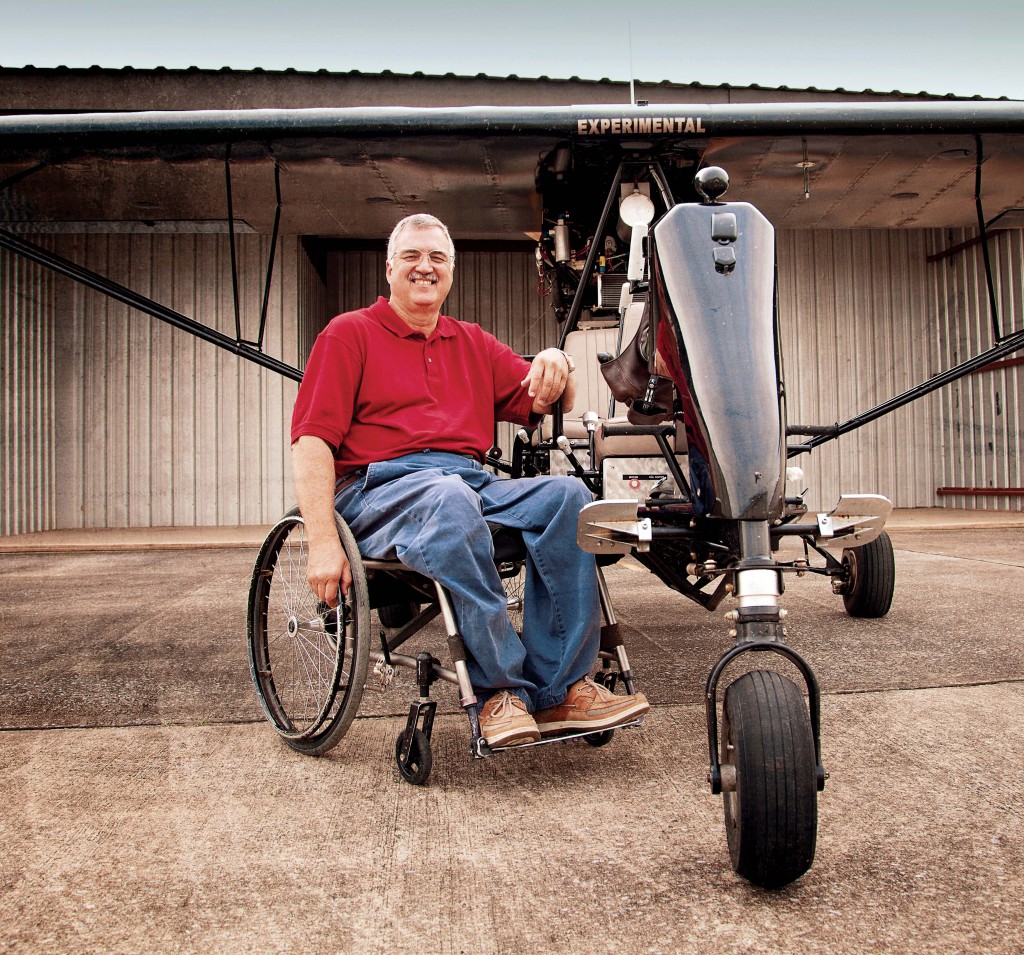 While Capps didn't build this breezy himself—he bought it from the original owner in Arkansas—Capps has made a few modifications. Capps lost the use of his legs after a motorcycle accident in the mid-1970s, so he built a custom rudder system that allows him to use his hands instead of his feet. As he walks me around the sleek, black machine, he shows his only other modification: a homemade smoke trail system. As we talked further and he pointed out various features, mostly parts scavenged from other planes, the picture becomes clearer—all breezies are mutts. "This engine came off a 1956 Cub, and the wings came off a 1949 Cub. They've been recovered, rebuilt, and redone," Capps explains. "You scrounge for parts. You buy parts here and parts there to build this type of aircraft. Nothing is in stone."
The open-air nature of breezies makes carrying luggage darn near impossible, and being open to the elements make them kind of pointless, unless the weather is picture-perfect. Unlike other aircraft, homebuilt or factory-built, that can be "justified" as a way to get from point A to point B, breezies are designed and built simply for the heck of it. "They're fun to fly. You're sitting on them, not in them," Capps says. "It's a different type of flying. You have to wear goggles, but you see things you don't normally see in a conventional airplane, like eagles and hawks. I'd rather fly around here any day than drive on I-20 to Birmingham."
For Capps, the allure is being up there soaring with the birds and fulfilling a lifelong desire that first took root when he was a child living in Enterprise near Fort Rucker. "When I was a kid, helicopters weren't around; it was about airplanes," Capps says. "Everywhere you looked, planes were flying. I just always wanted to fly. I was 13 when I took my first flight. I flew from Enterprise to Tuscumbia in a small two-engine plane. [The pilot] let me sit up front. I thought it was pretty unique."
Ronnie Cross
Capps's flying and building partner is Pell City resident and professional pilot Ronnie Cross. Cross was introduced to flying through his father, who became a private pilot when Cross was 12 years old. Cross says he would routinely go flying with his dad but never really gave it much thought until one day, when he was 16 years old. His father asked him to drop by the airport. "I got there and said, 'I'm ready to go.' He said, 'Well, I'm not going.' I said, 'What did you call me up here for?' He said, 'There's your instructor right there. You're going to take lessons and learn to fly,'" Cross says.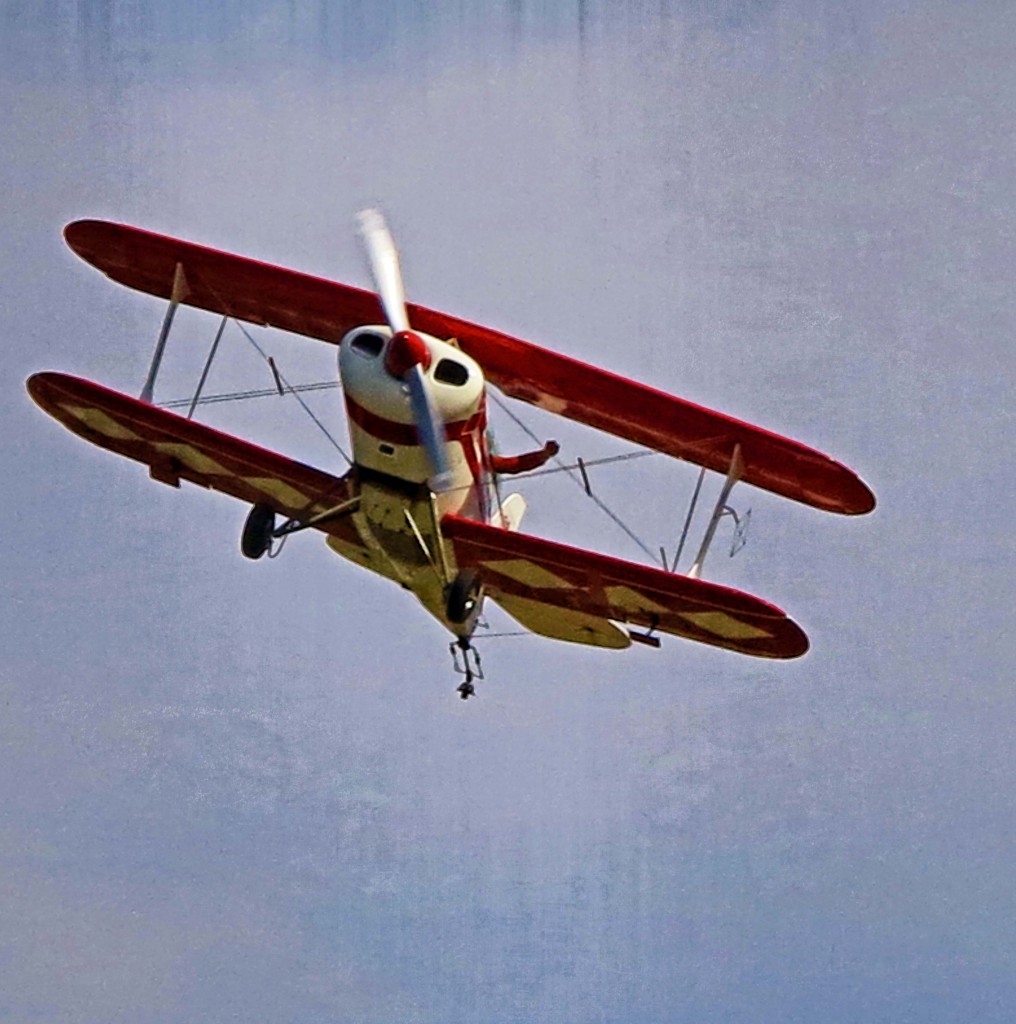 By the time he was 17, Cross had his private pilot's license and was flying professionally soon after graduating from Middle Tennessee State in 1992. With more than two decades of flying experience under his belt, Cross has spent time in dozens of planes—he currently pilots a pair of Cessna Citation Sovereigns for HealthSouth. However, Cross didn't become interested in experimental aircraft until a friend and fellow aviation nut named Sammy Moore introduced him to the breezy in 1995. "He was always hyping up how exciting it was to fly a breezy and build it yourself," Cross says. "He came to me one day and said, 'You and I are going to partners. We're going to order tubing, and I'm going to help you build this breezy.'"
In the early 2000s, Moore, Cross, and Capps began working on their own breezy. Shortly thereafter, Moore was killed in an accident after stalling the engine out at low altitude in his own breezy. Despite the accident, Cross and Capps decided to forge ahead, finally finishing construction three and half years later. It was a fitting tribute to their friend. "He wanted you to like flying," Cross says. "If he saw any spark of interest, he would suck you up like a vacuum cleaner. Next thing you knew, you were on the back of an airplane. He just wouldn't take 'no' for an answer."
Despite selling that plane a few years ago, Cross flies Capps's breezy on a regular basis. Cross says the breezy offers things you just can't get in a corporate jet; he compared the experience to riding a motorcycle with the wind blowing through your hair and bugs in your teeth. "You just can't play around, and you can't buzz people's houses and wave at people," Cross says. "I love flying up and down the lake, waving at people in their boats. That's my thrill of the summer, cruising around the lake."
Johnny Ward
Just off of Interstate 65, in the no man's land between Montevallo, Alabaster, and Calera, lies the Shelby County Airport, one of the busier small airports in the area. Its caretaker is a gentleman named Johnny Ward, a man who eats, breathes, and bleeds aviation. So excited is he by planes that he couldn't help pointing out the smallest of details as he showed off some of the 83 aircraft based at the airport. "Look at the recessed rivets on this plane," he says, admiring a custom-built plane in the main hangar, comparing it to the raised rivets on a factory-built Cessna just a few feet away. "If you have recessed rivets it's more streamlined, and then it's more aerodynamic," he says. "The guys who build these things have more patience than I would have ever thought of."
As he took me around the hangar, Ward pointed out all sorts of interesting aircraft, from an oddball bubble-like contraption that looks like a cross between a helicopter and flying car from the old Jetsons cartoon, to a million dollar prop jet that could cause you to mess your drawers upon takeoff. Ward is president of the Shelby County chapter of the Experiment Aircraft Association (EAA), an organization for aviation enthusiasts with more than 180,000 members worldwide, many of who build and fly their own planes. However, Ward is most passionate about vintage aircraft.
Ward's plane, a silver, bullet-shaped prop plane, with a yellow and blue star on the wing and a painting of mighty mouse on the fuselage—a 1946 ERCO Ercoupe—sat on the tarmac, glistening in the late fall sun. "That's a classic. It was really ahead of its time," Ward says. "Not too many planes at that time had tricycle landing gear, and that's one of the few civilian planes that have twin rudders." First designed in 1931 by Fred Weick of the National Advisory Committee for Avionics, the Ercoupe operates more like a car than a plane, Ward says.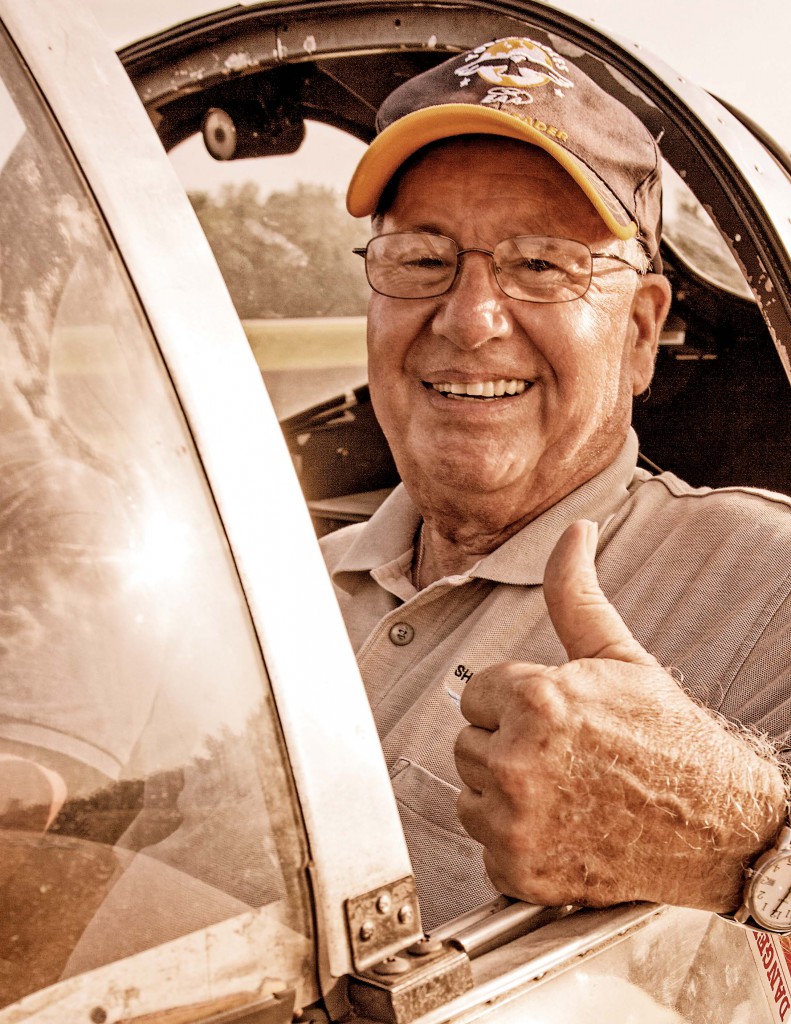 The day I visited, Ward invited me for a short trip and, with the top down, it did feel like a car, a spine-tingling convertible that happens to be hundreds of feet above the ground. Ward gave me a bird's eye view of the University of Montevallo, American Village, and the rural countryside of Shelby County. Before long, we were back on the ground, shooting the breeze about—what else?—airplanes.
Ward caught the aviation bug early in life and learned to fly in the Air Force. Over the years, he's had the opportunity to fly 53 planes. "I don't consider it flying an airplane unless you can take off and land it," Ward says. "Any idiot can steer it." He does have a couple of exceptions, including a time when he had the opportunity to fly a P51 Mustang from Shelby County to Montgomery. "We took off and (the pilot) flies the traffic pattern, kind of like a shoebox around the airport, then he buzzes the field and climbed to 3,000 feet. I'm in the back. He said 'Okay, Johnny, it's your plane,'" Ward says. "Man, my dream was to fly in a Mustang. Just in it. I had no possible dream of ever flying one."