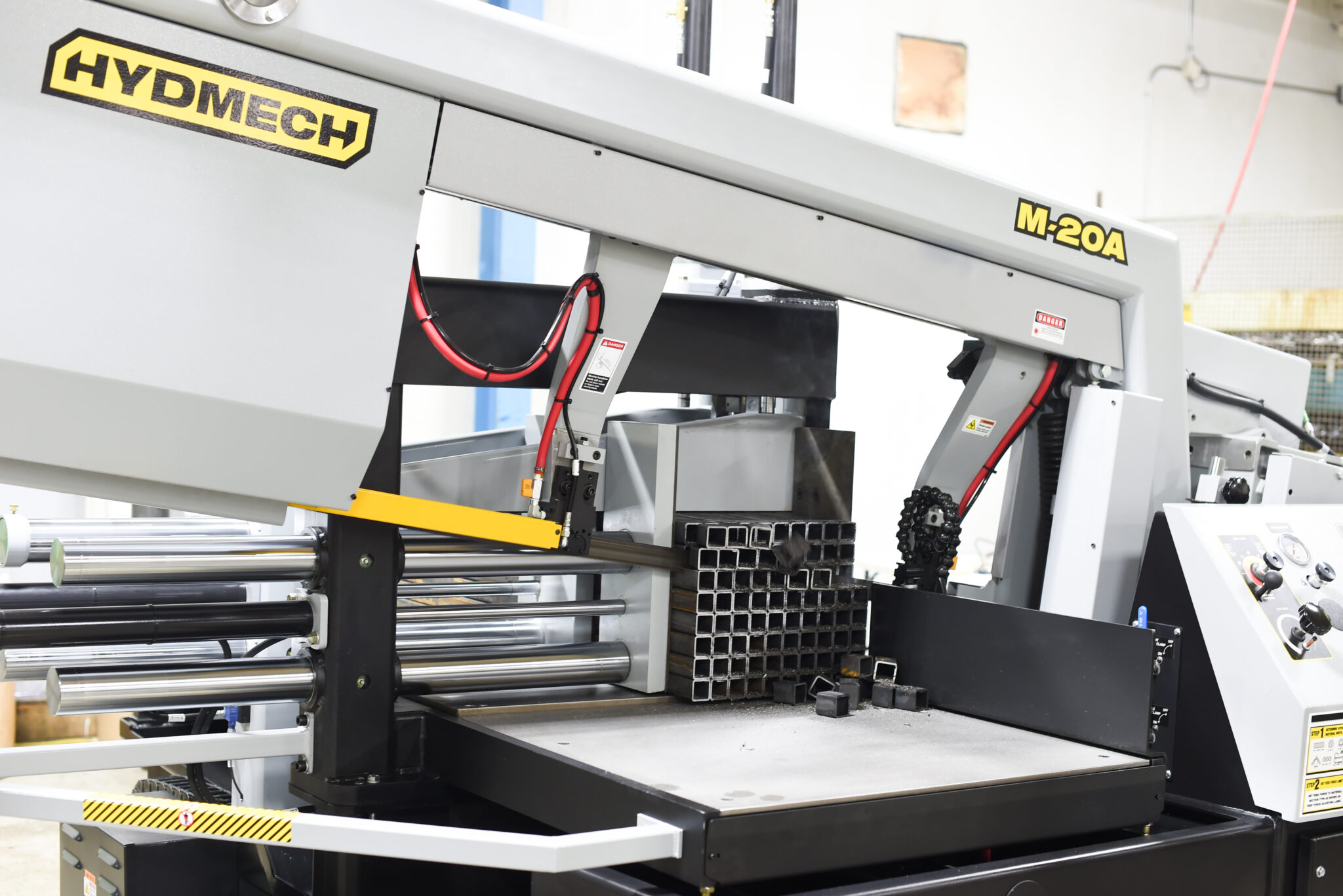 For more than 40 years, HYDMECH has been a worldwide leader in metal band saw, cold saw technology, and metal sawing solutions. Established in 1978 in Woodstock, Ontario, by Stan Jasinski, a Polish immigrant, and engineer, HYDMECH was initially an engineering consulting firm specializing in hydraulic and forestry equipment. However, frustrated with searching for a saw to suit his needs, Jasinkski saw an opportunity, putting his engineering knowledge to use, developing a cutting-edge mitering saw.
Jasinski designed a mitering saw with superior performance, gaining the attention of peers and dealers throughout the area. Since that moment in 1980, HYDMECH's focus on manufacturing quality sawing technology has never wavered. "We pioneer innovations such as swing-head versatility on our scissors-style saws and consistently deliver the widest range of saws to a vast range of industries," reads the Hydmech website. "The industries we serve include aerospace, automotive, steel service centers, metal fabrications shops, racing, and more."
Today, HYDMECH manufactures an array of band saws, cold saws, and carbide saws as well as offers a variety of material handling solutions. HYDMECH also designs, manufactures, and installs custom handling equipment for a wide range of applications such as steel fabrication, steel processing, supply machinery and equipment; and oil, gas, and energy.
Industrial Machinery Digest caught up with Hydmech's Vice President of Sales and Marketing Rick Arcaro and Marketing Manager, Joanna Wilcox, to learn more about Jasinski, the fascinating history of HYDMECH, and the innovative technology coming out of the company's manufacturing plant.
What can you tell us about HYDMECH's founder, Stan Jasinski?
"Company founder Stan Jasinski, after being released from a prisoner of war camp, completed his engineering degree in East Germany. In 1966 Stan and his family escaped communist Germany and immigrated to Canada with a dream of someday owning his own company.
He worked in various roles at TimberJack in Woodstock and became chief engineer producing forestry equipment. In 1978, Stan incorporated HYDMECH Engineering which was an engineering consulting firm specializing in hydraulic and forestry equipment. Early products included roll forming equipment for eavestrough, bending, power steering systems for heavy equipment, and patented the telescopic dump cylinder for the 300 ton GM mining dump trucks.
In 1980, in a small 4000 square foot building, was Stan's first involvement with band saws when an internal need for mitering came up. Since he could not find one on the market he built one.
In 1983 Stan purchased our second building, which is the middle of the three plants in Woodstock, approximately 25,000 square feet. He then began manufacturing the S20, S20P, and S20A and prototyping the S25."
– Rick Arcaro, VP of Sales and Marketing
What are some of the innovations and technologies HYDMECH has developed over the years?
"The first miter band saw to rotate the head and not the vices, saving floor space. Rack & Pinion long bar-feed saws, single miter programmable head machines, simple operator controls to set up a machine following our door chart in which anyone can be an operator and durably built machines with off-the-shelf parts."
– Rick Arcaro, VP of Sales and Marketing
How do HYDMECH saws assist customers in selecting the right saw and/or customizing machines to meet their needs?
"Our sales staff has over 50 years of combined experience recommending the correct machine for the application. We are a hands-on group that will recommend a machine, assist in the installation of the machine, and train the end-user on how to run the machine – a complete sales and service package."
– Rick Arcaro, VP of Sales and Marketing
"We have a solid understanding of metal cutting operations and how our saws fit into your business. Many people don't realize that we sell complete systems – not just the saw. Our sales team will ensure you have the exact material handling solutions needed to move material into the saw, through it, and out the other side efficiently, saving you time and money."
– Joanna Wilcox, Marketing Manager
What are some of the newer products HYDMECH has developed recently and what common issues were they designed to solve?
"Our 60-degree vertical miter saws with icon-driven touch screen controls. The 60-degree miter expanded the mitering capability for our end users, and our modern icon-driven interfaces use graphics, simplifying the operation of the band saw."
– Rick Arcaro, VP of Sales and Marketing
What traits separate HYDMECH from competing manufacturers of band saws, cold saws, and carbide saws?
"Ease of operation, value for the price, durability, and reliability, low cost of operation, good availability of parts, and factory support."
– Rick Arcaro, VP of Sales and Marketing
"Our motto is "Reliable Saws, Reliable People" for a reason. Our machine builders have spent years building the same saw model. They take pride and ownership of the machines they build from start to finish. We care about our customers and supporting their operations."
– Joanna Wilcox, Marketing Manager