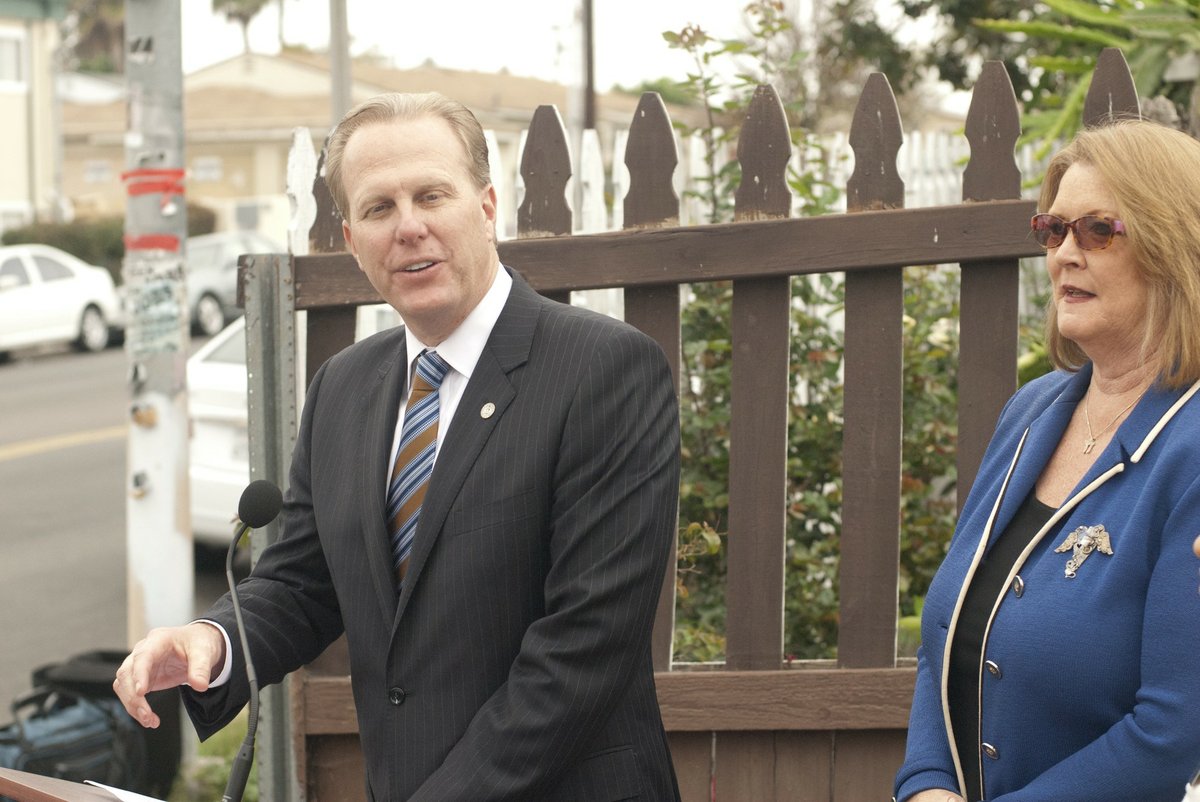 A medical facility and job-training center planned for the corner of Federal Boulevard and Pentecost Way in the southeastern San Diego neighborhood of Emerald Hills is the kind of project envisioned by the federal anti-poverty program that's helping pay for it.
The building will replace a vacant, overgrown lot and provide services to an underserved community, and, perhaps most importantly, the job training will focus on the employment-rich field of health information technology.
"It's really a good benefit to the city, it's a good benefit to our patients and it's a good benefit to us as an organization," says Ben Avey, spokesperson for Family Health Centers of San Diego, which is building the facility.
To complete the $9.5-million project, Family Health Centers applied to the city of San Diego for $1.6 million in Community Development Block Grants (CDBG). Cities and counties get CDBG money annually from the U.S. Department of Housing and Urban Development (HUD) to spend on programs and projects that will fight poverty. This year, San Diego received $11.2 million, down from 2012's pre-sequestration amount of $16.3 million.
The money is divvied up by category, with 15 percent going to social services, 10 percent going to economic development, 20 percent going to administration and the remaining 55 percent going to capital improvements like the one planned for Federal Boulevard.
Last week, Mayor Kevin Faulconer proposed locking in a guarantee that the city will get 60 percent, or $3.6 million, of the roughly $6 million in CDBG funds available annually for capital-improvement projects. Traditionally, the city has had to compete for that money alongside nonprofits, but with an estimated citywide infrastructure backlog of $1 billion, CDBG would provide annual guaranteed funding for things like sidewalks and streetlights. Faulconer's proposal, which requires City Council approval, isn't unusual, the Mayor's office argues:
San Jose carves out 65 percent of its total CDBG allocation for city projects, while takes 56 percent. San Diego's 60-percent share of CIP money equates to 33 percent of its $11.2-million grant. Oakland and San Francisco, however, take less than that—23 and 22 percent, respectively.
Nonprofits, left to compete for the remaining 40 percent, or $2.4 million, aren't too happy. Avey said it seems less likely that bigger projects like the new Family Health Centers facility will get funding because that would eat up too large a chunk of a smaller pot.
In a March 17 letter to the City Council's Public Safety & Livable Neighborhoods Committee, which discussed the mayor's proposal last week, Avey pointed out that the 60/40 split could conceivably cut the number of nonprofits awarded funding by more than one-third—this year, 11 projects, nine of them administered by nonprofits and two by the city, were recommended for funding.
"If the proposed budgetary formula was applied to current applications, only 3 nonprofit [capital-improvement] projects would be recommended for funding," Avey wrote.
"I heard some of the council members talking about transformational projects," Avey told CityBeat. "That's what they're looking for, is transformational projects. Really, if the city takes 60 percent of the CIP funding for sidewalks, it's not going to allow enough money for transformational projects."
Last week, Faulconer told U-T San Diego that the money would go toward building a fire station in Skyline Hills. But a consultant hired by the city to help develop a CDBG spending plan said it's more likely the money would fund things like sidewalks and streetlights around the fire station. The grant money can't pay for planning and design and must be spent within 18 months of receipt, making it less than ideal for larger government projects.
That consultant, LeSar Development, conducted community outreach, via survey and public meetings, as part of a process to determine how CDBG money should be best spent. While affordable housing and jobs topped the list of overall greatest needs, sidewalks and street improvements topped the list of infrastructure needs. LeSar Development's Vicky Joes said public safety came up often, too, but not the meaning one might expect.
"We heard public safety all the time," Joes said. "And, what I assumed that [meant] was, like, police force. And it was sidewalks and lights. The kids in San Ysidro walking to school down that street [lacking a sidewalk], that's a public safety issue. Where you have lights, you also have economic development. So, it's really trying to get the most bang for the economic buck. It's dwindling resources that folks are understandably passionate about."
Using CDBG money to pay for sidewalks is allowed under federal guidelines as long as the sidewalks are in lower-income neighborhoods and the money doesn't supplant funding that's otherwise available. Jay Powell, former director of the City Heights Community Development Corporation, believes CDBG money should be spent on big-picture projects, not basic infrastructure.
"The city has a responsibility to provide certain basic services. And I thought that community-development funds were to go to make up certain other kinds of deficiencies," he said.
During the recent mayoral campaign, a political-action committee supporting Faulconer sent out a barrage of mailers accusing City Councilmember David Alvarez of wanting to give CDBG money to three communities—City Heights, San Ysidro and southeastern San Diego. The claim was based on Alvarez's suggestion that city staff explore the possibility of setting up so-called Neighborhood Revitalization Strategy Areas that allow more flexibility with how CDBG money is spent and require significant community involvement when it comes to determining funding priorities. The mailers quote Faulconer as saying he plans to make sure "every neighborhood receives its fair share of community funding."
Powell said that when he heard about Faulconer's proposal for CDBG funding, his mind went to those mailers.
"When we look at capital-improvement budgets, and we say, Alright, Scripps Ranch, here you go: Here's your list, and here's how much you're going to get for your stuff,' and then we look at City Heights and we say, OK, City Heights, here's your list, and here's what we're going to do: We're going to take CDBG money and spend it to fulfill your list, but we're going to take general-fund money and use it to fulfill Scripps Ranch's list.'"
Infrastructure-deficient neighborhoods like City Heights should be getting double scoops, Powell said. "Now we're talking; now we're making progress. Now we can attack the deficiencies."
Craig Gustafson, a spokesperson for the mayor, said infrastructure improvements in CDBG-eligible areas won't be limited to CDBG funding. "Just because they are getting CDBG money will not preclude the city from spending other money there, as well."
Joes said LeSar Development has recommended that a citizens advisory board that makes CDBG award recommendations work with city staff to come up with "a clear understanding of how [spending] determinations are made so that no wheel needs to be re-created on how you prioritize which project is in the most need or is most near completion or is lacking of funds."
LeSar is also recommending that the city come up with a method of geographic targeting to ensure that the neighborhoods most in need get priority.
City Council President Todd Gloria said he gets both sides of this issue. He points to the LGBT Center in Hillcrest, where CDBG funds helped create a computer lab, library and public-meeting space.
"Hillcrest doesn't have a branch library, doesn't have a park, doesn't have a recreation center. That facility, in many ways, serves those purposes." CDBG, he said, was a "wiser investment" than the city building a rec center in Hillcrest.
"If there's less funding available for those kinds of projects, that comes at a cost—that's the balancing issue."
On the other hand, the city could have claimed an even larger piece of the ever-shrinking CDBG pie than it did. That pie has decreased by more than $5 million from just two years ago, due to federal sequestration.
"The higher competition for a smaller and smaller pie is just making this problem more acute," Gloria said. "And I think there's going to be more of that to come."