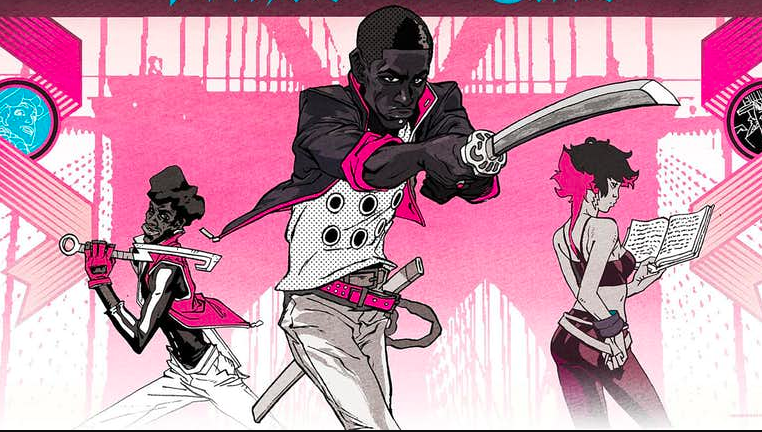 Ronald Wimberly is hard to pin down, because he does a little bit (or really, a lot) of everything. Individually and collectively he's a writer, inker, penciler, colorist, letterer, and cover artist. Wimberly first got my attention when he posted "Lighten Up" on The Nib. A revealing illustrated description of what colorism and whitewashing look like from a technical perspective in comics, it led to regular strips on socio-political commentary in The New Yorker.
Though not really a fan of "superhero comics," Wimberly has penciled and inked his fair share of work for the majors, including She-HULK (DC), Swamp Thing (Vertigo) Lucifer (Vertigo) and his unforgettable run on Black Dynamite (IDW). He also a wrote and drew amazing contributions for both the Attack on Titan Anthology in 2016 (Kodansha) and this year's Once Upon a Time Machine Vol. 2 (Dark Horse)
It was Prince of Cats (Vertigo) that really displays just how far his talents reach. Described as the "B Side" of Romeo and Juliette, Prince of Cats retells Shakespeare's famous love story from Tybalt's perspective via black kids in '80s-era Brooklyn. I was blown away by his art style and the fact that he had written the entire comic in iambic pentameter, true to Shakespeare's original prose, but updated with 1980's syntax. Recently, it was announced that that same work is going to be made into a film starring Lakeith Stanfield, produced by Legendary.
SYFYWIRE caught up with Wimberly recently to discuss breaking into the biz, his impressive influences, and how he does it all.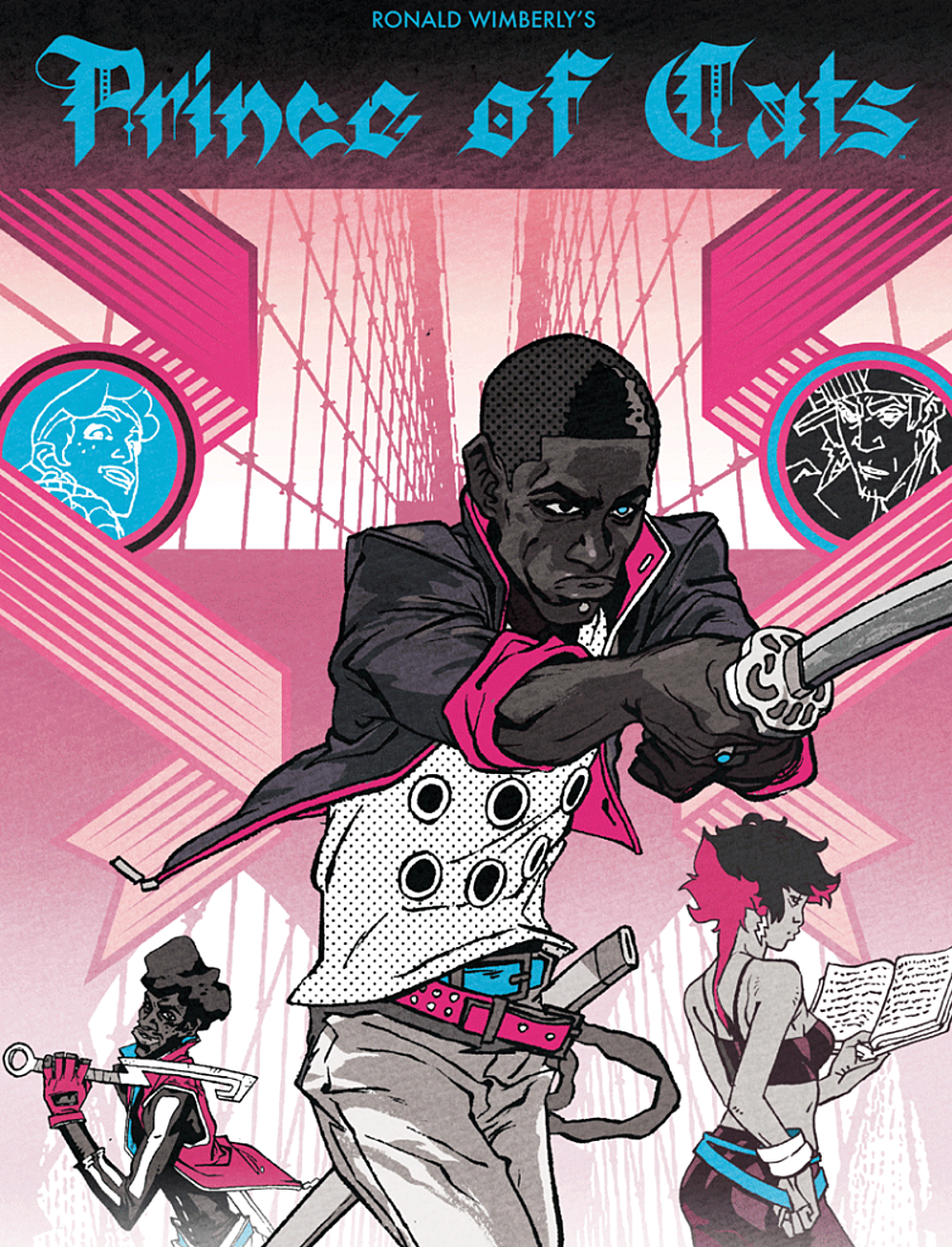 What was your first published sequential art gig?
Ronald Wimberly: I think my first published work was "Tangerine," an eight-page GratNin strip about ninja, green roofs, and biodiversity in New York City. It was published in an anthology from Darkhorse called Strip Search. In 2003, I entered "Tangerine" into Darkhorse's Strip Search online comics contest. I won for the month… I wanna say November. The following year it was printed in the anthology collecting the monthly winners.
Who came up with the idea for "Lighten Up"? You or the NiB?
I casually mentioned the possibility of the strip to Mat Boors at The Nib and he encouraged me to make it. Matt suggested including an image of myself in the work; I hated this idea. I thought personality was an obstacle to the intended function of the strip. I created the hex codes device to solve the problem… not sure how successful it was, still think I shouldn't have included myself in it.
Were you ever afraid that speaking out against colorism in comics would negatively affect your career?
No. I didn't think about it too hard. Maybe I'm reckless. That said, superhero comics have never been a major part of my expression or income. I'm generally ambivalent about superhero comic books (I wrote an essay about it in LAAB magazine); there's something to the spectacle in a superhero comic… like a zeppelin on fire.
After Strip Search, I drew a short for Les Humanoids called "Overdose"; shortly after that I started working for Vertigo. Closest thing to a superhero I did for them was a fill-in on Josh Dysart's run on Swamp Thing in 2005. If that doesn't count, my first superhero gig was a fill in on Charle's Soule's She-Hulk in 2015.
By then, I'd already drawn three graphic novels. I submitted my work to Marvel once shortly after I started, but nothing came of it. Years later I ended up doing work for Marvel briefly after Axel Alonso reached out to me. I drew two issues of She-Hulk and then five pages in an issue of Wolverine and the X-men.
What artists and writers influence your work?
It's a revolving door. Baldwin, Miyake Issey, Hokkusai, and Blake sit above one of my drafting tables. I recently saw Abbas Kierostami's Close Up and it looms largest in my imagination right now. I've been rewatching Phantom Thread and trying to dig how they constructed those characters. I've been trying to eat a lot of film writing. Morvern Caller. Yuasa's Devil Man Crybaby. I must've seen [Wong Kar-Wai's] 2046 in the theaters four times this year.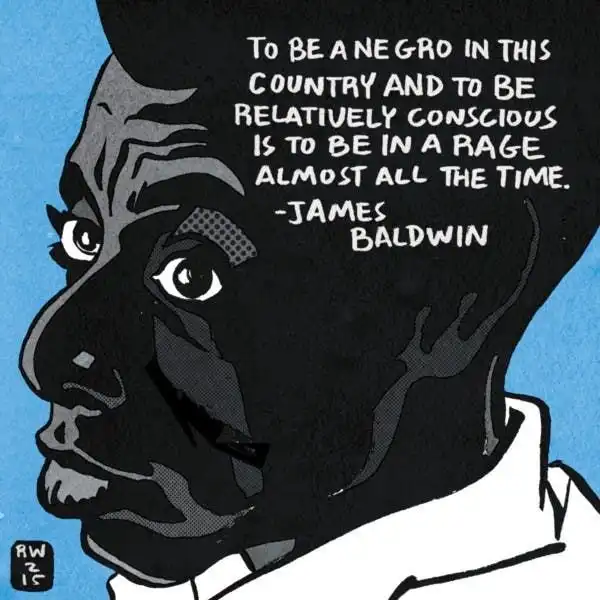 "Black History In It's Own Words" (NiB)
Right now I'm reading and re-reading a bunch of Brecht plays I bought second-hand, and Galileo has profoundly shaped the way I'm approaching something I've been struggling to write for a long while.
As for comics, Domu is up there. I'm really into Urasawa, Igarashi Daisuke, Matsumoto Taiyo… I read Wanpanman as it drops. Anything by Jason. Every 12th Boichi drawing that rolls down my Tumblr feed.
I recently got back into looking at Klimt and Schiele's drawings as right now they are up in both The Met and Neue (they're always up at the Neue, but they have an impressive showing of their drawings right now including a sketch for the mural "Jurisprudence"). I've looked at Mignola, Bernard Krigstein, and Jose Muñoz at least once a day for the last week.
Andy Warhol's fashion illustrations are also in steady rotation. I'm really drawing some inspiration from my younger peers. Fred Carrasco visited my studio earlier this year and that was inspiring. Shannon Wright, Richie Pope, Gyimah Gariba, Tanna Tucker, Jonathan Djob Nkondo.
You wrote, drew and colored the entire Prince of Cats comic, can you explain your process a bit?
You just did! Lol. I started by researching. Reading a lot of Elizabethan English to get a vibe of the language. Not just Shakespeare, Milton and stuff too. I researched the history of Romeo and Juliet prior to Shakespeare's version and after. I wrote a whole script. I broke it down in a small format, and since I was not lettering at this point I wasn't as smart about adjusting the language to space as I could have been; fortunately I had Jared Fletcher lettering to mitigate that oversight. … then, over the course of a couple years, completing several other projects simultaneously, I penciled and inked the book. The smaller pages and the pages with folds in them are the ones I did in Tokyo, scanning a bunch at a Shibuya Kinkos. … and I finished while I was working as a character designer on Black Dynamite.
Were there societal themes that you wanted to convey?
I intended to use Prince of Cats to deconstruct Romeo and Juliet's tragic, romantic grand narrative. The aesthetics (linguistic and visual) were intended to deconstruct grand narratives regarding high/low culture, occidental monocultural etc. There are many themes that I hope the reader will uncover on their own, maybe even some that I didn't intend.
You've used iambic pentameter in Prince of Cats, one image/one quote descriptions in Black History. Do you regularly put constraints on yourself as part of your creative process?
A large part of what I do is constraint. I give myself rules. It's like peering through a scope, or aligning the front and back sites on a pistol. … but shooting from the hip can be a constraint too, I suppose.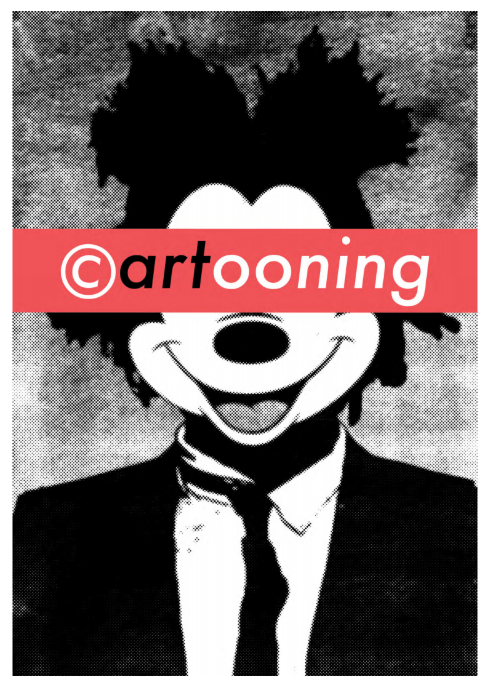 "LAAB Magazine"
The collective art annual newspaper LAAB really feels very singular and collaborative at the same time, was that your intent?
I didn't have any intent regarding how singular or collaborative the newspaper would feel. In regard to collaboration, there were conceptual motivations, editorial needs, and material/economic constraints that made the newspaper what it is. The only feelings I intended were sensual… how the newspaper feels, smells, sounds, etc.
What's your next project?
More Indie Comics Spotlight
Indie Comics Spotlight: Kirby-esque space gods are mortal in Al Ewing's 'We Only Find Them When They're Dead'
The 12 most influential indie comics of the decade
Sunset Park (Image) is my focus right now. It's moving along. I'm excited to show it to everybody.