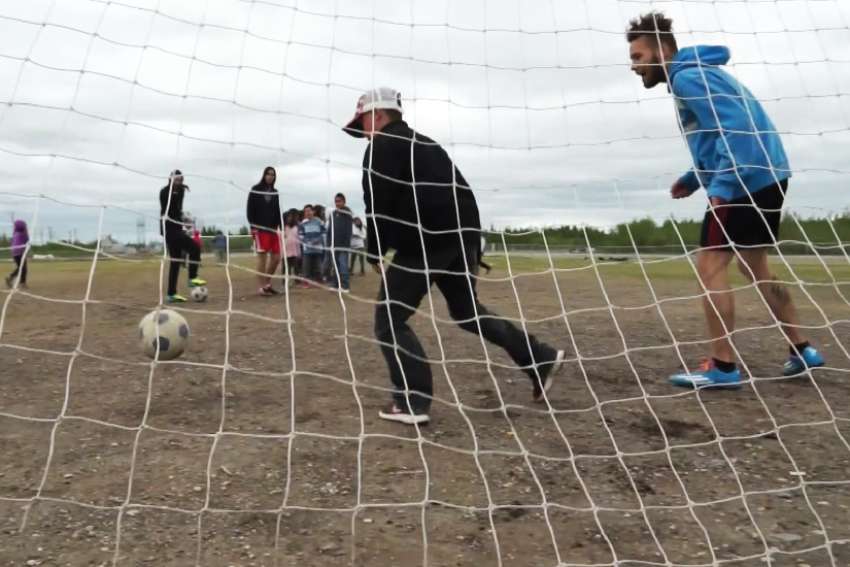 To the boys on the senior high school soccer team, it was only natural to reach out to people their age who were suffering in the northern part of the province.
But two years later, coach Paolo Pereira is amazed at how a school soccer camp his players organized for students in Attawapiskat has evolved to now include programs in dance, chess and, coming soon, music and basketball. The initiative to build connections through sports and art is now known as Project5, and Pereira said the students are only just beginning.
Pereira, the head coach of the senior boys' team at Bishop Marrocco/Thomas Merton Catholic Secondary School in Toronto, said the goal of these programs is to create connections between the young people. He's encouraged to see that is happening. Many Toronto students who visited the First Nations community for the first time in 2016 still keep in touch with Attawapiskat students through social media.
"At first, you have to conquer their trust. They're very friendly, very approachable, but it took time for them to really believe that we're for real and that we're coming back," he said. "Now we really feel like we're part of the community."
The students talk about normal, day-to-day happenings, said Pereira, and they like the idea of having friends in another community.
The outreach initiative began as a reaction to a suicide crisis that took place in Attawapiskat, near James Bay, Ont. All eyes were on this small First Nations community after a state of emergency was declared when 11 young people attempted suicide on April 9, 2016. More than 100 people attempted suicide between September 2015 and April 2016, with one death. Local councillors and community leaders called for more government support, mental health programs and a suicide prevention strategy.
Pereira and his students developed an idea to use sport as a means to "reach out and show support" by running a week-long soccer camp "as a tool to connect."
That June, Pereira and assistant coaches, Dan Romano and Christopher Bonnici, brought the BMTM Royals to Attawapiskat for the camp. They paid for the trip by raising $32,000 through a GoFundMe.com page in a month.
"We slept on the gym floor and we shipped our own food and everything," he said.
"That first year, we got a lot of media coverage, even while we were up there. So that was really huge for us."
As news spread of the success of the camp, other schools from across the city began to reach out.
"But it was so successful that when we came back, other schools and organizations started to call us," he said.
At the same time, Pereira said the Attawapiskat community began to ask for more programs.
In March 2017, the team partnered with Sony Music Canada to organize a music festival with Canadian pop singer Tyler Shaw as the headliner. In January this year, Bishop Marrocco/Thomas Merton partnered with St. Elizabeth Catholic High School in Thornhill to run a dance program. Most recently, the school ran a chess program during March Break.
In addition to their trademark soccer camp in June, Pereira hopes to add a music program in October and a basketball program in November.
"In terms of suicide attempts, they have been dramatically reduced," said Pereira. "And also, the teachers report that when we go to their schools, that's when they have the highest attendance. So that's a huge deal for them as well."
These five youth programs are just the beginning, said Pereira. Their new website, Project5.ca, lists three other First Nations communities they would like to serve. But that requires fundraising.
Project5 organizers from the high school hosted a dinner and dance April 28 to raise money.