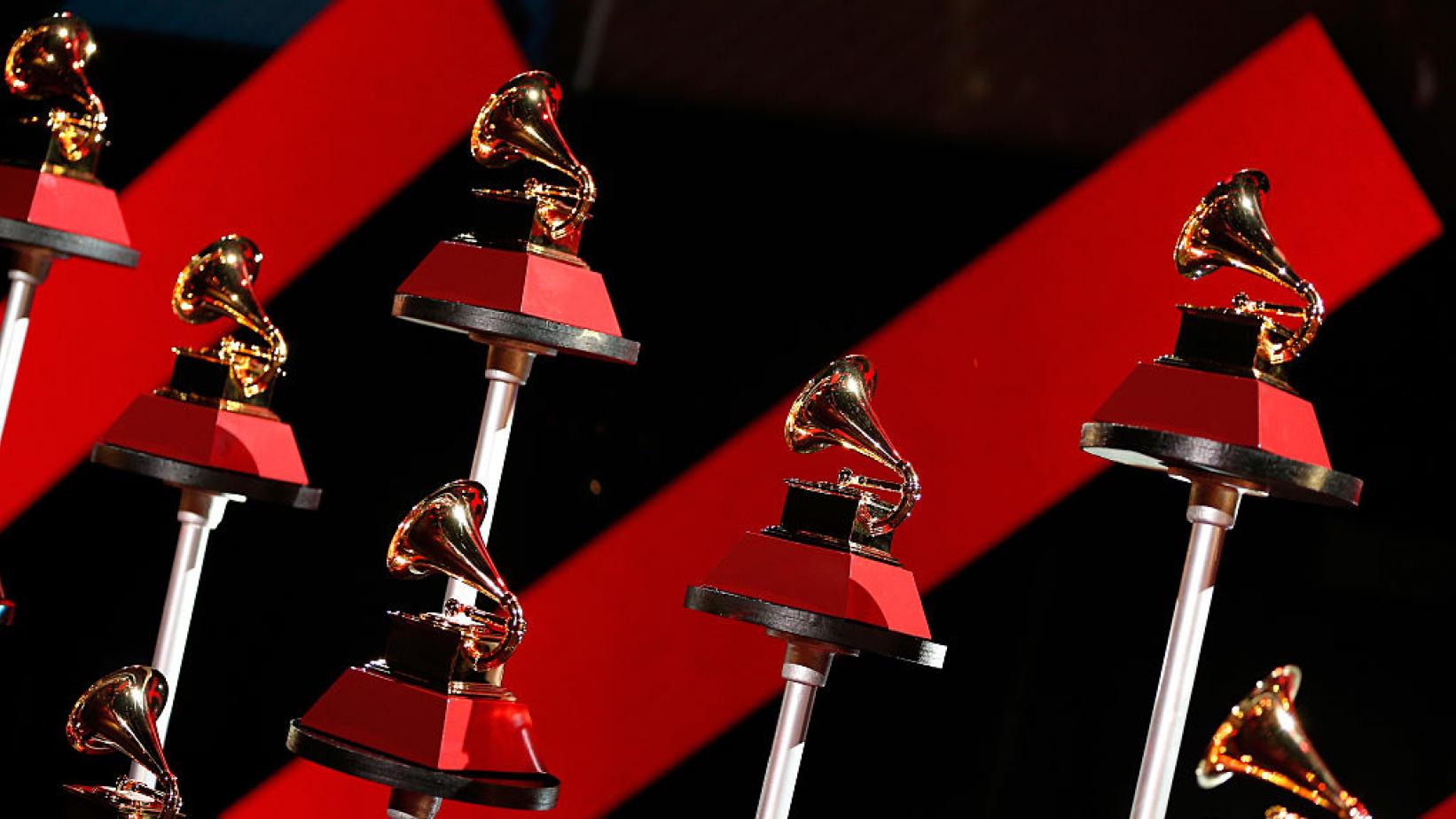 At the 2020 Latin GRAMMYs this week, Latin music fans will find out who will take home the coveted Record Of The Year award, which recognizes the artists, producers, recording engineers and mixers and mastering engineers behind some of the biggest records this season. Ahead of the 21st Latin GRAMMY Awards, which air Thursday, Nov. 19, GRAMMY.com dives into the records nominated for one of the most anticipated awards this year.
For his latest album, Emmanuel, Anuel AA assembled The Avengers of reggaeton music for the all-star collaboration, "China." Anuel AA, who's also nominated for Best New Artist this year, teamed up with genre pioneer Daddy Yankee, his fiancée Karol G, and superstars J Balvin and Ozuna. Helming the track, producer Marco "Tainy" Masís turned a sample of Shaggy's 2000 smash, "It Wasn't Me," into a reggaeton club anthem. The monster collaboration was a familiar yet refreshing spin on the genre. Anuel AA led this formidable lineup to the top of Billboard's Hot Latin Songs chart for multiple weeks.
Since his Best New Artist nomination at the 2011 Latin GRAMMYs, Pablo Alborán has remained a constant force at the awards. The Spanish singer has previously been nominated in all four major categories, including five Record Of The Year nominations to date. This year, his heartfelt ballad, "Cuando Estés Aquí" (or "When You Are Here)," which he wrote and produced himself, is up for the award. When the COVID-19 pandemic hit at the start of the year, Alborán released this song as a glimmer of hope for when we can all gather with our loved ones again. All the proceeds from the release went to UNICEF's efforts to help those impacted by the pandemic.
On "Vete" (or "Leave"), the most emotional song off his 2020 blockbuster album, YHLQMDLG, Bad Bunny lives up to his persona as reggaeton's resident sad boy. (Puerto Rican duo Súbelo NEO, who Bad Bunny brought into the spotlight on YHLQMDLG, and Hazen produced the song.) The Puerto Rican rapper is known to get in his feelings in his music, and he does so beautifully here. After a relationship has run its course, Bad Bunny lets an old flame know where the door is, ultimately finding power through heartache on this kiss-off anthem.
"Solari Yacumenza" - Bajofondo featuring Cuareim 1080
Bajofondo is the musical band led by legendary Argentine producer Gustavo Santaolalla and Uruguayan musician Juan Campodónico, who are both previous Latin GRAMMY winners. Featuring Montevideo collective Cuareim 1080, "Solari Yacumenza" is notably the only primarily instrumental track competing in the Record Of The Year category this year. Bajofondo's unique blend of electronic and tango music sounds magnificent on this nearly 7-minute jam session. Two countries come together and cut loose in the studio and on the stage.
On "Rojo" (or "Red"), the most emotional offering off his 2020 Colores album, J Balvin wears his heart on his sleeve as he longs for his lover's touch. The song was produced by the Colombian rapper's longtime collaborator Alejandro "Sky" Ramírez and Taiko, who gets his breakout moment on Colores. Among the tracks on the chromatically themed album, this is the brightest spot where J Balvin flexes his singing abilities in a moving and soaring performance. Counting his feature on Anuel AA's "China," "Rojo" marks J Balvin's second nomination in the Record Of The Year category this year.
After stepping away from the industry to write hits for other artists, Camilo returned last year with his breakthrough hit, "Tutu." Producers Richi López, George Noriega and Jon Leone, the rising hitmaker behind Camilo's 2020 album, Por Primera Vez, helped the Colombian singer-songwriter find his groove in the current Latin music landscape. Leone and co. blended his quirky Latin pop sound with a reggaeton heartbeat. Latin GRAMMY winner Pedro Capó's blazing guest verse adds some extra bite to the song, which is an ode to Camilo's wife, Evaluna Montaner. The song later received a co-sign from Colombian superstar Shakira, who reached out to Camilo to jump on a remix.
Since winning for Best New Artist at the 2008 Latin GRAMMYs, Kany García has won multiple awards at the annual show. The Puerto Rican singer-songwriter is now up for Record Of The Year, her third nomination in this category, for "Lo Que En Ti Veo" (or "What I See In You") with Argentine musician Nahuel Pennisi. Colombian legend and multiple Latin GRAMMY winner Julio Reyes Copello produced the beautiful ballad, which is featured on García's 2020 album, Mesa Para Dos. Piano and Pennisi's soft guitar are the perfect accompaniment to García's delicate yet affectionate lyrics. Alongside Pablo Alborán, García is one of two LGBTQ+ artists up for Record Of The Year this month. She's also the most nominated female artist at this year's Latin GRAMMYs.
Karol G won Best New Artist in a crowded field of 10 contenders at the 2018 Latin GRAMMYs. In the reggaeton music scene that's usually dominated by men, the Colombian artist is leading the way for women. Her girl-power anthem "Tusa" (or "Heartbreak") sees her teaming up with 10-time GRAMMY-nominated rap star Nicki Minaj. Karol G's longtime producer Daniel "Ovy on the Drums" Oviedo made this a regal affair fit for queens, with violins meeting reggaeton beats. As artists outside of the Latin music scene are wanting in on the movement, "Tusa" remains one of the best and most stellar cross-genre team-ups of the year. With "China," "Tusa" marks Karol G's second nomination in the Record Of The Year category this year.
Counting his work with the hip-hop group Calle 13, Residente is the most awarded artist in Latin GRAMMYs history, with 25 wins total. (The Puerto Rican rapper has a few GRAMMYs to his name as well.) In 2018, when Residente was experiencing depression and wanted to jump off his hotel balcony, he stopped himself from taking his own life by calling his mom. On the day that followed, he let out his emotions by writing "René," the song titled after his first name. Residente also produced the song himself. Across nearly eight minutes, he reflects on his highs and lows in his life and career, creating one of the most powerful moments in Latin music in 2020.
Like Residente, Alejandro Sanz is one of the most awarded artists in Latin GRAMMYs history, counting 24 wins overall. (He's also a four-time GRAMMY winner.) The Spanish singer-songwriter took on a song by a fellow Spanish legend, Joaquín Sabina. Produced by Julio Reyes Copello and Spanish musician Rafa Sardina, Sanz's take on "Contigo" is colored with piano, cinematic strings and bluesy guitar as he breathes new life into Sabina's timeless love song. His tribute tugs on the heartstrings.
The 2020 Latin GRAMMYs will air on Univision on Thursday, Nov. 19, at 8 p.m. ET/PT (7 p.m. CT). The broadcast will also air on TNT (cable) at 7 p.m. (MEX)/8 p.m. (COL)/10 p.m. (ARG/CHI), and on Televisa on Channel 5.
Learn more about the 2020 Latin GRAMMY Awards via the Latin Recording Academy's official website.