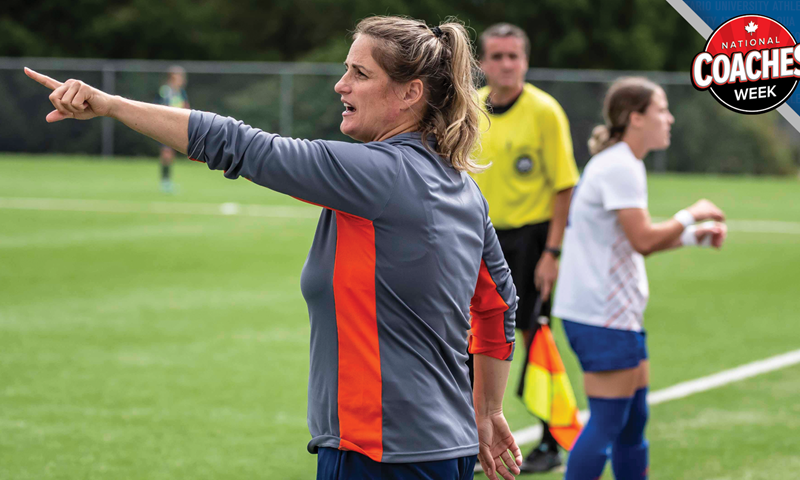 Oshawa, Ont. – Just three years ago, Audra Sherman was unsure she would ever be on a sideline again. A life in soccer, as both an elite player and coach with a range of experiences, was potentially ending. Sherman was establishing a coaching legacy in the city of Ottawa with her husband James Vilfort for more than a decade.
On September 6, 2019, James passed away suddenly. He was just 40-years old. It was a shock to both his family and that sporting community the coaching couple had come to know so well. Sherman's stepson, Jadon Vilfort, was adamant about carrying on his father's legacy by enjoying the beautiful game at the university level and completing a degree, with aspirations to play professionally. For Sherman, who had spent several years with the Ottawa Fury FC, the future wasn't so clear – especially after the club folded soon after James' death.
"It was a very difficult time personally and professionally," says the current head coach of the Ontario Tech women's varsity program. "Unsure of what life would be moving forward, Jadon and I took some time to clear our minds. There was no question for Jadon. But I wasn't certain I'd return to coaching. Then the posting for the Ontario Tech position was presented to me.
"It was a new beginning."
Resiliency has been a requirement for Sherman. She's needed it when competing and certainly in recent years dealing with loss. She grew up on the west island of Montreal, with her older brother Jay, mother Heather, and father Marty. Her parents taught her from an early age to be a strong woman, both on and off the pitch. She evolved into an accomplished collegiate player at both Clemson University and Hofstra University, and brought the same commitment to coaching, eventually earning a National A license, with stops at the Fury, Carleton University, Simcoe Rovers, and a role as a learning facilitator at Canada Soccer.
The "new beginning" at Ontario Tech began in early 2020, with bumps. Jadon committed to York University to start his career as an OUA student-athlete, with Sherman set to take over the Ridgebacks program. Within two weeks, the pandemic ground everything to a halt. But Sherman says the shutdown actually helped her settle.
"It slowed things down," she says. "I was able to get to know my staff and players, learn about the university, and truly design a plan based on our reality. Setting the program's guiding core values, mission, and vision was the easy part because the university and the athletic department were all aligned. The task of implementing a new culture through Zoom meetings, restrictions on competition, training, and a lack of opportunities to gather together off the field definitely slowed the process down at a team level.
"Transition is uncomfortable and we're still going through it. But the environment and culture are in place, and we have seen progress."
COVID-19 cancelled all U SPORTS competitions in Sherman's first year with Ontario Tech. In 2021, the side won four of 10 matches, including three straight victories to close the season. Sherman, full-time assistant Zack Wilson, goalkeeper coach Gerald Pennant, sports science director Richard Bucciarelli, mental performance coach Bryan Mclaughlin, and the dedicated trainers have all invested in the growth of both the program and its athletes. Sherman is a believer in having the right people in place, while emphasizing a few important core principles – awareness, accountability, and connection.
"Self-awareness is the foundation," she says. "Know your core values. Be accountable and live your core values daily through the choices you make and actions you take.
"And connect. Align yourself with others who share those same core values."
Tactically, Sherman loves the art of the game. She sees soccer in relation to spaces – how her side creates and exploits space, and how to reduce it for the opponent. Sherman wants cerebral players, who are comfortable on the ball and able to adapt to situations. She appreciates a Spanish approach, with fluidity in possession and strong decision-making from her players, so they can individually and collectively break the other team down.
But mentality is as critical as any physical skill. Sherman admits that as a young player, she was a handful on the field and in the classroom. While at Hebron Academy, a prep school in Maine, she had a coach named Jen Craig. Craig wasn't a tactical expert, but she did something unique – advocating for Sherman to be tested to address her difficulties in school.
"There wasn't much information or focus on individual learning styles, behaviours, and mental health then," says Sherman. "Jen truly altered my path in life. After being tested, I was offered additional support. I went from failing classes to making the honour roll, which made me less of a risk for universities looking to invest in a scholarship.
"Jen was the first coach and mentor I had to demonstrate an understanding of the cognitive, mental, and emotional sides of an athlete. This shaped who I am as a coach. My environment includes a 360-degree assessment, with reporting, the teaching style for each player, and resources to support all aspects of being a student-athlete."
Sherman also received a teaching degree from the University of Ottawa specifically to enhance her abilities as a coach. She says a coach can know all the tactics and strategies in the world, but success comes down to the ability and patience to connect with players.
"Teacher's college showed me that it's not really the work of one person – it's a collective effort with a focus on providing the right environment to learn, with methods, resources, and support," Sherman says.
She is now committed to building, not only the Ontario Tech program, but also giving more women coaching opportunities. Sherman realized that the diversity of her own experience, which included a stint as a coach on the Canadian Olympic men's deaf team, resulted from a lack of opportunity for women. She recalls a soccer conference where her friend and colleague Jennifer Granger announced to a group of high-level coaches and educators that Sherman eventually wanted to lead teams at the national level. Soon, she would embark on the high-performance pathway at Ontario Soccer.
"There is only so much you can learn from courses, conferences, community-based programs, and being an assistant in a program," says Sherman. "To truly thrive, women need to hold head coach positions and have support around them.
"Placing a female coach in these roles with the same experience as men will increase the confidence of individual coaches and attract change in the landscape."
Sherman has a genuine selfless quality to her. When recalling her best memory in soccer, she quickly points to Jadon's professional debut with the Montreal Impact in a friendly at Ottawa's TD Place. She and James had created the "Pathway to Pro" program in Ottawa and Jadon was one of the first members. He realized his dream that night, continuing his father's legacy.
Sherman created the James Vilfort fund in memory of her late husband. The short-term goal is to raise $18,000 by 2023, though the effort is ongoing. The purpose of the fund is to create opportunities for young athletes who demonstrate exceptional talent in soccer but are at a disadvantage because of systemic barriers. Sherman says the named awards, bursaries, and scholarships created each year in James' name mark the beginning of each athlete's journey, with the culture created at both the women's and men's Ontario Tech programs helping foster their growth and development.
She admits that being a female head coach at an elite level can get heavy at times.
"It was James who always lightened the load by putting things into perspective," says Sherman. "He was an incredible person and coach. People were just drawn to him. His selfless and passionate nature brought people in, and he just knew how to get the best out of them.
"I recently shared with my team that it was the passing of James that showed me sport is greater than wins on the field. It was the soccer community that showed up, former teammates, coaching colleagues, players, and owners. They provided comfort, support, and purpose for us moving forward.
"The connections we make with others and the personal skills we gain from competing at a high level truly enhances the quality of our lives."
For information on the James Vilfort fund, please visit https://giving.ontariotechu.ca/ways-to-give/athletics/james-vilfort-fund.php