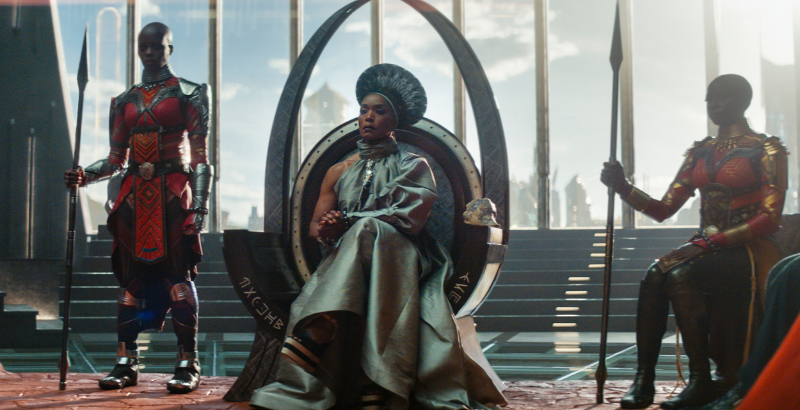 Since 2018 when Black Panther, the first film by director Ryan Coogler about the king and protector of Wakanda – a fictional sovereign nation in Africa – premiered, fans around the world were excited to see what the sequel Black Panther: Wakanda Forever would be about, and we weren't disappointed. LaNeysha and I were joined by our friend, and fellow podcaster and film critic Kate Sánchez, to chat about everything that we loved, and didn't quite love about this new entry into the MCU.
Not only were audiences treated to seeing some of their favorite characters like Okoye (Danai Gurira), M'Baku (Wintson Duke), and the regal Queen Ramonda portrayed by the one and only Angela Basset once again, we were introduced to Namor – played brilliantly by Indigenous Mexican actor Tenoch Huerta Mejía -, the leader of Talokan, a nation of Mayan Mesoamerican people, who like Wakanda had been living hundreds of years, away from the colonialist eyes and threat of Western imperialism. But unlike Wakanda, the Talokan are all too familiar with the destructive presence of colonialism and slavery, which plays a major part in their story, and the film's plot.
Though we were all excited to see just how Ryan, co-writer Joe Robert Cole, costume designer Ruth Carter, production designer Hannah Beachler, and the production teams came together to craft this visually stunning story, there's no denying that many were apprehensive about how the grief over the loss of actor Chadwick Boseman would be portrayed on screen. Having played T'Challa for a number of years since his introduction into the MCU, Chadwick has been viewed as the T'Challa, and having as a prolific and impactful career as he did, his loss was felt acutely by the cast, crew, and fans in the Black diaspora. With this seemingly impossible task, Ryan Coogler created a film that is both beautiful and incredibly poignant.
In this first episode of our special Black Panther Wakanda Forever, recap, we share how we related to all these aspects of the film, what they mean to us personally, and how some things in the film don't quite work narratively, or technically with regards to some of the acting.
Carolyn is a Freelance Film Critic, Journalist, and Podcaster – and avid live tweeter. Member of the African American Film Critics Association (AAFCA), her published work can be found on But Why Tho, The Beat, Observer, and many other sites. As a critic, she believes her personal experiences and outlook on life, give readers and listeners a different perspective they can appreciate.