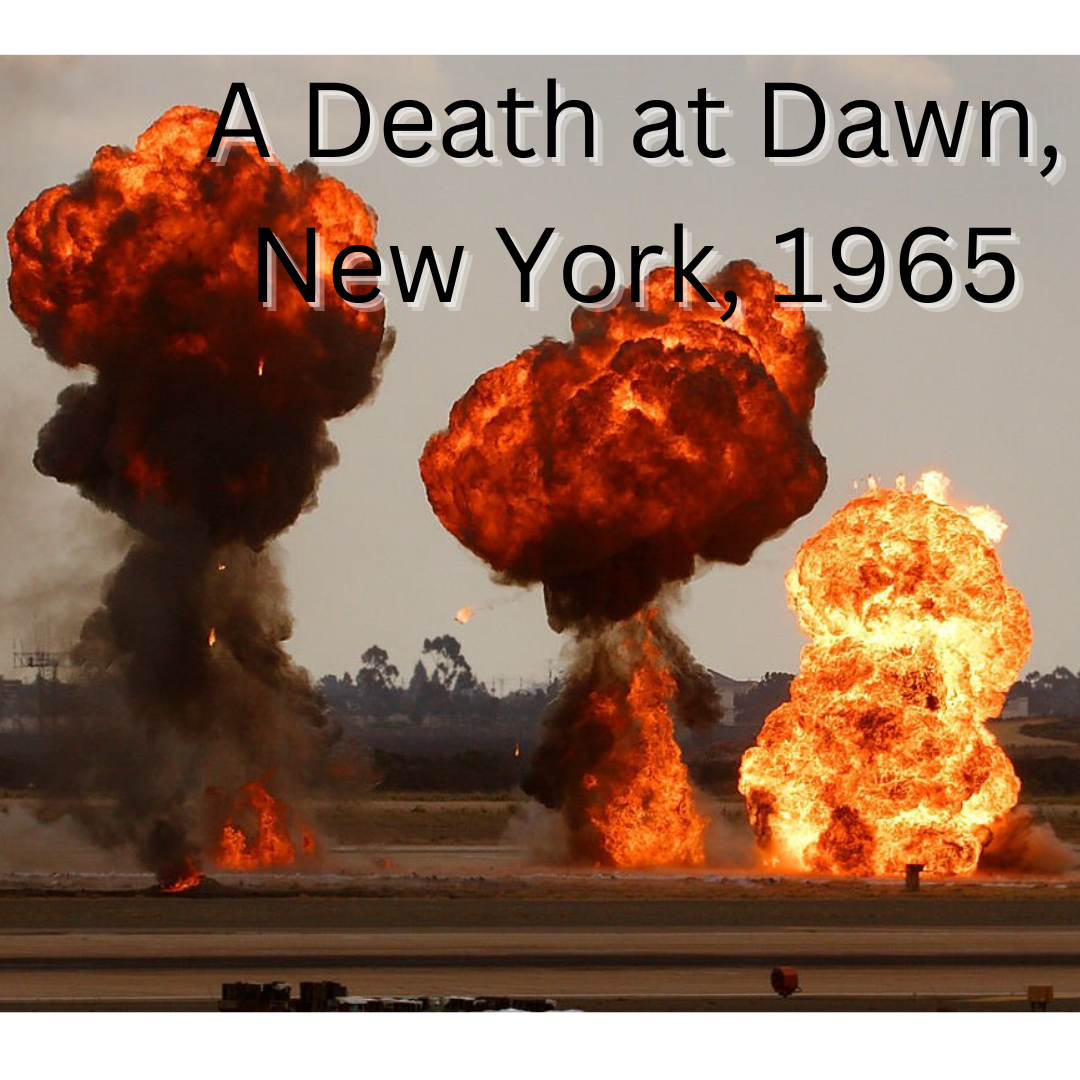 This article contains some graphic detail, reader discretion is advised
At 5:30 AM on Tuesday November 9, 1965, a twenty two year old man walked over towards the United Nations building in New York. He sat down on First Avenue and set himself on fire. His name was Roger LaPorte, the third person to commit such an act in a few weeks in the United States.
The UN Nigerian security guard saw what published reports described as a ball of flame with legs and arms ran to put out the fire and called emergency services. Later in shock, he had to go to the hospital, sick from the experience.
The young man ended up in Belleview Hospital conscious throughout the ordeal. He explained he offered himself up to bring an end of war and violence in general and the Vietnam War specifically. US involvement would not end for another ten years with the fall of Saigon in 1975.
Nine-five percent of his body sustained second and third degree burns. Thirty hours after he sat down that morning, he succumbed to his self inflicted wounds.
Noted anti-war activist priest, Fr. Daniel Berrigan, SJ celebrated a mass for the young man's soul the following day at a nearby parish.
Three days earlier the young man joined over three hundred others in New York at a draft card burning ceremony —defying a new law making it a felony to commit such an act. Draftees had to serve a minimum two years in the military, usually the Army, which often included at least one tour in Vietnam. Draft card burners would spend similar time in prison. This was approximately eleven months after the one time Lyndon Johnson was elected president.
Roger LaPorte was part of a circle some news venues described as a left wing Catholic faction called the Catholic Worker Movement. Founded by Dorothy Day, who was sixty eight at the time of the incident, and the then late Peter Maurin, the movement embraces voluntary poverty, pacifism, Christian anarchism and living the corporal and spiritual works of mercy.
Day, a journalist, one time agnostic, friend of playwright Eugene O'Neill, almost communist, converted to Catholicism several decades earlier, embraced it fully and sought to live it in one of its most extreme forms — choosing voluntary poverty and Christian anarchism. She and Maurin also formed the Catholic Worker newspaper selling it for one penny a copy which is the price to this day. The story of her conversion and the formation of the movement she detailed in the book the Long Loneliness. She is also the subject of the biopic Entertaining Angels. Dorothy Day died in 1980 and today is considered a Servant of God.
A student at Hunter College in New York, a graduate of Catholic schools, Roger LaPorte went to seminary for a year in Vermont, according to Time Magazine, he left the seminary and joined the Catholic Worker Movement. He was seeking to live their intense level of Catholic service and faith.
Tom Cornell, who lived with him as a member of the movement, was at the protest and wrote about it and Roger's death in the Catholic Worker. Clearly, he was processing the pain of losing a friend to such a misplaced action. His article included the original statement the Catholic Worker movement released the day of LaPorte's death which called for people to seek sacrifice in more life giving ways such as personal and group, public or private fasting.
He later described the conditions they chose to embrace in their voluntary poverty:
On New York's Lower East side, they lived in a rooming house with no hot water or heat. The toilet was in the hallway and the bathtub was in the kitchen. The rent was $35 per month which today would be about $288.00. They were volunteers of the Catholic Worker soup kitchen.
His death spawned questions and columns on whether his actions could be considered honorable or not.
Dorothy Day in a column titled Suicide or Sacrifice in the November 1965 issue of The Catholic Worker the first after his death wrote:
"Unless we wish to doubt the integrity of a dying man, we must believe that he knew and realized with the clarity of one who lay dying, that he was wrong in taking his own life, trying to immolate himself, to give his life for the cause of peace."
Later in the column she wrote that while men were being imprisoned for refusing to submit to the draft:
"Stories keep coming out in the press of planes spraying napalm, gasoline jelly, over the enemy, and that means over villages of men, women and children; of mistaking targets and destroying innocent villagers."
She added that according to the November 3, 1965 Wall Street Journal the military build-up was going to be a boon to the economy.
On the other hand, witness Roger La Porte. He embraced voluntary poverty and came to help the Catholic Worker because he did not wish to profit in this booming economy that the Wall Street Journal speaks of so gloatingly . . .
"Roger La Porte was giving himself to the poor and the destitute, serving tables, serving the sick, as St. Ignatius of Loyola did when he laid down his arms and gave up worldly combat. Roger wanted to continue working to support himself, and he was looking for an apartment so that he could take in others and by living poor afford to help others more.
And now he is dead . . ." she wrote.
The National Catholic Reporter which rightly disagreed with the man's actions wondered what affect they would have on our nation.
Rejecting the Catholic Worker Movement's pacifism, the paper editorialized that
"a balanced political judgment will find adequate justification for the American military presence in Vietnam but increasingly we find reason to question the morality of the tactics and perhaps even the strategy our forces are following in this war. "
William Stringfellow, a year after the immolation, reflected on it in the Catholic Worker and warned that we may have become a nation so casual and indulgent, so decadent and indifferent so pretentious in so very fond of death that it is a nation itself engaged in immolation.
Anthony Towne writing in the same issue remarked on the words of Joseph Kraft of the New York Post that the man's actions went up against a consensus that agreed by their apparent silence in the war and how the man's action was a shock to that consensus.
If Roger LaPorte, whom I never met, took the wiser route and never immolated himself, if he continued to live that serious life of self-giving to the poor and was still alive, he would be seventy-seven. What would he say about what the past fifty five years wrought and what our life is like now?
We may find a hint of it in a speech he gave in 1960 while still a student at Holy Ghost Academy Tupper Lake, New York. Truly believing we could find peace only in seeking the truth in Christ and certainly not a cultural portrayal of him but as He truly is, he said:
Modern man is swayed by his inclinations rather than ruled by his mind. I dare to make such a strong statement today because I believe that if one needed very definite proof of this one would have it in the persistence of mankind to seek peace in the many things which experience testifies have never produced it.
Roger LaPorte apparently did not understand that he was silencing his voice forever when it would be needed so many times in the future. However, if the voices in the aftermath of his actions did anything they at least helped discern if maybe those speaking up about the war were speaking the truth.
Time magazine in reporting on LaPorte's death said that in the American democracy where dissent is not crushed as in other societies. "A human voice means more than a human torch." A lesson that LaPorte sadly did not fully understand.
Sources:
A Cause for Grief, National Catholic Reporter, Editorial, 17 November 1965
Cornell, Tom; Life and Death on the Streets of New York, The Catholic Worker, November 1965
Cornell, Tom; In Memory of Roger LaPorte, The Catholic Worker, 1 October 2005
Day, Dorothy; Sacrifice or Suicide, The Catholic Worker, November 1965
LaPorte, Roger; Where Are We Looking, Speech at Holy Ghost Academy 1960, Saranac Lake Adirondack Daily Enterprise, 9 November 1965
Roger Allen LaPorte, Find A Grave
Roger LaPorte, HGA Graduate, In Anti-War Suicide Attempt, Saranac Lake Adirondack Daily Enterprise, 9 November 1965
Roman Catholics: The Human Voice Means More, Time Nov 19, 1965
Stringfellow, William; The Immolation of Americans, The Catholic Worker 1 October 1966
Towne, Anthony; The Justification of Innocence, The Catholic Worker, 1 October 1966