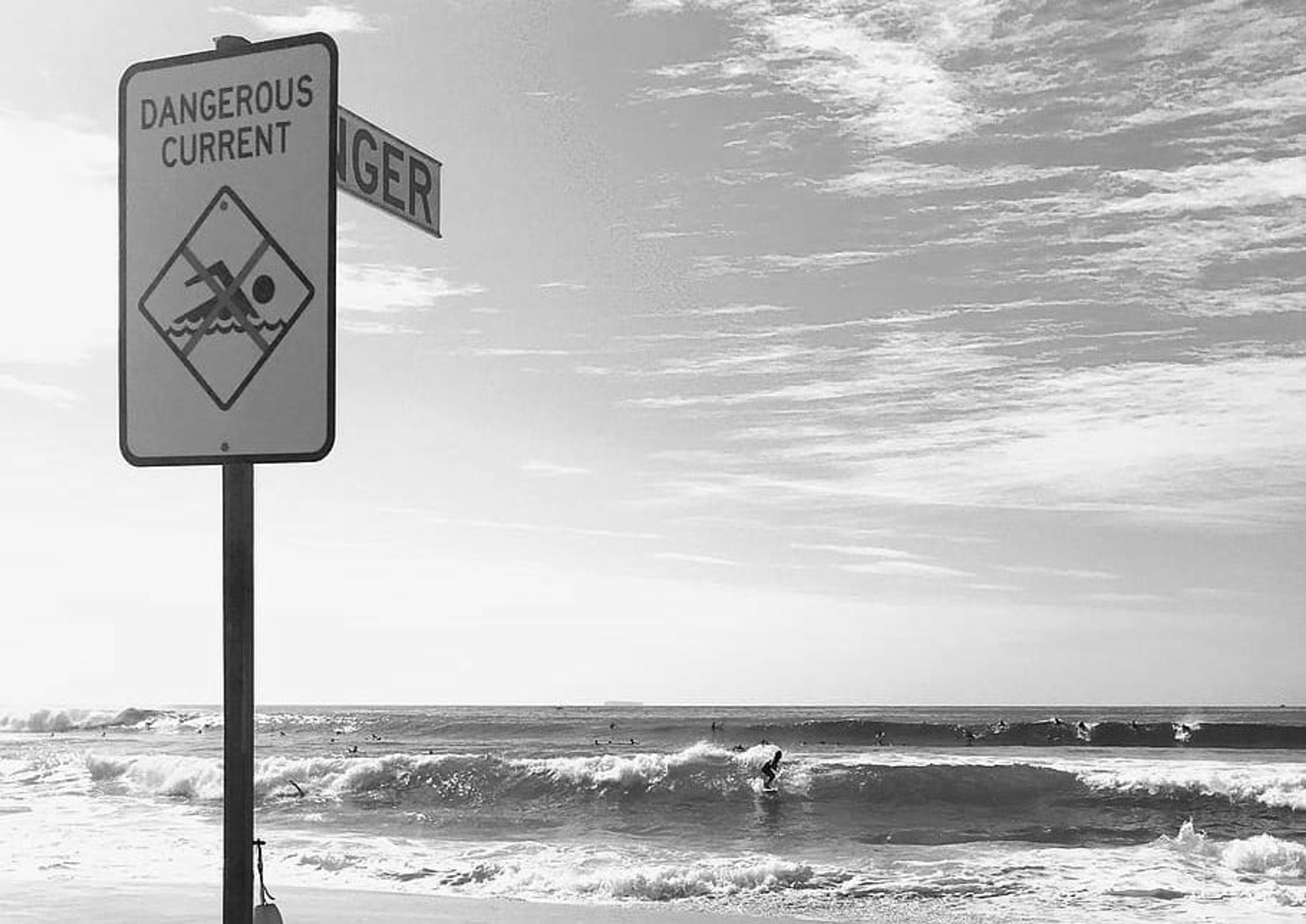 WILSON da SILVA
"WHAT female would want to go to a club that thinks like that?" said Ms Linda Wrightson, lifesaver and secretary of South Maroubra Surf Life Saving Club. "They can afford the refurbishments. Maroubra South is a smaller club, and it was able to afford it, so why can't they?"
Ms Wrightson was commenting on the fact that Maroubra Surf Lifesaving Club, just 500 metres north, remains today the only club in Australia that does not grant women active membership.
It is seven years since the constitution of the Surf Lifesaving Association of Australia (SLSAA) was amended to allow females to be active members. In that time all surf lifesaving clubs have complied with the change, installing separate change rooms and toilets where required.
All clubs, that is, except Maroubra. The club, which yearly receives grants and donations from a number of organisations - including the very successful Maroubra Seals Club - claims it does not allow women as active members because it cannot afford to accommodate them.
In 1982 the surf club altered its own constitution to allow women active membership in line with the national body's move in 1980. But it is still barred, both by anti-discrimination legislation and the SLSAA, from allowing women until it can provide them with separate facilities.
The men and boys from Maroubra have been happily exploiting this loophole ever since.
Sitting like an aged and exhausted brick dinosaur facing Maroubra Beach, the tired old club house is now in need of major refurbishments. The inside is dingy and worn, its wall coverings are peeling and most of its member facilities old and in disrepair.
Mr John McCormack, general manager of the Maroubra Seals Club, said the Seals planned to allocate between $60,000 and $70,000 to the surf club for next year. By comparison Maroubra South surf club - which does have female members - will only receive an estimated $10,000.
Some would have no qualms if the unofficial barring of women members stayed unchanged. One Maroubra lifesaver said the arrangement probably attracted more members than it discouraged.
"There's a real feeling of being in a clique," said the club captain, Mr Dave Pacey. "Even the young kids when they join feel it, you make good friends here."
"It's about saving lives, but it's very social too," said Mr Phil Machen, a member patrolling the beach last Saturday. "We all like a bit of a drink."
A group of female lifesavers at one of Sydney's more progressive surf clubs, Bronte, described the non-admission of women as stupid, unfair and an insult.
"They think they're big men but really they're just beer-swilling and selfish," said Gabriel Smith, 19, a patrol captain at Bronte. "They just don't like to think we can be as good as they are.
"They have public toilets and changerooms at the (Maroubra) Pavilion. If they really wanted to they could allow female members. They're just being chauvinistic."
Karen Ford, 20, a member since she was a nipper at the club, agreed.
"If they really wanted women they'd find a way to get facilities," she said. "If they say they can't afford it, they're just covering up. What they
want to do is keep women out."
Female lifesavers at Maroubra South surf club echoed their sentiments.
"What happened with equal opportunities?" said Sharon Rudd, 19, from nearby Maroubra South surf club. "There's nothing stopping them from allowing women. They just don't want female lifesavers, and that's it."
The president of the club, Mr David Popplewell, said that since 1979 the club has been saddled with debts which it has only now managed to reduce to permissible levels. He said the club, as part of its planned major refurbishments, will look at providing female facilities.
"Once we've got the funds work will basically start straight away," he said. "We can't take away existing facilities (from members), we have to provide new ones for the women. At this stage, we're planning to build over our existing one-level facilities to accommodate them."
Mr Popplewell could not say when the planned construction - which he estimated may cost up to $200,000 - would begin, but said it "would not be terribly immediate".
Mr Ernie Davis, administrator of the Surf Lifesaving Association's State centre, said: "Nobody is out there burning bras or tearing up floorboards. More urgent things concern us, like the retention of membership and more funding for inflatable rescue boats. We see this as a very small problem."
Internally, budgetary pressures do not appear to have been the main problem in the club's decision whether to allow female admission. Its official history, published when it celebrated its 75th year in 1982, says:
"(The club) has spent much time agonising over the admission of females, the concept having general support from the committee but creating real doubts among members ... (the motion for) the admission of females was defeated, failing to gain the necessary two-thirds majority vote."
It seems the men and boys from Maroubra are still doubting.
THE CHANGING FACE OF SURF-LIFESAVING
Why your lifesaver could be a woman
IN the mid-1970s a touring team of lifesavers from New Zealand travelled through Australia on their way to Sri Lanka. Back in New Zealand they were proficient, competitive lifesavers, and nothing more. In Australia they were something revolutionary - they were female.
"Girls were saying: 'Here are members of a lifesaving team touring around while in Australia we can't even be active members'," said Mrs Joan Vaughan. "That really got the ball rolling. It was like a groundswell after that -women at the clubs pushing for admission to active membership."
Mrs Vaughan was one of the many female surf-lifesaving enthusiasts who lobbied the Surf Life Saving Association of Australia to change its constitution. Until then women were barred from being volunteer lifesavers or from competing.
In the process, women enthusiasts had to fight an uphill battle against the stereotype of the muscular - and very male - bronzed lifesaver.
In New Zealand women have been part of lifesaving ever since its inception. Only in Australia has there been a separation of the sexes.
According to Mrs Vaughan, lobbying started before 1975 but it took the New Zealanders' tour to galvanise female support.
Around 1978, discussion began at the club level over the issue of female admission. Gradually club after club voted in favour of the proposal, district branches approved, and state councils made recommendations to the federal body.
Finally, in 1980, the Surf Life Saving Association passed an amendment that corrected the sexual imbalance.
Clubs throughout Australia had to provide separate changerooms and other facilities for women. Clubs began to change almost immediately. Within two years female volunteer lifesavers were patrolling just about every beach in Australia.
Elouera Surf Life Saving Club, at Cronulla, was the first in the Sydney area to allow women as active members. Mr Ron Hegarty, its secretary, said the club had not encountered difficulties with female admission.
"We've never had any problems and I'm sure we've never had any regrets," he said. "Virtually straight away we introduced the bronze medallion for girls (a necessary qualification for active membership) and catered for them with facilities, with help from the council.
"Two of our girls regularly compete in the Iron Man series, and leave some of the fellows for dead.
"Personally, I think any club that bars women today is just not in the 20th century. Women are engaged in all facets of life. There's no need for them to be kept out of surf lifesaving."
Mr Hegarty estimated 20 per cent of Elouera's lifesavers are female. In the club's "nippers" squad - trainee lifesavers under the age of 13 - the balance is even better, with 35 per cent being female.
At Bronte surf club there is a 25 per cent likelihood that you will be rescued by a female, with 46 of the 185 lifesavers being women.
However, despite the open-door policy of most clubs, some male chauvinism survives. One female lifesaver said women still received a lot of ribbing from male counterparts for trying their best.
"No matter what club you go to there's always that (chauvinistic) element there," she said. "You're not given a fair go and you have to do twice as well to get noticed."