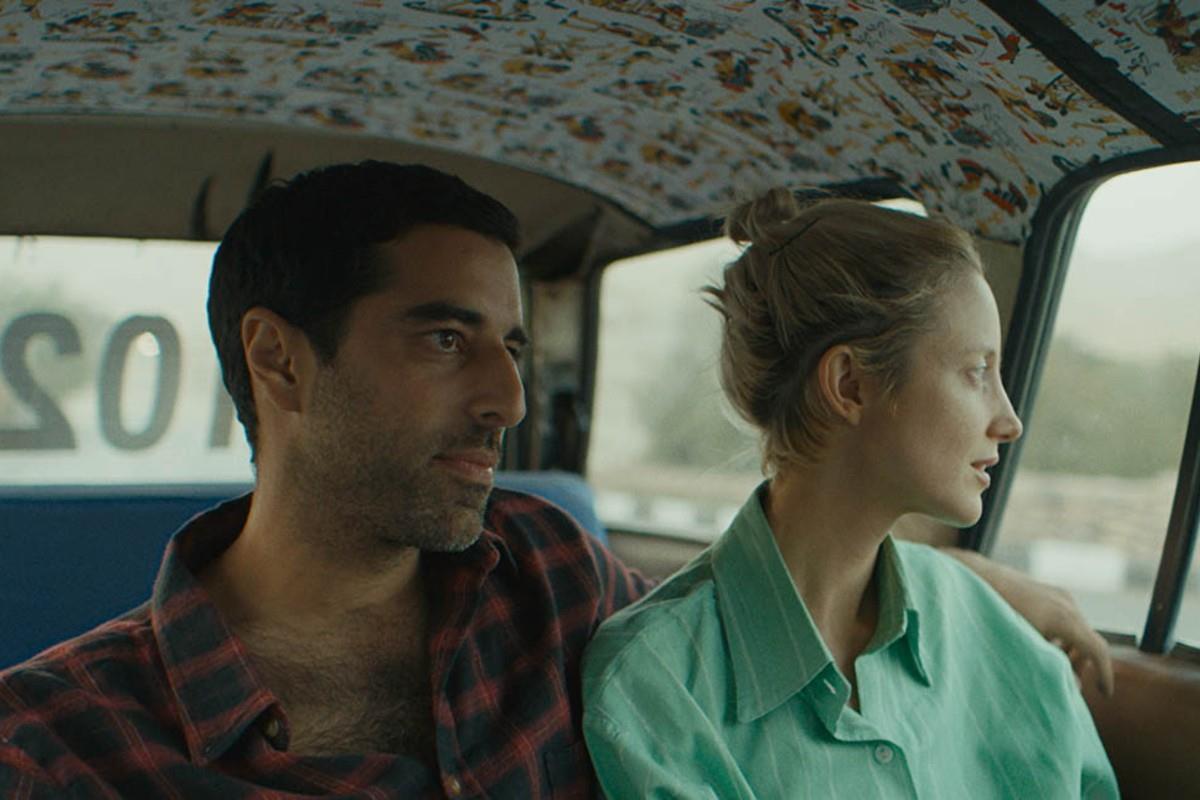 Dir: Zeina Durra. UK/Egypt. 2019. 85 mins.
Ancient history, both historic and personal, haunts Luxor, a film about a British woman trying to reconnect with her past and its own unfulfilled promise. Zeina Durra's latest, premiering at Sundance, stars Andrea Riseborough as a 40-ish woman on holiday in the Egyptian city, slowly picking her way through the dusty ruins – and the detritus of an old relationship. Full of gorgeous scenery, but only desultory drama, the pokey picture often feels as aimless as its heroine, and seems unlikely to find many fans beyond armchair travelers looking for an Egyptian jaunt.
You sometimes feel as if you're there, or at least in the midst of a tourist board travelogue
The first feature in 10 years from Durra (The Imperialists Are Still Alive!), Luxor's story centres on Hana (Riseborough), an aid worker in need of a break between traumatic war-zone assignments. And so she goes to Egypt, where years before she'd had a passionate affair with Sultan (Karim Saleh), a handshome archaeologist she hasn't seen since then. Of course, she immediately runs into him again, and soon they're wandering his expansive new dig (and stealing moments in his own modest digs) as they hesitantly try to unearth why they drifted apart.
Buried treasures, tragic histories – the metaphors are soon coming fast and thick along with some too-obvious musings on goddesses, spirituality, and overwhelming, psychic "life forces." In one subplot, in some pharaonic version of the Stendhal syndrome, a tourist collapses, emotionally overcome while touring a temple. In another scene, after visiting a cryptic holy woman, Hana dreams sadly about the children she never had. It's a lot of poetic baggage for a fairly flimsy story to carry, and Luxor soon staggers under the weight of it.
It's always a pleasure to see Riseborough, of course, a committed cinema chameleon who has played everyone from Wallis Simpson to Stalin's daughter. Yet she doesn't have much of a character to work with here – just a mopey sightseer in baggy clothes, wandering around in a funk, full of vague regret. At one point, jealous after she's seen a young woman chatting up Sultan, she gets colossally drunk and takes over the half-deserted hotel bar to perform some sort of solo, interpretative dance. We're supposed to feel sorry for Hana, so starved for attention, but it's hard not to pity Riseborough as well, equally alone and trying desperately, and vainly, to bring some energy to things.
Although there are no big moments here, the film does deftly capture some small, painful, non-verbal ones. The way Hana dotes on strangers' children, the tiny possessive frowns she gives when Sultan innocently speaks to any other female – Durra's alert to Riseborough's every, hungry nuance. And Zelmira Gainza's cinematography is full of detail, seeing both the harsh, hard-edged details of the desert and the lushly verdant subtleties of the Nile. Add to that the film's many long, probing travels through the city's ancient monuments, and you sometimes feel as if you're there, or at least in the midst of a tourist board travelogue. You just never, alas, quite feel as if you're in a fully fleshed-out drama.
Production companies: Film Clinic
International sales: Totem Films.
Producers: Mohamed Hefzy, Mamdou Saba
Screenplay: Zeina Durra
Production design: Mohamed Fakhry
Editing: Andrea Chignoli, Matyas Fekete
Cinematography: Zelmira Gainza
Music: Nascuy Linares
Main cast: Andrea Riseborough, Karim Saleh