By Randy Caparoso, published by Sommelier Journal, May 31, 2013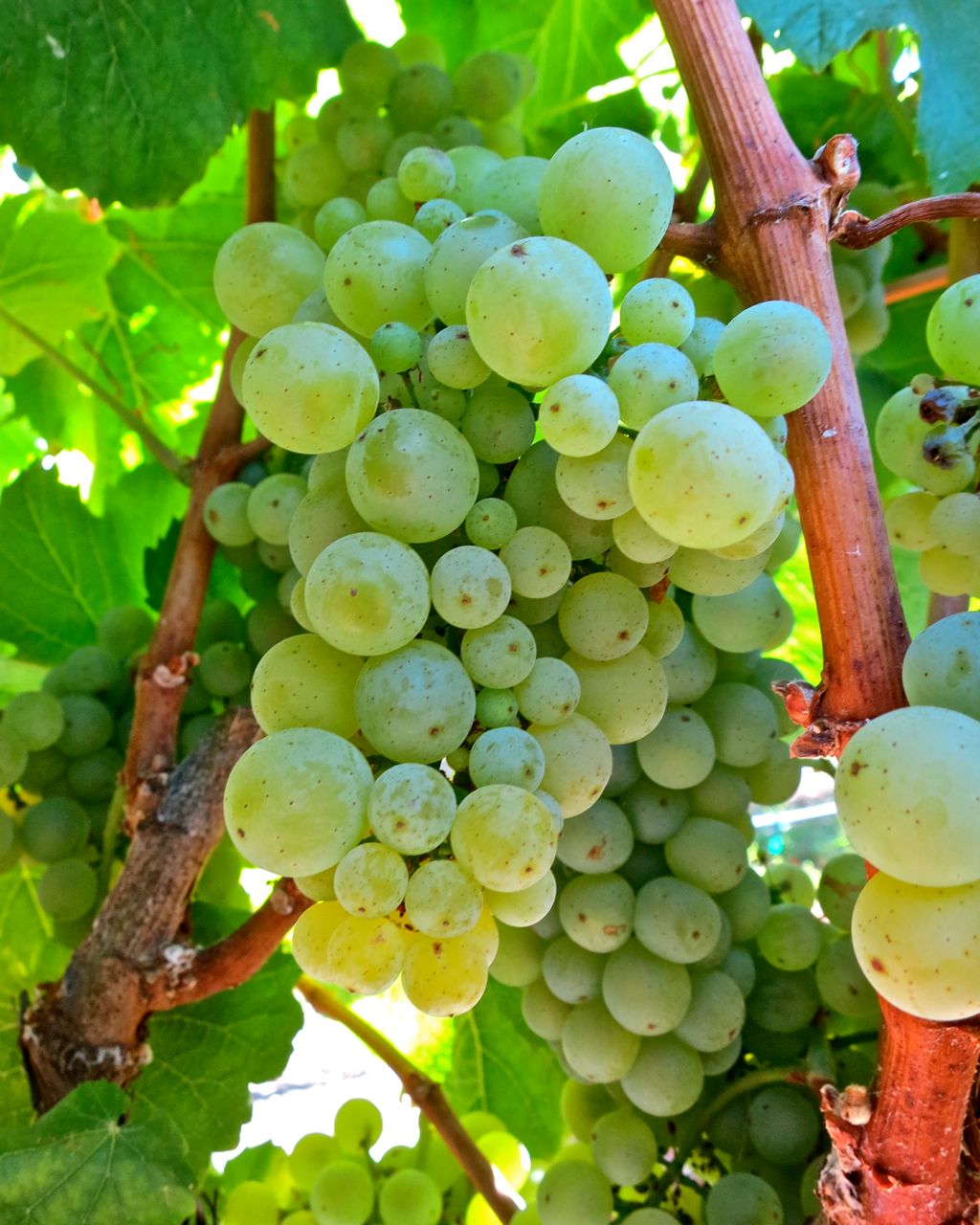 The Winemakers' Preference

When producers of California's most prestigious Chardonnays talk about where they find the highest quality, they talk about favorable appellations—be it Sonoma Coast, Arroyo Seco or Santa Maria Valley—and they talk about grapes: That is, their clonal preferences for Chardonnay. And in California, that preference has long been for Wente.
Ramey Wine Cellars' David Ramey is one of many winemakers who deliberately chooses vineyards based upon clonal selection. "I have tried Dijon clones that have been developed in Burgundy," says Ramey, "but I think, side by side, Wente beats Dijon hands down when it comes to getting the Burgundian profile I'm looking for."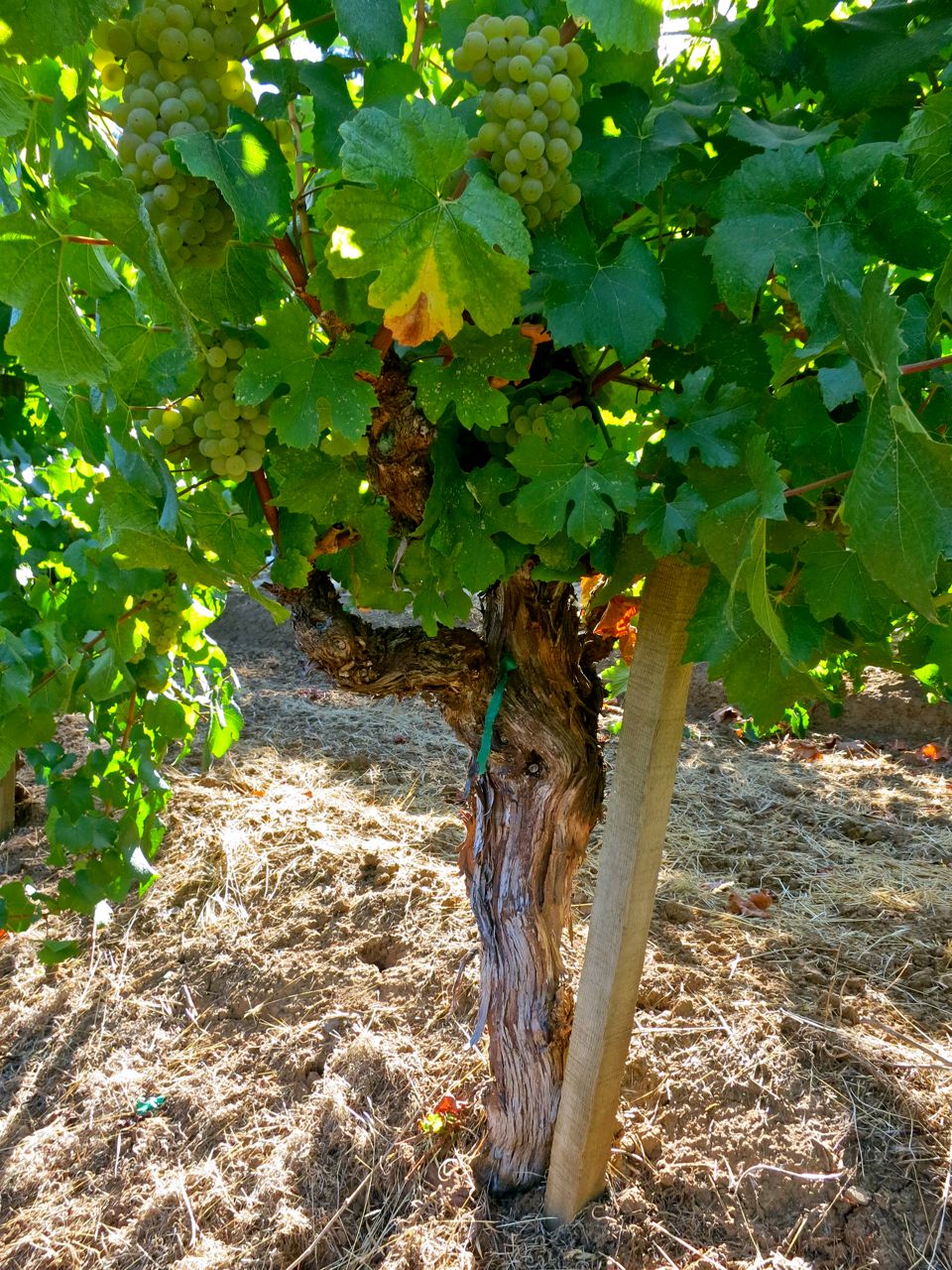 Hyde Vineyards has been growing one of Ramey's best known vineyard-designated Chardonnays, while becoming one of the state's most reliable sources for high quality Wente selections. Says owner/grower Larry Hyde, "I made the decision to specialize in Wente 35 years ago because I believed that this is the selection that is best adapted to California. Everyone talks about Dijon clones, but Dijons were developed in France as earlier ripening varieties, to give you lower acidities and more consistent production. We have the opposite problem in California—our challenge is to get Chardonnay with higher acidity, smaller production, and more minerality, and virtually all the Wente selections can do that better, at least in California."
In the overlapping AVAs of Russian River Valley, Green Valley and Sonoma Coast, no one farms more prestige quality Chardonnay than Dutton Ranch (from some 1,300 acres). Steve Dutton recalls when his father, the late Warren Dutton, planted his first Chardonnay vineyards in the late sixties—to Wente selections, since these were the only ones available to them at the time. "In the nineties we inter-planted with Dijon clones, as well as with a number of large production, heat treated Wente clones—in those days, there just wasn't a lot of thinking about the differences between clones. But winemakers know the difference, and today they show a distinct bias towards Wente—especially the Old Wente selections. As a matter of fact, we can't get big production clones to ripen in time in colder climates like Green Valley—so it's not just a quality thing. Old Wente performs better for us. Our winemakers prefer it. It's as simple as that."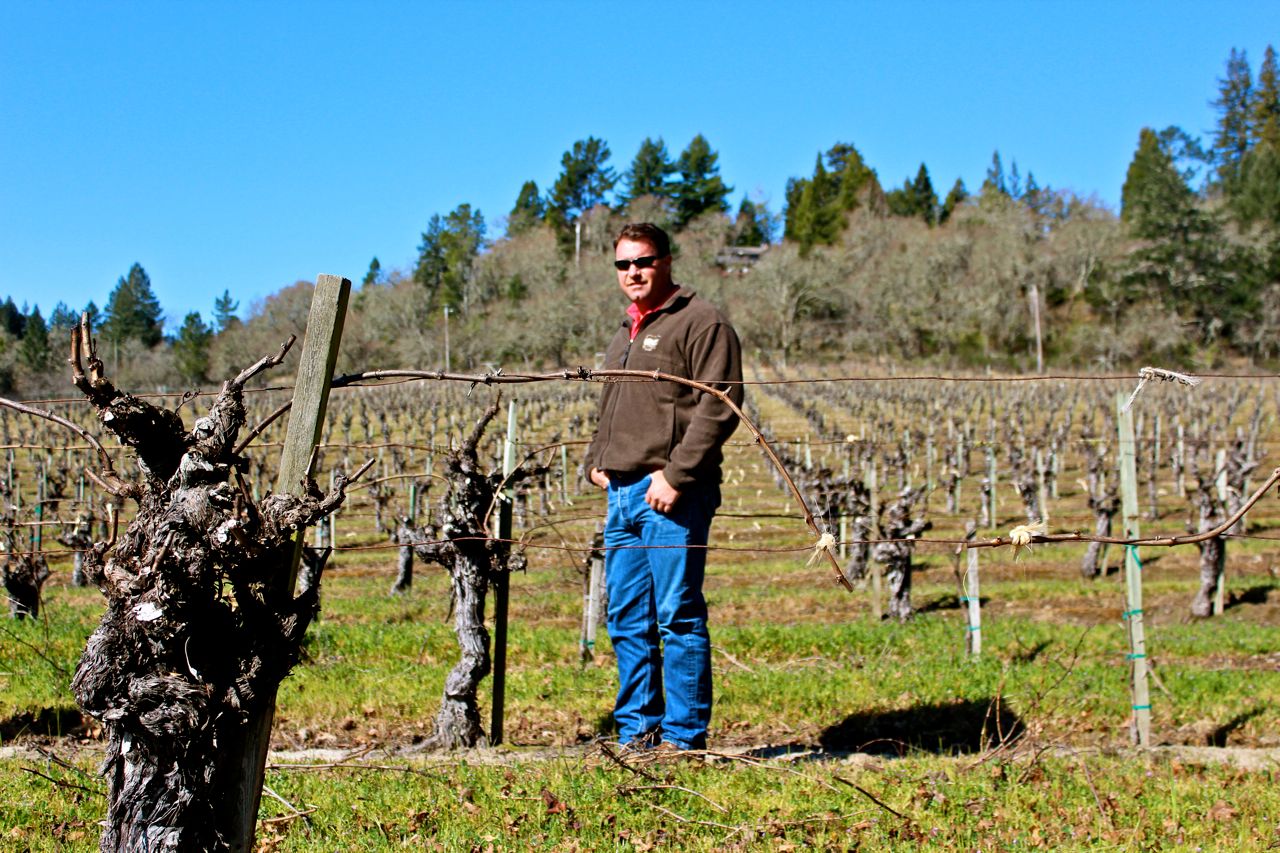 101 Years in California
As of 2013 there are over 100,000 acres of Chardonnay planted in California, making it the state's most widely planted grape (second most is Cabernet Sauvignon, hovering around 80,000 acres). Out of that, it has been estimated that over 75% of the clonal material in the ground had its origins in Wente Vineyards, the Livermore Valley winery founded by C.H. (Carl) Wente in 1883—today, 100% owned and operated by fourth and fifth generations of Wentes.
The history of the Chardonnay grape in California starts in the early 1880s, when it was recorded among the cuttings brought in from France by Charles Wetmore, under the auspices of the California State Viticultural Commission. However, Phillip Wente tells us, "There is no concrete evidence that Chardonnay was grown for commercial reasons by us or anyone else at the end of the nineteenth century." Instead, Livermore Valley wineries such as Wente, La Cresta Blanca (established by Wetmore in 1882) and Concannon (est. 1883) chose to specialize in white wines made from Sauvignon blanc and Sémillon, propagated from cuttings allegedly sourced from Château d'Yquem.
Documents from the turn of the twentieth century, according to Nancy Sweet of U.C. Davis' Foundation Plant Services, indicate Chardonnay being grown in University of California substations, as well as in the Gier Vineyard in nearby Pleasanton (Chardonnay History and Selection at FPS, 2007). But the real history of Chardonnay in California does not really begin until 1912, when Ernest Wente (one of Carl Wente's two sons) and Leon Bonnett (a University of California employee) persuaded the elder Wente to import Chardonnay cuttings from a nursery in the University of Montpellier in South-West France.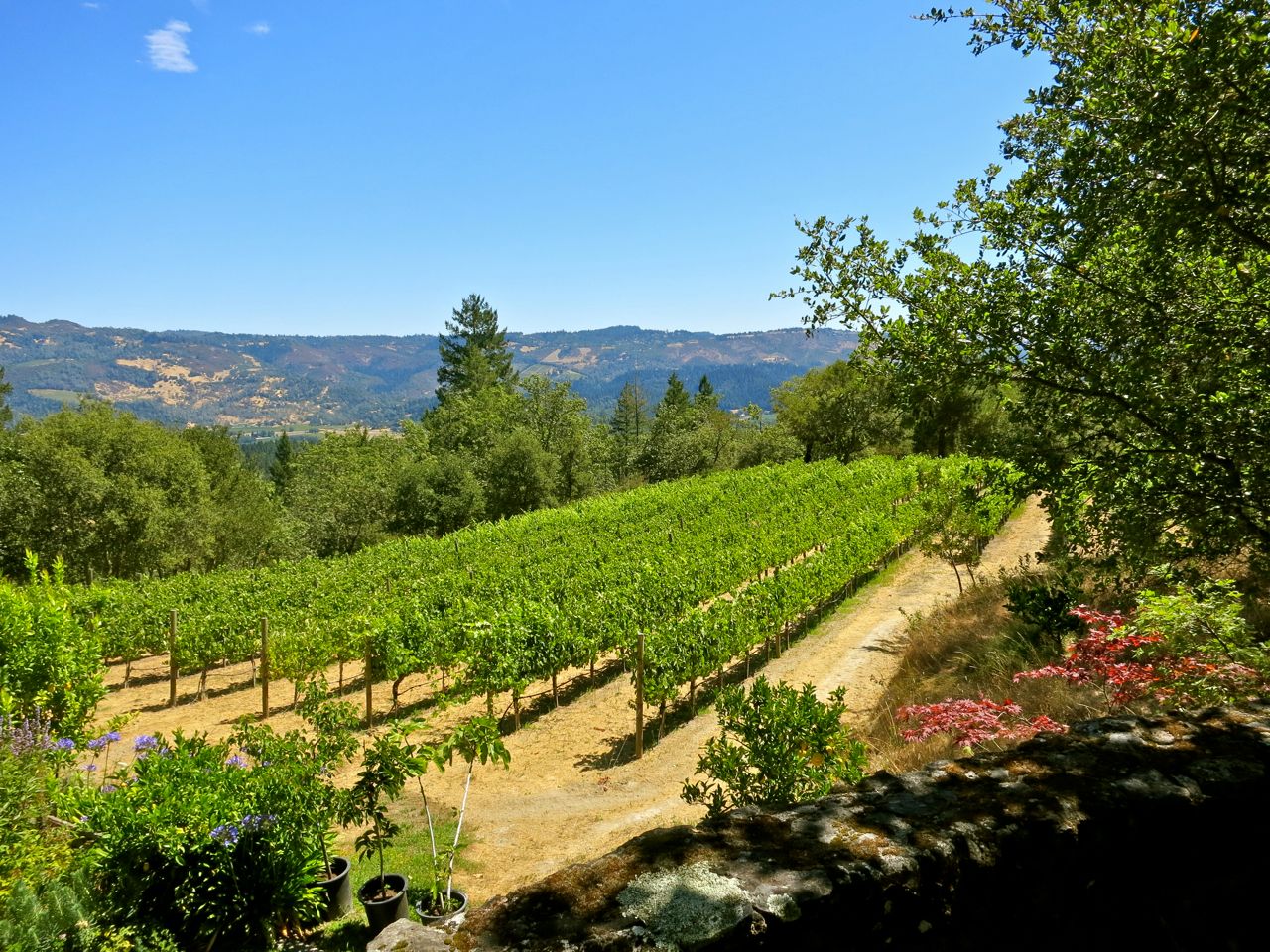 In 1936 Wente Vineyards produced the first varietal bottling of Chardonnay in the U.S.. A few years later Martin Ray bottled his first vintage, a 1939, of Santa Cruz Mountains Chardonnay for his tiny group of private investors and enthusiasts (Benson, Great Winemakers of California, 1977); but commercial quantities of Chardonnay would not be produced by other wineries of significance until 1952 (Stony Hill's first vintage) and 1957 (Hanzell Vineyards).
In 1960, according to Sweet, there were still only 150 acres of Chardonnay planted in the entire state; 70 of those acres in Wente's Livermore Valley estate. Sweet writes, "Chardonnay acreage quadrupled from 2,700 to 11,000+ acres between 1970 and 1980." Then came the historic "Judgement of Paris" in 1976: When nine French judges rated Chardonnays by Chateau Montelena and Chalone higher than some top growths of Burgundy (including a Beaune Clos de Mouches, Bâtard-Montrachet, and premier crus from Puligny-Montrachet and Meursault). Following that event, writes Sweet, California's acreage "quadrupled again to 45,000 acres by 1988 to overtake France's total acreage."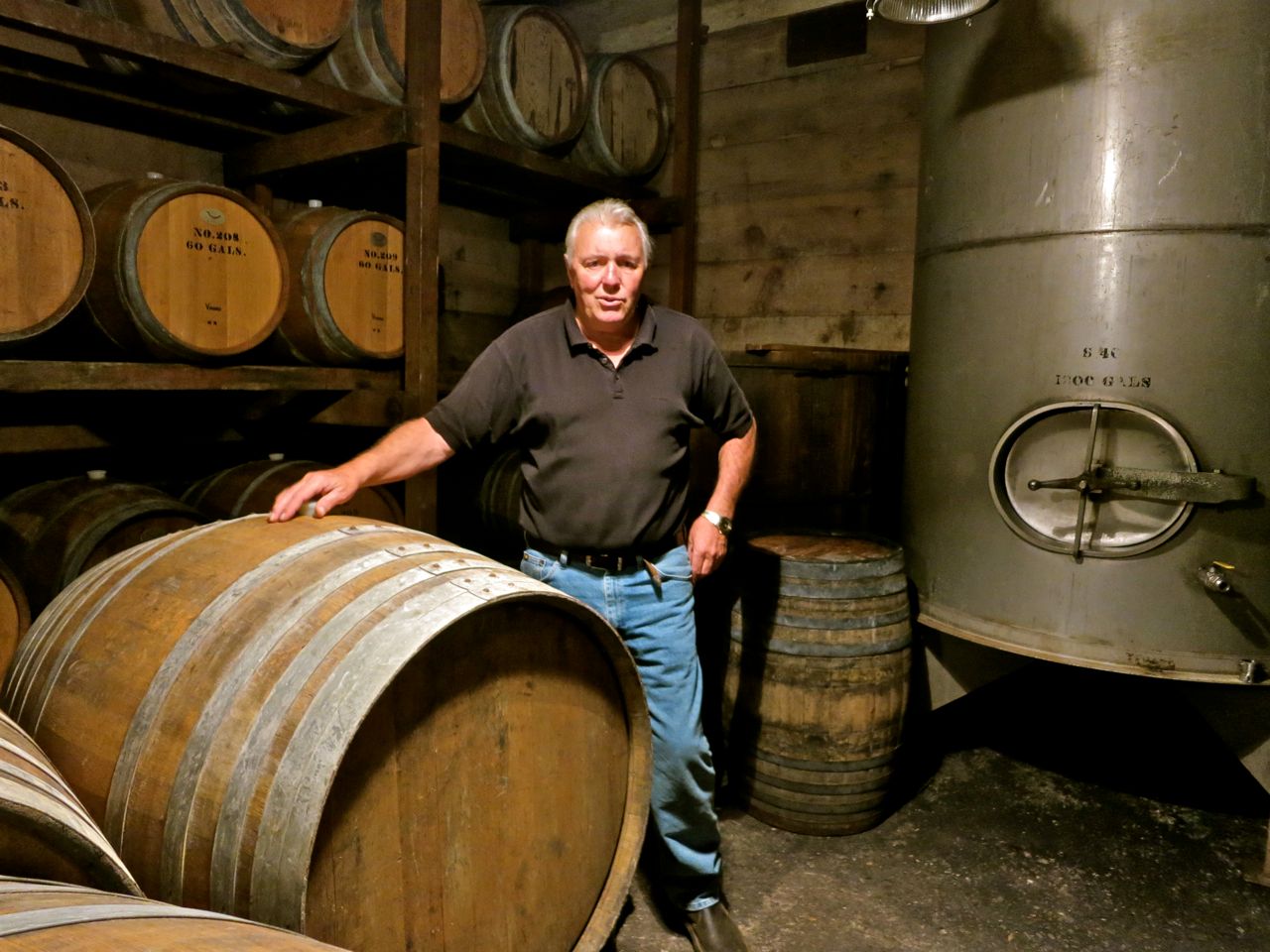 To better appreciate this growth, you can look back at California's Department of Food & Agriculture grape crush report from 1983: Showing 464,888 tons of French Colombard (a base wine for generic "Chablis") crushed that year, compared to 244,283 tons of Chenin Blanc and 50,817 tons of Chardonnay. In the 1980s the industry was at a peak of a "white wine boom," but the Chardonnay-zation of the entire nation did not gain traction until the second half of the eighties, following the introduction of $5-$9 varietal Chardonnays to grocery and liquor store shelves. Before that, sub-$9 Chardonnay (adjusted for inflation, the $9-$18 brands we see today) was practically non-existent as a wine category.
In terms of the restaurant industry: Prior to the mid-eighties it was far easier for sommeliers to sell guests on wines like Pouilly-Fuissé, Piesporter Goldtröfchen Spätlese, Wente Grey Riesling or Robert Mondavi Fumé Blanc. It took supermarket brands such as Glen Ellen and Kendall-Jackson to carve out a Chardonnay comfort zone for consumers. This is what eventually paved the way for ultra-premium, on-premise focused brands such as Sonoma-Cutrer, Grgich Hills, Chalk Hill, and Rombauer.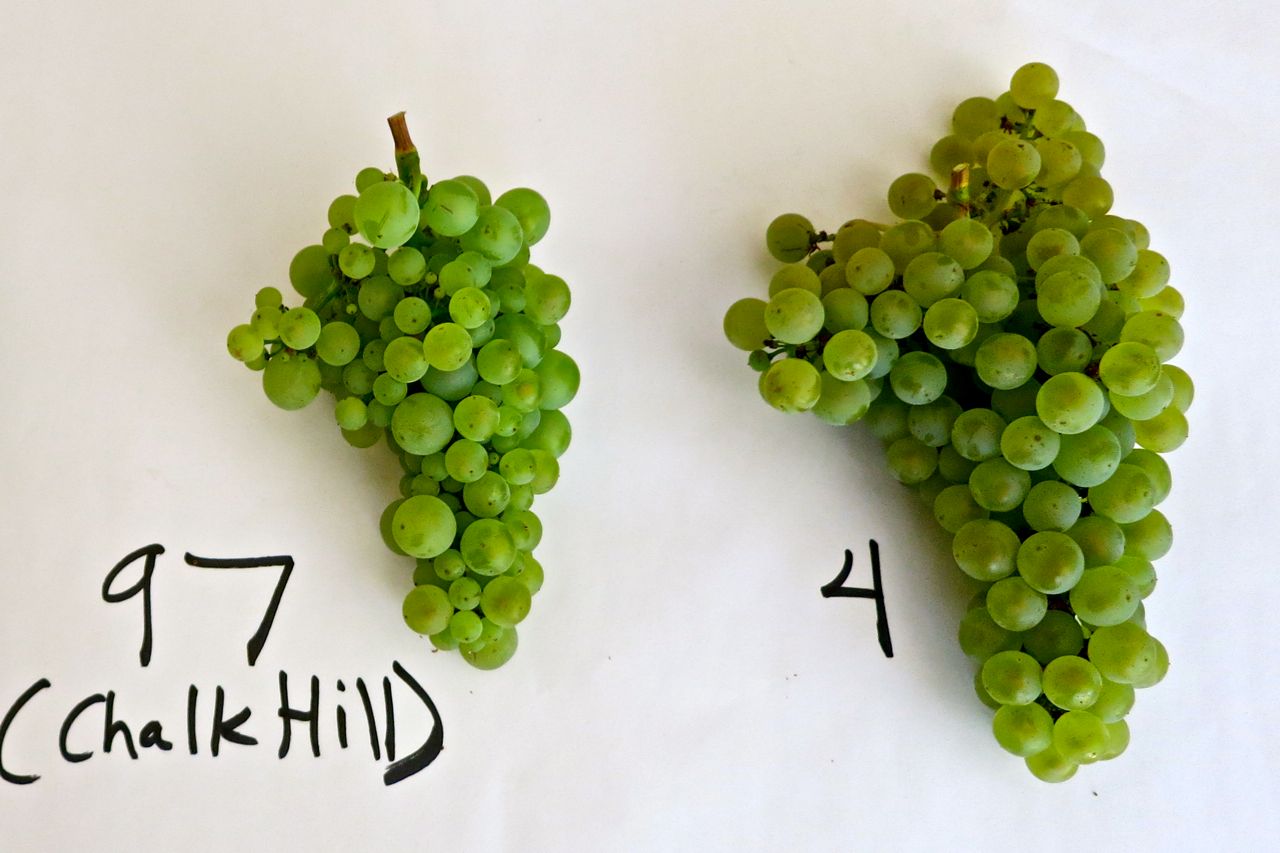 Old Wente Selections vs. Wente Clones
The first thing to understand is that what is generally called Wente Chardonnay is not one, single clone of the grape, but rather a multiplicity of non-clonal selections as well as clonal variants, all with historical ties to the first sélection massal cultivated by the Wente family, starting in 1912. While very much a mixed bag, growers and winemakers today recognize distinct commonalities within the Wente family; in contrast to the more predictable qualities of single clones, such as the widely planted selections imported from France since the mid-eighties known as "Dijon clones " (examples of the latter: ENTAV-INRA® nos. 96, 95 and 76, and recent Musqué types such as 77 and 809).
Another example of a non-Wente Chardonnay popular in West Coast vineyards is the "Prosser" clone (FPS 15); which came out of Washington State University's Prosser Experiment Station, and was originally imported from Europe by Dr. Walter Clore and W.B. Bridgeman in the late thirties. Then there is "Mt. Eden": While similar to Wente variants in small-cluster morphology, Mt. Eden is a selection originally brought from Burgundy to Santa Cruz Mountains by Paul Masson in 1896; later transplanted by Martin Ray in his vineyard atop Mt. Eden in 1943.
The second important factor is the distinction made between "Old Wente" and "Wente clones." The vast majority of Wente Chardonnay in California vineyards are among the latter group: Plantings of single clones (as opposed to the massal of Old Wente) developed by U.C. Davis' Foundation Plant Materials Service, established in the 1950s by a mandate to provide disease-free grapevine material to the industry. These singular clones—which are identified by numbers like FPS 04, 05 and 06 (the three most widely planted in the state)—are the product of heat treatment, or thermotherapy: The process of taking cuttings and placing them in a chamber where they are exposed to temperatures of 100° Fahrenheit for anywhere from 60 to over 100 days. By subjecting cuttings to extended heat, U.C. Davis researchers found that intrinsic diseases such as leafroll virus—the most common malady affecting Chardonnay in the field, severely hampering vine growth, fruit ripening, and overall plant health—could be permanently eliminated without killing the plant.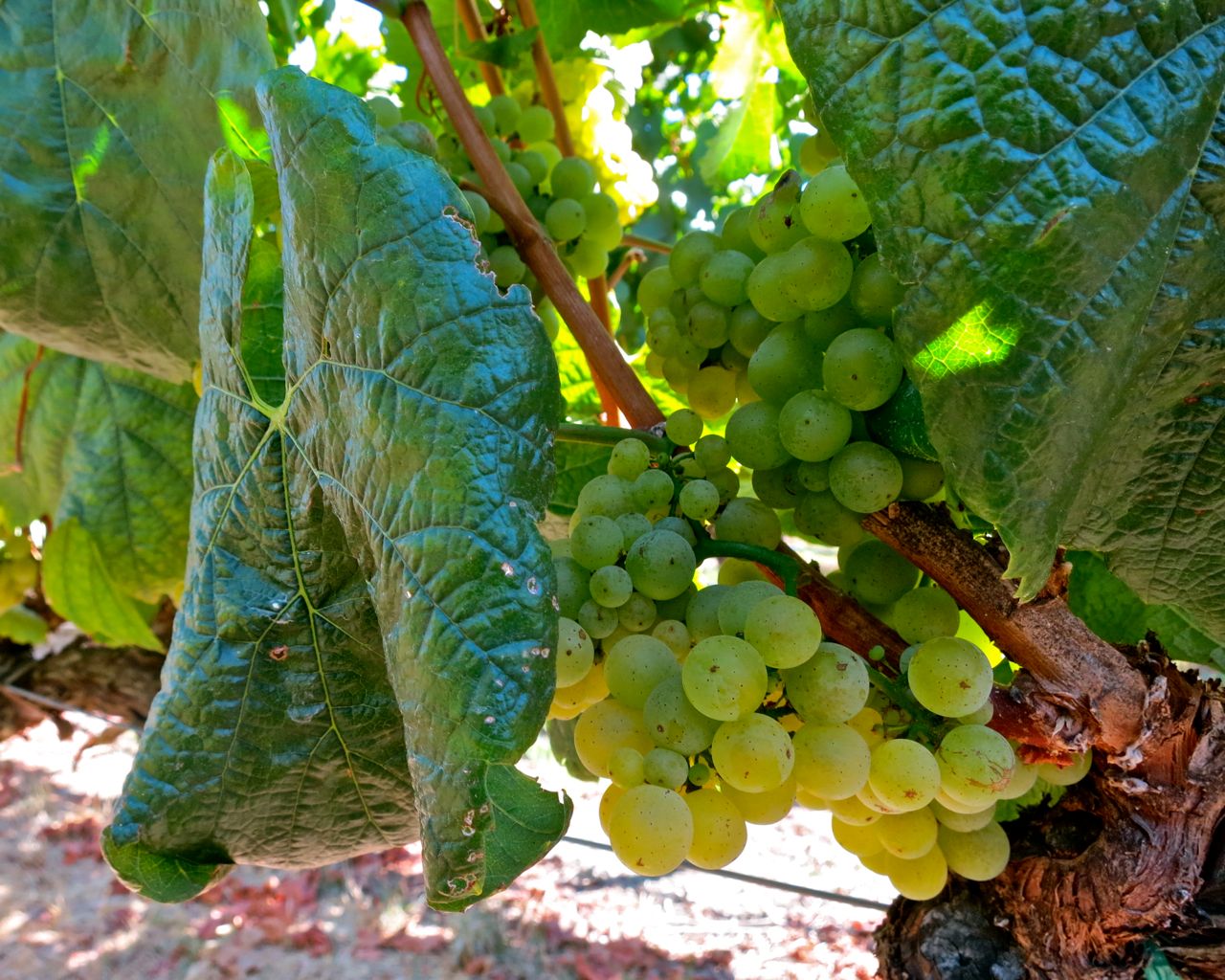 Besides leafroll virus, there were two other reasons why U.C. Davis did not strongly recommend large-scale plantings of Chardonnay to California growers prior to the release of heat treated clones in the mid-sixties. First, most of the Wente selections had the tendency to produce smaller fruit clusters—as little as half the weight of clusters grown by heat treated clones. Second, cluster weights of Old Wente selections had the tendency to be reduced further by a characteristic millerandage: The condition—also called "hens-and-chicks" and "shot-berry"—where there are numerous smaller sized berries among normal sized berries, resulting from flawed fertilization of ovaries during flowering. When ovaries are insufficiently fertilized, the grapes that are spawned have fewer seeds—hence the smaller sized berries, since vines are engineered by Nature to produce only as much pulp as needed to protect their seeds.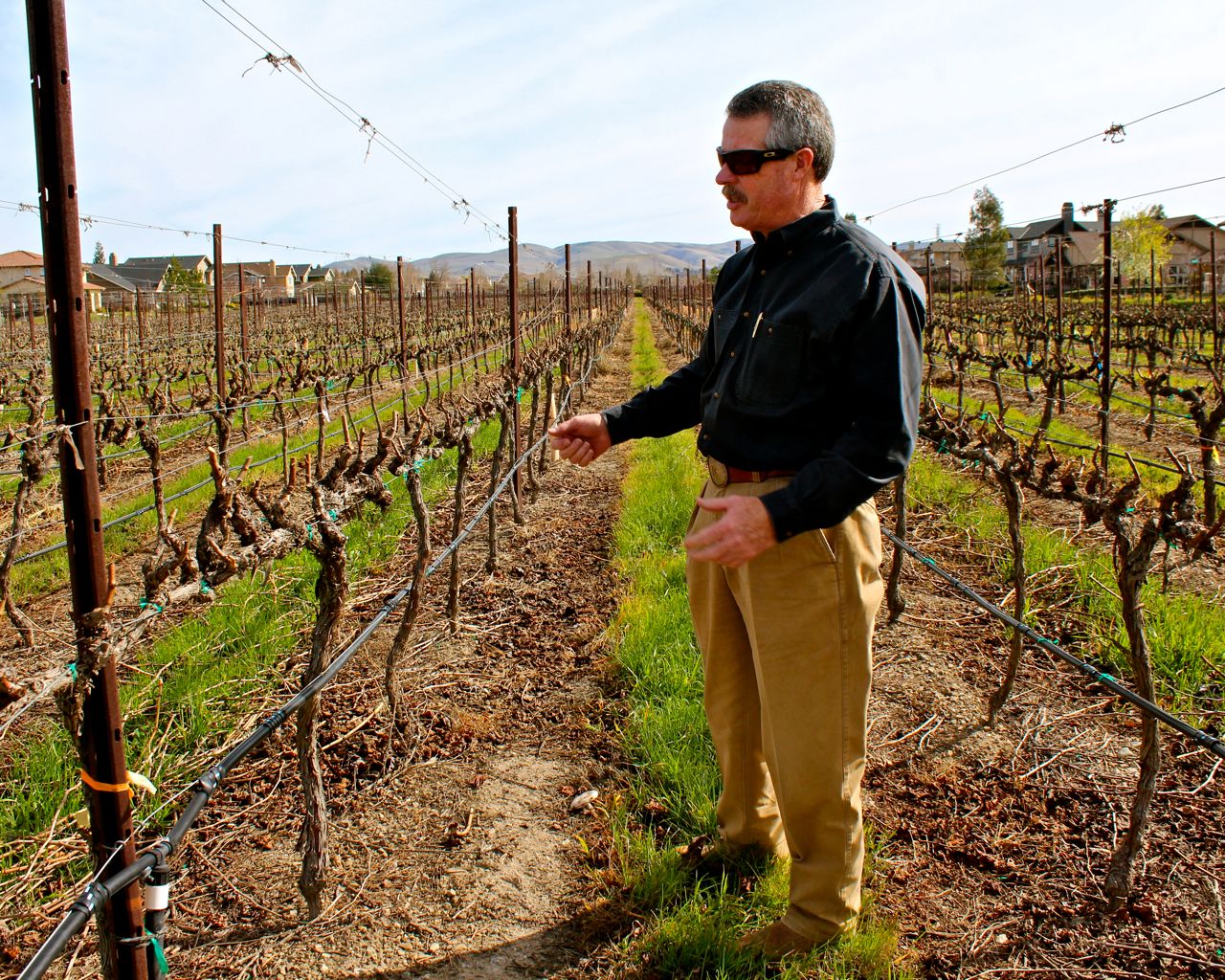 The industry would never had been able to produce the quantities that made Chardonnay the nation's #1 wine with the use of low yielding, virus and millerandage prone selections typical of pre-heat treated Wente selections in the fields during the fifties and sixties. According to Sweet, when Dr. Harold Olmo selected budwood for U.C. Davis' clonal propagation trials in 1955, he combed through Louis Martini's Stanly Lane Vineyard in Carneros. The origin of the budwood used to plant Stanly Ranch, in 1951 or 1952 (Olmo, Sweet), was Stony Hill Vineyard, established in 1948 by Fred and Eleanor McCrea on the slopes of Spring Mountain in Napa Valley. The McCreas sourced their massal directly from Wente's Livermore Valley vineyards (in 1948 Wente also sent cuttings to Hanzell Vineyards for their first plantings in Sonoma Valley).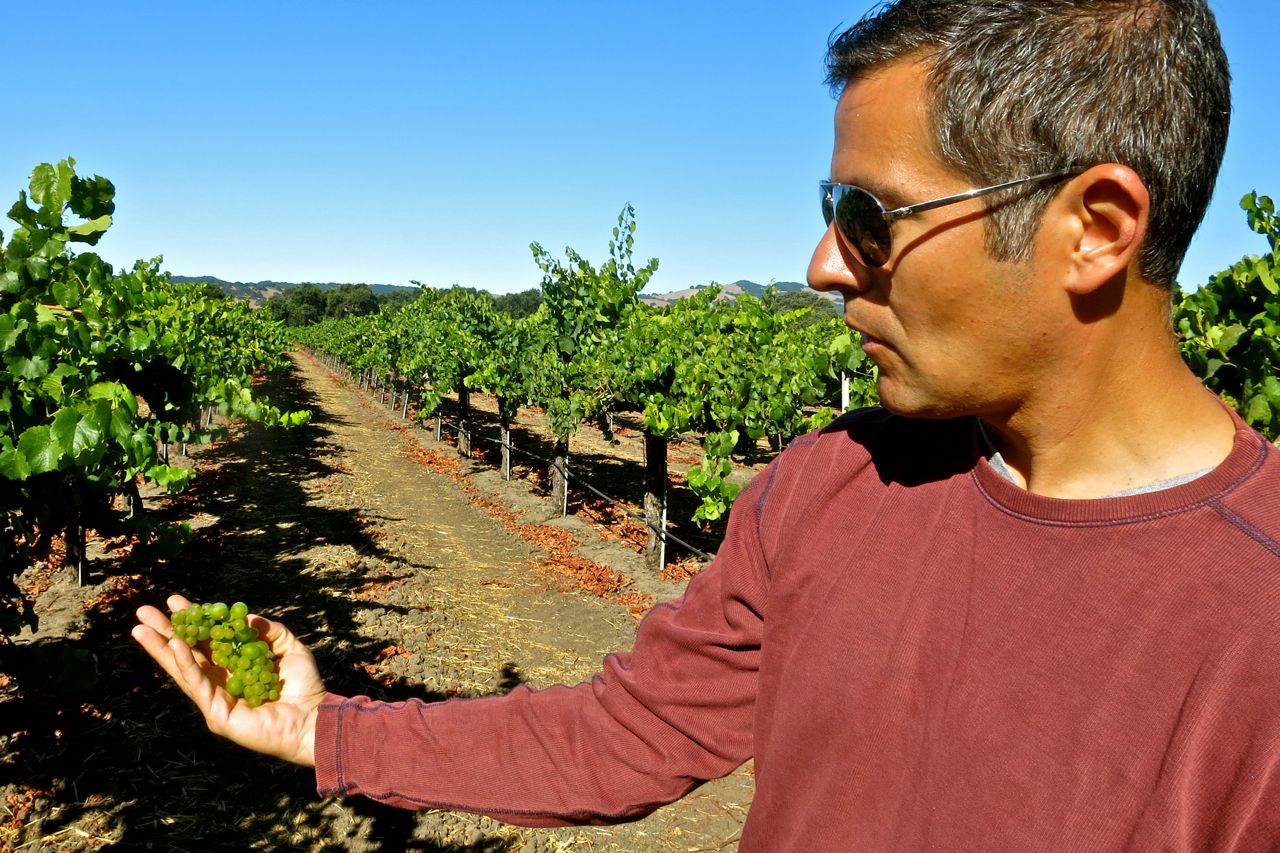 In the Martini field Olmo homed in specifically on plants tagged for heavy clusters, larger berry sizes, and consistent absence of millerandage: Hence the high-yield nature of heat treated, workhorse clones like FPS 04 and 05. The first major producer to take receipt of this plant material was Wente Brothers in 1963, for their new vineyards in Monterey County's Arroyo Seco. The Wentes were determined to plant their 650-acre Monterey property exclusively to virus-free clones, and none of the non-heat treated mass selections that they had been cultivating in Livermore Valley since 1912.
Says Philip Wente, "Clone 04 has been criticized over the years for being overly productive. I get that, but I think Clone 04 also produces, year in and year out, the best tasting Chardonnay. What people forget is that Clone 04 is very responsive to vineyard management. Sure, if you want to grow 10 tons you're going to get watered down wine; but if you manage yields and canopies, you come out with beautifully intense wines. ou also have to understand that if you're planting on a large scale, the way the industry was doing in the eighties and nineties, it's difficult to hedge your investment on heritage selections that give low, uneven yields. This is why vineyards today are dominated by Clones 04 or 05."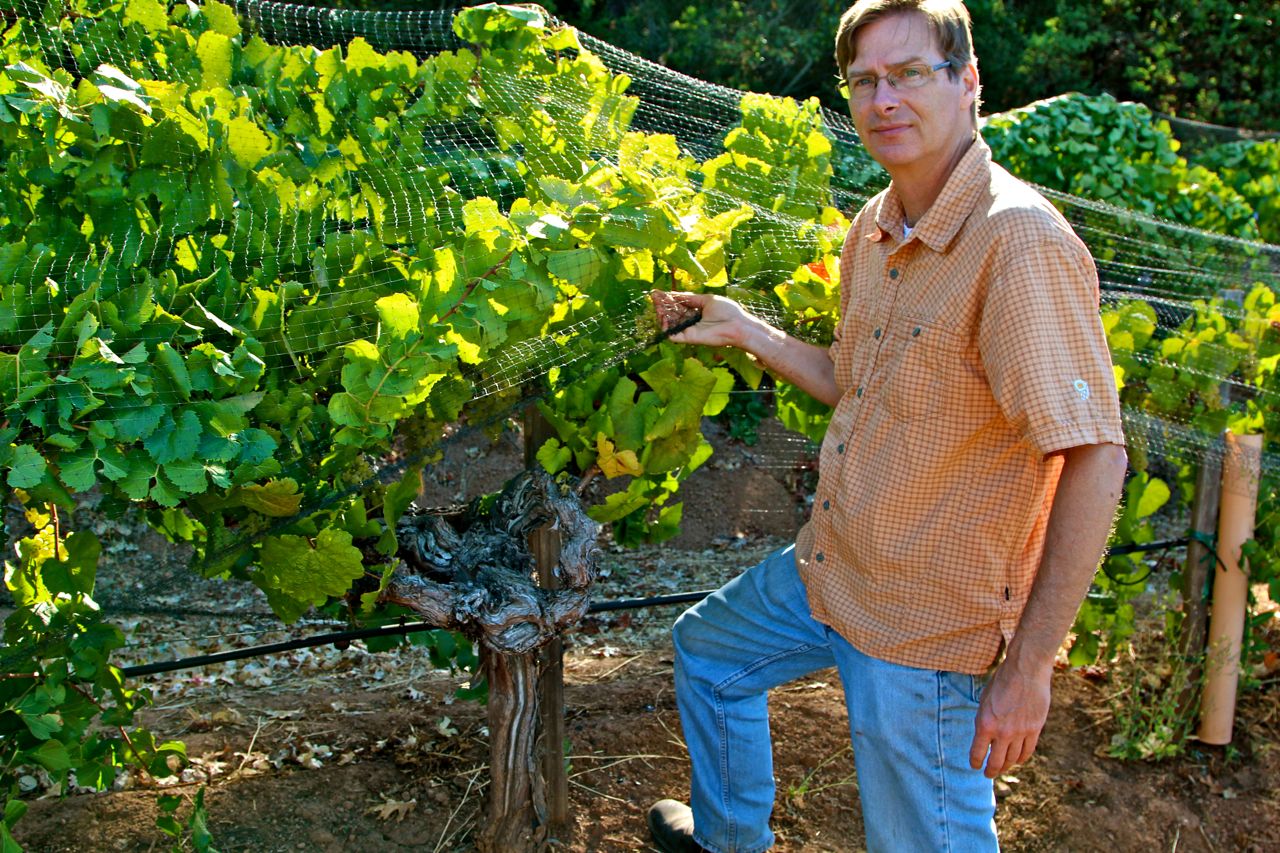 As winemakers are apt to say, terroir trumps clone in most cases; which is why many of California's most prestigious vineyards—be it Bien Nacido in Santa Maria Valley, Zabala in Arroyo Seco, Talley in Arroyo Grande Valley, Thomas Fogarty in Santa Cruz Mountains, or Charles Heintz in Green Valley/Sonoma Coast—are largely or exclusively planted to FPS 04, giving high quality results. Summarizing the experience of growers who grow heat treated clones in favorable sites, Brian Talley says, "Clone 04 does not grow nearly as large or tightly bunched in Arroyo Grande than it does elsewhere. In our cold climate it makes a solid wine—rich, aromatic, very minerally—not what you associate with Clone 04 grown elsewhere."
Still, like most quality driven vignerons, Talley dotes on smaller berried, shot-berry Old Wente selections, sourced from Hyde Vineyards since 2000. "Old Wente clusters can be as much as a third of the size of our Clone 04, which makes them absolutely scrawny. Clone 04 gives us straightforward 'Wente' characteristics, lots of citrus, lemon/lime. But Old Wentes veer off into more exotic realms, like lychee, grilled nuts, sometimes more aggressive green apple."
One of California's most successful Chardonnay programs during the past twenty years has been that of Neyers Vineyards, also driven by older Chardonnay vineyards planted to what owner Bruce Neyer calls "shot-berry Wente" selections. The base of Neyers' Carneros appellation Chardonnay has been Yamakawa Vineyard: Old Wente selections planted in 1972 on St. George rootstock, and in 1984 on AxR1. In the 3 to 4-ft. heavy clay loam typical of Carneros, says Neyers winemaker Tadeo Borchardt, "The Old Wente component gives us consistently lush, honeyed, tropical fruit aromas—more often than not, very floral, even musky—with dense, creamy, juicy/tart sensations. This is consistent with the open cluster architecture inherent in Old Wente—lots of pea sized grapes in small, loose clusters."
For David Ramey, it's a matter of physical organoleptics: "Because of their shot-berry characteristics, yields of Old Wente are inherently low, and because yield is low you end up with more density, more concentration, more intensity in the finish. Besides, I'm always more focused on texture than aromas. Focusing on aroma is like focusing on a woman's perfume while you're making love—yeah, it's important, but I'd rather have the body, the right feel, the better sense of balance you get from brighter acidity and rich phenolics."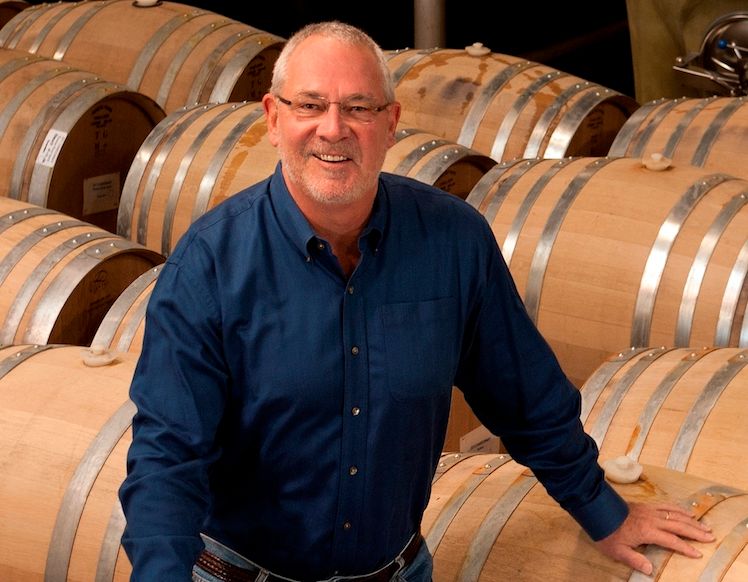 Clonal Replicants of Old Wente
Complicating the distinction between Old Wente selections and single clones of Wente is the development of virus-free clones that exhibit some of the same morphology as older selections—particularly small, loose clusters and varying degrees of millerandage. FPS 02A, first planted by the Wentes in their Monterey property in 1966, is one such example of a heat treated clone showing distinctly small clusters and shot-berries. FPS 02A, in fact, was removed from Foundation Plant Materials Service's list of registered vines in 1968; but cuttings were contributed back to FPMS by Philip Wente in the mid-nineties, after which it was subjected micro-shoot tip tissue culture treatment to eliminate all further potential virus.
In recent years, micro-shoot tip culture has become the preferred method of virus elimination by FPMS: A process involving propagation of cell tissue from a selected cutting in a Petri dish, which is eventually regenerated into hard wood cuttings. Chalk Hill Estate recently replanted its Founder's Block with a proprietary clone (FPS 97, or the Chalk Hill Clone), micro-shoot tip propagated as a result of eight years of formal field trials (1988-1996). Explains Chalk Hill vineyard manager Mark Lingenfelder, "Like other wineries, early on we found that Clone 04 produced large, healthy fruit, but never our best tasting wines. So we began planting every clone available to us, including Prosser, Dijons, Robert Young, and Musqué selections of Old Wente from Rued and Spring Mountain. In subsequent tasting trials, we found that vines that performed to our top standards were still the smaller, shot-berry Old Wentes. The Chalk Hill Clone is a virus-free replicant of this."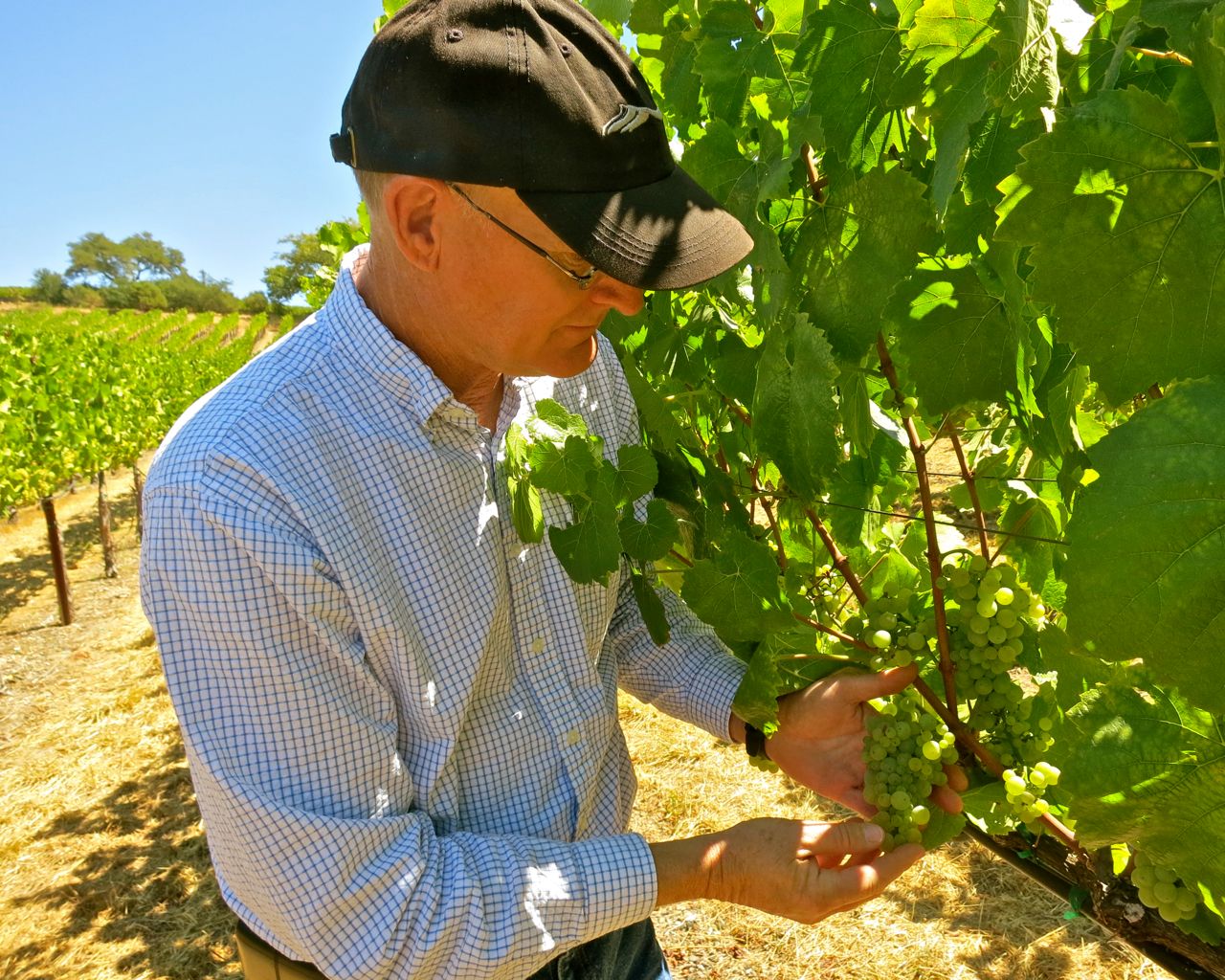 In 1987 FPMS released heat treated FPS 17, known as the Robert Young Clone, which has become immensely popular up and down the coast because it grows a moderate sized cluster—somewhere between typical Old Wente selections and Clone 04—with only occasional incidence of millerandage. Robert Young Vineyards, in Alexander Valley, first found fame as one of the groundbreaking vineyard-designate Chardonnays produced by Dick Arrowood at Chateau St. Jean in the mid-seventies. Says owner/grower Jim Young, "Our Old Wente field selection was always 30%, 40% virused. Worst yet, we were planted on AxR1, and phylloxera was setting in. That's why it became imperative to start our replanting in the late eighties with our own virus-free clone, not just with Clone 04."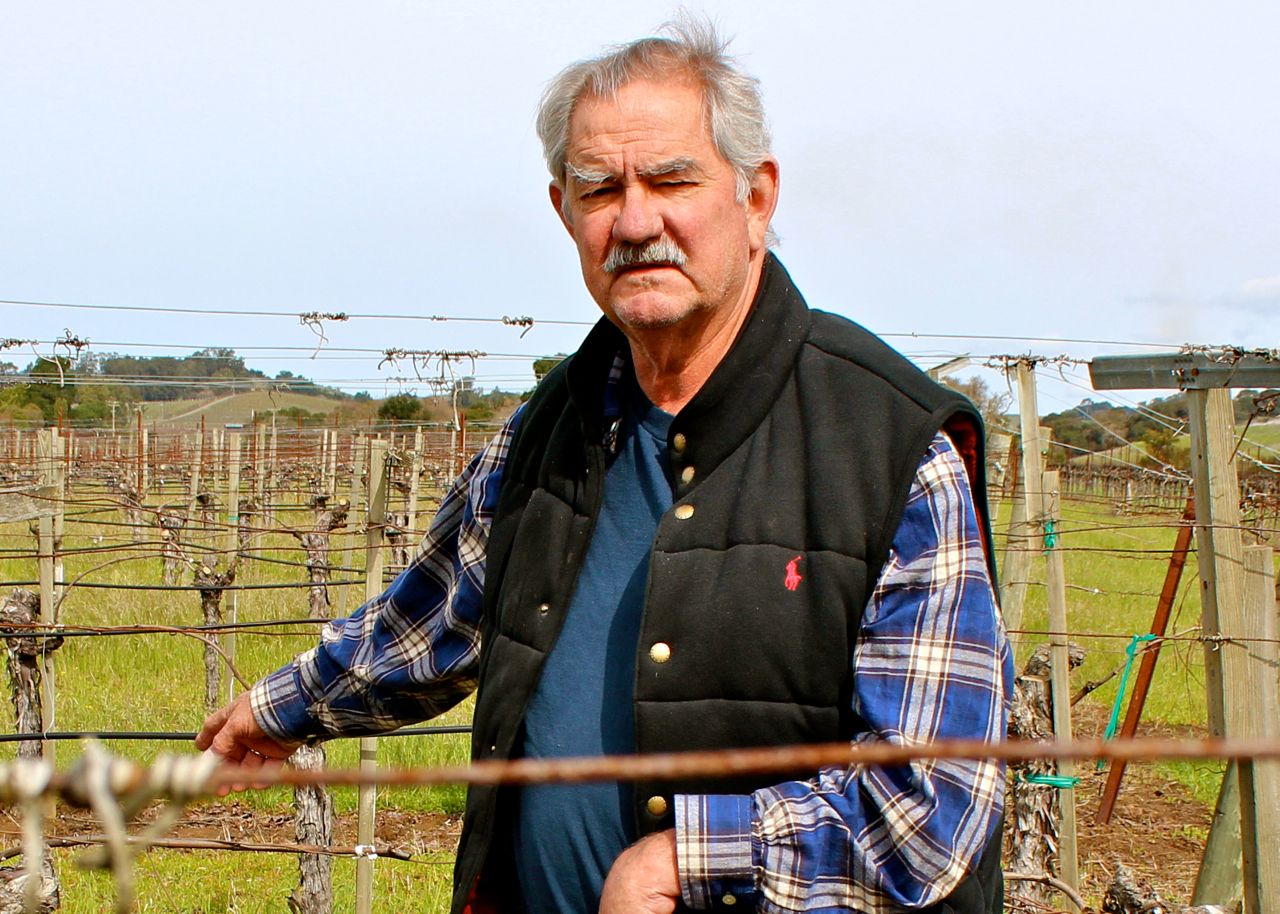 Revival of Heritage Selections
Since the 1990s major North Coast players such Dutton, Kistler, Sangiacomo, and Hyde have continued to focus primarily on older selections of Wente. Hyde identifies two prevalent types in his massal blocks: Flowery/musky Musqué selections derived from Louis Martini's Stanly Ranch (via Long Vineyards), and what he calls "Livermore" selections, delivered directly from Wente Vineyards in the early nineties. While his Musqué dominated blocks are heavily virused, Hyde says they can still yield up to 5 tons/acre. Hyde Vineyards' Livermore blocks are "surprisingly virus-free," according to Mr. Hyde, but their classic small-cluster/shot-berry Old Wente morphology tends to result in lower yields (about 3 tons/acre).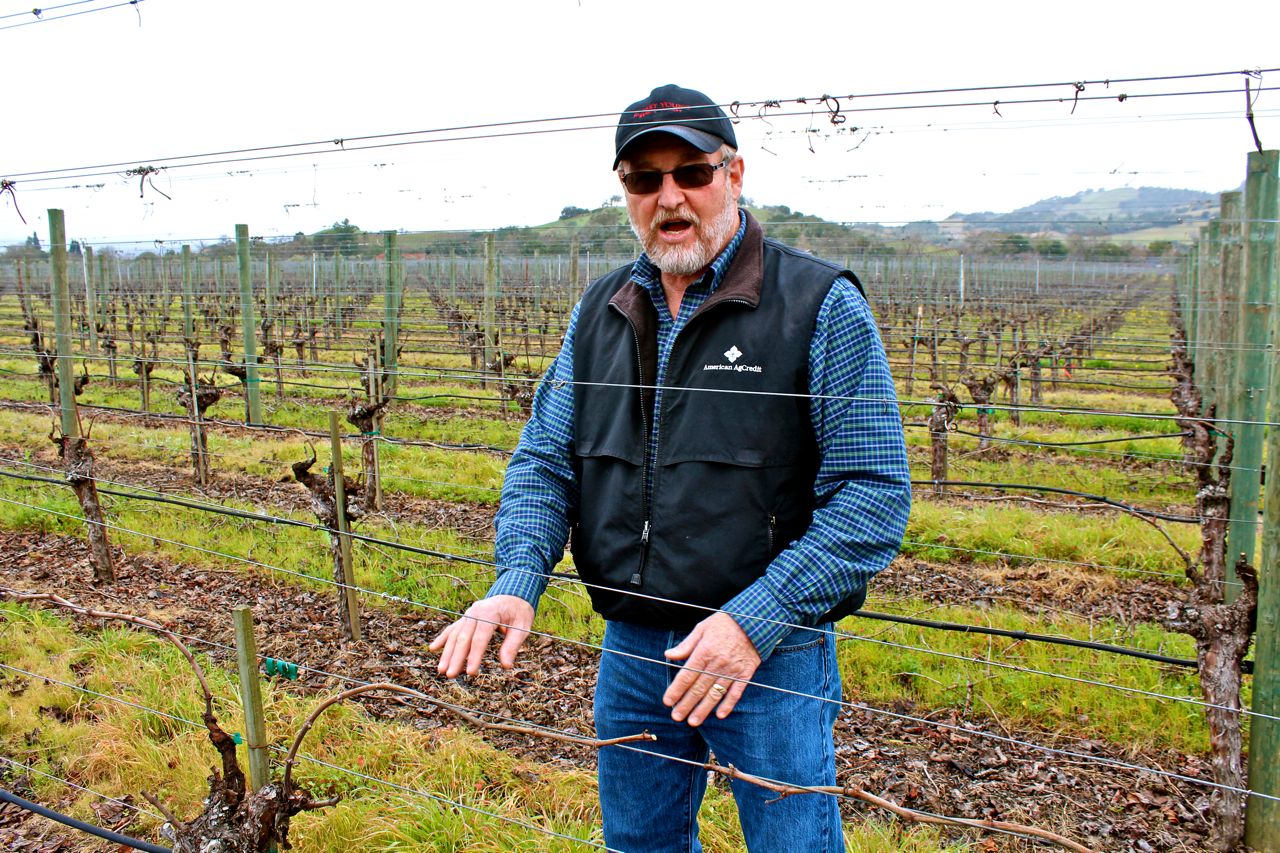 Perhaps the most unique, and revered, Musqué dominated field selection today is found in Rued Vineyard in Green Valley, planted and farmed by the Duttons for the Rued family since 1969. You find milder Musqué accents, and more citrus/lemon acidity and flavor, in the field selections of small, loose clustered Old Wente maintained by Stony Hill (completely replanted since 1948) and Hanzell (which has retained one small block, called Ambassador's, originally planted in 1953).
The Wentes still cultivate their own pre-heat treated heirloom selections in much the same way that Ernest Wente began doing 101 years ago. "My grandfather was a big believer in mass selection," says Philip Wente, "and survival of the fittest." Describing their 4.5 acre Heritage Block in Livermore Valley, Wente tells us, "You can literally walk from vine to vine, pick off ripening fruit and get the full range of what makes Wente 'Wente'—from green apple and pear to citrus/orange and pineapple, along with honeyed Muscat, or tropical fruits, turpenes and minerals."
Genetic stability, says Wente, has never been Old Wente's strong suit. "It's tricky because individual plants do not necessarily produce the exact same flavor profile each year. Some vines tagged as 'musky' one year can taste more like pear, apple or pineapple the next year. Cluster weight and berry size are not exact markers either. We're seeing lusher flavors in fuller, even sized clusters, and lusher flavors in smaller shot-berry clusters. Higher acid, minerally profiles in heavier clusters, and the same thing in lighter clusters. It's not as easy as you may think to pin down what defines 'Old Wente.'"
But does it matter? Greg La Follette of La Follette Wines hits the nail on the head, when talking about why ultra-premium winemakers still prefer the older heirloom selections: "It really is the same idea as the old Burgundian sélection massal for Pinot Noir—you can cultivate for predictability with single clones, but with the unpredictability of field selections you can get increased complexity. I'll take increased complexity any time."
SOMMELIER TASTING PANEL: CHARDONNAYS CRAFTED FROM WENTE SELECTIONS AND CLONES
Originally published in Sommelier Journal, May 31.2013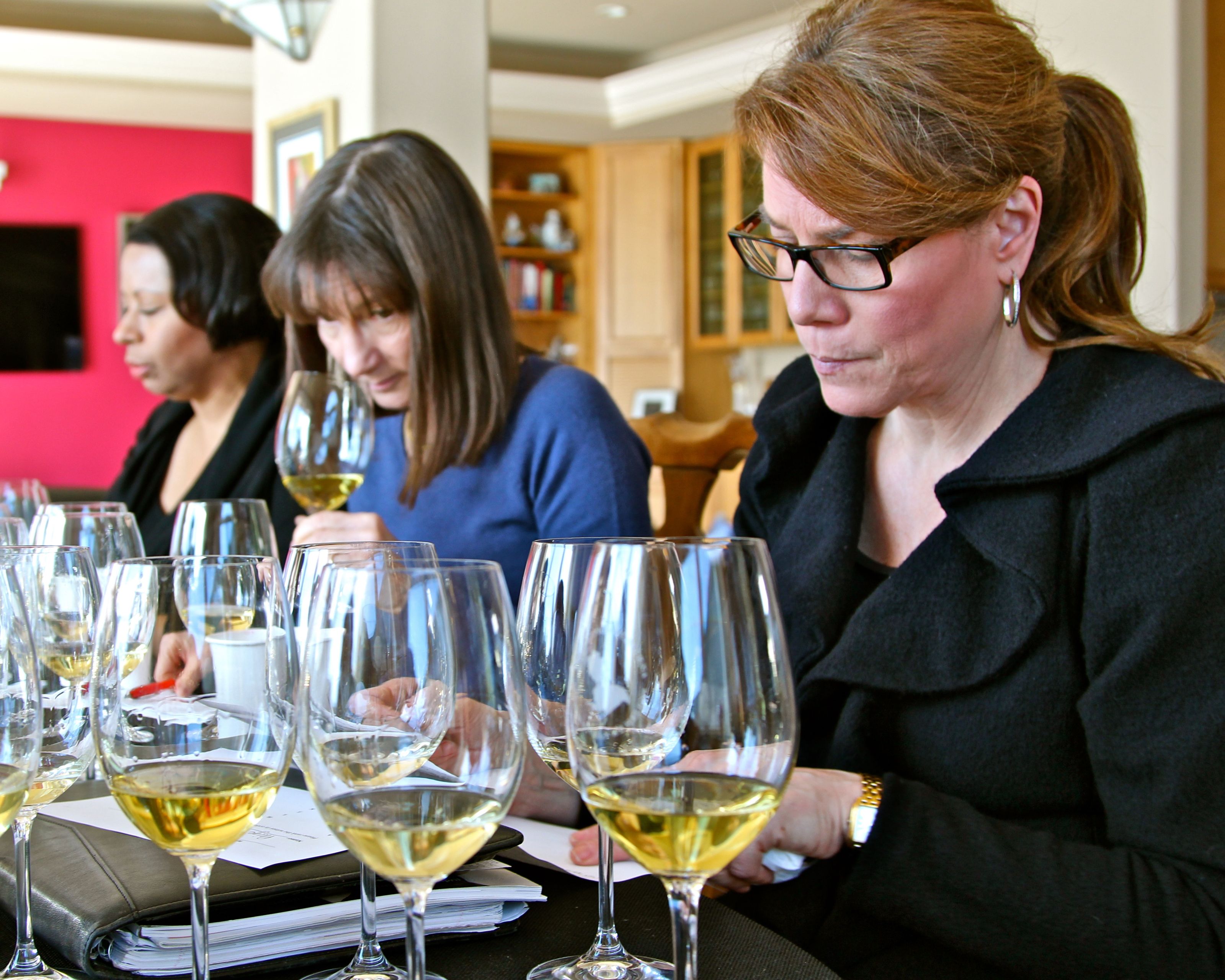 What are the telling signs of Chardonnays made predominantly from Old Wente selections?

Although there are several permutations, "Old Wente" is properly defined as the uncountable collective of non-heat treated heirloom clones, planted in field mixes throughout California's wine regions. Not only do massal selections of Old Wente contrast with vineyards planted to just one or at the most two single clones of Chardonnay (U.C. Davis Foundation Plant Services Clones 04 and 05 being the most widely planted in California), the millerange (i.e. hens-and-chicks or shot-berry) morphology also associated with Old Wente grapes can vary considerably according to individual field mixes, impact of terroir and, not in the least, peculiarities of vintage.
Nonetheless, there are sensory commonalities prized especially by luxury producers, willing to pay more for the benefits of higher skin-to-juice ratios usually attained by these lower yielding, less than predictable selections. Namely,
Higher natural acidity
Elevated phenolics, amplifying citrus, tropical fruit and textural sensations
The complexity intrinsic in clonal field selections
In the case of field mixes that include higher percentages of "Musqué" variants, increased floral notes such as jasmine, citrus blossom and musk-like spice.
For this Tasting Panel we assembled seven California based sommeliers who are very familiar with luxury Chardonnay bottlings—still the West Coast's top selling premium wine—and at the end of this double-blind tasting, they concurred: Old Wente characteristics were, as Paige Bindel CS put it, a strong "common denominator." Said Bindel, "The diversity of these wines was intriguing—but as much as they were different, they were the same."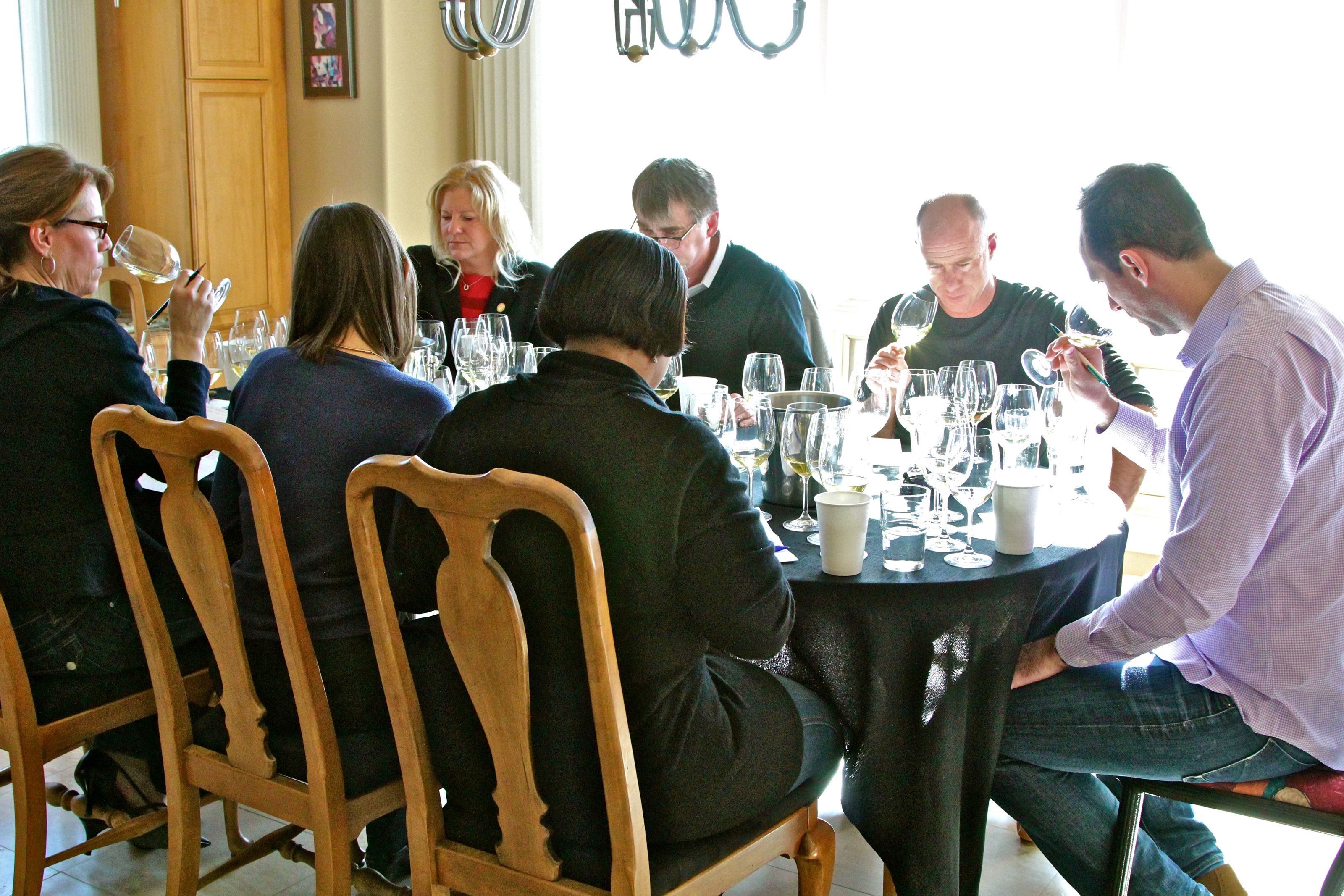 Ellen Landis CS, CSW commented on the "markedly rich texturing and nice acid balance shining through all the wines," while Gillian Ballance MS, DWS "thought it was interesting how the variations within these flights seemed to indicate various climates and vineyard sites, yet the tropical fruit and citrusy acidity remained prevalent."
Tim Gaiser MS summarized it: "The whole hen-and-chick phenomenon of Old Wente selections lends itself to a mix of ripening in the fruit qualities—lovely sweet/tart, almost Juicy Fruit® gum effects. I think that from a good vineyard, with the yields kept down, that intensity really hangs in there, even when you throw in things like malolactic and new oak—those qualities are still there, resisting all those influences. The Old Wente stamp will stick—we certainly found that in this tasting."
Echoing the group's positive response to the wines' overall quality, Cassandra Brown CS, CSW enthused: "I am totally fascinated by Chardonnay. It might be the tofu of wine, taking on so many influences depending on whose hand and where it is grown, but to me, it's those very influences that make it so interesting as a varietal."
Our lineup of 12 Chardonnays was tasted in two flights of 6. The sommeliers' assessments, in the random order in which the wines were tasted: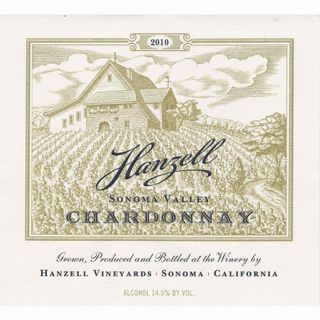 2010 Hanzell, Sonoma Valley ($75)
Blended from multiple blocks in this Sonoma Valley estate—a relatively warm site on the slopes of Mayacamas Mountains (elevation 800-1,100-ft.)—planted in several phases between 1953 and 2001. Hanzell's original plantings are still being cultivated; and although some Robert Young Clone (heat treated Davis Clone 17) has been added to the property, the dominant sélection massal remains the estate's own "Hanzell Clone," originally culled from Stony Hill Vineyard (in turn, taken from cuttings from Wente Vineyards' Livermore plantings in 1948).
Gaiser: Nice, restrained style; white flower, Pippin apples; not a great deal of ML, a really juicy, vibrant style, and nice touch of elegance.
Rollston: Stood out for me, showing brighter, more restrained and less lactic quality; lower in ripeness, with less use of oak and buttery characteristics, but enjoyable lemon and green apple—definitely a different style from other wines in this flight.
Ballance: I really liked the balance on the nose leading into restraint in the mouth, driven by a good grip of the acidity.
Bindel: My favorite wine of the flight—crisp, lemon/citrus, just-right apple and pear fruit, with white flower notes complimented by slight minerality, giving it a leaner profile.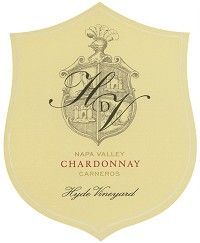 2010 HdV, Hyde Vineyard, Carneros/Napa Valley ($60)
Vaunted joint venture of Carneros/Napa Valley grower Larry Hyde and Aubert and Pamela de Villaine of Burgundy, France. Hyde cultivates heat treated Wentes (U.C. Davis Clones 4, 5 and 17) as well as non-Wente clones in separate blocks, but he is best known as one of the state's most reliable source of non-heat treated Old Wente selections (with significant proportions of Musqué); all from budwood sourced from either Martini (by way of Long Vineyards) or directly from Wente's Livermore estate. HdV picks primarily from blocks of the Old Wente massal, planted in 1993, 1992, and 1979.
Trupiano: The first wine where we're getting into that bigger, louder, typical fruit style of Chardonnay we're all accustomed to, in contrast with the first wine in the flight (Hanzell)... but I like the way it's held together with some nice acid.
Gaiser: One of the two, three wines in the flight that is unmistakably Wente clone—tropical mango, mandarin, lime aromas, with lemon curd and butter cream—tasting juicy, vibrant, and I suspect a little bit of residual sugar Could have used more acid for my taste, but still a very appealing style.
Ballance: I agree with Tim, this is very "Wente." The texture is unctuous, the oak a little raw, and the ripeness—rich lemon cream/lemon curd/marzipan/pineapple qualities—would lead you to think there is not a lot of acid, but I found a good amount, along with a nice, subtle touch of minerality.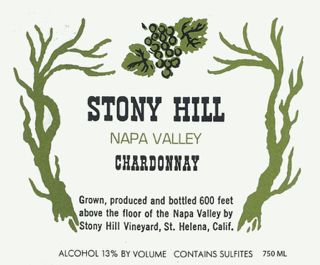 2008 Stony Hill, Napa Valley ($42)
This storied Spring Mountain vineyard—on east facing slopes, 600 to 1,200 feet above the Napa Valley floor—was planted from budwood coming directly from Wente Vineyards in 1948. The vineyard was replanted and expanded in several stages between 1975 and 1986, until none of the original 1948 plantings remained. According to winemaker/grower Mike Chelini (who has worked for the McCrea family since 1972), in-house selections were made on the basis of larger set and consistent berry size. Despite this effort, Stony Hill's current massal still tends to be moderate in cluster weight (partly due to shallow hillside soil), prone to millerandage (some years more than others), and retains slight Musqué accents.
Stony Hill is also associated with Chardonnays of longevity—virtually every aficionado of this brand acknowledges that these wines are at their best between 10 and 20 years old. The house style of utilizing neutral Burgundy barrels and puncheons—as much as 50 years old—lends itself to a style focused entirely on varietal character and terroir-related profiles, which may or may not be expressed to optimal effect in bottles less than 10 years old (most likely, reflected in the 2008 in this tasting).
Ballance: Ripe tropical fruit qualities—like melon, pineapple, starfruit, and bruised apple—that didn't do a whole lot for me, maybe because this wine seems to come from a warmer place or vintage.
Brown: There's a very ripe, slightly musty thing going on in the nose, a little like cooked, baked apples—I thought resembling a cider mash.
Bindel: The ripeness to me was more like Bosc pear, with buttery notes in the nose, along with honeysuckle, Asian spices, and stone fruit/nectarine; very luscious and creamy in the mouth-feel, but finishing a little short, a little bitter.
Gaiser: Sort of like a Calvados; nice, elegant style, but at the same time, a little disjointed.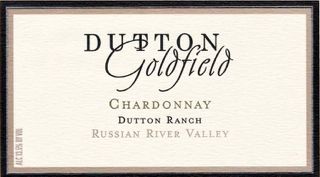 2011 Dutton-Goldfield, Dutton Ranch, Russian River Valley ($35)
While the Duttons farm no less than 80 vineyards in Russian River Valley, this cuvée is blended primarily from older vines (more than 30 years of age) in the cooler Green Valley sub-appellation; the largest proportion coming from Morelli Lane Vineyard, planted to a Hyde selection of Old Wente.
Landis: Very expressive tropical fruit—pineapple, melon, a little fleshy on the mid-palate, citrus accents, and nice spiced oak characteristics... pretty nice.
Gaiser: Really wonderful balance; nice, fragrant, white jasmine, honeysuckle notes, with pineapple, and I liked the fact that the oak is quite well integrated – one of my top three favorite wines in the flight.
Bindel: I thought the Meyer lemon, pineapple, apple blossom, vanilla qualities were quite pleasant.
Rollston: Right down the middle for me, too; balanced fruit—little touches of mango, tropical fruit... très Wente, you can say—with integrated oak, really rich and luxurious without being over-the-top. To me, an archetypal California Chardonnay that works.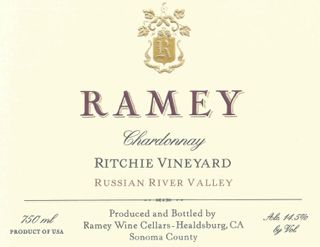 2010 Ramey, Ritchie Vineyard, Russian River Valley ($60)
Kent Ritchie's mature Old Wente planting (est. 1972), located in the Middle Reaches of Russian River Valley—where fog tends to creep in at night and pull away in early morning, making for lots of sun, warmer days, yet cooler nights. Original budwood purportedly came directly from the Wentes' Livermore vineyards; clusters exhibiting classic shot-berry architecture.
Brown: Fruit cocktail and sweet oak in the nose... a little bit of that California "cougar juice" quality.
Landis: Tropical Wente quality, layered and spiced, with some minerality, nice structure and balance—very good food style of Chardonnay.
Ballance: My favorite wine of the flight because I found it to be the most complex, having the most interesting texture—balanced and unctuous—with well integrated oak. There are unfined/unfiltered impressions, a little leesy and lemony, with some toasted oat notes reminiscent of Meursault, with hints of chalk, white peach, tropical fruit and white flowers coming in over the top.
Gaiser: My favorite wine, too; very complex, and kind of a shameless style of California Chardonnay—walking a tightrope between too much oak and just the right amount of oak.
Rollston: I didn't find a lot of Old World in this wine, which doesn't mean much because I also found it to be very textural, silky, viscous, high bodied, almost oily in its fatness; but in a way, it works, not veering into caricature or excess of alcohol at all.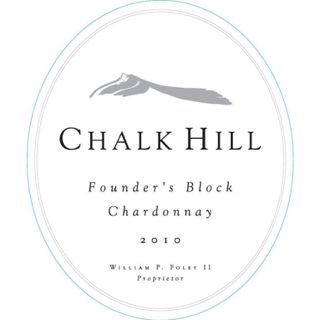 2010 Chalk Hill, Founder's Block, Chalk Hill Appellation ($75)
Chalk Hill's original "Founder's Block," planted in 1974, no longer exists. Instead, this 2010 represents the first bottling from a block that was t-budded in 2008 to Chalk Hill's own selection of Old Wente (Clone 97)—a virus free, small clustered, shot-berry type single clone, micro-shoot propagated by U.C. Davis at Chalk Hill's bequest, following 8 years of clonal field trials conducted in cooperation with U.C. Davis.
Trupiano: A forward wine to me—melon and pineapple, veering into that canned fruit element; at first, some cool green herbiness, but almost lazy as it develops on the palate, finishing very soft, a little deconstructed.
Landis: Butterscotch, apples and pears, with subtle hints of tropical, pineapple fruit; quite juicy, with a little lactic going on here along with some oak, but maybe lacking in a little power and focus.
Gaiser: I wrote, "parked on hill, left off parking break." The fruit starts off bright enough, but lacks the acid to hold together, and the wine starts to slip away.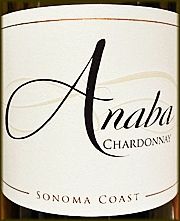 2010 Anaba, Wente Clone, Sonoma Coast ($35)
From the Denmark Vineyard, located in the south-east foothills of Sonoma Coast (in the wind chilled Petaluma Gap), planted to a Hyde selection of Old Wente clones.
Ballance: Restrained, appealing style; having the most citrus and steel, and the least amount of oak in the second flight flight. Chalky, crisp green apple, steely, leesy, bright acid, tangy, and almost celery-salt character that I found to be Chablis-like, for lack of a better comparison.
Landis: Wet stone and chalky minerality, with some bright fruit, pineapple and lemon; hint of herbal quality coming through, and acidity was quite nice.
Bindel: Some attractive ripe fruits merged with Meyer lemon, and just as nice on the palate, brightened by nice acidity.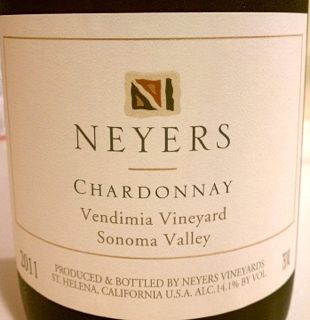 2011 Neyers, Vendimia Vineyard, Sonoma Valley ($42)
This old mountainside vineyard—on the red volcanic slopes of the Mayacamas, on the east side of Sonoma Valley—was planted in 1960 by Chuy Ordaz (who still farms it) to what the winery calls a "Shot-Wente" (a.k.a., Old Wente) selection, the original plant material taken from an unidentified vineyard.
Rollston: Lot of buttered popcorn and tropical fruits; rich texture, but also a slight, almost positive tasting bitterness.
Trupiano: Big, explosive, candied tropical nose, with lots of acid.
Landis: I find lime pith along with a little pineapple and almost strange, earthy, cedarwood note in the nose.
Gaiser: Rich, up-front fruit and lots of malolactic; started off nice, but stopping short going into the mid-palate, detracted by the slightly bitter notes.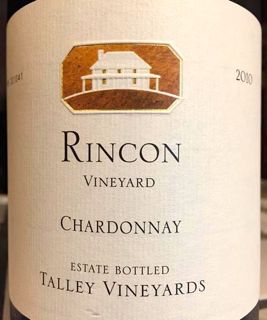 2010 Talley, Rincon Vineyard, Arroyo Grande Valley ($40)
Two factors: First, this wine is from Talley's oldest vineyard (planted in 1982), impacted by shallow calcareous loam on fairly steep slopes, and a cold macroclimate (just 8 miles from Pacific). Second, 39% of this wine is from a Hyde selection of Old Wente (the lowest percentage of Old Wente in this Tasting Panel lineup), and the rest is from own-rooted Davis Clone 04 (heat treated Wente)—although it is worth noting that in this terroir Clone 04 bears little resemblance to Clone 04 grown in warmer sites, in more promiscuous soils.
Brown: My favorite wine of the flight—a nose of graham crackers, and balanced, savory qualities.
Landis: Lime zest, lean and crisp apples, with a touch of herbs; bright, balanced, unfiltered qualities, and really nice acidity.
Bindel: Although it really wasn't all that high, the acidity really pulls this wine together.
Rollston: Luxury California style Chardonnay—very rich, lots of tropical fruit, viscous and luscious. I don't find a lot of acid in this wine, and it's a tiny bit alcoholic, but still a crowd pleaser—lots of people would freak out tasting this wine.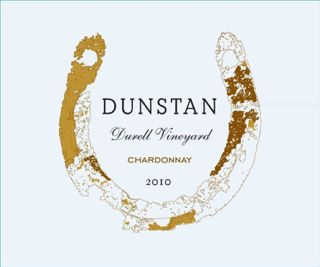 2010 Dunstan, Durell Vineyard, Sonoma Coast ($40)
While Durell is a well established name for top drawer Chardonnay, the Dunstan Durell comes from a newer, smaller block, planted in 2005 to a Hyde selection of Old Wente (same as the better known Sand Hill Durell sourced by Kistler and Chasseur). The vineyard is nestled in its own little protected pocket of low lying hills, falling within the Sonoma Valley, Carneros as well as Sonoma Coast AVAs.
Rollston: Markedly golden color, leading to apple cidery fruit, but also bright citrus/orange and little more acid than I expected from the color and nose.
Ballance: Found myself thinking, is this an Alsatian Chardonnay? The Gewürz-like nose shows some Musqué influences, with lots of bright, spiced nectarine fruit.
Brown: The buttery sweet, pineapple upside-down-cake nose took me back to mother's kitchen at first—big, but a little fat in the mouth.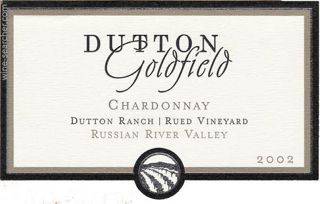 2010 Dutton-Goldfield, Rued Vineyard/Dutton Ranch, Green Valley of Russian River Valley ($50)
Old Wente selection of head trained vines, planted in 1969 by the late Warren Dutton; since then, always distinguished by its unusually large percentage (estimated to be over half of the vineyard) of Musqué variants—this sélection massal now identified as the Rued Clone. By reputation, bottlings of Rued Vineyard Chardonnay are also known for their longevity, retaining a pristine freshness after 10 years in the bottle.
Gaiser: Really pretty, confected, spun sugar, honeyed, jasmine, green tea, pear and mango aromas; very appealing, juicy succulence—one of my favorites in the flight.
Rollston: Very aromatic—really jumped out at me, saying "Musqué" all the way, with all that orange blossom and jasmine. Really solid texture, a little pithy, yet with an accessible character.
Ballance: Ripe Bartlett pear in the nose; lots of white flower, white peach, citrus, a touch of spearmint and jasmine. Has a very subtle prettiness that I enjoyed, to go along with really nice acidity and structure, and a nice, long finish.
Trupiano: My favorite wine of the flight; maybe because I really love jasmine. I also liked the interplay of fruit, non-fruit and oak; well balanced, and well made in that regard.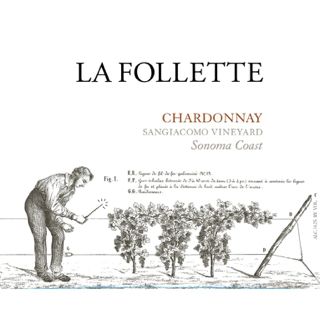 2010 La Follette, Sangiacomo Vineyard, Sonoma Coast ($38)
Old Wente selection (from an unidentified nursery) planted by the Sangiacomo family in 1998; on the site of a rocky dry riverbed located at the base of Sonoma Mountain (the eastern edge of the Petaluma Gap).
Ballance: At first the nose seemed like charred oak, but going back, I liked it more and more—the tropical notes and ripe citrus fruit making it a very appealing California style of Chardonnay, and yes, tasting very "Old Wente" in its acidity and balance.
Gaiser: I also wrote down, "très Wente" – very tropical, sweet citrus, very ripe style. The only thing I wish it had was a little more acid and focus in the finish; nevertheless, lots of nice things that a lot of would enjoy.
Trupiano: Tastes and feels like an expensive bottle of wine; something people would pay a lot of money for. I agree that the palate loses its focus a little too quickly; but all the flavors needed to qualify for "luxury Chardonnay" are here, and lots of it.
THE SOMMELIER/PANELISTS:
Gillian Ballance MS, DWS—Wine Director, Cavallo Point, Sausalito Resorts (Sausalito, CA)
Paige Bindel CS—Sommelier, Pèppoli Restaurant, Pebble Beach Resorts (Monterey, CA)
Cassandra Brown CS, CSW—Sommelier, The Chocolate Grape-Sommelier At YOUR Service (San Francisco, CA)
Tim Gaiser MS —Wine journalist; former Director of Education, American Chapter of the Court of Master Sommeliers Americas (San Francisco, CA)
Ellen Landis CS, CSW—Proprietor/Sommelier, Landis Shores Oceanfront Inn (Half Moon Bay, CA)
Jim Rollston—Sommelier, The Lodge at Pebble Beach (Monterey, CA)
Mike Trupiano—Restaurant Manager, San Ysidro Ranch (Montecito, CA)