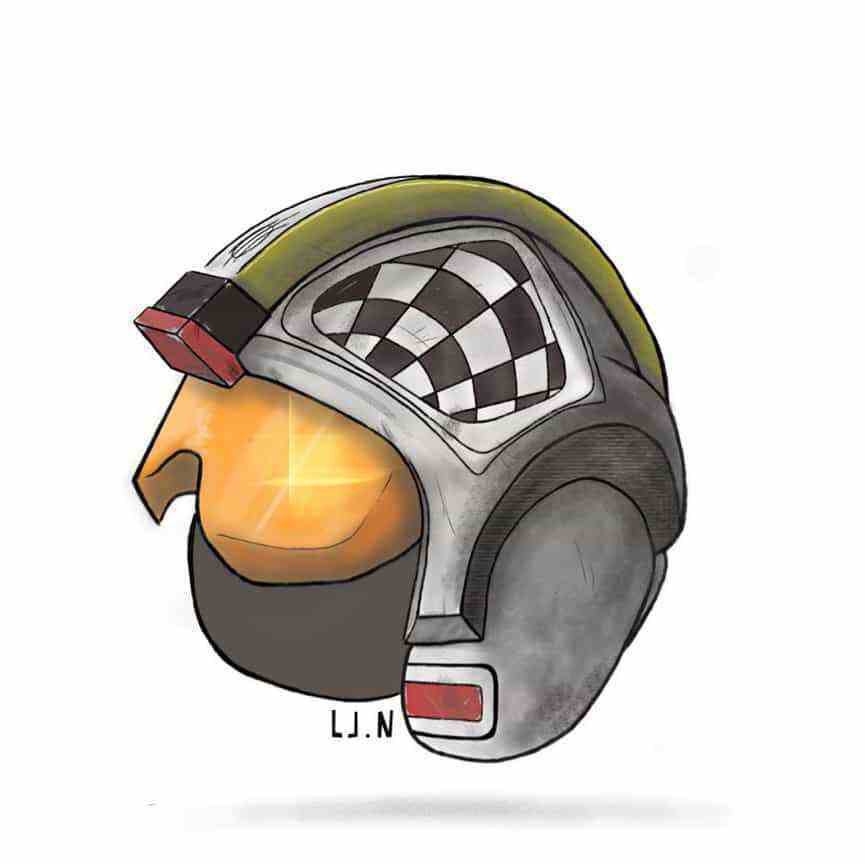 Trading stage for starfighter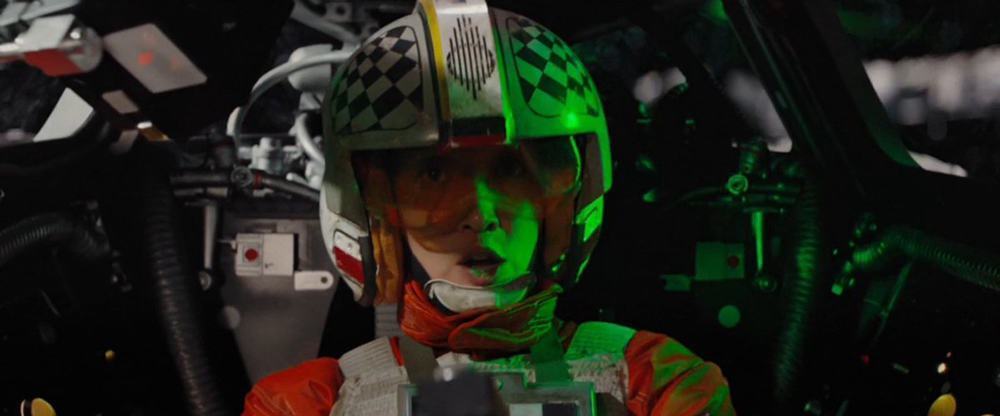 By any measure, it's a long way from Hong Kong to the planet Scarif.
But for actor Gabby Wong, donning an orange flight suit and jumping in a Y-wing cockpit to play Rogue One Y-wing pilot Wona Goban was the ultimate trip.
"I spent my early childhood in Hong Kong, and there was an English language channel that showed reruns of films on Saturday nights," said Wong, now based in the UK. "I was allowed to stay up late to watch Return of the Jedi at age nine and was mesmerized, and went on to watch all of the original trilogy."
"Ion Torpedoes Away…"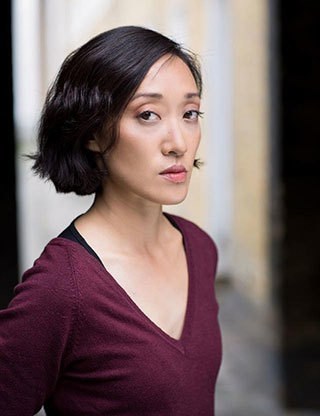 As part of the Rebellion bomber squadron, her character — call sign Gold Nine – along with other Y-wings [led by A New Hope-veteran Angus MacInnes, playing Gold Leader Dutch Vander], deployed their payload against a Star Destroyer guarding the planetary shield gate during the Battle of Scariff.
The spectacular attack succeeded in crippling the warship, with blue lighting traversing the hull and setting up Rogue One's climactic ending.
Of course, minus CGI, the view from the ground wasn't quite as exciting. However, for Wong, it was just as awesome.
"It was incredible to be in the cockpit," said Gabby of her moments filming in the Y-wing mock-up. "It was everything I had imagined a Rebel fighter cockpit would be like; as soon as I was there, I knew I was going into battle and firing ion torpedoes.
"Even though the shot was only of my head, the full costume was quite intricate," she explained, joking, "I didn't dare drink too much water as it takes quite a bit of fiddling to get in and out of…"
From Royal Shakespeare Company to Rogue One: A Star Wars Story
Not that getting out of the costume was something she wanted to do. The experience on a Star Wars remains illuminating, to say the least.
"I am mainly a stage actress so you may have seen me at the RSC or in Dr. Faustus in the West End with Kit Harington," she said when asked about her experiences as an actor. "I recently finished the all-female production of Laura Wade's Posh and currently in 'One of Two stories, or Both,' a radio composition at Manchester International Festival by this incredible artist from Hong Kong called Samson Young.
"It is broadcast live, with live Foley and a live band. It is conceptually brilliant; five episodes and I play a host of different characters. You can listen to it on BBC Radio catch up for another couple of weeks."
However, fans will be able to enjoy Rogue One for generations.
"There was no doubt in my mind that I wanted to be part of the Star Wars universe," said Gabby of earning a spot amongst the stars. "I don't know the intricacies of the casting process so I can only speak from the actor's perspective.
"I got a call from my agent to go in for a meeting, so I went to meet with the casting director.
Then, I read for scenes which were recorded on camera then sent off to the director. Not long after that, I found out I had been cast as a rebel pilot – and I screamed down the phone to my agent for about five minutes, her poor ears.
Meeting Captain Oquoné
Was sent this today by a fan (gosh, that sounds so weird). Yup, that is me in #RogueOne. #RogueOneStarWars #StarWars #GoldNine pic.twitter.com/M6ToladR1H

— Gabby Wong (@WhatWent_Wong) January 9, 2017
The rest of the story will go down in galactic history.
"I was booked in for a day of costume and helmet fitting and a two days shoot," explained Wong. "When I went in for my audition, actor Angus Wright was also there for his meeting.
"I had just seen him on stage in Orestia and 1984 and thought he was absolutely brilliant. I had to introduce myself and tell him what a powerful actor he is – I can be a fangirl like that, especially with stage royalty like Angus. He was cast as Kado Oquoné, the captain of the Hammerhead Corvette. On my shoot day, I was also there with Richard Glover, who played Red Twelve. We spent a great day together."
But Wong's work continued.
"Dialogues were recorded, but because of the final sequencing of the battle, the lines I had recorded didn't quite fit, so I was asked to go in again in post-production for ADR," said Gabby. "They may have wanted a different voice to fit with music in the end, so it was again dubbed by [Vanessa Marshall, who usually voices Hera in Star Wars Rebels].
"Lots can happen in post-production."
After the Battle
Courtesy of @tsukpo who took this. I'm in Star Wars!!! #RogueOne #rogueoneastarwarsstory #StarWars #GoldNine pic.twitter.com/eArDEiEGWQ
"Lots can happen" downplays how much appearing in Star Wars can change how others view an actor; the credit often bringing notice that might be a little over the top.
"It would have been silly of me not to do it," said Wong, asked if she bristled at any of the attention. "I had never been on a big film set before, so from an actor's point of view, it was a great learning opportunity.
"My first Con was last month and was sure no one would know who I was, but the attention and warmth I received were overwhelming. I have been receiving letters or have had people waiting outside the theater of a show I'm doing to ask for autographs. Little old me, just a jobbing actress.
"It's humbling."
As is Wong's opportunity to expand the Star Wars universe…
"I'm incredibly proud to populate the universe as an Asian woman," she said. "Any inclusion is a step forward.
"Think about it, Leia was a General," continued Gabby. "Why can't there be women flying starfighters? Why can't an Asian woman contribute just as much to 'the Rebellion' as her white male counterparts?
"Throughout [real world] history, we have all done just as much," she added. "But those efforts are just not talked about."
— Marie-Loup (@marie_loup_) June 4, 2017
"Wona Goban" joins her friend "Jessika Pava"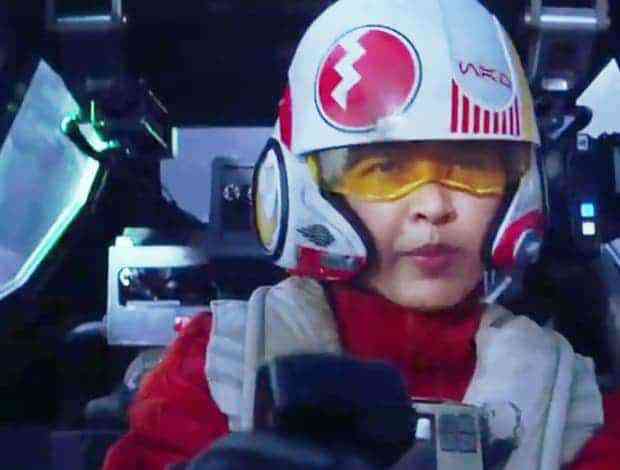 And now, Star Wars fans are talking about Gabby Wong, which is just fine with her.
"I was definitely a fan already and was so excited when Force Awakens came out that I made my mum go and see it at the cinema with me on Christmas Day," she said. "Also because my friend, Jess Henwick [Resistance Pilot Jessika Pava] was in it.
"I had always wanted to be a rebel pilot, being a Jedi felt too great a responsibility, but I was always with the Rebellion."
Now that statement is literal.
Wona Goban's helmet is featured prominently in the "Star Wars: Rogue One Ultimate Visual Guide." Again, that sentiment remains acceptable to Wong.
"If being 'Gold Nine' leads people to know my other work at the RSC or West End or even a small but important art project, then I don't mind that at all," she said.