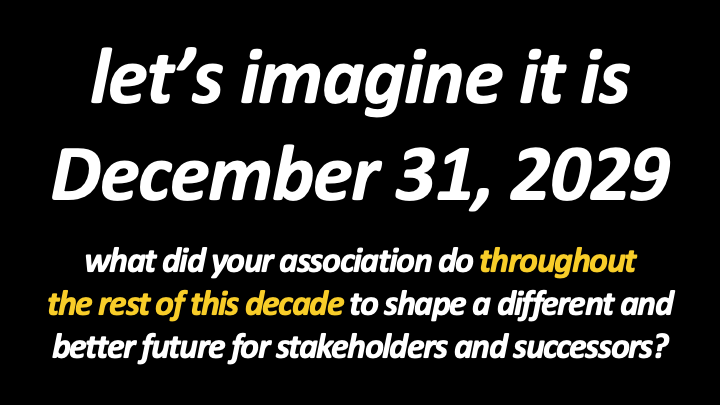 Last month, I posted the backcasting prompt pictured above to LinkedIn following my late June session at the Virginia Society of Association Executives Annual Conference in Virginia Beach. My sincere thanks to everyone who liked the original post. What I noticed, however, is that no one accepted my invitation to offer a response to the prompt.
To assist association boards and staff with sparking new conversations through this thought experiment, I have created four example responses to this prompt based on the four major forces of turbulence I see shaping this decade. After the four responses, I share some questions you can use to frame a conversation inside your association.

Four example prompt responses to spark new thinking
Addressing AI/automation
"In the early years of the 2020s, our association's concerns about the detrimental impact of AI and automation technologies on our profession led us to refocus our education. Instead of concentrating entirely on developing our learners' technical skills, i.e., what they need to know to work in our field, we created new professional credentials that helped build their digital and human skills as well. By the end of the decade, research showed that our credential holders were in demand, especially among employers who initially implemented AI and automation technologies to handle routine tasks and activities. Those companies now needed human workers who could effectively collaborate with machine intelligence and other human workers to facilitate the work of innovation."
Addressing the climate crisis
"To be completely honest, we struggled with shifting our association's thinking and action toward the future. Our board initially resisted even having the conversation, but once they did, it didn't take long for them to see the COVID-19 pandemic as a fast-moving version of the global climate crisis. Working with that shared understanding, our board refocused its stewardship on a foundational question: how can the association work to reduce our field's carbon impact by 50% or more within ten years? We reached out to other organizations in our space, and everyone agreed to put everything on the table. The group identified specific outcomes we would strive to achieve together, and while we are not yet where we want to be, but we are making consistent positive progress."
Addressing human inequality
"The COVID-19 pandemic revealed (and exacerbated) a depth of human inequality in the United States that was intolerable to our association, our people, and our industry. We knew we couldn't simply 'return to normal' because what we thought of as normal was grounded in the discrimination, exclusion, and exploitation of millions of people over decades and centuries. Our board took a strong stance by committing the association to a newly-created ethical purpose of prioritizing the wellbeing of people over profits. As a result, the association shifted its advocacy work away from protecting the industry's traditional interests and toward creating a more equitable economy and inclusive society for all Americans. It was a huge and difficult shift, and it was the right thing to do."
Addressing ideological extremism
"The Capitol insurrection on 1/6/21 was horrifying, but it wasn't until we heard the same voices of ideological extremism during a board meeting the following week that we understood the threat was inside our association. It was a painful realization, and yet one we could not ignore. Ideological extremism was an existential threat to our association's commitments to expertise, diversity, equity, and inclusion, and attracting young people to work in our field. It was clear that simply "agreeing to disagree" and being civil would not be enough. We implemented an entirely new process for identifying, recruiting, and seating board members, developed a fact-based, data-infused, and learning-oriented approach to board decision-making, and said goodbye to those who would not adapt."
If you're attending ASAE21 (and even if you're not), you're invited to join me and your association community colleagues on Thursday 8/19 at 4 pm EDT for my After ASAE21 Ask Me Anything (AMA) session on Zoom. Bring your burning questions to this free informal learning opportunity. It will be a compelling way to wrap up your ASAE21 learning experience. Please register for the AMA today!
Having a conversation on these prompt responses
To be clear, I do not offer these responses because they are the only ideas worth pursuing or because they are somehow "correct." Their sole purpose is to challenge association orthodoxies and convey a sense of both possibility and urgency for new thinking and action.

With that intention in mind, here are some questions you can use with your association's board to frame a conversation around the backcasting prompt and the example responses I have provided:
What is your reaction to the prompt and the four responses? Which response most challenges you? Which response most inspires you? What questions does each response raise for you?
What is the highest ambition we can pursue as an association before the end of this decade? How do the example responses challenge us to be bolder in our thinking?
If the stakeholders and successors who will be most affected by our decisions were listening to our conversation, how well would it honor their highest expectations of us? What sacrifices are we prepared to make to meet their expectations and fulfill our responsibility to them?
MY CHALLENGE TO YOU: We need to accelerate our decision-making, so I challenge you to complete your association's thought experiment process around the backcasting prompt, i.e., from first conversation to crafting your response, in 60 days or less.

A crucial closing reminder
As of today (8/2/21), there are 3,074 days left in this decade. We are creating the future right now, and the window for taking the serious action required to shape a different and better future for our stakeholders and successors is closing. There is no time for delay.
Thank you for reading this post. If you would like to receive future posts by email, you can sign up here. Please email me with any questions at foresightfirst@gmail.com.