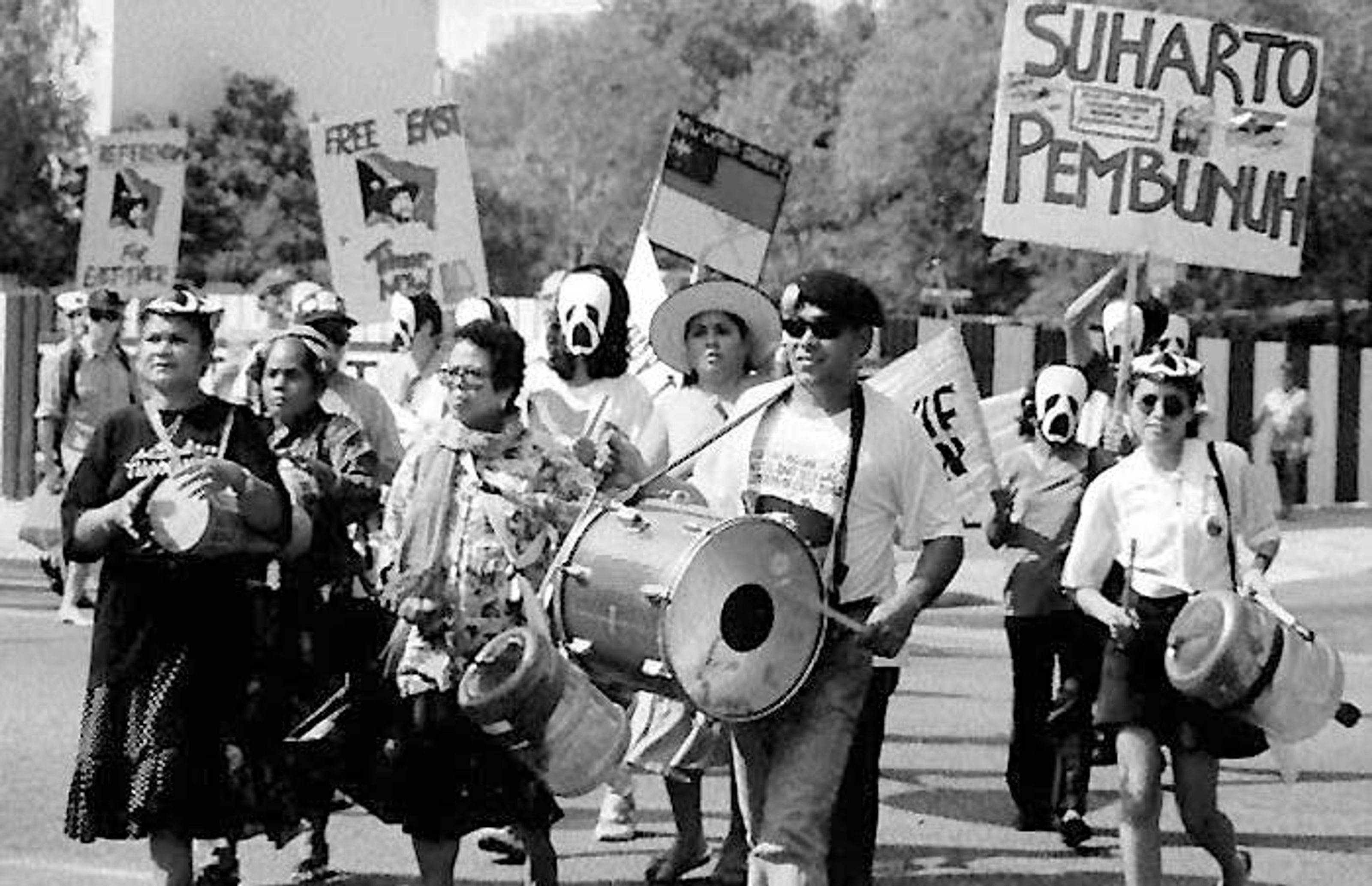 WILSON da SILVA was one of six foreigners expelled from East Timor last Thursday as Indonesia closed the territory to outsiders. He had travelled to East Timor to commemorate yesterday's anniversary of the 1991 Dili massacre. Here he recounts the incident and reports on continued unrest in the territory.
The rusting hulks of three Indonesian troop landers can still be seen on the beach at Dili, East -Timor's capital. They lie where they came to a halt on December 7, 1975, when an overwhelming task force of Indonesian warships, bombers and paratroopers descended on this sleepy outpost of a decaying Portuguese empire.
They are within view of government offices, where an Indonesian-appointed governor now lives, only a few metres from the beachside promenade that is Dili's main thoroughfare. It seems more than a little insensitive to have such reminders of the Indonesian invasion 20 years ago so visible to the casual tourist.
Nearby, two ageing Timorese men with straw hats and deeply tanned limbs crouch in the sand and tend to their nets. Indonesian men in fatigues, red berets and automatic rifles slung lazily at their sides eye you attentively as you walk past.
Young Timorese men and women greet you in the street with "Good morning, mister" or just simply exclaim "Mister!" It all seems peaceful, if a little odd.
But then, the spell is broken. A young man, maybe 18 or 19, approaches you in full view of the soldiers on the promenade. He is smiling and he greets you warmly as he passes by. For a second you look straight into his eyes, and he whispers, "independençia ou morte [independence or death]."
Throughout this past week, a group of foreigners who came to East Timor to commemorate yesterday's anniversary of the 1991 Dili massacre, encountered many such examples.
They heard priests tell of arrests and nightly beatings by Indonesian police and soldiers in riot gear. "They think we are animals," Father Domingos Soares, one of the few who agreed to be quoted, said. "They beat the people and think they will submit like dogs. But we are human beings. They are only creating more hate, more resentment."
The group, made up of human rights workers, parliamentarians and religious leaders from seven nations, had planned a private prayer visit to the Santa Cruz cemetery in Dili, where Indonesian troops on November 12, 1991, opened fire on a funeral processsion. Amnesty International has put the" death toll at 200, while an Indonesian Government panel declared that "about 50" died.
The international delegation had come to light candles last Thursday afternoon and pray for the victims of the massacre.
Two Australians — Brisbane Aboriginal poet Lionel Fogarty and Darwin medical practitioner Andrew McNaughton — arrived in Dili on Tuesday. Another four delegation members came on Wednesday, including German Green Party official Jurgen Meyer, Namibian MP Daniel Botha and American Brian Brown, an official of the human rights group Freedom House.
In the days that followed, they reported being followed from their hotels or being watched in bars and in parks. The group met privately with priests and local people, playing elaborate charades in order to avoid being watched or followed.
When they went to a restaurant in the suburbs of Dili on Wednesday night, eight Indonesian men took a nearby table, the only other guests. Some had been seen earlier in the streets wearing uniform.
That evening, as the group gathered after dinner at the beach in front of their hotel to talk, two army vehicles pulled up. Fifteen men in crash helmets, body padding and carrying long rattan canes jumped from the trucks and approached the foreigners. They pressed in close, some holding their canes in readiness. A man in uniform queried the nationalities of the foreigners, and demanded they return to their rooms "for their own safety".
"This is without question the most repressive place I have ever seen," Reed Brody, an American lawyer, said. "There is constant intimidation ... everywhere you go you are watched, people they see you talk to are questioned." On this fourth anniversary of the massacre, rumours were rife in Dili that a demonstration was planned. Church sources said some Timorese were "prepared to die". Last year around November 12, rioting engulfed the town.
On Thursday morning, Indonesian authorities began rounding up all foreigners in East Timor, saying the order had come from Jakarta to close the territory to visitors. Five were given the orders at their hotel; another two had been walking in the city and were picked up and taken back.
Officials said "security concerns" were the cause, and that they were being ordered off the island for their own safety.
The delegation agreed to go if they could visit a large statue of Christ being built on the island. There, five of the foreigners lit candles and held an impromptu memorial for the massacre victims of 1991. Mr Fogarty sang a traditional Aboriginal song of farewell, and then the group was bundled into minibuses and taken to the airport.
At the same time, another group of eight foreigners were on their way to Dili. These included a Japanese Catholic bishop, an Irish MP, a New Zealand Maori leader and Painters and Dockers lead singer Paul Stewart, brother of one of the Australian journalists killed in East Timor in 1975. They were pulled off a plane at Bali airport and told they could not proceed.
The eight argued with officials for two hours before returning to their hotel in Bali. Later that afternoon, they were joined by the seven foreigners who had been expelled, including this reporter.