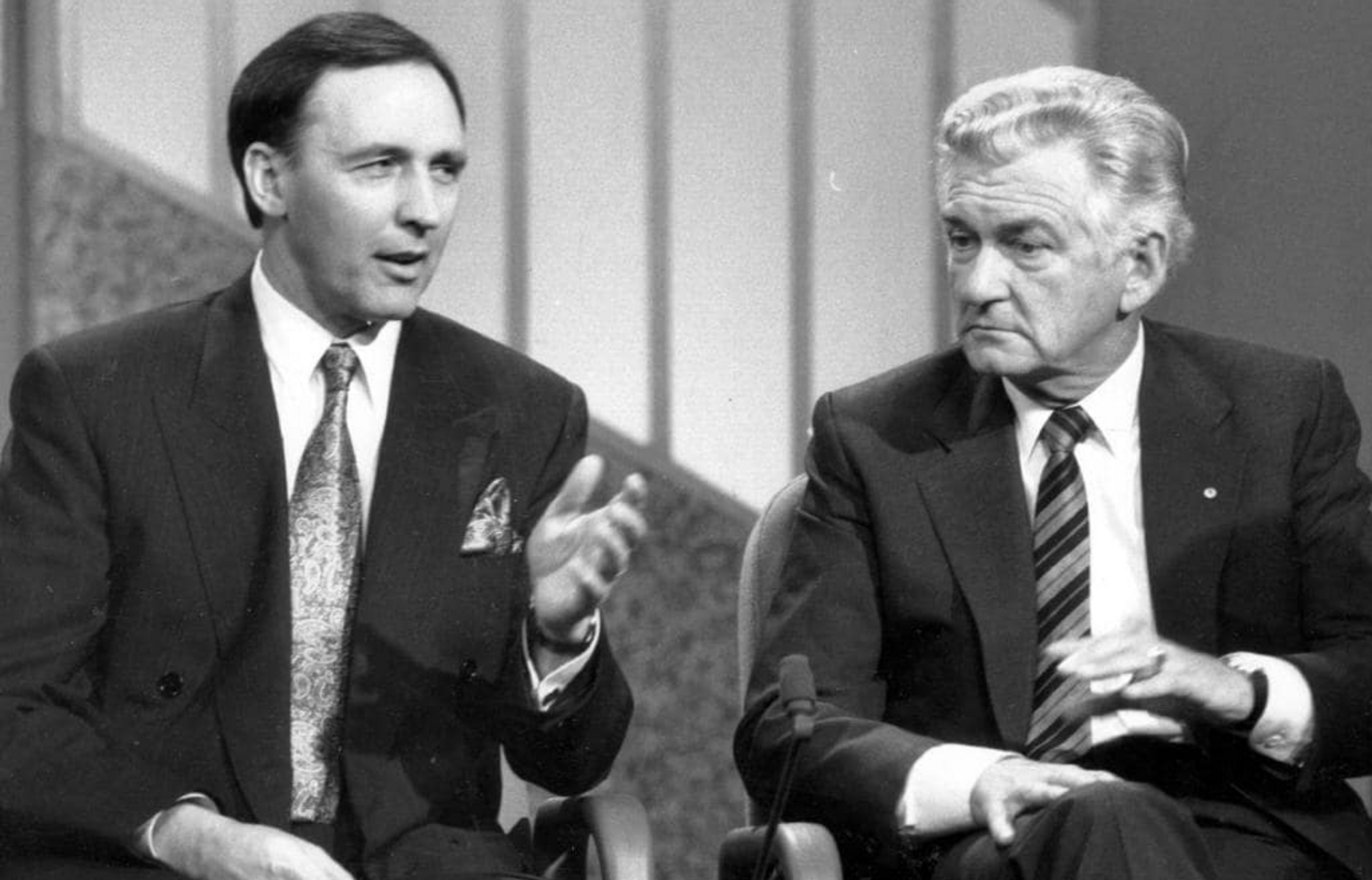 By Wilson da Silva
SYDNEY – Like sharks eyeing a tired swimmer, Labor Party insiders are circling Australian Prime Minister Bob Hawke, building up for what observers believe is an imminent challenge to the country's top job by his younger rival.
The contender is Paul Keating, Hawke's former Treasurer and the tall 47-year-old suave master of invective who in June came within 12 party room votes of toppling Hawke. Even a threat to fire warring ministers has failed to quell the divisions.
"What would you like me to do, shoot some people?" Hawke said last week when asked about damaging leaks of government divisions and public infighting between his supporters and those of Keating. "It gives me no comfort to see these public disputations."
An agitated Deputy Prime Minister Brian Howe was more pointed: "We simply cannot go on as an effective government on the basis of sniping, day in and day out."
Keating turned up the heat on Saturday, pictured in three major newspapers playing tennis and enjoying the company of his family while telling interviewers that Labor should change its leaders regularly in order to stay a healthy political institution.
"Parties have got to get on with their evolution," Keating told the newspapers. "They can't just be stopped and say, 'well, we'll keep on a leader till he's as old as Methuselah'."
He alluded to the resignation of former long-serving British Prime Minister Margaret Thatcher after her failure to decisively beat off a party room challenge in November last year.
The reference is an obvious undermining of the 61-year-old Hawke, who like Thatcher has led his party to repeated election victories, ever since leading Labor to office in 1983.
But Hawke's popularity is waning, Labor is trailing the conservative opposition in opinion polls and some Labor ministers see Keating, a sharp-witted reformer, as the revitalising force the party needs to win the next election, due by March 1993.
Unexpected support for Keating came on Sunday from respected business leader Nobby Clark, a former chief of the National Australia Bank and now chairman of the Fosters Brewing Group.
"Paul and I have had our differences but he does have, I think, very strong leadership qualities," he told a TV interview.
"I'm not sure if he's the man to lead Australia out of its problems, but certainly he's got some attributes that we don't seem to be seeing applied at the moment," Clark said.
This could not have pleased Hawke's backers, since it is his perceived lack of leadership that Hawke's critics most emphasise.
Once dubbed "old jellyback" by former Finance Minister Peter Walsh for his leadership style, Hawke only pledged to sack bickering ministers on Wednesday, after weeks of at times bitter public exchanges between Hawke and Keating supporters.
Keating, now a backbencher, has meanwhile lectured at universities and clubs, talking expansively of the new directions Australia should take. He has been careful not to directly attack Hawke or the government.
His standing in the polls, always low while in the dour job of Treasurer, have risen the longer he has been out of the ministry.
A recent poll indicated that 37 per cent of voters believed Keating more capable and intelligent than Hawke (28 per cent) or the rising young leader of the Liberal-National conservative coalition, Dr John Hewson (35 per cent).
After weeks of dismissing talk of another challenge, Hawke on Tuesday said one might come and that he was confident of winning.
A cautious government budget on August 20, the first since Keating's departure, failed to enthuse a nation wracked by recession and was widely panned by the press, with one columnist calling it "a lemon".
Hawke was jeered on Thursday by a television audience of mostly housewives when he criticised opponent Hewson as an uncaring Ferrari-driving enthusiast. Hawke earlier extolled the virtues of the budget to a stony-faced audience.
Keating has pledged not to start another challenge, but his supporters continue to work behind the scenes. Newspapers reported on Saturday that earlier in the week, Labor powerbroker and Social Security Minister Graham Richardson – a Keating backer – met Hawke and warned him another challenge was approaching.
Richardson later told reporters he had indeed met Hawke and discussed Keating, but that no warning had been given.
"Mr Hawke's shaky attempts this week to sell the budget to the voters have driven even some of his most loyal troops to the brink of despair," said political columnist Amanda Buckley of Sydney's Daily Telegraph-Mirror.
"If Mr Hawke can't improve his public performances, that support will rapidly dwindle and there will be a new leadership challenge before the year's end," she said.
Analysts say Keating must challenge by November or give up the ghost until after the 1993 election, or leave politics for the many rumoured lucrative industry jobs he has been offered.