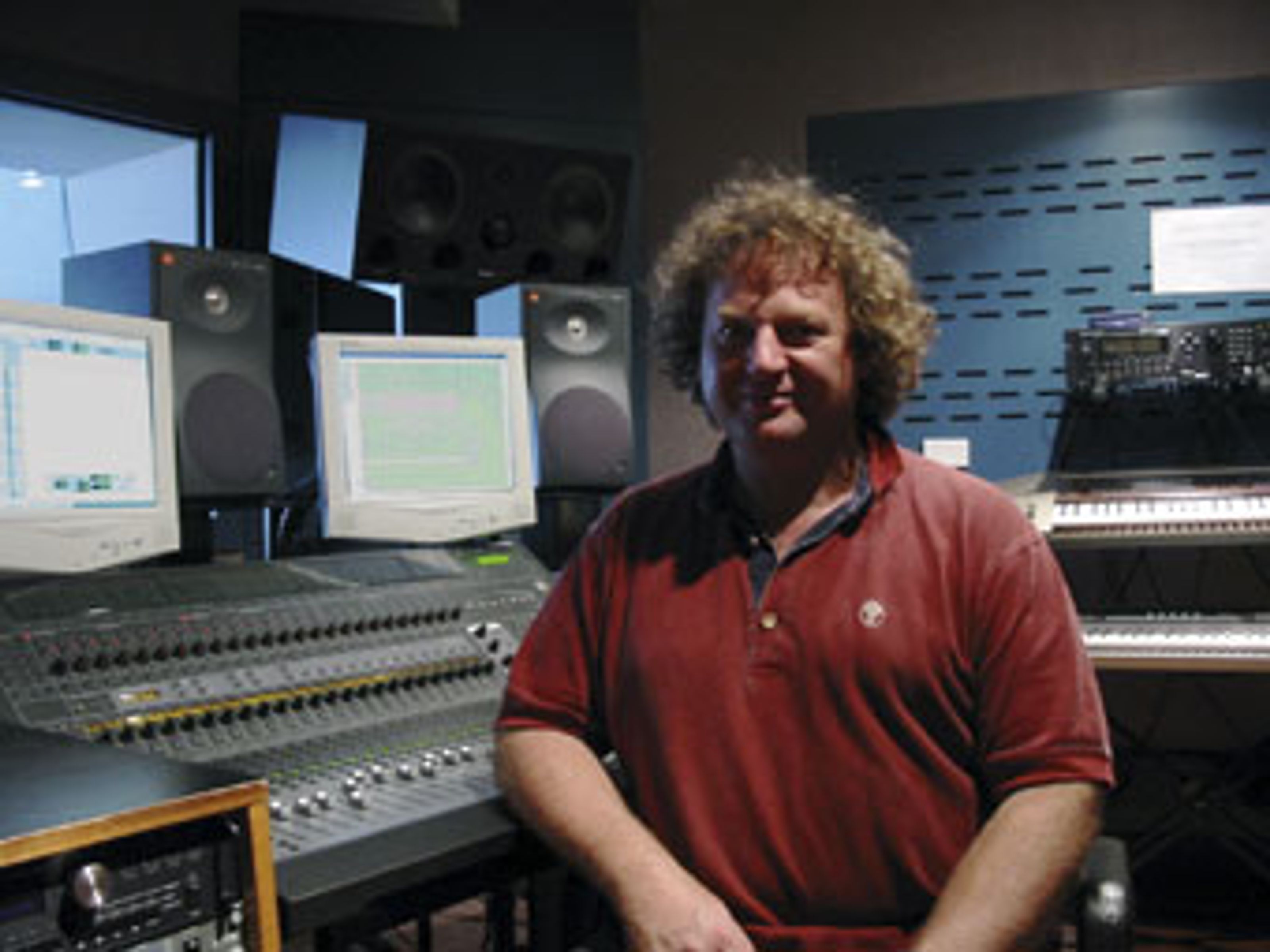 By WILSON da SILVA
GARTH Paine maybe on to something here: a multimedia art installation that brings cyberspace into the real world. And the end result is, well, real and virtual at the same time.
Walk into the front room of Linden Gallery, nestled in the hyper-hipness of Acland Street's cake and coffee-bar set in St Kilda, and you will be transported into an intersection of these two worlds.
White-framed rectangular pads are marked on the floors and five projectors point to the walls and the ceiling at tangential angles. Six speakers and one sub-speaker emit sounds ranging from Arabic prayer chants and falling rain to ticking clocks and indistinct snatches of musical compositions. Both the projections and the soundscapes wax and wane according to how visitors interact with the floorpads and with three electronic tripwires in the form of infrared light beams crossing the room.
Rapid or forceful movement triggers more chaotic visuals and soundscapes, such as violent color maps clashing above and the screeching sound of trains coming to a halt. Deliberative steps bring serene images of Japanese snow flowers and studies of bodies in movement, along with more soothing harmonies from the rack of six CD players stored in another room.
Although it seems chaotic, by walking around the installation and triggering the sequences, the mind intuitively detects a base pattern.
"None of the sequences are random," said Paine, a composer who has branched out into multimedia. "It's all carefully controlled and responds to movement. That's actually a lot harder to design." Welcome to MQM, or Moments of a Quiet Mind. Paine calls it "an intelligent interactive virtual environment", and an attempt to create a symbiosis between technology and the human body in a defined space.
Since first musing on the idea two years ago, Paine has been tinkering with software and hardware to bring the concept to life. But he soon discovered there was no such technology. It either allowed the creation of multimedia works for CD-ROM, or the production of sound and visual projection in a serial-mode basis - compositions with a "beginning" and an "end".
Paine wanted something fluid and responsive to human prompts and, to a degree, unpredictable. So he taught himself object-oriented programming based on the high-end C+ computer language.
It is not the leap for a composer and former flautist with the Tasmanian Symphony Orchestra as it might seem. Paine, 34, has also worked as a sound engineer for ABC Radio and went on to develop soundtrack and soundspace solutions for theatre in Tasmania and Victoria. Based in Melbourne for the past two years, he is part of a loose association of experimental composers known as CCC - the Contemporary Composers' Collective.
He cut software code using an old Apple Macintosh IIvx, which now acts as the master controller and for the inputs from the floorpads and the lightbeams, Paine designed a "black box" trigger interface that can digitise the data and pipe it into the Mac controller.
Paine composed the sound content and collaborated with New Zealand video artist Craig Madoc to meld the images into an installation, with help from programmer Ross George who came up with some of the video-based software solutions.
This sort of "immersive multimedia" may well be original – neither of the artists have heard of it being done before. Paine suspects that part of the problem has been the delay in response times.
His solution was to hand over decisions of image/sound sequence and mix to an artificial intelligence programming routine in the Mac.
As a result, the installation can respond to the floorpad or lightbeam sensors in 50 thousandths of a second - giving the illusion of instantaneous interactivity.
MQM - An Interactive Virtual Environment, is on display until 29 September at Linden Gallery, 26 Acland Street, St Kilda.