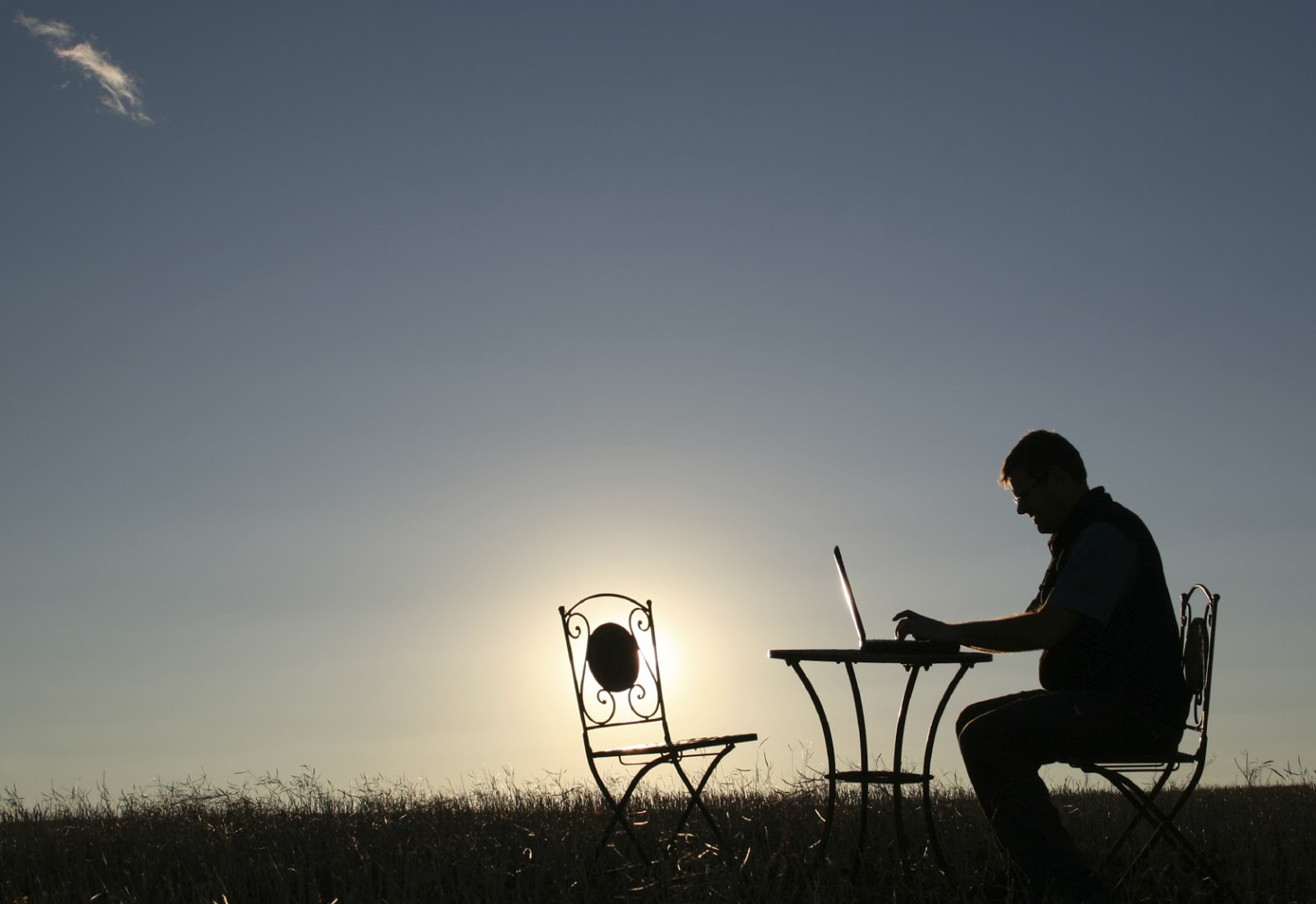 The myth is that if you leave the city, you'll be left behind. In fact, you can have it all . . . and more. Wilson da Silva meets the techno dropouts, online to California one minute, milking the cows the next.
PICTURE the scene. There are two highly successful professionals. They don't wear suits, they don't drive to work, they don't feed parking meters. They live together and work together, but they are not in a home office in the 'burbs, juggling work with mowing the lawn and cleaning out the pool. Hell, they don't even have a television.
What they have are cows, geese and an organic farm north of Byron Bay. Living in a 1912 homestead surrounded by 20 hectares of verdant hills and sub-tropical rainforest, they split their time between doing jobs for clients in the Big Smoke and feeding geese or making camembert.
Sam Elliott is a mathematician, trained at Harvard. He writes software management systems for corporations around the country. Gatya Kelly is a computer programming dropout who has gone creative and now designs brochures, magazines and book covers.
"Life itself is so enjoyable, doing it this way," says Elliott in a slow, measured tone, as he puts down his mug of tea. "The whole nine-to-five mentality just disappears."
An amiable and youthful-looking 49-year-old with greying shoulder-length hair, he was once a programmer for Lloyd's merchant bank and architects Rice Daubney in Sydney. Now, he and Kelly grow avocados, lychees and bananas, and manage a new plantation of 1,100 trees of rainforest timber on a property at Billinudgel, 22 kilometres north of Byron Bay. That's when he's not writing software for his main client, Morgan Expo-Hire, which has a lion's share of exhibitions at Darling Harbour.
Kelly was a database programmer for I.P. Sharp, a cutting-edge Canadian company that developed and ran electronic mail and online commerce for corporations at a time when the Internet was strictly a science and military affair. In fact, that's how she and Elliott met - exchanging e-mail while he worked at Lloyd's.
"There's a stunning lack of [local] interest in what we do," says Kelly, both puzzled and thankful that her rural neighbours keep so diligently to themselves.
Elliott and Kelly are telecommuters. Thanks to a host of technologies - the latest computer hardware and software, scanners, Zip drives, fast Internet connections, faxes and mobile phones - a whole new generation is able to do the kind of job that once required living under the smoggy skies of the city. The kind of job that once had these people fighting traffic, donning suits and getting up with alarm clocks. Now they are awoken by sunlight or the plaintive calls of the cows waiting to be milked, and the only bustle they experience is when it's time to feed the 30 or so geese.
In city terms, their lives seem richer and less complicated. There's no shortage of hard yakka - firewood to cut, plantations to run, animals to keep - but time ebbs with the natural light rather than marches to the beep of a digital clock as it did for them in Balmain five years ago.
"Fulfilling?" Elliott grins at the question as the light fades across the valley behind him. "Yeah. I would never go back to Sydney."
If there is one place where the dream of the electronic cottage is coming alive in Australia, Byron Bay is it. The township of 27,000 and the surrounding panoramic hills and valleys are a Mecca to city slickers who want to drop out of the rat race - but still stay tuned in. Some are even finding that rather than losing touch, they are developing new contacts and markets.
Take Ron Tanner. On the birth of his third child, the executive producer of the Sacred Sex films and one-time financial manager quit Sydney and headed north.
"What was really important for us was the environment we wanted to bring the children up in," he says. "Initially, I had no idea how I would maintain my business in Sydney and come up here and work, and for the first year I travelled enormously to maintain the flow of work from Sydney and still work here."
The former Balgowlah resident found that once in Byron, he underwent a paradigm shift. Tanner realised that he didn't have to be in the city to pull together a film project: whether he was shooting in Borneo or Brisbane, so long as he was armed with an e-mail address and a mobile phone, he could pull together a cast and crew from the comfort of his beach house. The penny dropped. Once he mentally disengaged geography from the equation, he found himself cutting deals in Italy and North America as easily as he did in Sydney.
"The subject matter doesn't exist in cities in the first place, it exists on a worldwide basis," he says, sipping a fruit juice in his virtual courtyard office at The Byronian cafe. "In North America they are just so far ahead in telecommuting. People I deal with are in Carmel, California, or somewhere in Arizona. There's no judgment made on where you operate your business. So I realised I didn't have to be in the city to create the work."
However, he did need the personal contacts. Like many telecommuters in the emerging electronic nirvana of Byron's hillsides, Tanner found that you have to make it in the Big Smoke before quitting it. It's all about networking: you have to be known in your field or your industry, so you can pull all those contacts with you when you leave. Having a rapport with people in the city allows you to pick up a phone and close a deal. But it also requires the occasional face-to-face contact to reinforce the link.
"Successful business is built on personal relationships, and that's maintained with communication," says Tanner. "But you have to be prepared to travel to make the flesh contact; people still want to see you."
Telecommuting is about technology. But it is also about the fortysomething crowd cutting loose. Many have lived the hectic life of the megalopolis and, with their careers established, found it wanting. But thanks to the technology, they can go bush without going redneck.
And it's not just the technology that keeps them plugged in to the global village: in a place such as Byron, you find fancy stores with Alessi homewares, and cafes that gurgle with the sound of real espressos. While residents - locals as well as new arrivals - are against big development, they do have city tastes and city wants. In a sense, the telecommuters are changing Byron Bay as much as it has changed them.
"We're basically city people," says Christobel Munson, a former Canberra Times journalist and corporate publicist, who has worked from Hong Kong and New York to Israel and India. "We wanted to see if we could continue doing what we do, but from out here."
"Out here" is Jindibah, a 45-hectare farm with rolling hills and stone walls, lush foliage and a sweeping vista of the sea. Munson and her Scottish-born partner, Christopher Sanderson, are building a community of their own: a sparse hamlet of 13 houses made up of ex-city folk. A third of the land will be used for the cultivation of macadamias and mangoes in order to pay for the upkeep of the property. Cattle will roam the hills to keep the grass in check, and there'll be communal spaces such as walking tracks and swimming ponds dotted throughout.
But it will also be a hive of electronic cottages: homes linked via phone lines to all corners of the globe, and yet its residents interacting with each other at a personal, village level. This is known as an "intentional community", a movement that is gaining in popularity among baby boomers overseas. It is, perhaps, Marshall McLuhan's vision of a true global village come alive.
And the city slickers are succeeding, although it took Munson and Sanderson two years for a suspicious Byron Shire Council to authorise their multiple occupancy application. Sanderson, a systems analyst and former senior executive, says the notion of "intentional communities" is a novel one, even for fashionable, new-wave Byron Bay. Now an Internet systems designer and publisher, he is developing business in the cities as well as helping Byron Bay become more plugged in.
"The myth is that if you leave the city, you will be left behind," says Sanderson. "You can run a business from the country as well as in the city, because of telecommunications. In fact, you can do it better."
As he spoke, the telephone rang. A Tasmanian health food store ordering Swiss vegetable bouillon, for which Sanderson is the importing agent. He took the order, then sat down with another plunger of coffee as galahs began to call out in the paddock.
"If I look back at corporate life, I think what I was doing was wrong. Life is more and more about administration. Why not enjoy the administration?" he says. "People have seized the moment, and they are determining the future they want to live."
The hills around Byron are full of programmers, musicians, filmmakers and writers who are telecommuting, who have found a way of drawing work from the cities while living more serene country lives. Here you will find jazz singer Grace Knight, film-maker David Bradbury, as well as a shy stockbroker who buys and sells international securities from his farm in Wilson's Valley.
There are physiotherapists who write reports for personal injury cases from a farm cottage, or executives such as Richard Heale, a computer consultant and former lecturer in human resources, who is preparing to move to Byron and still work for his employer, Fujitsu.
"I absolutely loathe the time I spend in traffic in the city," he says. "For me, Byron has an atmosphere, a spiritual and cultural feel about it that encourages you to think clearly. That's what we don't have time for in the nine-to-five mentality of the city: the time to think. I get a hell of a lot more done in that environment."
Taking stock
This is what Robert, a desktop publisher and freelance designer working from his North Coast farmhouse, uses to keep his business ticking over:
HARDWARE
PowerMac 7300/180, 17in monitor, 48Mb RAM - $3,500
An older Macintosh LCIII for backup - value about $200
Umax T630 scanner - $1,200
Zip drive (essential for large documents with pictures) - $360
20 disks (often half of them are at the printers, so a large number is required) - $35 each
NetComm Pocket 24 modem - on today's value, probably about $20
(The fax software that came with the modem is not compatible with Robert's new computer so, for that reason and because he wants to get on the Internet, he has ordered a new NetComm Roadster 56 modem for $265)
Reliable Macintosh laserwriter IINT for printing text-only files, bought secondhand about three years ago - $1,200
Epson Stylus Color II, essential for colour proofs - about $550
SOFTWARE
QuarkXPress (about $2,000); Adobe Photoshop (came with scanner, but normally about $1,000); Microsoft Word (used purely to download files and letters and came with the LCIII about 4 years ago).
Robert points out that the expenditure is ongoing. Computer equipment quickly becomes out of date and needs to be replaced or upgraded. He estimates that he spends $1,000-$1,500 a year upgrading hardware and software. For example, he is facing a QuarkXPress upgrade this year at a cost of at least $500. He is still using Photoshop 3; to upgrade to the latest version available would cost about $300.

Note: Prices may vary - those given here are approximate and some are ex tax.