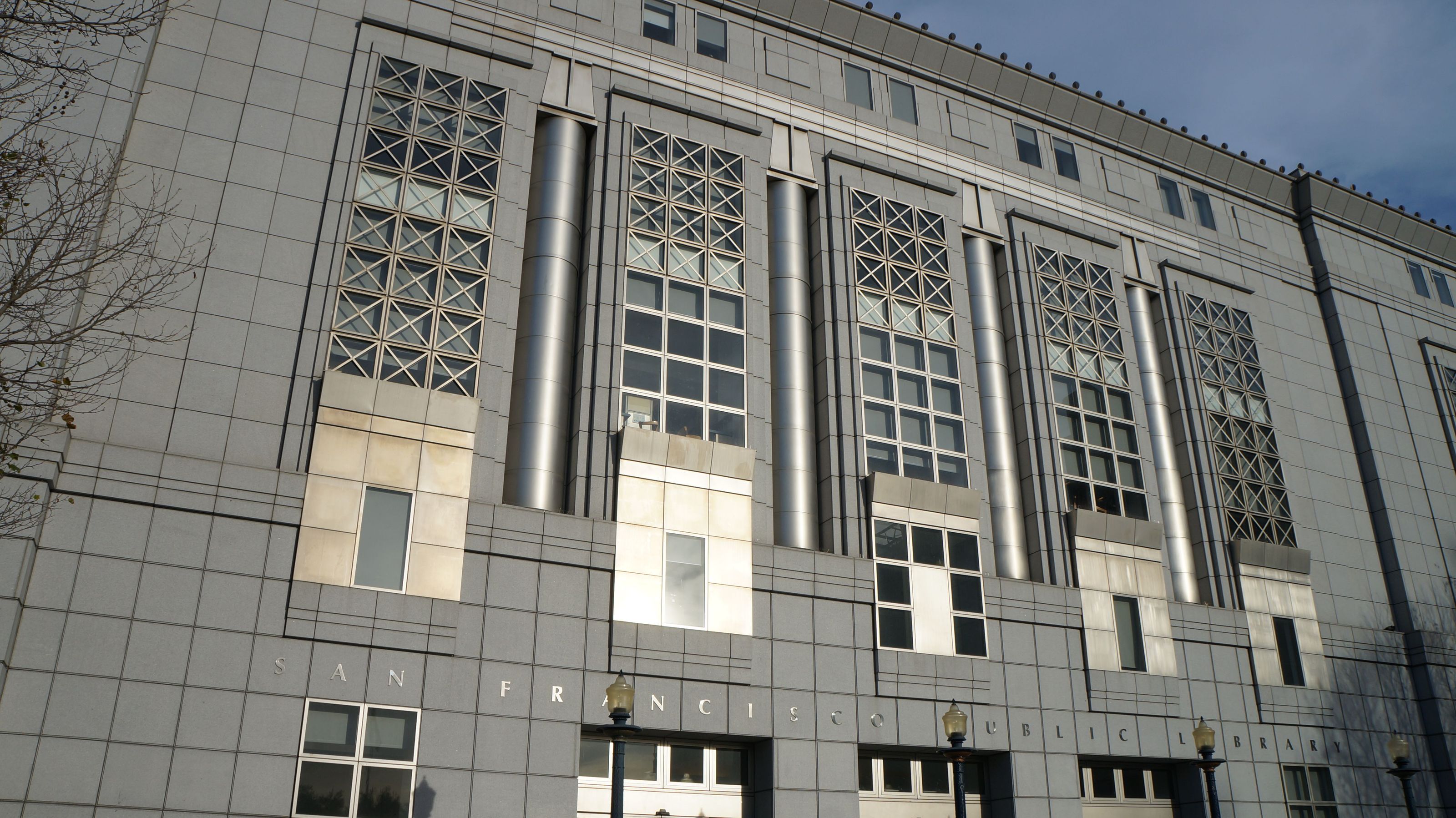 By WILSON da SILVA
LIBRARIES just aren't what they used to be. The sense of timelessness, ofmusty books and silent aisles, has given way to the clacking of computer keys as libraries lurch into the digital age. But at what price?
At the new, high-tech San Francisco Main Library, there is a solemn monument to the past. In three of the library's six public levels, the walls are covered with paper catalogue cards, the type you use to thumb through to find books in your public library. There are 50,000 of them, daubed in English, Vietnamese, Italian and Japanese, hand-scrawled by bibliophile volunteers with passages from their favourite books. Intended as a public art piece, it is also the bibliographic equivalent of a graveyard. The library has no need for them: it has gone digital.
The Harbour City, home of flower power and probably the centre of world multimedia development, now has what is probably the world's most advance public library. The $172 million building, opened in April, is a harbinger of the new age.
There are 300 workstations connected to the Internet, to third-party databases, and to the library's on-line catalogue and full-text search system.Another 100 are set aside to access audio-visual material – pictures, fullmotion digital video and CD-ROMs.
Every one of the 700 desks has a power outlet and a telephone socket so visitors can set down their laptops and jack-in to the library's main server. There are study areas, glassed-in conference rooms, reading rooms suspended in mid-air and a multimedia auditorium.
Natural light pours into almost every corner, and talking signs tell the visually impaired how to reach the Braille reading rooms.
In the children's section there terminals with educational games, workstations for homework or team projects, a live performance space and storytelling rooms.
Every computer terminal can process not just English, but Spanish, Cantonese and Mandarin.
Oh, and there are books too. A lot of them – aisles stretching 51 km,two-thirds of which are "open stacks" that you can browse at leisure in airyspaces designed to encourage users to explore a subject.
Who said libraries were dead?
Not the 900 librarians who converged on the World Congress Centre for the Australian Library and Information Association conference last week. They came from big libraries and small, from academic and public, from corporate andcommunity collections. A century after the chief justice of Victoria opened thefirst national meeting of libraries in Australia, the Intercolonial LibraryConference, their descendants again converged in Melbourne to discuss, well, convergence.
"Libraries are re-inventing themselves," Warren Horton, director-general of Canberra's National Library of Australia, told The Age. "We still do nearly everything we used to do, because we still have responsibilities for print,manuscripts, oral histories and so on, but we are spending significantly moremoney on new technologies. The balance of the way we spend money is altering,and it's shifting toward technology."
A quarter of libraries have Internet access public use. By the end of the year, 43 libraries are expected to be connected to the State Library of Victoria's VICNET intranet, as well as the Internet. By the end of 1997, most of the branch network of 240 libraries, including mobile libraries, are expected to be jacked-in, thanks to a $1.3million program run in conjunction with the Melbourne-based Internet service provider, Access One.
A new building, known as the Information Centre, is to open at the State Library next year. A large database digitised images, known as Pictoria, has been under development, and will go on show at Interact this week.
But all is not rosy for libraries. Nor is the future necessarily Utopian for bibliophiles and avid patrons. The chill of economic rationalism has seeped into the bookstacks and the hushed halls.
MOST of the 10,000 libraries in Australia today are in schools, corporations or clubhouses, said Gordon Bower of the Australian Council of Libraries and Information Services.
In the public system alone, there are 31.6 million books piled on to shelves, 63,000 periodicals on the racks, and 1.2 million audio tapes and nearly 253,000 videotapes behind counters.
The public system has more than 6000 librarians and about 2000 more who are members of the Australian Library and Information Association.
That may sound healthy, and in some respects it is: Australia has more public libraries per capita than the United States and their use is high. Bureau of Statistics data show that 45 per cent of the population borrow from or are members of public libraries. Book lending has risen 47.6 per cent in the last decade.
However, in the same period, the stock of new books in libraries has risen only 27.3 per cent, although the number of libraries has risen 7.2 per cent.
Nor has staffing kept pace with the growth in demand. Librarians now have a whole range of new responsibilities, from managing CD-ROM and other new media collections and administering electronic database accounts to teaching people how to use the Net.
In Victoria, operation of municipal libraries has been put out to tender, leading in many cases to a reduction in staff and a trimming of budgets.
At the City of Port Philip, staff managed to edge out the competition only by bidding 14 per cent below the existing budget and retrenching two of their colleagues.
Much the same pressure is being felt by libraries in Britain and the United States. Last year the British Library lost $160 million from its annual budget. To cope it has developed a corporate information and document search facility, which now earns $64 million a year.
Concurrently information media have been exploding, and the demand for their use is rising, paradoxically at a time when paper-based print publication has been growing at between five and six per cent a year. Demand, although lower than before the birth of personal computers is still strong, digital revolution or no.
A comprehensive 1994 Bureau of Statistics study found that 48.5 per cent of respondents had read a book that week, 65 per cent read a magazine and 84.4 per cent read a newspaper. It also found that 27.4 per cent borrow a book from a library at least once a month, while another one-in-six borrow books from friends on a monthly basis at least.
"People didn't stop talking when writing was invented, they didn't stop writing when printing was invented, and they didn't stop reading when TV and video came along," Robert Wedgeworth, president of the International Federation of Library Association, told the Melbourne conference.
However, libraries aren't just about books. Some 15 per cent of library visitors do not borrow books at all - they come in search of information, and it is this function that is likely to grow. Wedgeworth believes the "insatiable public appetite" for information is likely to make libraries more influential and create a central role for them in society.
"The capabilities of libraries and librarians in the 21st century will move beyond the limitations of space and time," the respected University of Illinois chief librarian said. "Many services will be available 24 hours a day via telecommunications to the home or office. Information sources from around the world will be mediated through libraries."
The National Library's Horton agreed. "It's difficult to say what, physically, the library of the future will be like. The librarian will become more and more important, because information is becoming more and more chaotic. But the book dominates still; print is burgeoning at a time when other information sources are becoming available."
Print may remain the bedrock of libraries for some time yet, but the vision of the library as an electronic oracle of information and wisdom, carries a cost. It means dilution of the principle of "free information" which has been the basis of libraries for the last century. Databases and much of new media entails high-cost infrastructure and pay-per-view use. "User-pays" is already coming in and many libraries have had to re-orient their resources.
The National Library has an annual budget of $52.4 million, but found it could not afford all of its less-read journals, magazines and newspapers. So it cancelled subscriptions to 13,000 of them. That saved $1 million which was re-directed to commercial databases such as Knight-Ridder, Reuters and Fairfax's Ausinet, through which many of the periodicals could be accessed.
However, most users will now have to pay charges which can range from $20 to $150 per search.
In almost all cases, none of this money finds its way back to the authors. Lynne Spender, executive director of the Australian Society of Authors, said writers could be marginalised if their works were increasingly read in digital form, but they continued to be cut out of the revenue stream. "In an information society, authors can expect to be paid and should be paid," she said.
On the other hand, authors - like many other users of libraries - also benefit from the free flow of information that a library affords.
"We need to consider the information rich and information poor sectors of the community," said Ken Methold, a Sydney author who relies on free access to books and periodicals for his livelihood. "What rights have the accessors of information?"
Neither the book, nor reading, is dead. People are consuming more written media - as well as audio and video - than ever before.
The apocalyptic visions of Ray Bradbury in his chilling book-burning novel Fahrenheit 451 have been at least postponed. As it happens, the barbarians will have a harder time of it when it comes to burning future libraries: it takes at least 800 degrees C to make a CD-ROM burn. On Bradbury's scale, that's Fahrenheit 1472.