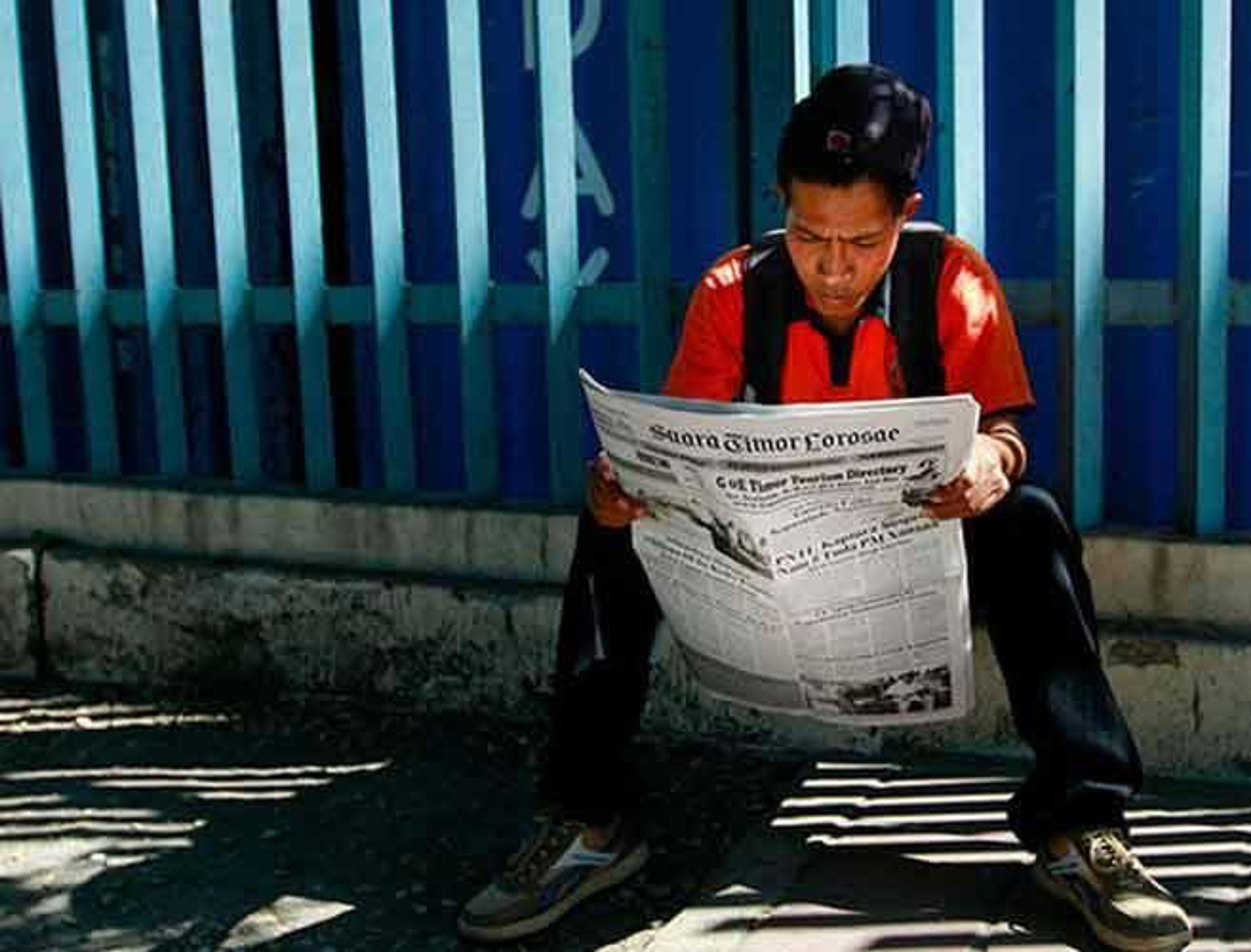 By Wilson da Silva in DILI
With the Indonesian military gone and independence looming, East Timor's journalists can now report freely. But it's not an easy task when your country is still a smoking ruin.
Being a media baron in East Timor actually costs money. Take Talitakum, the sporadic magazine you can buy from paperboys and girls on Dili streets.
It costs 24,000 rupiah ($A6.25) per photocopied issue to make. The magazine sells for an eighth of that: 3000 rupiah, of which 500 rupiah goes to the street seller. That leaves just 2500 rupiah, or 65 cents a copy, to come back to its publishers, an exercise that represents a loss of $5.60 per issue. It's the kind of economics unlikely to attract the Rupert Murdochs of this world.
And still, the journalists' collective that produces the magazine – the Kdadalak Media Group – has published six issues since January. They also produce a newspaper, Lanelok, another photocopied publication, which only loses them $2.34 per issue. And they hope to start a radio station too.
So why do they do it?
"We are frustrated seeing the population not getting news," said Lanelok editor Virgilio da Silva Guterres. "All they have are the rumors circulating. People don't really know what is going on."
With one computer between five journalists and editors, and another laptop on loan, the Kdadalak cooperative is nevertheless unfazed by the hardship.
Most of them were students who worked clandestinely as pro-independence operatives under the Indonesian occupation and, as publisher Altide Cassanova Santos said, they are "used to giving everything for the struggle".
The struggle today is very different: there are no censors, no military harassment of journalists, no late-night visits by Indonesian intelligence querying their loyalty to Jakarta. But where a functioning city once stood, there are kilometres of blackened ruins, courtesy of the departing pro-Indonesian militias.
Basic journalists' tools such as notebooks, tape recorders, cameras and film are rare commodities. Then there's the acute shortage of transport and fuel, and a telephone system in tatters.
And still, Timorese journalists are excited by the opportunity, for the first time in 24 years, to report what they could only whisper to each other before: real news, commentary and even opinion.
Under the Portuguese, who ruled East Timor before the Indonesian invasion, there had been a single newspaper, Voz de Timor (Voice of Timor). Its most famous journalist, José Ramos Horta, went on to win the Nobel prize – not for literature, but for his pro-independence activities.
The Indonesians took over the newspaper and renamed it Suara Timor Timur (East Timor Today).
It was here that a generation of Timorese journalists learned their craft, and how to be very careful in reporting events. It was owned by Timorese businessman Salvador Soares, one of the many pro-Indonesian Timorese who profited from their support of Jakarta.
With the help of the new de facto government, the United Nations Transitional Administration in East Timor, the 15 journalists who made up Suara Timor Timur are establishing a new daily: the Timor Post.
UNTAET has given them a building (with no power or water), and US Aid has provided computers as well as an A3 photocopier, which the group used to produce its first, free edition in February.
Both the Timor Post and Lanelok are waiting for a printing press bought by aid agencies, but its arrival was blocked by UNTAET, which reportedly want to manage its use. Meanwhile, UNTAET's fortnightly newspaper, Tais Timor, is printed in Darwin and shipped in.
"If we had presses, we would be publishing a daily newspaper within a week," said da Costa. "There is an urgent need for independent media here."
Since November, Radio UNTAET has been broadcasting uncontroversial news, UN policy announcements, and a selection of Indonesian, English and Portuguese music.
But in the hilltop suburbs of Dili, a jury-rigged transmission tower belts out the closest thing East Timor has to the Australian youth station Triple J. Radio Falintil is in a dead-end street, in a house that was once an Indonesian torture chamber.
Named after the pro-independence guerrillas, it is the most popular radio station in Dili, mixing news, commentary and interviews with everything from hard rock to Brazilian folk.