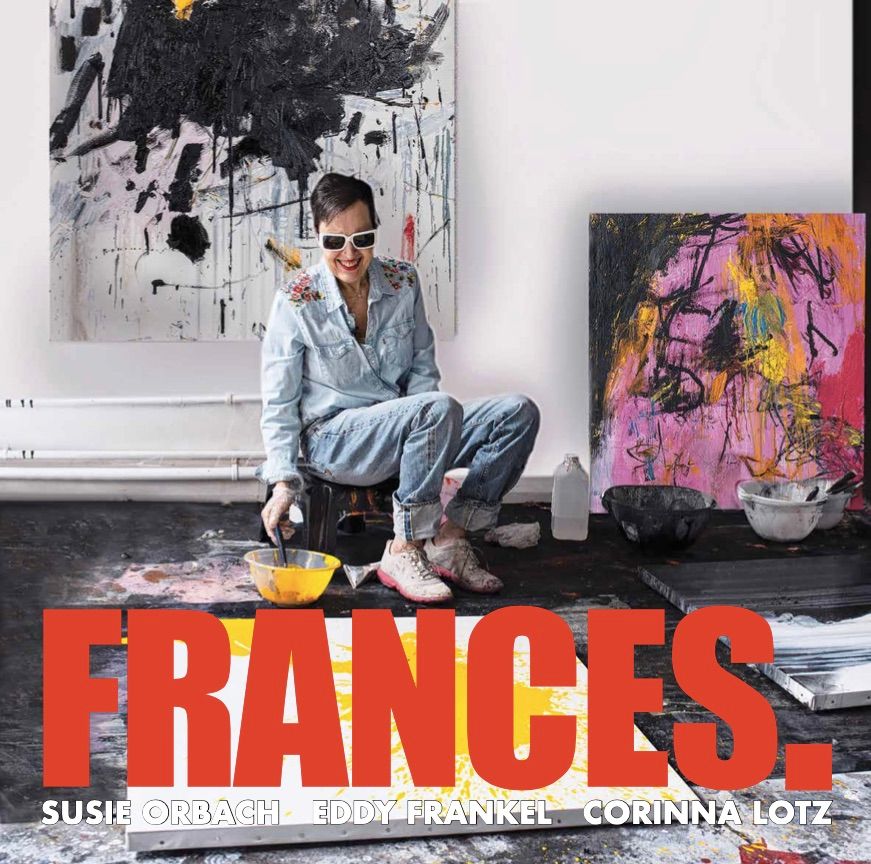 I first came across Frances Aviva Blane's work back in October 2020 in a two-woman exhibition (with Claudia Clare) at the intimate little Zuleika Gallery in the heart of Mayfair, London, one week before UK Prime Minister Boris Johnson announced a second lockdown in England to prevent a "medical and moral disaster" for the NHS. It was the last art exhibition within a gallery or museum that I saw until May 2021, when I had left the silent streets of London for the spring awakening of coastal living in Hastings.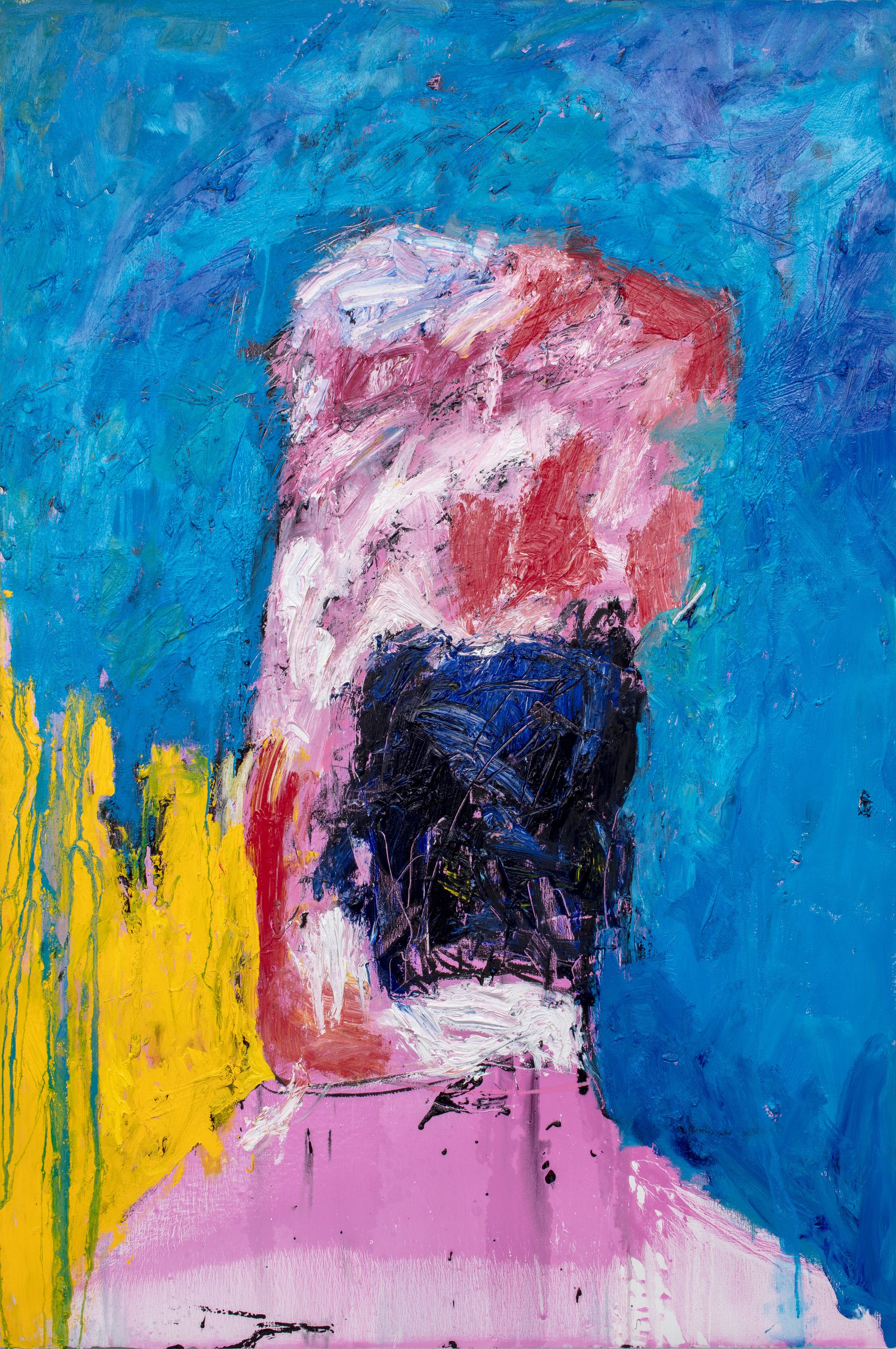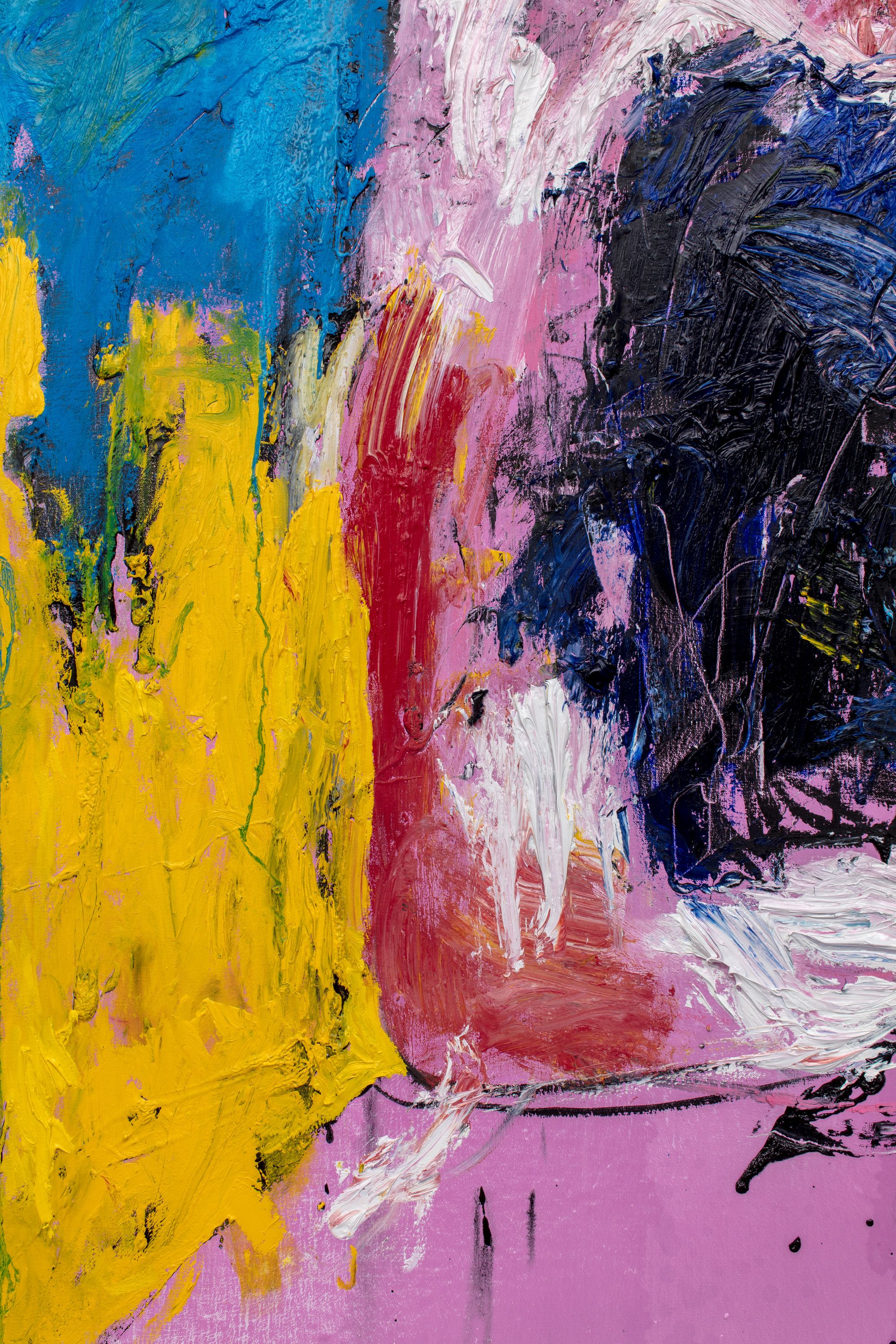 A work that stayed with me and continues to intrigue me is a large oil on linen painting called Smile (2020). I posed in front of it and asked the gallery assistant to take a photo with me and the painting. Smile? I couldn't and still cannot see a smile in the painting. A human figure can be discerned in the centre, framed by intense thickly applied aqua blues, sunflower yellow around an indiscernible portrait of a dark ink blue feature atop of what looks like shoulders and then a pinko-red fleshy appendage atop of that, which looks like a slab of meat. Is this a portrait/self-portrait?
Portraiture and self-portraiture figure prominently in Blane's body of work and her latest art book, simply titled FRANCES. features many gorgeous thickly applied colour paintings of heads, the artist's head and others, as well as photographs of the artist in her paint splashed studio.
Frances Aviva Blane is herself a remarkable photographic subject, with her distinct red lipstick, sunglasses and short brown hair, her lithe body clad in double-denim. Blane is no twee portrait painter. These heads, with titles such as Yellow Head 5, Blue/Black Head, Burgundy Head, Self – summer 2021 are powerful expressions of emotion. They are visual structures of feeling – a term coined by British cultural theorist and writer Raymond Williams – where emotion, mood, colour, form and application express specific historical or social phenomena. These paintings and drawings were created in our era of the Covid-19 pandemic. Our world and the people across nearly every country on this planet have changed and may never return to a past status quo. The essays featured in the book written by Eddy Frankel, Susie Orbach and Corinna Lotz describe Blane's work as disconcerting, disarming, shocking, haunting, harsh. Yes, her paintings are all of these adjectives.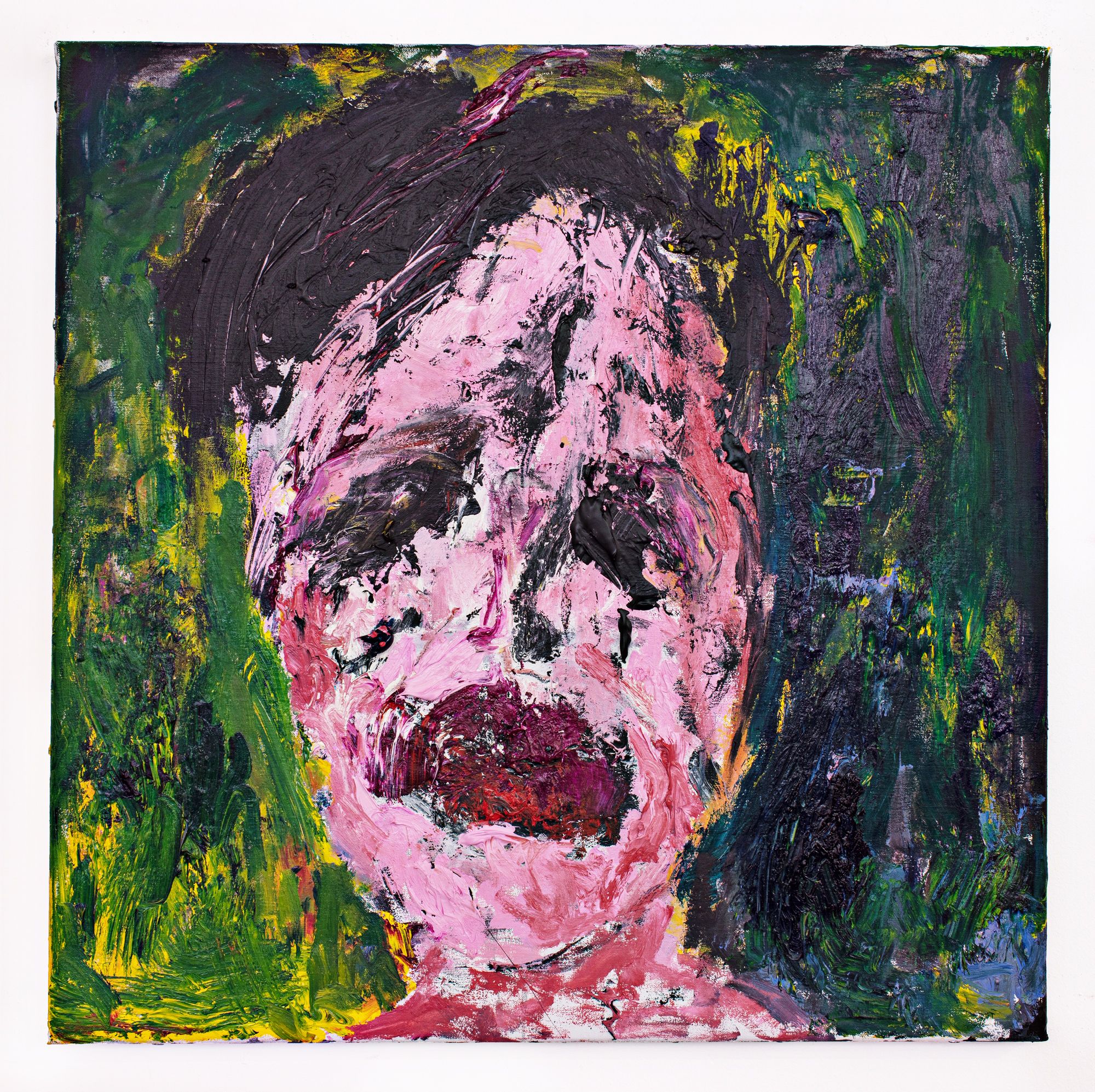 The self-portrait, Self – summer 2021 is figurative, we see a face that looks battered, bruised, ruddy and red. The eyes appear like thick mascara and eye-make up after a storm of pain and tears, smudged black and injured. The unsmiling, thick crimson lips look painful and raw. Yet this face is surrounded by the natural beauty of nature, the greens, blue and yellow express a joyful, lush surroundings. The act of painting is both aggressive and harshly sensuous. It's a painting that stares back at you, full of pain, loss and still, there's a sense of hope. In the Instagram media world, the selfie dominates – filtered perfectly pretty faces, 455 million images of performed happiness. Where is the truth? Which are the alienated faces? Blane's melancholic expressions or the hyper-real selfie?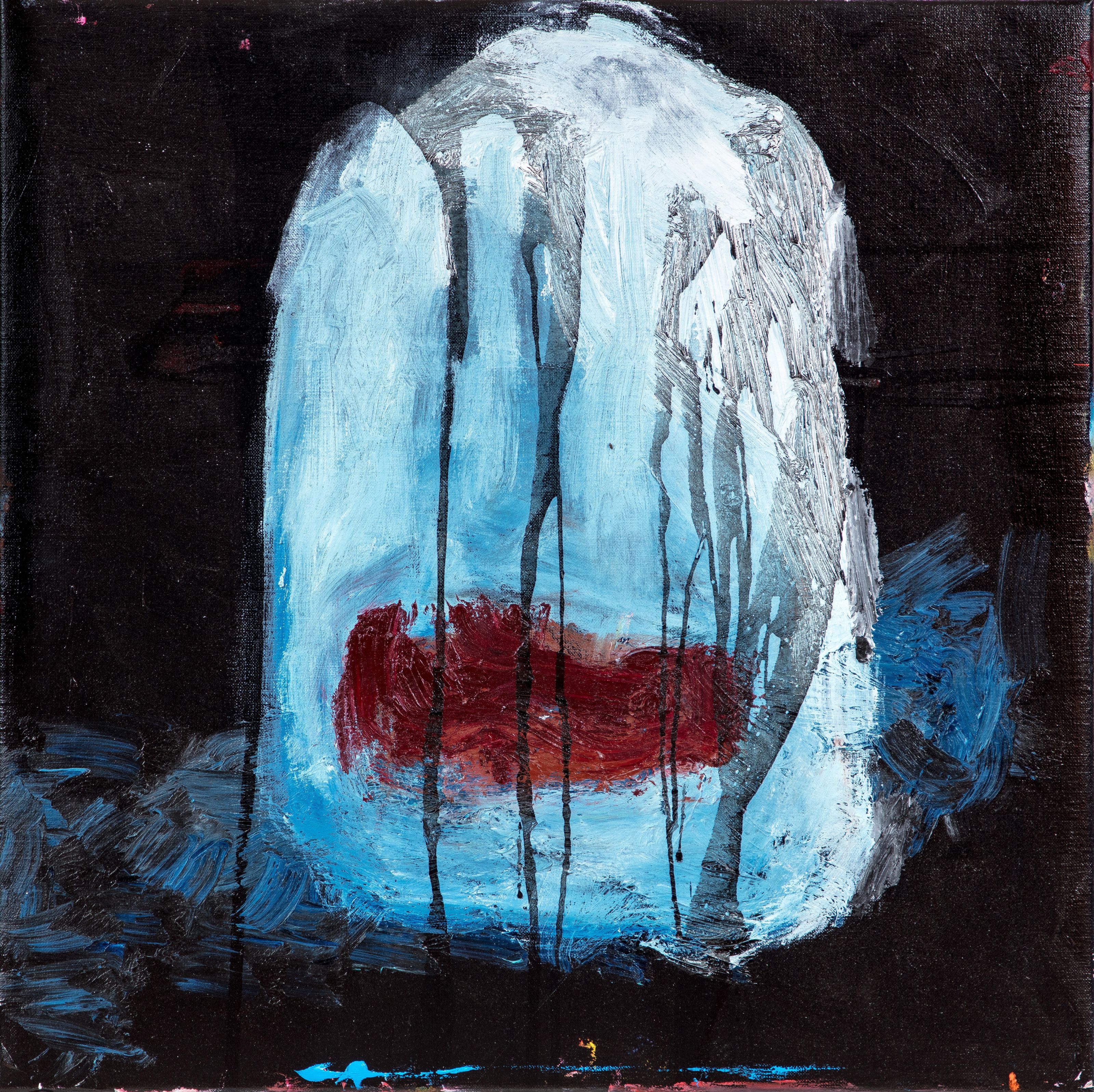 Another painting that haunts me is Closed (oil/linen 45x45cms). Here the head appears like a block of ice – whitish blue – with dripping black trickling over an eyeless face with a deep red gash for the lips. It is ghostly, macabre and unsettling. The black-blue surround accentuates the image as a ghoulish apparition, a menacing mask.
FRANCES. is a book that reminds us of a common humanity, a collective experience. This is an artist's book that will affect my memory of the struggles, despair, sadness, loneliness, loss, longing, hope and love we have all endured over the last 18 months.
FRANCES. is published by Starmount Publishing Ltd, London and is available to buy from Waterstones bookshop, £50.

Download FRANCES.