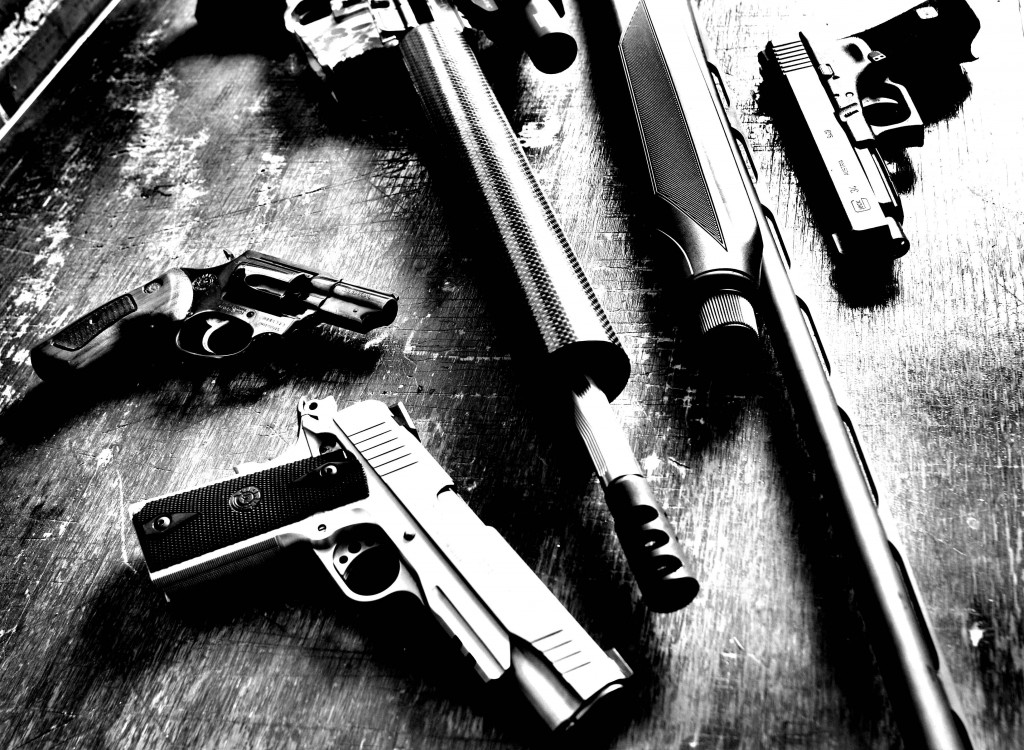 Photography by Marc Bondarenko
"I'm going to give you my Glock, and we're going to verify it's not loaded. Are you right handed? Put it in your right hand and put it up there like you mean it." I'm standing on the outdoor firing range at Brock's Gap Training Center in Hoover, getting some tips on handling a pistol from Amanda Hardin. Many of you reading this may recognize Hardin — a competitive shooter and NRA-certified instructor — from her appearances on the reality show Top Shot. Barely five-foot nothing and, maybe, 110 pounds, Hardin looks like she could topple over in a stiff breeze, but the 34-year-old single mom and commercial real-estate broker knows her way around a firearm.
She also has a way with words.
"Always keep it pointed down range, because it just scares the shit out of everybody when you like do that," she says as she waves the pistol around, carefully I might add, for effect. About 10 feet away are a half-dozen clay targets hung at various heights with fishing line tied to a homemade frame Hardin made out of PVC pipe. With no drawings of a human torso to focus on, the targets, to my inexperienced eyes, look about the size of dimes from where I'm standing.
A few more verbal instructions follow, then it's "go" time. "When you rack it you have to rack it," she says, showing me how to put a little oomph towards loading the magazine into the Glock 9mm semi-automatic pistol. "There is no safety. It will shoot when you pull the trigger."
Sun overhead, around 65 degrees, a few clouds float by, gentle breeze blows in, birds chirp — BLAM! Even with earplugs, the sound seems to echo forever. I hear the expended shell hit the concrete by my shoes, take a short breath, BLAM! After a couple of minutes and 12 shots, I survey the damage. Two targets. I hit two blankety-blanking targets. Undeterred, I listen to a couple more tips from Hardin, load up for a second round and start shooting.
This time, I break all six clays by the time I empty the magazine and come to two realizations. One, I would starve to death as a professional target shooter, and two, shooting a pistol absolutely rocks! The sound, the power, the smell of gun powder all combine to overwhelm the senses and send a burst of adrenalin through the body. It's a formidable feeling, a feeling Hardin got for the first time as she celebrated her 29th birthday.
"Every year I make myself try a new adventure, learn a new hobby, try something I've never tried before. So when I was 29 I was going to run a 5K and learn how to shoot a gun," Hardin explains. "I learned how to shoot a gun and I've never stopped shooting since, and I ran a 5K and I've never run another one.
"I shot it and caught the fungus. It was on me as soon as I pulled the trigger," she adds.
Her involvement with firearms was simply a hobby, more or less, until she applied for and made the Top Shot cast. Since then, she says, firearms training and competition have "consumed" her. She comes to the range here at Brock's Gap, a semi-secluded, outdoor firing range just off Shades Crest Road and John Hawkins Parkway in Hoover.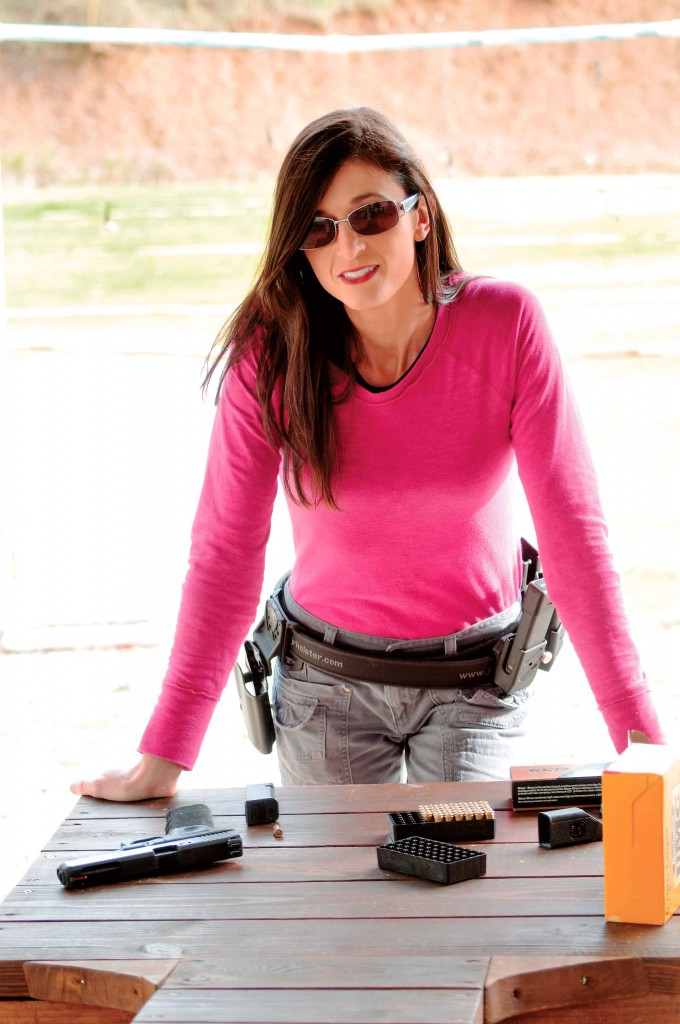 Ever since leaving with her first gun — the Glock 9mm we shot at the range — Hardin has seen her star rise in the world of competitive shooting. Hardin currently shoots for Team Black Range Ordinance, has a handful of corporate sponsors, is being courted as a spokesmodel and product reviewer for print publications and other media outlets, and even started her own business Lipstick Tactical, the company through which she handles her public engagements.
"The most frequent comments I've gotten is, 'We love that you are an attractive female, but you can actually get out there and shoot the gun,'" Hardin says. "I wanted to come up with a company that could convey that in as little words as possible. So I came up with Lipstick Tactical. I was very pleased the domain wasn't taken."
However, this story really isn't about competitive sport shooting. It's more about the Second Amendment to the United States Constitution, self-defense, the individual's right to keep and bear arms, gun control and the role firearms play in our daily lives, none of which were on Hardin's mind when she made her mind up to learn to shoot.
"You know what? I didn't buy a gun to make a political statement to begin with," Hardin says. "I didn't realize what a privilege and an unusual opportunity it was for me to be able to just decide I wanted to learn how to shoot a gun, call a place, go that day, shoot it, decide I loved it, and after filling out a form and getting my license checked, I can leave with a gun."
However, these ideas are on the minds of many people on all sides the gun debate. Notice I didn't say either side when referring to guns. As for me, I've had a pretty simple view of the issue my entire life — the Second Amendment means individuals have the right to legally possess firearms for self-protection. But opinions on these 35 words, and on the role of firearms in modern American life, are as vast as the buffet at Hunan Garden
The Art of Self Defense
I recently turned 40 and, as many guys my age have discovered, the mid-life crisis is no myth. As the big day approached, I started thinking about some of the things I wanted to do in life but haven't made the time for. Learning to safely and effectively handle a pistol was one of those things. I've always been interested in guns, but there were no firearms in the house, we didn't hunt, I was medically unable to join the military out of high school, and I've never been the victim of a serious crime, and so I just never took the time to learn to shoot a gun.
Still, I'm a firm believer in the Second Amendment and the individual's right to keep and bear arms, not only for sport shooting but for self-defense. After learning a little of what it takes to be a competitive sport shooter, I went to see Pete Burchwalter, an NRA-certified safety, basic handgun and personal defense instructor at Hoover Tactical Firearms in Hoover.
The range safety officer at Hoover Tac, Burchwalter is somewhat quiet and understated but very friendly in conversation. He is also extremely serious when working with customers on self-defense issues. He is very knowledgeable about guns and how to use them safely, and he's serious about making sure newcomers to the world of firearms have the right mindset before he puts guns in their hands and lets them on the range.
"You always want to treat the gun like it's loaded all of the time even when you've emptied yourself," he says. "You don't point that gun at anything you don't want to destroy. You treat it like it's loaded all the time. You check, you recheck it, to make sure it's safe.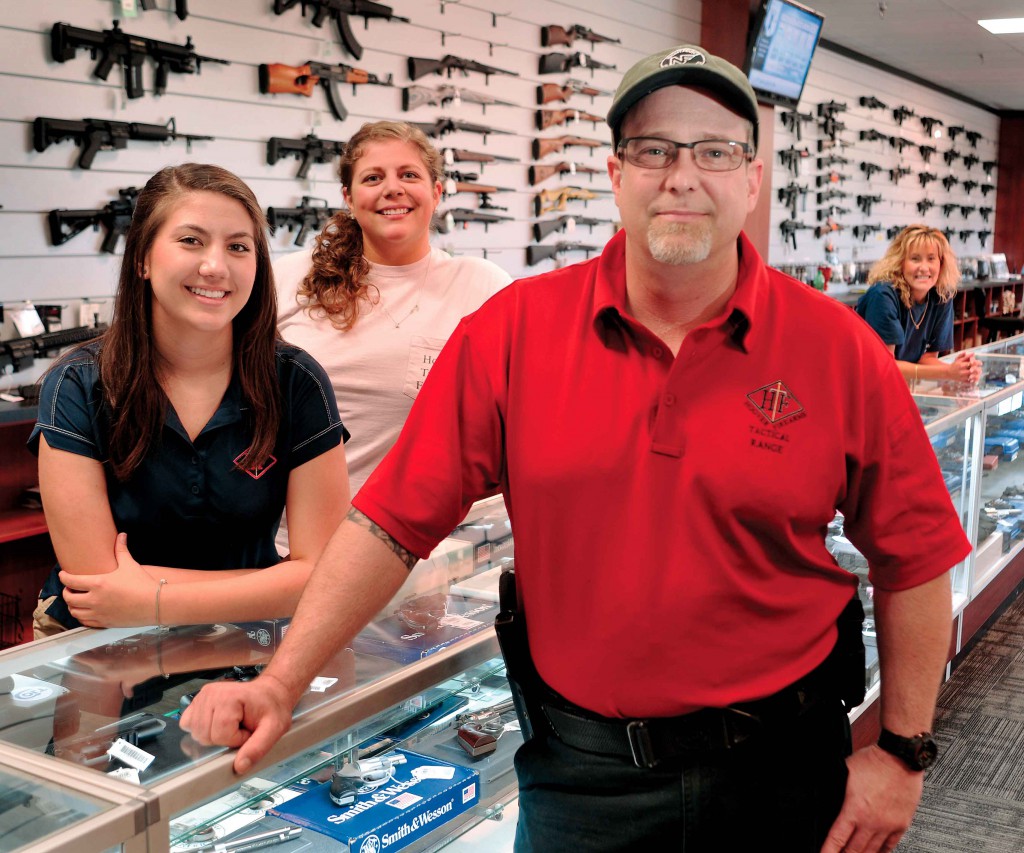 "In your mind, you understand that this isn't a toy. It's akin to a car, a lawnmower or a chainsaw," he adds. "They are tools and they perform certain functions, but they are inherently dangerous."
Burchwalter takes me into their indoor range, a cavernous space that was once part of a Bruno's Supermarket on Highway 31 about three miles north of the Galleria. After a short talk about safe gun handling, then getting outfitted with a special headset to help muffle the noise but still allow for clear communication with the instructor, we go through the double door into the shooting gallery. Burchwalter hands me the weapon, a Sig Sauer p226, 9mm semi-automatic pistol, and gives me a handful of tips, such as leaning slightly forward at the shoulders and taking a deep breath prior to puling the trigger.
It's a different shooting match — pardon the pun — altogether here than outdoors at Brock's Gap. First, the Sig Sauer is one piece of German-made awesomeness. The steel frame seems to absorb the recoil better than the Glock, even as the rounds explode out of the barrel. This time, I'm right on the money after firing through two magazines. Learning to shoot has really become a lot of fun, but not a playing-with-your-kids kind of fun. I would compare it more to learning how to use a power tool for the first time. There is also one more important difference, however: the target.
Instead of a handful of round clays, hanging about 10 feet away from me is a paper target with a simple line drawing of a human torso.
While my shooting has dramatically improved since my time at Brock's Gap, it's impossible to avoid the fact that Burchwalter is teaching me about self-defense and that, in a worst-case scenario, the target at the end of that barrel could be a human being. That concept is a serious one that many people struggle with when they make the choice to invest in a firearm for self-defense.
"The biggest thing we try to stress to them is you have to know that once I have this gun, if I need to, I'm going to use it," says Burchwalter. "It's not something you pull out to threaten or bargain with. If your gun comes out, it's time to use it.
"You can't just hand somebody a firearm and expect them to be proficient or safe, especially in a stressful situation where they may be in a position where they have to defend not only them but others," he adds.
In a study published by the Journal of Quantitative Criminology in 2000, American's use firearms to defend themselves or others from crime 989,883 times per year.
With anywhere between 80 and 120 million people legally in possession of firearms throughout the nation, it's clear to me that the vast majority of citizens handle their firearms responsibly.
The Victim's Perspective
However, gun crime is a big problem throughout the country, and Birmingham is well acquainted with this troublesome issue. U.S. News & World Report listed Birmingham as the third most dangerous city in America in a report published in 2011. That year, there were 63 homicides within the city limits of Birmingham, a low number compared to 2005 (105), and 2006 (110).
In 2003, Birmingham saw 85 homicides, one of them occurring on November 24 when 20-year-old Rodreckus Johnson was shot during an argument at a birthday party in the Powderly community. Johnson was seated in his car when an argument between other attendees spilled outside the house and onto the street.
A bullet intended for another person went through the car's windshield, striking Johnson in the side of the head. He died later that evening at UAB Hospital. Most of us would say he was at the wrong place at the wrong time. However, his mother Carolyn Johnson-Turner puts it another way: "What I like to say is the person who had the gun was at the wrong place."
Devastated over the loss of her son and not knowing whom to turn to for help, Johnson-Turner founded the organization Parents Against Violence, coming to the emotional aid of hundreds of people throughout the community who are suffering through the loss of a loved one. Speaking by phone earlier this spring, Johnson-Turner described what her everyday reality is like since that fateful fall night. "It's a pain you can't comprehend and one that never goes away," Johnson-Turner says. "You just really don't know what to do with yourself."
Almost a decade later, Johnson-Turner can still remember every detail about that night. She remembers watching a documentary about the 40th anniversary of the assassination of John F. Kennedy and how she felt an intense sense of sympathy for his widow, Jackie. She remembers getting ready for bed, saying her "motherly prayers" for God to bring her sons home safely from the party. And she vividly remembers the sound of her youngest son pounding on the front door just 20 minutes after she turned in for the night.
"When I opened the door and looked at his face, he looked like a ghost," she says. "He was face was just blank, and I could tell how he'd been crying."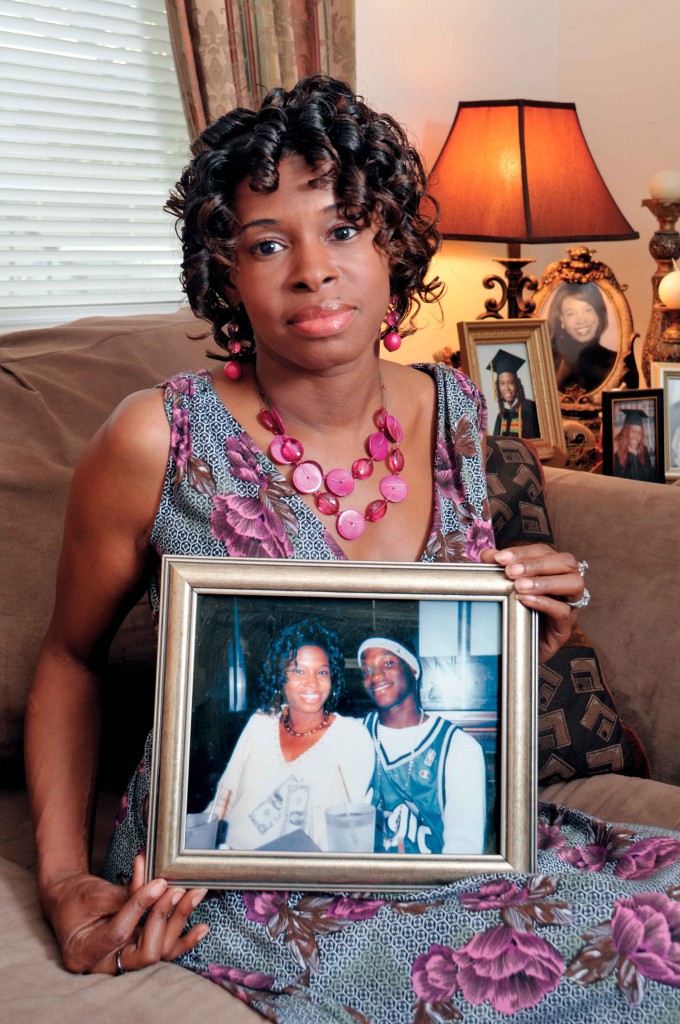 It was while talking to the emergency room nurse that gun violence changed from being a hazy concept other people deal with to her everyday reality. The nurse asked to speak to her in private, at first describing the injuries her son suffered and the damage caused by the bullet. Then she broke the news no parent wants to hear: Rodreckus didn't make it. "I just couldn't deal with that," she says.
"I begged them to let me see him and I saw him laying on the table. He still smelled just like soap from where he had just taken a bath," she says, pausing to gain her composure as she begins to cry. "It's just a horrible thing."
The shooting death of Rodreckus Johnson has never been solved. Of course, homicide isn't the only way criminals use firearms to emotionally terrorize their victims. In many crimes, the criminal never has to pull the trigger to fulfill his purpose.
Take the case of Lynne Sargent, an old high-school friend of mine. Sargent, along with her mom and brother, was held at gunpoint during an invasion of their Forest Park home on March 27, 1988. Nearly 25 years later, the events of that haven't faded over time.
"It was pretty horrifying," says Sargent. "I woke up, and there were four men wearing ski masks standing around my bed, and they were looking out the window, because my mother had awakened, looked up and saw them standing in the hall outside her bedroom and screamed bloody murder, as loud as she could."
During the invasion, Sargent's mother managed to call 911, spooking three of the four, who left the scene. However, one stayed behind and turned his attention to Sargent. Just 14 years old at the time, Sargent stayed cool through the entire ordeal, escaping unharmed.
"One of them stayed behind with me and put his gun to my head and told me to put head under my pillow, which I did, and then he started to lift up the blanket and I said, "No, I don't think so,'" Sargent recalls. "He said, 'I'm going to kill you,' and I said 'Well, you go ahead. I'm know where I'm going and I'm not worried. What you want ain't happening unless you shoot me first.' Then he left."
The Sargent's home invasion was the latest in a string of them that shook many people living in the community. It was actually the second break-in the family's home within the span of a few weeks. In fact, Sargent had heard that other families had even been tied up in other neighborhood invasions. "We were really lucky," she says. "God was really merciful in that situation. I can just see his hand all over everything."
Listening to these two ladies tell their stories sends a cold chill over me. We can talk all day about the root causes of violent crimes like these — drugs, gangs, poverty — but what I really wanted from them was an answer to one simple question. How did your experience shape your view on guns? Their answers surprised me.
Sargent's father served in the military and had a variety of firearms in the house, including a collection of Civil War and powder rifles. A married mother of three children, Sargent says she and her husband, Joel, do keep a couple of guns in the house for self-protection and have been open and honest with their children about them.
"I think they're good to have, and we're really past the point where we can call them back," Sargent says. "I'm not afraid of them and I'm not afraid of having them in the house."
"We're really clear with the kids," she adds. "'Look, if you want to shoot it, come and tell us. We'll take you somewhere and shoot it.' Our goal is to kind of have an open discussion about it and, if they're interested, then they can shoot it, but if they're not, we're not going to force it on them."
Johnson-Turner says she never liked firearms and was always afraid of them, even though both of her parents carried guns. Despite her own personal fear of guns and the terrible circumstances her son endured, she is in favor of the Second Amendment and an individual's legal right to possess firearms.
"I think everyone should have the right to bear arms," she says. "I really do. But, I just think you need to be responsible with guns. Don't leave them around where kids can get them. I can't blame people for having a gun to protect themselves in their house or even in their cars."
However, Johnson-Turner's complaint is with juveniles gaining access to guns. Much of her work through Parents Against Violence is aimed at helping at-risk youth turn their lives around before going down the path of drugs and violence, as well as bringing closure for the families of victims. Through her efforts, the Birmingham Police Department established the Cold Case Unit and the Juvenile Gun Court, but perhaps her most courageous role is trying to tackle the problem of teenagers with guns.
Through PAV, Johnson-Turner organized a neighborhood tour of volunteers called Parents Patrol, spending time with kids on the street, giving them a few words of encouragement and learning about their lives. She says it was surprising to learn how easily a teenager can get his hands on a pistol and just how deep the problem goes.
"I ask a lot of them about the guns, and they'll say it's easy for them to get a gun," she says. "You'll have adults who will go and buy the guns for them. They try to find any loophole they can. They have their ways of getting these guns out here on the streets. Some of these kids get these guns, and they try to say, 'I got it for protection and stuff like that."
Even worse, says Johnson-Turner, is what one high school senior told her about the culture of fear the younger students with guns are fostering. "I had an 18-year-old tell me that the 14- and 15-year-olds are so ruthless that they don't care if you have a gun. He said, 'Mrs. Johnson, I carry a gun. I have to carry a gun. These kids that are younger than us, they are outrageous. They don't care. They don't fear nothing.'"
Where do the guns come from in the first place? To answer this question, I turned to Thomas Crow, an investigator with the Birmingham Police Department's Isolate the Criminal Element, or ICE, unit. ICE investigates gun crimes in Birmingham, often working with the Bureau of Alcohol Tobacco and Firearms on Federal crimes. He says that, for the most part, guns that are used in violent crimes are used by people who have committed theft to gain access those guns.
"Generally speaking, most of the guns that wind up in the hands of somebody that would perpetuate a criminal act with are stolen from legitimate, legal gun owners," Crow says. "They're gained through burglaries, both residential and business, and they're gained through the burglary and breaking into of vehicles."
The ICE unite also takes into its control any found firearm that has either been lost or stolen. In short, if it involves a gun in the city limits, Crow and the ICE unit officers know about it. "We have a number of people who find guns in an apartment that they've recently rented, landlords find guns in their rental properties and they turn them over to the police department," he says. "There are a large number of guns that come our control in which there is no criminal investigation involved. The person who found them wants to do to the safe thing."
In 2011, the ICE unit brought 1,466 under its control for a variety of reasons: found property, safe keeping or a criminal investigation. At the time of this writing, the ICE unit had 478 guns brought under its control, on par with past years. 140 of them are under investigation for a violation of the state firearms act. A further 39 cases are under investigation for violating a federal statute. With so many firearms coming through the doors of police headquarters, is there a typical situation where the police discover someone who is illegally in possession of a firearm?
"We encounter them on school campuses where someone on campus is aware that a student has brought a gun and they report it to the administration of the school," Crow says. "There have been instances where parents have found firearms in their child's room, and they've notified police about the finding.
"There are instances where police initiated an investigation themselves over some sort of suspicious activity. Maybe a complaint about a large gathering at a park, or somebody hanging out around a business," he adds. "There's not one set of circumstances. It varies. It's a wide realm of situations where we come under control in possession of someone who can't legally possess one."
So what is the solution to keeping people who shouldn't have weapons from getting them and committing gun crimes? Is there a solution? To some, like Elliot Fineman, president and executive officer of the Chicago-based anti-gun group Gun Victims Action Council, the answer can be found across the pond.
"I looked at the gun laws in other countries, and it turns out that England has the best gun laws, in my view," Fineman says. According to his statistics, the United Kingdom has a total of 75 homicides per year on average. The U.S. has five times the population as England, so, he says, the United States should expect 375 homicides per year, instead of the 12,000 the U.S. averages now.
Claiming to be interested in making America's gun laws "sane," Fineman believes the best solution is to do what England does. A sane gun law, in Fineman's view is this: "No one in England can own a handgun," he says. "Nobody can get a gun for self-defense because everybody knows you can't defend yourself by carrying a gun."
The problem is that Fineman is wrong, very wrong.
In 1997, the United Kingdom instituted what is considered the most draconian gun control law in the Western world — a complete, 100-percent ban on firearms. Not even the nation's Olympic shooting team received an exemption from the law. Despite our nations' similarities, the U.K. historically has had a lower rate of violent crime, even during the period of time leading up to 1997 when the U.K. and the U.S. shared similar laws protecting the right of individuals to bear arms. What is the result of the 1997 ban in the U.K.? In a word, disaster.
According to statistics published in the article, "Gun Control's Twisted Outcome," by Joyce Lee Malcom in the November 2002 issue of Reason Magazine, the use of handguns in crime rose 40 percent in England in the two years following the law's passage in 1997, and the rate of violent crime more than doubled between 1997-2001. The chances of a person being mugged in London are now six times greater than of being mugged in New York City. And, finally 53 percent of burglaries in England occur while the home owner or occupant is on the premises, compared to only 13 percent in the U.S., where criminals regularly report fearing armed occupants more than the police, who, in England, don't carry a sidearm.
Even the hard-to-rattle English press has finally admitted the crime problem in the country. In an October 2009 article, The Daily Mail ran this subtle headline: "Culture of violence: Gun crime goes up by 89% in a decade." The novelty of England's gun control measures has long worn off.
"People don't like it, but if we look at the United Kingdom and their level of crime and the heinousness of those crimes, if we as Americans looked at that, we would be horrified," says Josh Herron, chief investigator for the Pell City Police Department and a former officer with the Anniston Police Department. "The criminals have no respect whatsoever. Police in the U.K. have to do more physical violence to a criminal than we do here. 'Why not fight that police officer? He's not carrying a gun.'"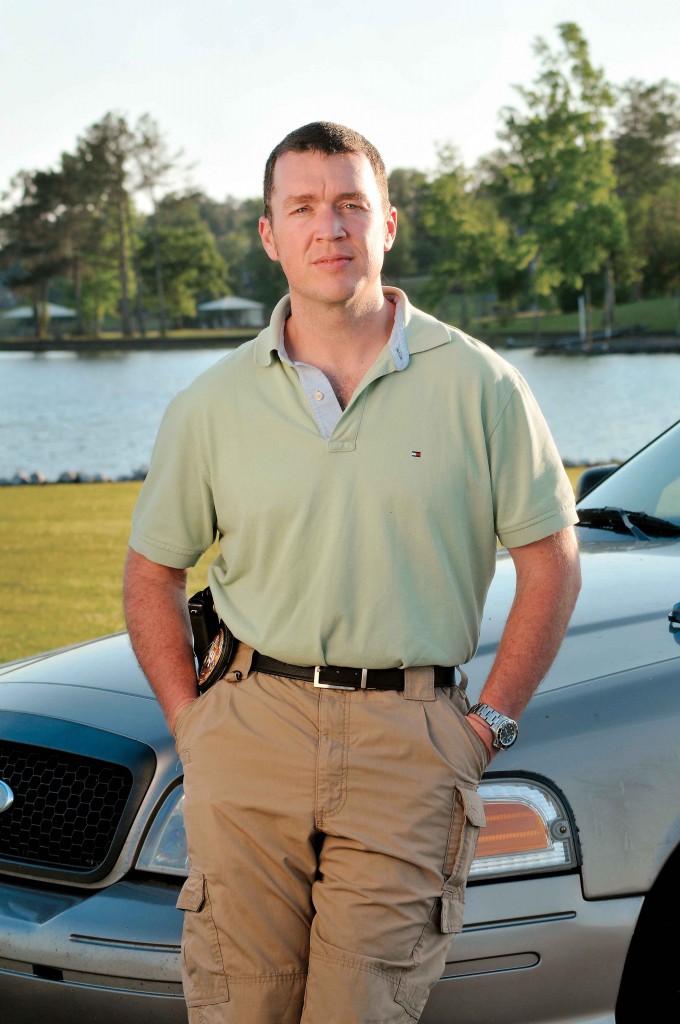 When the statistics get in the way of a perfectly good reason to strip American citizens of their Second Amendment rights, the next step, of course, is to blame the National Rifle Association, otherwise known as the NRA. Fineman is happy to oblige.
"The NRA has an annual budget of $250 million, most of it coming from the manufacturers, because the NRA is an industry association," Fineman says. "The Brady Campaign to Prevent Gun Violence has a $7 million budget. The NRA has 600 employees, and Brady has 23. So obviously, in a game like that, who's going to win?"
"The majority of our budget at the NRA is spent on education and training. Only a small part of our budget goes into what you call the political side of things. Even on our political side of things, a good bit of our time, programs and efforts are spent on conservation matters," says Jim Porter, an attorney with the downtown Birmingham law firm Porter, Porter, and Hassinger, current vice president of the National Rifle Association and former president of the NRA Foundation.
The NRA is the largest firearms education organization in the U.S., training millions of people each year, including police officers, how to operate firearms safely and effectively. In Alabama, the NRA is one of the leading groups backing renewal of the Forever Wild Land Trust Program, ensuring land is available for public hunting throughout the state for generations to come.
A Birmingham native, Porter practically grew up around the NRA. His father, Jim Porter Sr., was president of the NRA in 1959-60 and a member of the governing body from 1950 until his death in 1995. Porter says the NRA didn't become involved in political issues until the unrest resulting from the shooting deaths of Martin Luther King Jr. and Robert Kennedy. It was a political storm the group never saw coming, but it has since grown into the five-million-member organization it is today.
"The NRA found that it was involved in politics and it had never been involved in politics before, and they were totally unprepared for it. We were basically a shooting organization and we had about 100,000 members," Porter says. "We were able to protect the right to keep and bear arms, but it was a close call.
"We as an organization merely represent the interests of millions and millions of voters and citizens in this country. That's what we represent. These people participate in elections, they're educated, they understand the issues and they make their feelings known to their representatives and senators," he adds. "That's what makes us effective."
The last resort for the anti-gun lobby is to create a sense of fear by impugning their enemies. In the case of Fineman, that would pretty much be any law-abiding gun owner and citizen, particularly those who support conceal-and-carry laws. "I have a big issue with the concept of 'law abiding citizens.' I don't think it exists.
"The people here in the non-inner city part of (Chicago) aren't worried about gun violence, and I tell them, 'You aren't worried today, but you will be tomorrow, because the NRA's goal is that anywhere you go, people will be packing heat,'" Fineman says. "You'll go to the restaurants and they'll be sitting with guns, the supermarket, your kid's soccer game. Anywhere you go you'll be surrounding with guns. Now do you think you'll feel concerned about that? And the answer is 'yes.'
Fineman went on to say that if the NRA were to have its way and convince everyone they should carry a firearm, then we would have regular gun battles in the streets over fender benders and inconsiderate cell phone users. Again, Fineman's notions are easily disputable.
For instance John R. Lott, in his exhaustive book on the subject, More Guns, Less Crime, states that there has been only one instance of a legal handgun being used following a traffic accident, and that was in self-defense. In fact, according to Lott's published research, rates of violent crime have dropped during a period when gun ownership has increased.
Furthermore, in states without conceal-and-carry laws in place, violent crimes are 81 percent higher than in states with law favoring gun owners, and murder rates are 127 percent higher than in states with strict conceal-and-carry bans. While some experts may argue that the book's data isn't conclusive, such as Cumberland Law School instructor and Second Amendment expert Brannon Denning, practically all people on the pro-gun side agree that crime rates are positively affected by liberal conceal-and-carry laws.
"Whatever the effect on violent crime, [conceal and carry] doesn't cause it to go up," Denning says. "The arguments deployed against are, 'Oh my God, all these people are going to get conceal-and-carry permits and are going to start shooting each other in the streets over traffic disputes', and that simply hasn't been true."
"They want to make it look as if we're the outlaws, the problems, the ones starting militias, running rampant with our guns in the street, which is not the case," adds Burchwalter.
"The only relationship between gun laws and crime is where you have more gun control laws you have higher crime. There's no question about it. The empirical data shows you that every time," Porter says. "We also know, as a fact, that law-abiding people do not break the law. They are not the ones involved in gun crimes. People who are licensed to carry a concealed weapon in the state of Alabama do not commit crime. People who lawfully carry firearms do not commit crimes. Criminals commit crimes."
Looking to understand more about gun culture and the personality of those interested in firearms, I attended the Alabama Gun Collector's Spring Gun Show at the BJCC in March. A large gathering of firearm enthusiasts from every conceivable demographic, the gun show is cross-section of the community all coming together to pursue an interest in firearms. I, frankly, was surprised at the number of women in attendance, carrying either a sidearm or a hunting rifle, checking out the merchandise and connecting with other like-minded individuals. One of the most interesting people I was a 60-year-old man named Tim Young.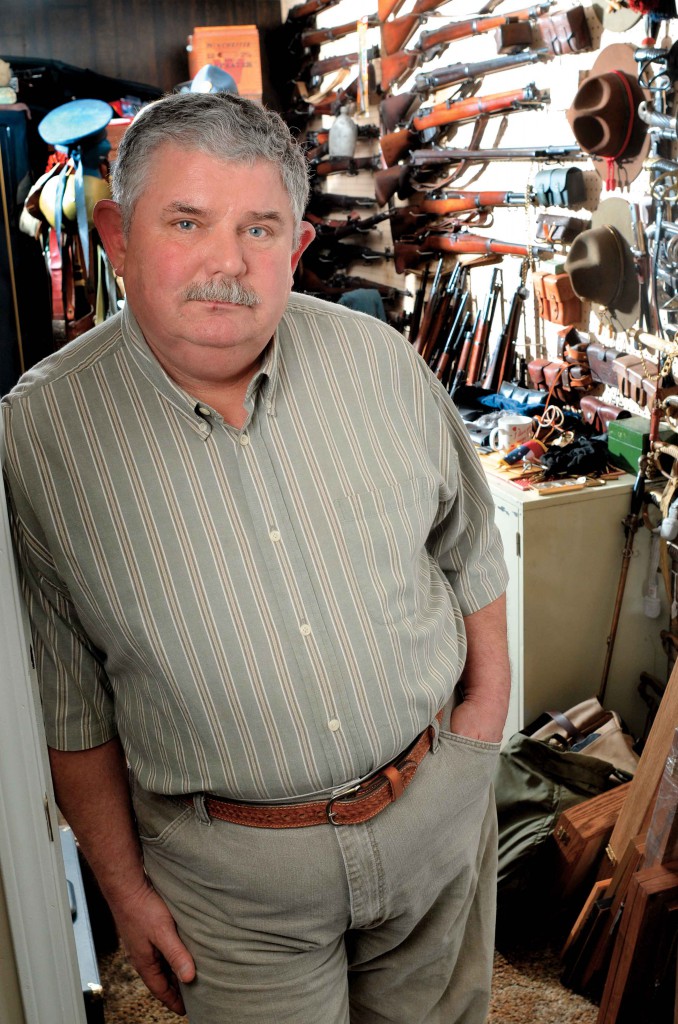 I met up with Young at his booth on the floor of the Exhibition Hall, sitting at a table with an array of historic weapons for sale. Young was introduced to firearms as a child when his mother bought him his first .22 rifle with trading stamps. He has been interested in them ever since.
"I started off collecting old military rifles. It's fascinating to me because it's a piece of history. Somebody used that to defend our country or something of that nature," Young says. "To me it's about where has it been and what has it done. A lot of people look at it as a gun, I look at it as a piece of history."
Guns are such an important part of Young's life that he made them his livelihood. He became a certified gunsmith in the 1970s and made a career out of repairing firearms, restoring antiques and even building weapons. Young believes that the fear of many people on the gun control side of the debate is unfounded, primarily because they have never been taught to correctly use, respect and enjoy them. "These are not toys, but they can be fun," Young admits. When he talks about "fun" with guns, he's not kidding. Young participates with a group of historically-minded gun enthusiasts in cowboy shooting events, testing their gun-handling skills in Old West-style competitions. As a responsible gun owner, Young simply doesn't understand the knee-jerk reaction to ban guns after an irresponsible act.
"If you lay it on the table it's not going to shoot somebody unless you manipulate it," he says. "Everybody says 'gun control,' but you don't hear 'car control' every time a drunk driver has a wreck. Us being gun owners, we don't understand it because we don't abuse it."
The Enforcers
Of the various groups of people with an opinion on gun control, it's ironic that the one group heard the least on the subject is law enforcement. The one group everyone agrees ought to carry sidearms rarely seems to be consulted on the issue, even though they're the ones putting their lives on the line every day. With the threat of dangerous criminals lurking in the shadows with dangerous weapons, surely most law police officers would be against private gun ownership, right? That all depends on who you talk to.
"I can't think of a law enforcement officer that I know of that isn't in favor of Second Amendment rights, or of private citizens not just owning firearms, but carrying on their person," says Herron, of the Pell City Police Department. "The reality is most people that follow the law are always going to follow the law, whether they have a weapon or not. Criminals, they couldn't care less.
"In the opinion of most police officers I know, a private citizen having a firearm is a very good thing, because private citizens have come to the aid of police officers throughout the history of law enforcement. Giving them a weapon as a responsible gun owner is really a wise thing, because they're more likely to defend someone, defend themselves, defend a police officer," Herron adds. "We already know the bad guys are going to have them."
One local retired law enforcement agent isn't so sure. Homewood resident Jack Owens spent 30 years in the FBI chasing after bad guys, spending the vast majority of that time here in Birmingham. Many readers may also remember him from his stint on season four of the CBS-TV reality show, Big Brother. He also published a book about his experience in the Bureau, Don't Shoot, We're Republicans. He began his career at the age of 24 shortly after graduating from the University of Alabama Law School.
A product of West Virginia and Pennsylvania, Owens had no experience with guns before arriving at the FBI training center in Quantico, Va., in 1969. "Actually the bureau would just as soon you didn't have any because you wouldn't have any bad habits," Owens says.
"The bureau is amazing in terms of firearms training," Owens says. "They took me who had never fired a gun and they brought me to the level to where agents are expected to be, which is a really good marksman. The FBI places a heavy reliance on firearms when, in effect, we rarely use our weapons. The feeling is though, when you do you have to be very good at it, you have to be professional, and you can't lose. If you get into a situation where there is gun play, you can't lose. You can't give up your life. You have to win."
In three decades in the FBI, Owens says he never fired his weapon. In fact, only one time was he involved in a case where a shot was fired. The incident happened on a rural stretch of highway where Owens and his partner had a suspect pinned to the pavement during an arrest.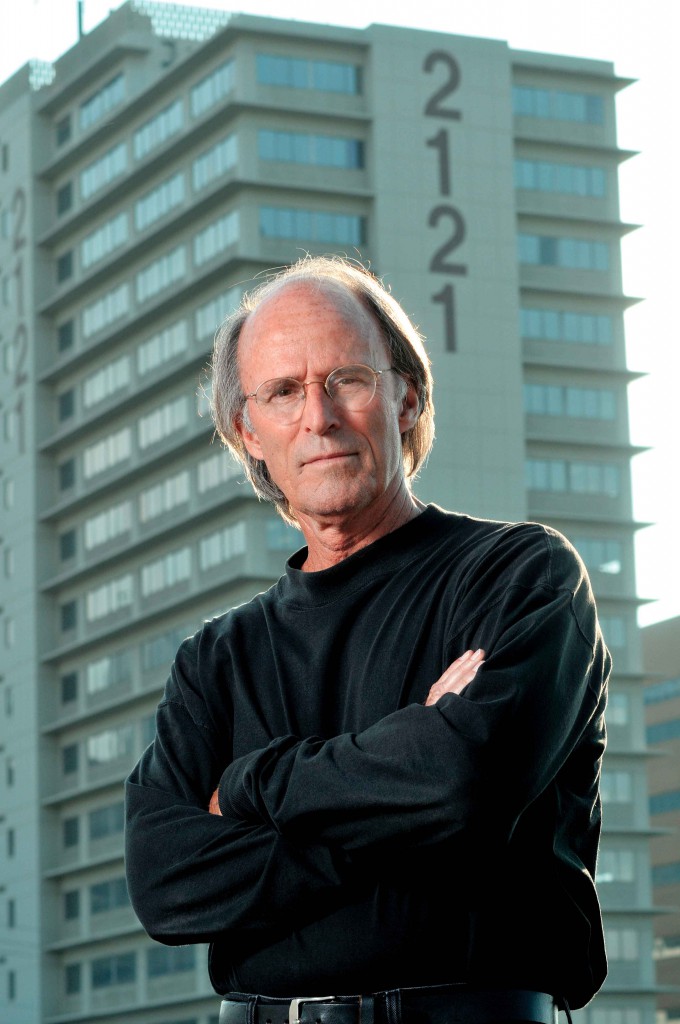 "It was late at night, and the guys' partner was his brother, a drug arrest," Owens recalls. "He tried to run over my partner and I who were arresting his brother. We had him down on the hard top of the highway. He drove right up in my face. I could have touched the car. The engine was roaring and I had my hands full with the guy underneath us, but my partner had one free hand. He reached up and tried to kill the driver because the guy was going to back up and come at us again. He missed, and it went into the grill."
Owen's interest in firearms ended when he retired over a decade ago. Unlike his contemporaries in the FBI, Owens doesn't hunt or target shoot. He still keeps a pistol in the house for self-defense, but otherwise has no interest in using it. When it comes to self-defense, Owens opposes some of the laws in effect around the country. He also has a bit of a twisted sense of humor. "The old joke is if he's going out of the window, shoot him and pull him back in."
"A couple of dozen states have this new approach where if you're out and not in your house, you don't have to retreat, you can use deadly force," Owens says. "I don't agree with that. I think the less gun play the better. You have to defend yourself, I'm not saying you shouldn't defend yourself, but when everybody is armed, there are going to be a lot of problems with shooting."
Herron disagrees. A regular cop responding to everyday crime, Herron says police departments are limited and can't respond quickly enough to an emergency to defend a victim during a crime in progress. Furthermore, Herron says he believes individual firearm possession and self-defense goes further than just a simple right. "You have a responsibility to your fellow brother to not just protect yourself, but to protect your family and the perfect next to you," he says.
"Really and truly we should have 'slash' firefighter, because really what we're doing is putting out brush fires," Herron says. "It's the rare event an officer catches someone during the commission of a crime. Most of the time, we're cleaning up afterwards. We're trying to find the person and put him in jail afterwards."
Details are sketchy, but a little research online suggests that the average response time from the moment a 911 call is placed until a police officer arrives on the scene is anywhere between seven to 11 minutes nationally. Of course, that's assuming the victim even has the opportunity to call for help during a crime. Still, the opinion that only the police should be allowed to carry firearms persists. As you could imagine, that's not very popular among gun-rights advocates.
"That attitude bothers me," Burchalter says. "I don't see any division between their need to perform their job and our need to defend our families. That attitude of 'you don't need guns, we'll take care of it, civilians don't need guns.' [It's] been proven, over and over through the years, that the police cannot protect you. The military cannot protect you except from outside threats. Your personal protection, your ability to take care of your family, unfortunately, is on you."
"I totally reject the idea that the common citizenry of this country is not responsible enough to handle firearms and that only the police and military are," Porter says. "I think that's contrary to what this country was founded on, it's contrary to our beliefs, and most importantly there's a constitutional provision, the Second Amendment of the Constitution, the one right behind the first amendment about free speech, which is important about where it's placed. That amendment clearly states that the right of the people to keep and bear arms shall not be infringed."
Back on the range at Brock's Gap, Hardin shows off her skills, blasting the clay targets with an ease that suggests she was born for this. The woman is a great shot and, due in part to her celebrity, something a folk hero around town. "I've had a mom sent me a Facebook message and say her daughter idolizes me and for her 13th birthday wants to shoot a gun with me," she says. "I was like, 'Really? That's cool.' I love it."
Firearms, however, are more than just fun and games for Hardin. She teaches firearm safety and has been approached by some women about starting a women-only class. She is also a big believer in proper training before making the decision to carry. Hardin says she doesn't carry a gun all of the time, but there are some instances she does, particularly on the job as a commercial real estate broker where she might show a property in an industrial section of town to someone she has never met.
"There have been times when I have shown abandoned warehouses and, to me, that just seems like you're putting yourself at a certain level of risk to begin with," Hardin says. "If I'm showing a freestanding property that's unoccupied, you best believe I'm carrying."