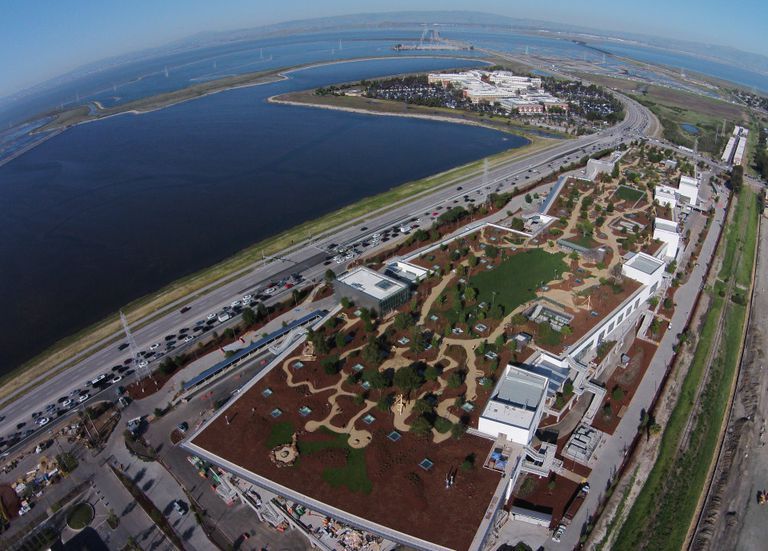 Rescued from the Internet Archives, Originally published on Treehugger in 2016.
Bloomberg Business Week looks at the three big new office complexes being built by Apple, Google and Facebook and titles its article Silicon Valley Tech Giants Plan Super-Green Campuses.. Peter Burrows describes all of the wonderful features that these buildings will have, from Apple planting 6,000 trees, Google restoring 8 acres of wetlands, and Facebook's Frank Gehry designed building having the greenest of roofs:
Facebook is eschewing the traditional mix of grasses and small shrubs in favor of full-grown trees, which will require laying as much as four feet of soil atop the quarter-mile building. A landscaped berm will conceal the warehouse-style structure from view. "From not so far away, it will appear like a wooded hillside rather than a building," says Katie Ferrick, chairman of the Menlo Park Planning Commission.

It all sounds so bucolic until you read that the entire building is on stilts so that the 2,800 engineers in the building can park at grade in 1499 parking spaces, or one space for every 1.86 employees.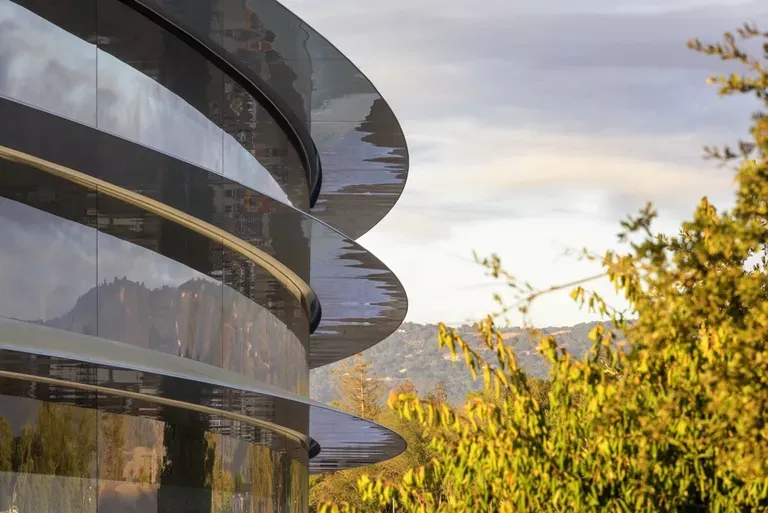 Then you go to the beautiful Norman Foster-designed Apple headquarters, where numbers vary but according to the Project Description filed with the city of Cupertino, there will eventually be 14,200 employees and 10,500 parking spaces, or one space for every 1.35 employees. There are no data available yet on the new Google headquarters, but they are probably in the same ballpark.
Apple doesn't tell us where all their employees live, but the average commute time in the area is 30 minutes and the average speed a roaring 14.3 MPH, and the average passenger-miles per gallon is 34.3. That crunches out to 6,300 gallons of gasoline per day, burned just getting all those apple engineers to and from work.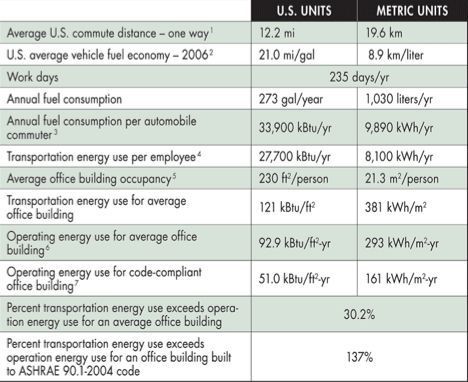 Alex Wilson of BuildingGreen has calculated that for a modern green office building, commuting workers consume 50% more energy than the building itself. For a building like Foster's Apple headquarters, it could be far more than that. All that design, all that money spent on solar panels and green gizmos to make the building almost net-zero energy, just so 10,500 cars can fill its parking lots. It is an exercise in futility and misdirection.
Peter Burrows at BusinessWeek notes that "Outdoor parking lots, which environmentalists deride as "heat islands," have been largely banished from all three campuses."
But parking hasn't been banished, just very expensively and elaborately green wrapped and greenwashed. The parking ratios tell the true story: It's just another gas-guzzling suburban office park.