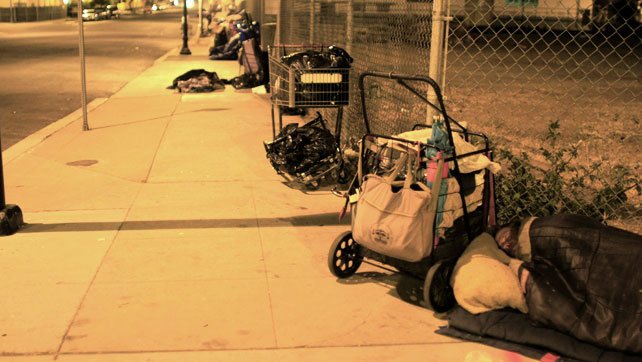 When CityBeat tagged along with Travis Larson and his street-outreach team last June, they'd just received a $332,000 grant from the United Way. The money was to go toward getting some of the area's most difficult-to-reach homeless people off the street and into rooms at the Metro Hotel, located in East Village, where they'd then work with a case manager to get their lives on track.
Larson, a project manager for the nonprofit Alpha Project, admits now that he might have been a little overly optimistic about the program's success.
"I think that at the inception of this program, we were really starry-eyed and just were, like, we're hoping for 100-percent committal," he said. "People are going to come in and really change their lives."
In the last year, he's had to learn to be OK with the fact that some people, as he put it, never really leave the street-and the failure rate, he's found, is roughly 25 percent.
"But the reality is, you should feel pretty good about changing the lives of 75 percent," he said.
The Metro's been an unofficial pilot program for a new initiative that the United Way's rolling out this week. Called "Project 25," the program seeks to move 25 hard-core homeless people off the street and into housing that's coupled with services.
"We're picking individuals who are costing the taxpayers the most money, said Brian Maienschein, the United Way's commissioner of the regional Plan to End Chronic Homelessness. "That's the critical component of this because I believe it's going to show that it's a lot more expensive to do nothing than to do something."
To do this, the United Way's working with local police, hospitals and emergency-medical services to come up with a list of 100 people who've proven the most costly when it comes to ER visits, ambulance trips, hospital stays, jail time and calls to police. Once the list's drawn up, the challenge will be to find the top 25 users of these services and convince them to join the program.
"It's been shown that homeless individuals who are offered housing and services accept it, overwhelmingly," Maienschein said. "Are there going to be instances where it's going to be difficult? Sure. That's one of the more difficult parts about this project."
San Diego's Project 25 is being introduced in the wake of a series of articles in The Los Angeles Times in which L.A. County's skid-row-targeted Project 50-which sought to house at least 50 chronically homeless people-was laid bare. While the stories showed the program's successes-roughly 80 percent of participants have remained off the street since Project 50 started in 2008-it also showed the often-challenging reality of the "housing first" or "whatever it takes" approach that's become the model for many homeless-services providers. Housing first says that permanent shelter is a necessary precursor to helping a person deal with issues like addiction and mental illness, even if it means that the person might take some time to address those issues. One photograph that ran in the newspaper, for instance, showed a woman guzzling a bottle of liquor in her apartment, prompting L.A. County Supervisor Mike Antonovich to criticize the program as "warehousing without healing."
Joel Roberts, CEO of L.A.-based People Assisting the Homeless (PATH), whose organization has been selected to operate San Diego's proposed permanent homeless facility, described the debate raised by the L.A. Times series as "ripping a bandage off a fresh wound."
"People feel that if you're going to provide housing, you should provide housing for people who are working for it," Roberts said. "And [housing first] is saying, No, we're looking for the people who are most needy and helping them access housing.'" Traditionally, homeless-services programs came with rules-follow the rules and work your way up from a shelter to more stable housing. Get caught with drugs or alcohol or miss a curfew and you're out of the program. The product of this approach is a chronically homeless population that's hard to help, said Rosemary Johnston, program director with the Interfaith Shelter Network.
"Many of them have flunked out of traditional shelter programs either through their own fault or just because of the nature of their disabilities," she said. "They're not capable of living in a large-scale shelter environment and following a lot of rules and that kind of thing. It's just overwhelming for them, and they choose the street as a better alternative."
Johnston said it's challenging to get the public to understand the need for a housing-first approach.
"I spoke to a group maybe 18 months ago about the concept of permanent supportive housing and how there are minimal rules, really, and there's no requirement that you stop drinking or using drugs as long as you behave yourself and don't become a problem. And, boy, did that register a negative reaction," she said. "People don't want to hear that, and they don't want to fund it, but it's also true that over time, if people are in stable housing, they are more willing and able to look at these kind of issues and think, I've just been told by my doctor that my liver is on the way to never-never land if I don't stop drinking yesterday. And once they can think clearly because they're getting better nutrition and a decent night's sleep and a stable living arrangement, they are, I think, more likely to begin to address those issues."
The Alpha Project's Larson estimates that the Metro's 60 beds have saved roughly $600,000 in emergency-room visits, law-enforcement costs and other medical expenses in the first year-and that's a conservative estimate, he said.
"I really think it's probably higher than that. It could be right around $800,000, taking into consideration everything."
Since being appointed the United Way's commissioner in January 2009, Maienschein, a Republican former San Diego City Council member, has been reframing the discussion about homelessness to be more about cost-savings than compassion-because the compassion tack hasn't really worked.
"At a time of declining budgets," he said, "they can't argue about the data."
His hope is to generate enough funding to keep Project 25 going for three years. So far, the United Way has committed $1.7 million.
"Most programs, they're one-year programs, so at the end of a year, all these people would be on their own-see you later,"he said. The service provider who's awarded the contract to handle case management for Project 25 will have to have a discharge plan for program participants, Maienschein said.
When asked how he'd deal with a program that might not show results immediately, Maienschein said the focus should be on the long-term.
"I think the key word is immediately,'" he said. "That is, among other things, what has made this population so difficult in the past, and perhaps why some haven't wanted to work with them. But I believe that with the services and the case management component, the vast majority will eventually have very significant improvement. It won't be immediate in all cases-although it will in many-but it will over time. Then these individuals have an improved quality of life, and they cost taxpayers far less money."
Write to kellyd@sdcitybeat.com and editor@sdcitybeat.com.