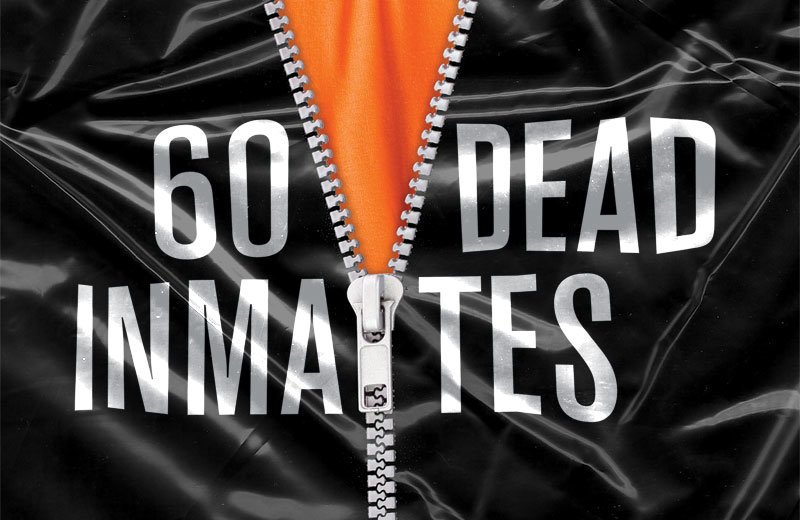 Bernard Joseph Victorianne was a 28-year-old black male with a ticking time bomb in his stomach.
Victorianne was arrested on Sept. 12, 2012, less than two blocks from the San Diego Police Department's Mid-City station on suspicion of driving under the influence. A week later, he was found dead in his cell—the 60th inmate to die in the custody of the San Diego County jail system since 2007.
Immediately after his arrest, Victorianne was taken to Alvarado Hospital to be treated for alcohol intoxication. Even then, police and medical staff believed the suspect—who was on probation for a number of narcotics offenses—likely had swallowed a bindle of drugs. He was observed overnight, then transferred to the San Diego Central Jail. For the next several days, Victorianne was bounced between sobriety cells, secure units and administrative segregation (a normal housing unit reserved for problematic inmates who need to be separated from the general population) due to his lasting, agitated behavior. He was prescribed Haldol, a powerful anti-psychotic, and anti-anxiety medication.
According to the medical examiner's report, Sheriff's deputies couldn't say exactly when they last saw Victorianne alive. Deputies checked on him in the "early evening" of Sept. 18. He was left unmonitored through the night.
At 4:30 a.m., guards who brought breakfast into his cell found him lying on the floor, naked, but didn't check whether or not he was conscious. Two-and-a-half hours later, guards began their morning rounds and discovered that Victorianne hadn't moved. By the time they entered his cell, rigor mortis had begun in his lower extremities.
The official cause of death: methamphetamine toxicity—the baggie had busted in stomach.
Many questions remain unanswered: Why was Victorianne in an administrative-segregation cell rather than a cell where he could be more closely monitored? When exactly did deputies last check on his welfare? Why was he left unobserved overnight when he was suspected to have swallowed a potentially lethal amount of drugs? Why didn't guards check to see if he was OK when they first entered his cell that morning?
Perhaps most important of all: Did Sheriff's deputies bring Victorianne to the hospital for the visit scheduled the day before he died? The medical examiner's report states only that "it was unknown if he attended."
That information still isn't publicly known. The Sheriff's Department declined to answer CityBeat's questions about Victorianne's death.
What is known is that Victorianne was the latest casualty in a jail system with one of the highest mortality rates in California.
***
Between 2007 and 2012, 60 people died while wards of the San Diego County Sheriff's Department's five-jail detention system.
They were 56 men and four women. Thirty-six were white, 15 Hispanic, six African-American, one Korean-American, one Native American and one was a Chinese national. Most suffered from substance abuse and/or mental-health issues, and many were transient before their arrest.
Their average age was 46. The youngest was 18—Luis Manuel Lopez from Poway. He was arrested on felony vandalism charges in the fall of 2008, around the time other kids his age would've been going off to college. He was transferred from one jail to another, ending up at the George Bailey Detention Facility, where he started displaying symptoms of a cold that rapidly grew worse. When his temperature hit 102 and his heart began beating abnormally fast, Lopez was transferred to UCSD Medical Center. His health continued to decline. After almost two weeks in the hospital, he flat-lined and was resuscitated, but his condition continued to deteriorate; his family chose to withdraw care and ease his suffering with pain killers.
Doctors never determined precisely what killed Lopez. The medical examiner's report concluded it was "most likely" a bacterial infection that was masked by the antibiotics he received in jail. He death was classified as natural.
The oldest was Thomas Alexander Hough, a senile 72-year-old who was stopped by police for refusing to leave a bus station and then booked into jail for failing to register as a sex offender. Classified as "gravely disabled," he was first involuntarily committed to a psychiatric hospital before being transferred to the Vista Detention Center. Hough suffered from diabetes, dementia and alcohol dependency, which combined to leave him subject to periods of confusion, seizures and delirium tremens ("the shakes"). At the Vista jail, Hough was a basket case for three days. He nearly choked on a bologna sandwich, had frequent angry outbursts at staff and refused to go outside during his allotted recreation time. On his fourth evening in jail, he stopped breathing and couldn't be revived. The medical examiner classified his death as natural due to hypertensive cardiovascular disease.
Of the 60 deaths, 31 were classified as natural, which is consistent with national ratios for jail deaths. The other 48 percent were classified as suicides, homicides and accidents.
Of the 16 suicides, most inmates hanged themselves, including 38-year-old Sean Wallace, who'd been in and out of safety cells at the Central Jail because of numerous suicide threats, including an attempt to slice his wrists with a butter knife. On April 23, 2011, he was moved out of a psychiatric unit to a regular administrative-segregation cell; 47 minutes later, during medicine call, a nurse found Wallace hanging from a sheet tied to a bed bracket.
Others used less-conventional methods. In 2011, Abraham Clark, a 34-year-old man with a history of mental illness, ingested enough water in a short period of time to send his brain into anoxic shock. In 2009, John Kopkowski, an Ohio man accused of having child pornography on his computer, threw himself head first off the second tier of his unit at George Bailey. According to the medical examiner's report, inmates allegedly told Kopkowski he "should end his own life before somebody did it for him."
There were five homicides in the jail system. In 2010, Jeffrey Dunn, a 23-year-old murder suspect, died of an asthma attack during a fistfight. In 2010, Russell Hartsaw, a mentally ill 70-year-old arrested on a probation violation, was beaten to death by other inmates. Three inmates died at the hands of deputies: Two perished—Jeff Dewall in 2008 and Tommy Tucker in 2009—due to oxygen deprivation when guards attempted to restrain them, and a third, Anthony Dunton, was shot to death in September 2012 after breaking free from his restraints during an MRI examination at UCSD Medical Center.
Then there are the accidental deaths. In jail, accidental deaths aren't accidental like traffic collisions or slipping and breaking one's neck. All eight of the "accidental" deaths in San Diego's jails were drug-related, either overdoses or physical complications due to withdrawal. Some inmates obtained drugs in jail or hoarded medications, such as Mark Johnson. The 42-year-old, who'd just been sentenced to 28 years under California's Three Strikes law, told his cellmate he'd be getting a "shipment of drugs." Richard Diaz, a 40-year-old addict, died from a stomach obstruction after three days of seizures and vomiting due to heroin withdrawal.
CityBeat obtained and analyzed all 60 medical-examiner investigations. We also compared those narratives against findings by the county's Citizens Law Enforcement Review Board and documents from multiple wrongfuldeath lawsuits against the county. Sheriff Bill Gore denied interview requests, asking for questions in writing, most of which his office did not answer.
In upcoming weeks, CityBeat will publish its findings, which raise significant concerns over whether the San Diego Sheriff's Department is doing enough to reduce inmate deaths.
***
Sixty dead inmates. Is that low or high? How many dead inmates is too many?
In 2000, Congress passed the Deaths in Custody Reporting Act (DCRA) to help address increasing reports of neglect and abuse in U.S. jails and prisons. Under the act, the Bureau of Justice Statistics (BJS), the research and analytical arm of the U.S. Department of Justice, collects reports from correctional facilities and employs a measurement called the mortality rate to compare facilities. As a formula, it's the number of deaths divided by a jail or prison system's average daily population (ADP)—the average number of prisoners in the facility on any given day in a year. This formula allows researchers to accommodate for the high turnover and daily fluctuation in local jail populations. It's also the metric used by the National Institute of Corrections.
"The reason why we use average daily population is that we want to mirror the method that is epidemiologically sound," BJS researcher Margaret Noonan says.
In other words, since the Centers for Disease Control and other health organizations use an equivalent mortality rate to calculate deaths for large populations, prison researchers can compare the mortality rates in jails to that of society as a whole. Typically, the mortality rate is expressed in number of deaths per 100,000 people.
For example, in 2010, the United States had a mortality rate of 799 deaths per 100,000 people. Jails in the U.S. had an average mortality rate of 125 deaths per 100,000 inmates. Jails in California had a rate of 162 deaths per 100,000 inmates.
"Deaths occur far less in jail than in the general population," Noonan says. "It's because [jail] is a microcosm. It's a smaller subpopulation of the general population and people cycle in and out so quickly, they're really not in the population long enough to die."
The San Diego County jail system's 11 deaths in 2010 resulted in a mortality rate of 237 deaths per 100,000 inmates—90 percent higher than the national average for jails that year and 46 percent higher than the average for California jails. But, Noonan says, since the rate can fluctuate year to year, it's important to look at the mortality rate over a number of years.
"We don't want [the public] to look at a certain rate and say, Wow, that seems really high,' because what could happen is the following year, San Diego might only have four deaths and then, all of a sudden, their rate is right back to where you would expect it to be."
San Diego County hit its high in 2009 with 12 deaths, followed by two years each with 11 deaths, then dropping to eight deaths in 2012.
"Deaths can certainly vary dramatically from year to year," says Dr. Ronald Shansky, a jail health consultant and former medical director for the Illinois Department of Corrections. "Over time they tend to be fairly stable, and it does help to compare to other facilities."
But there hasn't been much variation for San Diego's jails. When the BJS released its statistics for 2000 through 2007, San Diego had the second highest death rate of California's large jail systems, with 195 deaths per 100,000 inmates. That rate has increased in the years since. Between 2000 and 2012, San Diego County's mortality rate was 218 deaths per 100,000, putting the county at the top of the list.
CityBeat independently collected six years' worth of data— 2007 to 2012—from California's 10 largest county jail systems and analyzed it using BJS's epidemiological model. Our intent was to compare the most recent data among facilities that are similar in size, population and institutional framework (in other words, the same state-level criminal statutes and similar funding relationships with the state government). Further, records indicated that 2006 was the last year the San Diego County jail system underwent changes to prevent deaths.
Of those 10 jail systems, over that period, San Diego County had the highest average mortality rate: 202 deaths per 100,000 inmates.
The next closest was Riverside County, with 198 deaths per 100,000 inmates and Alameda County with 173 deaths per 100,000 inmates.
How many dead inmates is too many? Here's one way to look at it:
If 17 fewer people died in San Diego County jails over the last six years, that would make the county about average among California's 10 largest jail systems (or 147 deaths per 100,000 inmates).
The San Diego County Sheriff's Department challenged the mortality-rate method of measuring deaths, specifically with suicides, claiming that it produces "mathematically exaggerated" numbers. Instead, the Sheriff's Department pointed to a less accepted method, the "at risk" rate. Instead of using the average daily population, the "at risk" rate divides the number of deaths by the total number of bookings. The theory behind this formula is that everyone who enters the facility is at risk of dying. However, very little research exists based on this type of measurement, and the Sheriff's Department did not provide scientific evidence to support its position.
It's easy to see why the department prefers this method. Using booking data from 2007 to 2011 (2012 has not yet been compiled), CityBeat found that San Diego County's inmate mortality rate was better than the average large jail system in California.
However, the more people who are booked and released, the better the rate looks, and San Diego County has a disproportionately large number of bookings for a jail system its size. The BJS doesn't use bookings-related data for this very reason—high turnover skews the data.
"Obviously, there are other people that use admissions, and we wouldn't say that's wrong, per se—it's just not the way that we do it," Noonan says. "We want to follow a model that is more epidemiology based, because we are dealing with mortality data."
"The Bureau of Justice Statistics has been using the calculation of average daily population for 20 or 30 years or more, and no one complains about it unless they have a higher rate than the national average," says Lindsey Hayes, project director at the National Center on Institutions & Alternatives.
Numbers, however, offer only a bird's-eye view, and many experts are cautious to base criticism on numbers alone.
"Probably the most important thing to determine is: Do they have an effective review program," Shansky says. "Because that's the only thing that's going to impact the possibility of reducing deaths."
The Sheriff's Department did not express concern about the information we presented to them and did not recognize its validity even though the numbers were based on a model designed by the Department of Justice, the same branch where Sheriff Bill Gore previously worked as an FBI agent.
"You asked if we were aware of [your] statistics as presented," Sheriff's spokesperson Jan Caldwell, herself a former FBI agent, says via email. "Our Detentions Services Bureau regularly meets to examine and review all inmate deaths to ascertain the circumstances of death and ensure all of our policies and procedures were followed. The objectives of this assessment are to thoroughly review and learn from the events, make any necessary changes based on these events and ascertain if the events were preventable. The Sheriff's Department takes each inmate death very seriously, since we are responsible for their safety and well-being."
Several agencies are tasked with overseeing jail facilities in San Diego, but few have paid close attention to the mortality rates.
The San Diego County Grand Jury, a body of citizens who inspect the facilities annually, has rarely mentioned jail deaths in its annual reports. The San Diego County District Attorney reviews all officer-involved deaths in custody, but found that the three that occurred in the last six years were within policy. The main body charged with investigating deaths is the county's Citizens Law Enforcement Review Board (CLERB), which examines allegations of abuse in custody.
When an unnatural death occurs in jail, the Sheriff's homicide division writes up an investigative report, which is then reviewed by the Sheriff's internal Critical Incident Review Board. CLERB also receives a copy and decides whether to conduct its own investigation.
"We are finders of fact," Lt. Glenn Giannantonio of the homicide division tells CityBeat. "We don't make any policy-issue recommendations. We just say this is what happened and primarily this is why it happened."
Since 2007, CLERB has completed 24 in-custody-death investigations. Another seven cases are still under review, says Executive Director Patrick Hunter via email.
Hunter says that CLERB doesn't normally investigate deaths ruled as natural unless there are extenuating circumstances.
The publicly available results of each investigation are little more than a single paragraph; in no cases did CLERB find wrongdoing on the part of the Sheriff. However, CLERB has made a number of policy recommendations, several of which the sheriff has rejected.
In 2008, after the suicide of Adrian Correa, a 21-year-old paranoid schizophrenic who'd threatened to kill himself multiple times, CLERB expressed concern about a breakdown in communication during shift changes.
"Briefings at shift changes in the detention facilities should routinely include information about inmates identified as suicide risks," wrote Robert Winston, CLERB's chair at the time, to then-Sheriff Bill Kolender. "A checklist that includes the status of at-risk inmates and the Department's response plan would enhance continuity of care, monitoring and housing," Winston wrote.
Earl Goldstein, the Sheriff's medical director, thanked Winston for his letter but rejected the recommendation, saying that the jail's suicide rate was low—only four suicides total during the 2007-2008 and 2008-2009 fiscal years (July 1, 2007, through June 30, 2009).
"Based on... the low incidences of completed suicides in our facilities, it is not practical to add these systems to the current program," Goldstein wrote.
But Goldstein's numbers were wrong. There were actually six suicides during that period, and a seventh that happened on July 3, 2009—three days into the next fiscal year.
When inmate Dewall died in 2008 due to excessive restraint, CLERB took nearly three years to issue policy recommendations. By then, another inmate, Tommy Tucker, had died due to similar excessive-restraint techniques. CLERB did not investigate Tucker's death.
In 2011, CLERB suggested that the Sheriff's Department review its training policies and have its tactical team wear numbers on their uniforms so they can be identified when investigators review videotapes. The sheriff conceded to those changes, but denied others.
In a March 2011 letter to the sheriff, CLERB expressed concern that the department did not have formal policies regarding when it would alert CLERB of an inmate's death, despite county code endowing the board with clear oversight responsibilities. Per state code, CLERB's allowed one year to initiate an investigation; there were cases in 2009 and 2010 that the board didn't find out about in time, Hunter says. CLERB identified five areas where it wanted to be included in the notification process; the sheriff declined all of them.
"We strive to respond with professionalism and a spirit of cooperation to recommendations for improvement to the policies and procedures," Sheriff's Department Executive Manager John Madigan wrote in response. "CLERB has significantly contributed to the enhancement [of ] these important documents and we appreciate the Board's insight."
But, he concluded: "After due consideration, Sheriff Gore respectfully declines to modify the policies and procedures as suggested by CLERB."
The sheriff did, however, direct the department's Division of Inspectional Services to notify CLERB of all in-custody deaths.
In questions provided to the sheriff, CityBeat requested further explanation of this decision and how it bodes for transparency and accountability.
"While we appreciate CLERB's valuable review process, they are not part of the Sheriff Department's investigatory process and therefore are not contacted," Caldwell wrote.
Even more inconsistent may be how families are notified of the circumstances of an inmate's death. When Tucker died in the hospital due to injuries sustained during physical restraint, it was not the Sheriff's Department that contacted the family; it was representatives of an organ-donation agency. Only after the family received a letter from another inmate describing the incident did they move to press further through a lawsuit. The family of Shane Hipfel, who drowned himself in his cell toilet in 2012, fought for more than a year for information; only after the threat of a lawsuit did the sheriff allow one of the family's attorneys to view the video tape of the incident.
"We made several verbal requests through various channels to get the video tape, which supposedly shows the incident, but the sheriff's office refuses to turn it over," attorney Vince Colella said in an interview in January. "They claimed it's not their jail policy to do so. If nothing was done wrong or improper, at least get the family the video so they have closure."
In mid-March, after CityBeat presented its research to the sheriff, a representative of the family finally was allowed to view the video. A lawsuit is forthcoming, Colella says.
***
As our series continues, we'll drill down on the specifics of certain deaths to ask how many of the 60 were preventable.
"Oftentimes I will hear from sheriffs, We're scratching our head; we've had these deaths and we think we have good policies and we didn't violate our policies,'" says Hayes, a national expert on suicide prevention. "And then I go on-site, and I say, Well, you didn't violate your policies because you have really bad policies.'"
But, unlike the jurisdictions that invite Hayes in to assess their performance, the San Diego County Sheriff's Department has yet to acknowledge that its high mortality rate is a problem. True, inmates are a high-risk group: many are longtime addicts, for instance, with myriad health issues as a result of their addiction.
"The analogy is between jail and an emergency room, and a prison is like a doctors office," says Marc Stern, a correctional healthcare consultant and former Health Services Director for the Washington State Department of Corrections. "In jails, people are coming and going all the time; it's very difficult to operate a jail. It's hectic and it's high-risk."
But, Stern says, San Diego's high mortality rate is a red flag.
"The best news—if I were writing your article, or if I were investigating this—would be talking to the jail and have them say, You know, we noticed the same thing you did; there's an unexpectedly high number of deaths and suicides compared to other places, and we are investigating it," he says. "That would be kind of the good-news story—to find out that they really are addressing it."
Correction: We stated that San Diego had 13 deaths in 2009, when in fact one of those deaths occurred in 2008. The overall mortality rate is unaffected. We also stated there were 15 suicides, when in fact there were 16. We regret the errors.