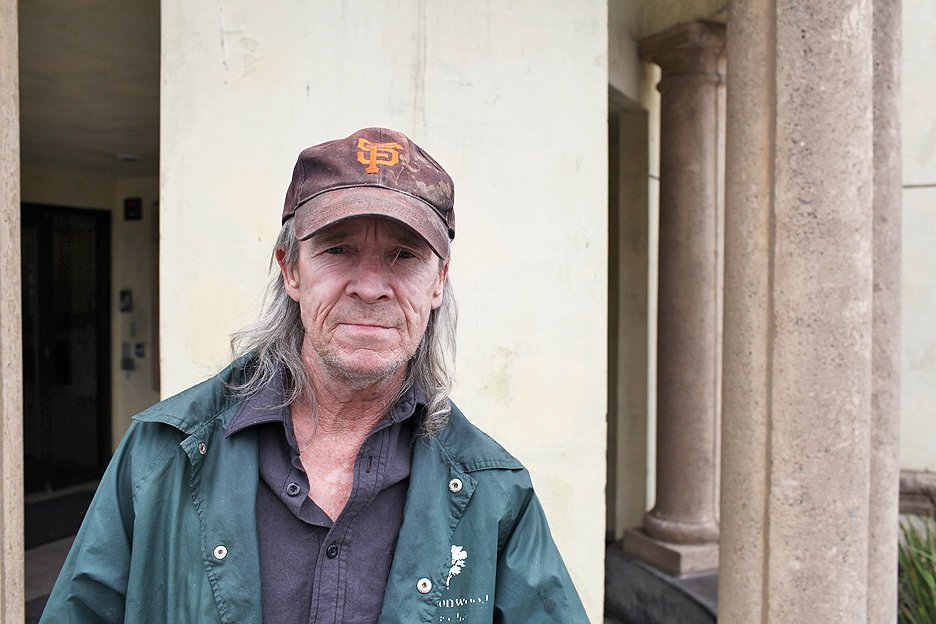 It wasn't that Douglas "Hutch" Hutchinson was a disruptive homeless drunk; it was that he was a homeless drunk with serious health issues. He can tell you stories about mishaps with the colostomy bag he ended up needing a few years ago, and so can the police.
"He'd be laying on the street; he'd just be a mess," says Sgt. John Liening, who works with the San Diego Police Department's Homeless Outreach Team. "And there'd be numerous radio calls. Officers would get there and not know what to do because this guy's a disaster."
Liening helped start the Serial Inebriate Program, which gives homeless chronic drinkers the option of treatment instead of jail. He's used to tough cases like Hutch. But the difference here was that even if Hutch was willing to try a recovery program, there was no place for him to go, at least long-term, because of the severity of his health issues.
"Nobody wanted to take this guy," Liening recalls. "From the Homeless Outreach Team's side, we had done everything we can do. Nothing with Hutch was easy."
Hutch was what's referred to as a "frequent user"—a homeless person whose addiction problems or physical- or mental-health issues repeatedly land him in the hospital, emergency room or jail, where he could end up costing taxpayers hundreds of thousands of dollars.
The program that eventually took Hutch in, Project 25, didn't exist until 2011. It began as a three-year, $1.5-million pilot, part of the United Way of San Diego County's Plan to End Chronic Homelessness. The goal of the program was to work with hospitals, law enforcement and emergency medical services to identify people like Hutch— folks who were not only a drain on taxpayer dollars, but also were at risk of dying on the street—and get them housed and hooked up with services. The housing came with almost no strings attached—a model known as "housing first" that says permanent shelter is the necessary first step to helping a person deal with issues like addiction and mental illness.
"If I walked up to some of my severe alcoholics on the street when we were doing outreach, and I would have said, 'OK, if you quit drinking, I'll give you an apartment,' they would have told me, 'No,'" says Project 25 director Marc Stevenson.
Even then, housing was a tough sell for Hutch. Stevenson says they found him on the corner of 10th Avenue and B Street, wrapped in a blanket.
"We engaged him probably for four months," Stevenson recalls. "We started providing medical care to him right there on the sidewalk. The doctor would come and see him there."
It took four months to convince him to get off the street. His first night in his apartment, Hutch got drunk, made a mess and was asked to leave. "But we stuck with him," Stevenson says. "And we got him into another unit after that here in this building"— Villa Harvey Mandel at Father Joe's Villages—"and he's survived ever since."
Less than three years later, Hutch, who says he once hoped to drink himself to death, decided to get sober. He gave up alcohol a little more than a month ago, after Stevenson, whom Hutch calls "the boss man," worked with him to slowly scale back the drinking—from vodka to beer and then down to one 12-pack of beer per week. Asked what pushed him to quit, Hutch says it just seemed like the next step.
"Let's just quit for awhile so I can see what's going on in the world," he says.
****
The pilot phase of Project 25 ended in April; enrollment eventually grew to 35, and a new client was recently added. The hope had been that the program would show such impressive cost savings that additional funding would materialize. Looking at 2013 alone, the 35 Project 25 participants took 600 fewer ambulance rides, were in the ER 1,100 fewer times and spent nearly 1,000 fewer days in the hospital compared with the year before they entered the program, saving more than $2 million.
The model of saving money by getting people off the street isn't new to San Diego. The Serial Inebriate Program was launched in 2000 after a 1997 study showed that during an 18-month stretch, 15 homeless chronic alcoholics cost taxpayers $1.5 million in hospital and jail visits.
"When we started this, we wanted to show the community that the problem could be solved for less money," says Shaina Gross, a vice president at the United Way, "that we could address this issue certainly in a more humane and more economical way, and we feel like we did that."
Since the pilot ended, Project 25's staff has been whittled down to two caseworkers, Stevenson and Jose Zaragoza. The United Way has granted St. Vincent de Paul (SVdP), the contractor that runs the program, with an additional $100,000, and they've been able to secure $29,000 from another unnamed source.
No one currently in Project 25 will end up homeless if money runs out. Their housing is paid for with Section 8 vouchers, which will be theirs for as long as they need them. Twenty Project 25 clients are receiving mental-health services through a county contract that's in place through 2016, Gross says. The remaining clients are being taken care of by Stevenson and Zaragoza.
Stevenson says the current Project 25 clients are pretty stable. It's taken nearly three years, but he's no longer receiving around-the-clock phone calls; now, they're most likely to call simply because they're lonely and want to chat. Stevenson attributes the program's success to the flexibility they were given to work with such a difficult population.
"United Way didn't govern how we did this, how we approached it," he says. "This was not a group you have outcomes for. This is a group that gets missed. We got to approach them as a new group that we didn't know anything about. We learned, No. 1, to build relationships; No. 2, to address crisis as it came up; No. 3, to get them to access preventative [medical] care at all costs, including if it meant taking up our time sitting in the waiting room with them. A lot of our folks now have a relationship with the doctor and, based on that relationship, they'll go on their own."
No one's dropped out of Project 25 or been asked to leave. Two participants died, but from natural causes and in their own apartments.
Ruth Bruland, St. Vincent de Paul's executive director, says the initial hope was for hospitals to embrace Project 25's cost savings and help expand it. But that was before the Affordable Care Act.
"With healthcare reform, they now actually make money on Project 25 clients. They've got kind of a hard sell to their CFO," she says. "At this point, what we've heard from them—historically, anyway—is, 'You're saving us money we haven't lost.'"
Now they've shifted the focus to insurance companies. "Had we had a crystal ball, we would have started talking to the insurance companies much sooner," Bruland says.
In the last few weeks, they've seen some progress. One insurance company identified a frequent user and brought the name to Bruland, and that person's now enrolled in Project 25.
"Every week, we feel like we're moving in the right direction," she says. "It's just getting that final commitment."
It's not known how many of San Diego County's roughly 4,500 unsheltered homeless people would need something as intensive as Project 25. But the police department's Leining says he can easily think of 20 people.
"I know it's expensive to put people into programs like that," he says, "but… if we don't do something with them, they're just going to die on the street. And that doesn't seem—what are we, the eighth largest city in the nation?— the way to approach it."
Of the initial list of frequent users compiled back in 2010, which included roughly 70 names, far more than Project 25 could accommodate, several died on the street before outreach workers could find them, Stevenson points out.
Bruland says $550,000 a year would allow them to sustain the current group and add 20 to 25 more.
Stevenson says it takes a couple of years to get folks who've been chronically homeless "addicted to being in housing," as he puts it. "Everybody's traditional idea about service is you make people better and take new people in. Well, our people don't get better," he says.
"We've had to redefine success for these folks: reducing frequency of use and cost of emergency services, getting them stabilized in housing."
Stevenson tells the story of one Project 25 client with a severe personality disorder who lashed out at her landlord—Project 25 clients are placed in regular apartments throughout the city—when he tried to make repairs to her unit. Maintaining a good relationship with landlords who rent to Project 25 tenants is key to the program's success, Stevenson says. He had to come up with a creative solution to make sure his client didn't get evicted.
"So, we worked out a way for our case manager and our facilities person to come over and do all the repairs," he recalls. "And the landlord was willing to go along with it.
"That has been successful for us, and the landlord's working directly with us now to provide the kind of support that seems to work for sustaining her in housing."
****
Aaron McBride isn't one of the Project 25 clients Stevenson worries about—not that McBride's time in the program has been without incident. He was the second person housed and No. 21 on the list in terms of cost. McBride has neurofibromatosis, an incurable, debilitating disease of the nervous system that causes tumors to grow on nerve tissues and the surface of the skin. Before Project 25, he was constantly in and out of the hospital; in 2010 alone, his hospital stays cost roughly $200,000.
McBride was initially placed in an apartment in Clairemont. He had been there for only two months when police received a call from a woman who said McBride had hit her. CityBeat interviewed McBride in jail shortly after that for a 2011 story. He said he'd tried to help the woman by giving her a place to stay, but she became irate and threatened him when he told her it was time for her to leave. He was arrested on a domestic-violence charge and spent nine months in jail.
Other programs would have asked him to leave. But when McBride was released from jail, a Project 25 case manager was there to pick him up.
"If every time someone made a mistake, you just disregard them, then I would have been a statistic," McBride says. "I would have been right back on the street."
The living room of McBride's one-bedroom apartment near Market Creek Plaza in Lincoln Park is purposely sparse, with just a TV and an upright chair covered in a blanket. The day before, Stevenson had joked with McBride about his lack of furniture. "You've got two lawn chairs sitting up in your new living room because you don't want nobody to get comfortable?" he laughed.
After jail, McBride lived in an apartment in East Village run by Father Joe's Villages. People still on the street knew that if they hit him up for a place to stay, he couldn't say no. Stevenson's had to educate his clients on not being taken advantage of, as difficult as it may be for them to cut themselves off from their former life.
"The culture of most folks who live on the street, if you have something, you share it," he says. "And with our folks, when they get into an apartment, people, as soon as they're invited in, they feel like they're at home, they want to put their stuff there. All of a sudden, they're there all the time."
Telling people no was tough for McBride—"I know what it's like to be out there on the street, sick, homeless cold, nowhere to go"—he says. But, he knew he had to cut himself off from his former life and focus on his own stability.
"I've been getting to change other things in my life and just decided to change the scenery where I was at," he says.
"Life is good," he says frequently during his interview with CityBeat .
Even with his ongoing health issues?
Sure, he says, "I have no complaints. I'm here, I'm above dirt. Thanks to Project 25."
Email kellyd@sdcitybeat.com or follow her on Twitter at @citybeatkelly.