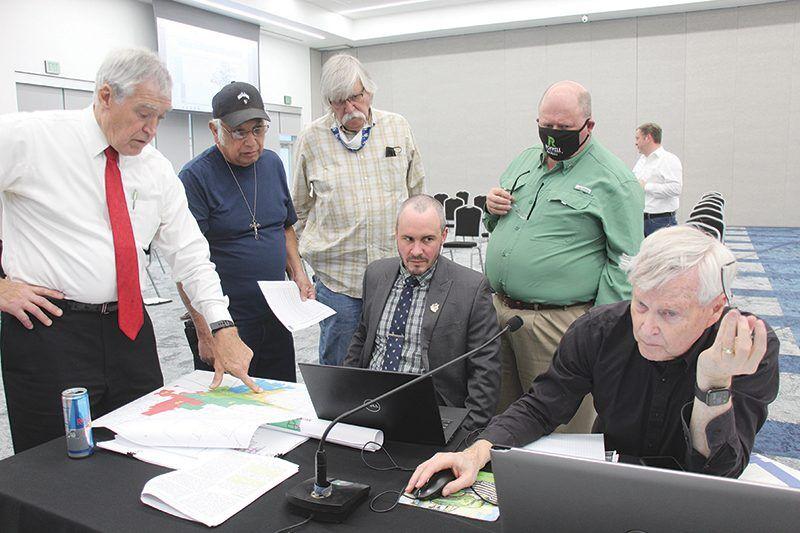 Another alternative for redrawing the city's ward boundaries presented by a Roswell city councilor was deemed "unlawful" by a consultant during Monday's Roswell City Council workshop, but councilors apparently hammered out an acceptable map by the workshop's end.
A special meeting that was scheduled after the workshop to vote on a map was not conducted. All but Councilor Jeanine Best had left by the 6 p.m. start time on the agenda, so no quorum was present to conduct the meeting.
The map created during the workshop, dubbed Option G by Mayor Dennis Kintigh, will likely be the one considered when the city conducts a public hearing on a resolution to establish ward boundaries during its regular meeting Thursday night.
The meeting will be at 6 p.m. Thursday in Meeting Room A of the Roswell Convention and Civic Center, 912 N. Main St. Due to state health orders, the public is encouraged to attend electronically. The meeting will be livestreamed on the city's YouTube channel. Those wanting to participate electronically can do so through GoToMeeting virtual meeting software.
By computer, tablet or smartphone, the meeting can be joined at https://global.gotomeeting.com/join/815060573. To join by phone, call 669-224-3412 and use access code 815-060-573.
Kintigh said his goal with the workshop was for him to get out of the way and let the councilors work.
"I'm hopeful that everybody kind of sits back and absorbs this," he said of the map that was worked out. "My desire is 10-0" on Thursday night's vote.
Eight of the city councilors were present either in person or virtually for the workshop. Councilors Jacob Roebuck and Daniel Lopez were absent. Kintigh said Lopez had a family emergency and was unable to attend.
The city is required under state statute to conduct a redistricting in the calendar year the U.S. Census results are received, making each district as equal as possible in population and keeping communities of interest and the county's voting precincts intact.
The current ward map would not be in compliance with state and federal redistricting requirements, consultant Rod Adair told the council at a workshop last week. Adair, a former Republican state senator, is owner of New Mexico Demographic Research, which the city contracted to draw up possible maps.
With the city's slight population increase to 48,422 people, the ideal population for each ward would be 9,684. Federal law allows a 5% deviation below or above the ideal.
Currently, Wards 1 and 5 are below that threshold, while Wards 2, 3 and 4 are above it.
Councilors agreed they wanted to keep the ward boundaries as close to the present map as possible but were not able to reach a consensus on any one map at last week's workshop.
Councilor Juan Oropesa, who represents Ward 1, presented a map, called Plan F, that he and Ward 3 Councilor Judy Stubbs had worked on with Roswell resident and community activist Frank Sanchez, assisted by city engineering staff.
Oropesa explained the method he, Stubbs and Sanchez used in adding and subtracting precincts from different wards to come up with a map where all five wards were within the 5% margins.
However, Councilor Barry Foster asked if Ward 4 under Plan F could be considered contiguous, that is, all parts of the ward are physically adjacent to each other.
"The plan submitted as Plan F are non-contiguous and are unlawful," Adair said. "We will work with you as best we can to get you a contiguous, lawful map."
So for about the next hour, the councilors and a few members of the public moved about the meeting room, viewing the proposed maps and working in small groups. Adair made changes to the ward boundaries on his computer at the suggestion of several councilors and the mayor, with all watching over his shoulder or on the council chamber's large monitors for results until an apparent solution was on the screen.
The public hearing and vote for the redistricting resolution are scheduled early in Thursday's city council meeting.
The council will also consider Thursday to advertise future public hearings on several proposed resolutions. One will contain further amendments to the city's cannabis regulations regarding permit requirements and other additions.
Four other proposed ordinances would grant franchises for solid waste collection, transportation and disposal.
The council is scheduled to take action on several resolutions Thursday, including reclassifying 911 operators as first responders, water rights at the Roswell Air Center and amending the Infrastructure Capital Improvements Plan.
Other items to be considered for approval include approval of a request for proposals for fire apparatus services, ratifying additional work to the roof at the Roswell Test Center, lease and service agreements with the Boys and Girls Club of Chaves and Lincoln Counties, a service agreement with the Roswell-Chaves County Economic Development Corp., the purchase of a new lawn mower for the Parks Department and four buses for Roswell Transit, and a bank account for the Roswell Convention Center.