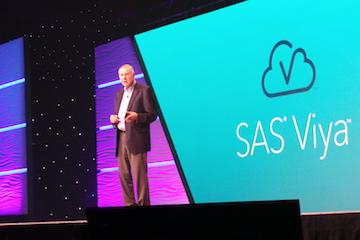 It's been a year since SAS introduced Viya, a SAS-based software platform designed for deployment both in the cloud and on-premises, and SAS has been rolling out the pieces of this new flagship offering since then. It's an achievement that comes 41 years into the company's history as a provider of a statistics and analytics software package.
CEO and co-founder Dr. Jim Goodnight presided over SAS Global Forum this month, setting the tone for the conference in a Sunday night opening session. He used his stage time on Sunday and Monday last week as a platform to talk about how far the technology industry has come in those years since the company was founded. At one point he demonstrated Amazon Alexa as a voice interface for SAS Visual Analytics. At another point he reminisced about the first hardware that ran SAS. He told All Analytics in an interview during the conference that that first machine had just 256K of memory and it was very expensive.
That first machine, an IBM System/360 performed 300 instructions every second. "Now we operate at 3 billion instructions a second," Goodnight told me.
If it seems odd that Goodnight, a software company founder and executive, would focus on talking about hardware, consider this -- hardware advances are at the core of enabling analytics processing to work faster and on larger data sets. Hardware advances are key to helping analytics software work better.
"Hardware has played a huge role in advancing analytics," Goodnight told me. And that will continue to be the case going forward as electronics and hardware manufacturers continue to pursue advances with different kinds of chips, including GPUs. Solid state drives are also playing an increasingly important role.
Goodnight said that SAS is buying solid state drives for its own data centers these days, citing the benefits in terms reductions in heat generated and energy consumed -- and therefore in operational costs, too.
"We are buying more solid state disks than before," Goodnight said.
IoT is another focus for SAS, building on the hardware theme. The company announced a partnership with Cisco recently and talked about plans for bringing analytics and intelligence to the edge of the networks, where data is generated and aggregated for the first time.
Goodnight also told me that SAS is seeing a great deal of interest from customers in advanced technologies such as machine learning and deep neural networks. No one knows how the human brain works, but the idea behind deep neural networks is to mimic how it works with computing technology, according to Goodnight. SAS is working on using this for text analysis.
The IoT, machine learning, and the Viya platform are all key initiatives for SAS going forward.
But that's not what Goodnight has been working on in his office recently. What's the most recent task this co-founder and CEO completed?
"Programming to compensate sales people," he said. They could have bought a commercial software package to do it, Goodnight said. But why do that, when he could code what they needed?