Want to run your own country, with all its ethical dilemmas? There's an app for that, writes Fran Molloy.
Kai Macann is fascinated by philosophy and ethics, so much so that he and fellow student Daniel Mawston developed an app to share with students and teachers.
The pair's interactive game, called Terra Symposium, sees users design and run their own hypothetical country, complete with governmental structure, then work to solve ethical dilemmas from the perspective of that government.
The game is so well considered it scooped a People's Choice win at the prestigious national iAwards last year, knocking out well-funded, larger teams of older, more experienced competitors – quite a win for a couple of entrepreneurial students who developed and tested the game on their teachers and classmates at Sydney's Arden Anglican School.
The awards, hosted by digital industry advocate the Australian Information Industry Association (AIIA), recognise innovation across seven categories: student and education (both school and tertiary), startups, business and industry solutions, technology platform, government and public sector solutions, notfor-pro t and community, and sustainability and environmental solutions.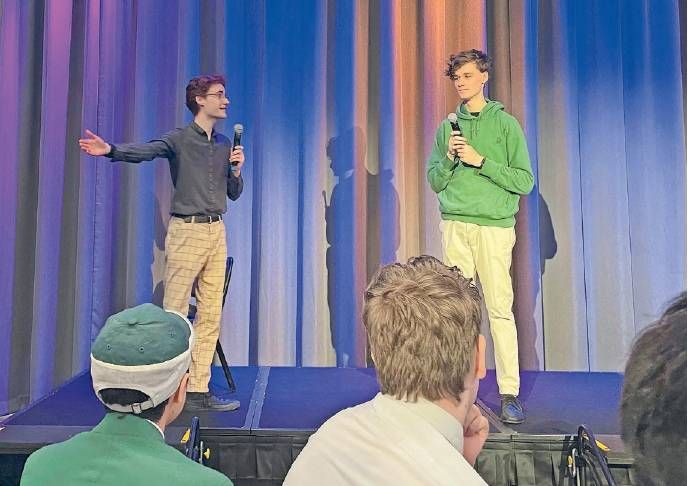 Kai says Terra Symposium is designed to operate as a framework for guided, one-day group workshops, allowing teachers to run sessions without needing hand-holding from its creators. He began teaching himself philosophy in year 7, setting up a lunchtime philosophy club called Th e Symposium with teacher Catherine Bradshaw.
"For the first few years, it was just me and Mrs Bradshaw sitting in a classroom talking about philosophy. More [students] joined [including Daniel] and now we have 20 to 30 people coming each week just to talk about the philosophical topic of the day."
The app's genesis was prompted by the pair's experience of remote-learning during COVID-19. They saw that debate about vaccines and border closures among other things involved real-world applications of ethics. They wrote little game-style cards about different political tensions, inviting history teachers to participate and act like the presidents of other countries.
Kai used skills from his industrial technology multimedia class and Daniel applied his software skills to make the game's card content digital, complete with maps, dummy CCTV footage and other elements. Th e resulting Terra Symposium is designed to make philosophical discussion simple and accessible for schools and students.
"It's about engaging students and giving them a place to test their mettle in a safe environment that isn't attacking or accusatory" Kai says. "Everyone needs these kinds of skills. Our education system is so much about what to do, but not how to think critically and evaluate, empathise and understand how others think and how they themselves think"
School principal Justin Beckett helped test Terra Symposium, role-playing a scenario involving artificial intelligence. "The activities are engaging and totally cutting-edge" he says.
The app forms part of Kai and Daniel's HSC assessment submissions this year. Once they complete year 12, they plan to refine Terra Symposium.