News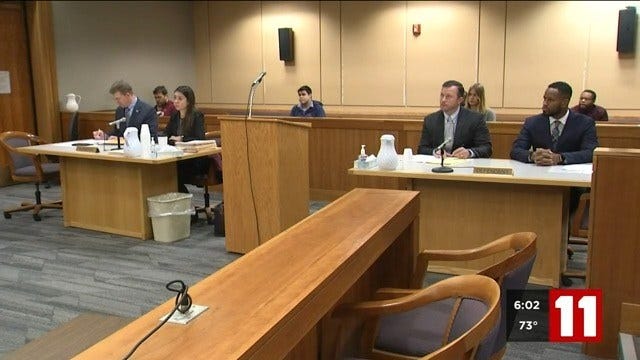 Two Anchorage police officers are on unpaid leave after a grand jury indicted them on felony charges Tuesday.
The indictments against officers Cornelius Aaron Pettus and Deorman 'Levi' Stout, both 32, stem from an alleged assault on a citizen in September 2019.
Pettus is accused snatching 49-year-old Samuel Allen's phone away from him on Sept. 30 after going to Allen's home to deliver bicycle citations. As the situation escalated, Pettus allegedly punched Allen in the jaw then kicked him in the groin.
"Instead of rushing to help, Officer Stout stood in one spot, looking on without a change in his expression," charging documents state.
At some point, documents state Pettus used pepper spray on Allen and the two officers put him in handcuffs.
Allen was arrested and charged, according to online court records.
Parts of the incident were captured by police dashcams and Allen's phone recorded audio of the encounter. After a review by the Office of Special Prosecutions, the state dropped Allen's charges from that night and filed a case against Pettus, charging him with two counts of misdemeanor assault to which he pleaded not guilty in November.
This week, the grand jury indicted Pettus on the misdemeanor assault charges along with a misdemeanor charge of interference with constitutional rights. Additionally, he's indicted on two felony counts of tampering with public records.
During an interview with detectives, Pettus said Allen was in a fighting stance and had his fists balled up and slightly raised, according to charging documents. He told detectives that he believed the man was going to assault him.
Pettus also wrote a similar account in his police report following the incident, according to court documents.
After being shown the video of the encounter, which depicted Allen in a neutral stance with hands loosely hanging at his side, Pettus told detectives that he remembered it differently. The documents state he didn't recall kicking the man.
Pettus is represented by former Anchorage District Attorney Clint Campion, who previously released a statement saying his client acted in self-defense. Wednesday, Campion said he anticipates the case will go to trial.
Stout, who initially did not face charges, is now indicted on a single felony count of tampering with a public record.
The indictment states he "knowingly made a false entry in or falsely altered a public record, or knowingly destroyed, mutilated, suppressed, concealed, removed, or otherwise impaired the verity, legibility, or availability of a public record knowing that he lacked the authority to do so, and did so with the intent to conceal a fact material to an investigation; to wit; police report related to encounter with Samuel Allen."
"In violating the law, these individuals not only disappointed the employees they work with, they also failed the community they swore to serve," said Anchorage Police Department Chief Justin Doll in a release Tuesday. "In order to maintain our community's faith and trust, it is imperative we are held to the highest standards expected of us. It is essential we earn that trust and keep that faith through transparency and accountability."
Not long after Anchorage police announced the indictments, the Anchorage Police Department Employees Association released a statement in support of both officers.
"I ask all of our citizens and members to be patient while this process unfolds," wrote Sgt. Jeremy Conkling, the association's president. "Wait for all the facts before passing judgement on two dedicated public servants. We trust in the criminal justice system, especially when the system fairly and objectively applies the rule of law. Once the full picture is revealed, once we learn of the officers' true intentions, I am convinced that justice will prevail, and the officers will be exonerated of all charges."
In the statement, Conkling expressed concern that the officers "have been caught in the crosswinds of an incredibly divided nation and a politicized criminal justice system."
During a remote interview Wednesday, Conkling reaffirmed that misconduct by police officers will not be tolerated.
"If these officers are found guilty, then the criminal justice system has an appropriate way to deal with them, they should not be police officers and they will have to face the consequences," he said. "However, let's let that process unfold before we rush to a judgement on whether or not these officers violated the law."
Pettus has been with the department since 2015 and Stout since 2014.
In the 10 months since the incident, Stout continued to work while Pettus was placed on paid leave. As of Tuesday, both are on administrative leave without pay.
MORE NEWS FROM KTVA: