News
An Anchorage police officer has pleaded not guilty to criminal assault charges stemming from an arrest in which he allegedly used force against a man.
Cornelius Aaron Pettus, 32, is accused of punching and kicking 49-year-old Samuel Allen on Sept. 30, after going to Allen's home to deliver bicycle citations. Allen was also pepper sprayed, handcuffed, arrested and charged, according to court documents and online court records.
The incident was captured by police dash cameras. After a review by the Office of Special Prosecutions, the state dropped Allen's charges from that night and filed a case against Pettus.
Pettus appeared in court Friday for an arraignment, represented by former Anchorage District Attorney Clint Campion. Campion entered not guilty pleas to two misdemeanor counts of fourth-degree assault on behalf of Pettus.
In a statement, Campion said Pettus acted in self-defense:
Today, November 15, 2019, Anchorage Police Officer Cornelius Aaron Pettus pled not guilty at arraignment to two counts of assault in the fourth degree, a class A misdemeanor.

Officer Pettus has spent ten years in law enforcement, including service as an Anchorage Police Officer for the past four years.

Officer Pettus disputes the charges and intends to exercise his rights to confront the State's evidence and force the State to prove to a jury beyond a reasonable doubt that he engaged in criminal conduct. Based on what Officer Pettus perceived and knew at the moment of the incident, he acted in self-defense on September 30, 2019.
Prosecutors did not request Pettus post monetary bail. He is out of custody on his own recognizance and while he is not prohibited from traveling outside of Alaska, he is ordered not to have any contact with Allen or return to the man's home.
Allen, who attended Pettus' arraignment, said he is still recovering from physical injuries after the incident.
"I am hurt bad. And I was hurt that night very badly too," he said.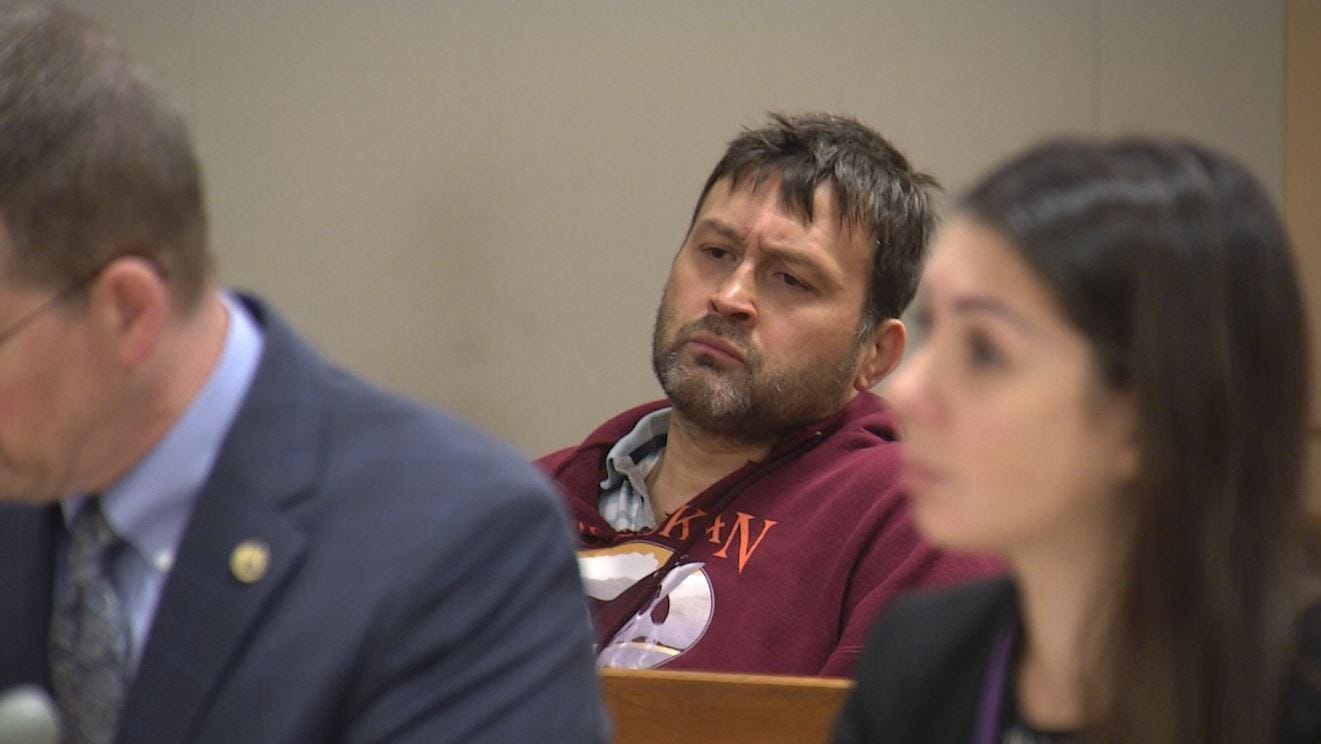 Allen calls himself a "First Amendment Auditor." He frequently films police and other public employees in public spaces and posts the videos on Youtube.
Allen's account contains several other videos of encounters with Anchorage police. He can be heard swearing and shouting derogatory names at them. A check of his criminal history reveals he was convicted of assault on a police officer earlier this year.
Friday, Allen said he's "just a normal American trying to assert my rights."
He said he wants Pettus to be held accountable and the law should be applied to his case the same as any other case.
"The law must proceed forward. That is the law," Allen said. "I'm not the law. I forgive the dude, in my heart. I'm trying to. I'm in the process of doing that so I can move forward."
Anchorage Police Department Communications Director MJ Thim confirmed Friday that Pettus is still on paid administrative leave, pending the department's internal investigation into the incident.
Pettus is one of two known APD officers currently on paid administrative leave pending investigations. Officer Jeremy See is charged with operating under the influence in August.
MORE NEWS FROM KTVA: