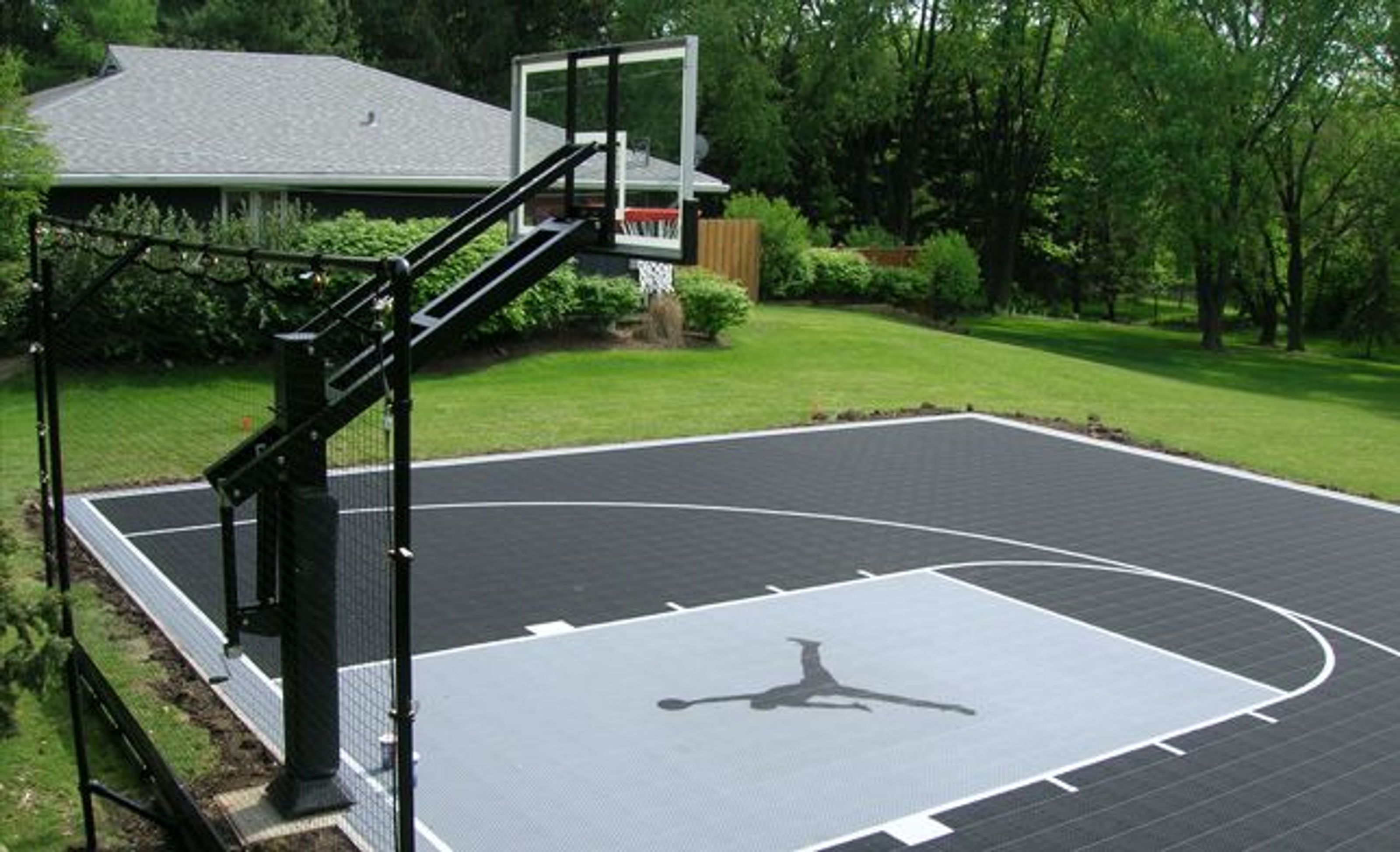 Never has it been more possible for you to have your very own high-performance basketball court at your disposal and DreamCourts is making it a reality whether it's for your home, school, event or anything in between.
Playing basketball is something most of us want to do at some stage, but finding the basketball court you desire can be a challenge. Going down to the local park and having to share a basketball ring or playing on an old wooden backboard or without a net just isn't appealing.
Not only will DreamCourts supply their DreamHoops ring system for you to shoot at, but under your feet you will feel like a pro. Forget about having to deal with uneven grass, dirt, bricks or concrete to hamper your game!
Gone are the days of just putting up a basketball system and having to deal with the environment given in your home too. Thanks to DreamCourts, you can have a whole court set up for you which makes the installation ideal for anyone and everyone.
The DreamHoops ring is the best you can find and is more than safe to be dunked on. Then you design the court to look however you like and end up with your professional set up at home.
You have the option of which elite cushioned tiles you'd like to provide the bounce and cushion of the hardwood but will withstand anything the outdoors throws at it. Not only does it feel incredible it helps performance and your health too.
DreamCourts isn't bound by the dimensions, size or shape of where you want your court either. Instead, it will make the court fit to your area. If you are worried about the ball going over the fence, DreamCourts can even put up containment fences.
Where things really get exciting is how you can make your court look. Pick out whatever colour scheme you like and the only thing limiting how your basketball court looks is thanks to the DreamCourts team is your imagination.
You might be a young family who wants to start putting up some shots and start playing basketball, or you might be a high-level player who needs to keep working on your game. Whatever the case, DreamCourts will provide you with exactly what you need.
Schools now can provide students with high quality basketball courts too. From primary school age right up through to tertiary level at universities and on TAFE campuses, a DreamCourt can be built on any premises to give students access to the best basketball system and flooring set up imaginable.
Also, if you are a local council and trying to provide areas for those in your community to positively spend their time then offering basketball courts has always been one of the best ways of doing that.
Councils can now have a DreamCourt installed, choose whatever design they like and not only make it appealing to their constituents, but make it a place their community young and old will flock to.
DreamCourts can also provide any event you are running a massive boost by having an attractive, high-quality basketball court for your guests to get out and shoot on.
Whether it's an official 3x3 tournament which is rapidly growing or if you just want your guests to have a bit of fun, all you need is a driveway, a car park, a bit of grass or any type of area, DreamCourts can install a court that will ensure everyone in attendance has a great time.
What DreamCourts provides you is the chance to play basketball on what you thought was previously out of reach.
You can permanently have you dream court in your own home, install one for your local community, have it installed in your school or for any event you are running to provide the best possible entertainment. All at the best possible quality and at such value that you will be shocked it is available for everyone.
ORIGINAL ARTICLE: WHAT BASKETBALL COURT DIMENSIONS CAN DREAMCOURTS SUPPLY?