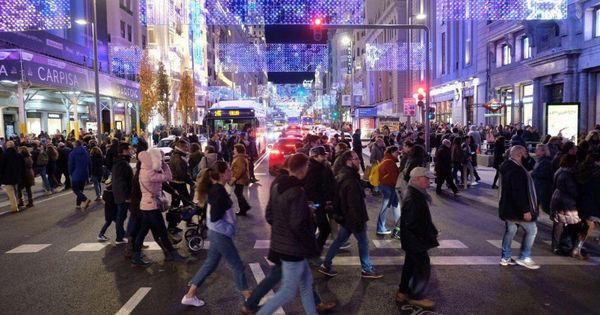 Car use was restricted in Central Madrid during the 2018/2019 Christmas period leading to a... [+] significant increase in pedestrian footfall – and spending.
Cities which want to boost takings in shops and restaurants should restrict access for motorists, a new study suggests. Madrid closed its central business district to cars for the first time during the 2018 Christmas period and an analysis informed by Spain's second largest bank has found that, year-on-year, till transactions were significantly boosted by the measure. The closure also had another benefit: cleaner air.
Twenty million anonymized transactions were analyzed by the bank and Madrid city council, and it was discovered that the decision to limit road access to the city center by motorists led to a 9.5% increase in retail takings on Madrid's main shopping street, the Gran Vía.
Banco Bilbao Vizcaya Argentaria – better known as BBVA – compared the 2018 takings with retail data from two previous Christmas periods, and found a 3.3% increase in spending across the whole of Madrid thanks to the restriction on car use in the central area. The study, carried out in association with the City of Madrid, measured sales between December 1, 2018 and January 7, 2019.
The City of Madrid's imposition of a "low-emission zone" for the Christmas period led to benefits to citizens as well as shops and restaurants – there was a significant fall in air pollution during the period of the experimental motor-traffic restrictions.
According to a report in El Pais, emissions of nitrogen oxide fell by 38% in Madrid's center the first month the program was implemented, while carbon dioxide emissions dropped by 14.2%.
PROMOTED
The report was based on a study by the Technical University of Madrid which found that emissions also fell across the city, with NOx and CO2 emissions falling by 9% and 2%, respectively, in December.
+++
The article was corrected with information on the Technical University of Madrid study on air pollution. Previously this piece had been reported there was a 71% fall in air pollution, a statistic given in the BBVA report.
+++