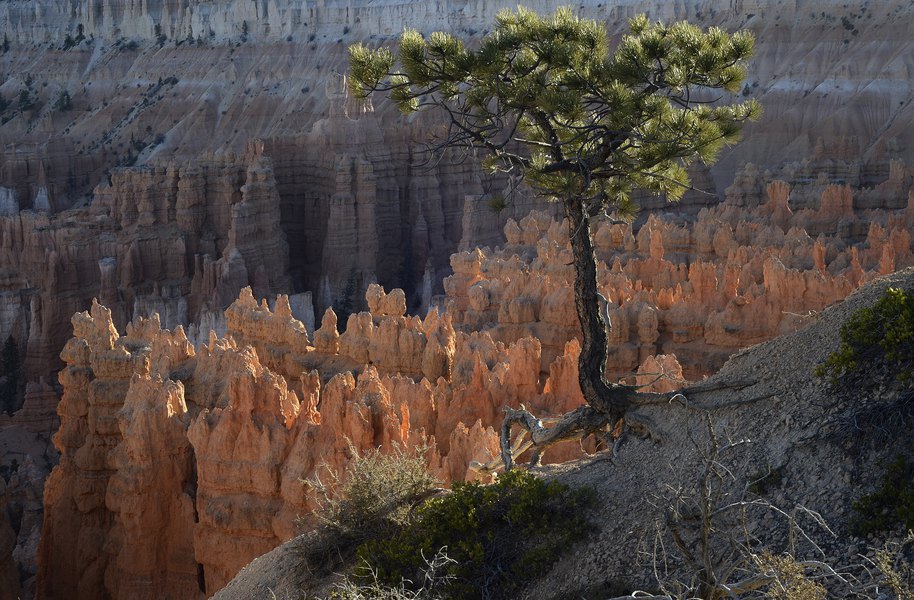 Between the two of them, Paul Cox and son Alex have have been flying sightseers over national parks for decades, mostly at southern Utah's Bryce Canyon National Park, where their air tour company is based at the nearby airport.
There is no better way to experience Bryce's astonishing hoodoos, towers and arches eroding out of the Paunsaugunt Plateau's east face, the pilots say. Their helicopter flies "low, slow and up close" along the canyon rim.
"That's what makes us special," said Alex Cox, whose dad started Bryce Canyon Airlines & Helicopters in 1977.
Scenic overflights at national parks, though pricey, prove popular with tourists. But they have gone largely unregulated despite a 20-year-old law requiring the National Park Service and the Federal Aviation Administration to craft management plans for each of the parks that host commercial scenic overflights, according to a recent U.S. Court of Appeals ruling.
A three-judge panel blamed the gridlock on a turf battle between the two federal agencies, due to their disparate missions, and ordered them to develop management plans within two years, as specified under the Air Tour Management Act passed by Congress two decades ago.
"For 19 years, the agencies have failed to comply with their statutory mandate despite Congress' command to 'make every effort' to do so within two years of an application," Judge Thomas Griffith wrote in the May 1 opinion for the appellate court's influential D.C. Circuit. "Promises are not enough; judicial intervention is needed."
For their part, the Coxes dispute the entire premise of national parks regulating air tours since operators are not actually using the parks, but rather federally controlled airspace, which is the FAA's purview. They also reject assertions their tours hinder park visitors and wildlife.
"It's a user group issue," Paul Cox said. "There is a handful of hikers who don't want to hear anything. If it's so awful, why are millions of people doing it? It's a control issue; they can't control the airspace. They are trying to micromanage us."
The ruling stems from a lawsuit filed two years ago by Public Employees for Environmental Responsibility, or PEER, targeting six parks, including Bryce, that accounted for about a third of the 47,000 commercial flights at destinations administered by the park service.
While the Utah park doesn't see a huge amount of traffic relative to other national parks, advocates considered Bryce a priority because it is a small park visited by around 2 million people a year. In addition to Bryce Canyon Airlines, eight other companies are allowed to operate there under "interim authorities" granted years ago.
While the Coxes hold interim authority to conduct about 1,300 flights a year at Bryce, they have been doing only about 500 in recent years, accounting for nearly all the commercial traffic there. About 75% of their trips are by helicopter, costing $175 for the 35-minute "Full Bryce Canyon" tour, according to the Coxes.
"Per acre, Bryce has the most flights," said Dick Hingson, a Sierra Club activist and a one-time contract employee who worked at the park in the 1960s. "Bryce wound up with the most interim authorities under exaggerated claims, not supported by any documents we've seen. [Nine operators] claim 3,153 flights over one of the smaller parks, so you could see the immediate conflict with that."
For the past decade, the park service has been trying to work out "voluntary" agreements with operators that could legally stand in for management plans. But those efforts failed, and the operators have fallen back on their interim operating authorities.
"What does interim mean?" asked Hingson, who provided evidence in the PEER lawsuit. "It shouldn't mean 20 years-plus with no end, but that's where we are."
Sign up for our Top Stories newsletter!
The court agreed and applied its order not just to the six parks in the PEER suit but also to all 23 national park units that see 50 or more commercial overflights a year. The other parks due to get management plans include Utah's Arches and Canyonlands national parks, Glen Canyon National Recreation Area, Rainbow Bridge National Monument and Natural Bridges National Monument. (Grand Canyon, for one, already has an overflight management plan.)
"A plan would have the option of saying no overflights if that's warranted for that park," said PEER general counsel Paula Dinerstein, who argued the case before the appeals court. "The hours have to be regulated, altitude, location, time of day, special times of the year where they shouldn't have any flights at all due to wildlife or events in the parks. There might be areas that should be preserved for a quiet wilderness experience."
Judge Griffith is a graduate Brigham Young University, where he was serving as general counsel and law professor when he was named to the D.C. court by President George W. Bush.
In his ruling, he chided the two federal agencies for not cooperating to meet the law's mandates.
"Each agency prioritized different goals and sought to retain as much control over the process as possible. The FAA emphasized air traffic safety; the NPS, protecting park resources and visitor experience," the judge wrote. "As a result, the agencies bickered over everything from responsibility for making certain NEPA [National Environmental Policy Act] determinations to the proper metric for measuring baseline noise levels."
The court gave the two federal agencies 120 days, or by Aug. 28, to produce a schedule for bringing all 23 parks into compliance.
"If the agencies anticipate that it will take them longer than two years [to produce the plans], they must offer specific, concrete reasons for why that is so in their proposal," the judge wrote. "The court will retain jurisdiction to approve the plan and monitor the agencies' progress."
The Coxes, who say they have operated for 43 years with clean safety records, fear a management plan crafted by the park service will result in "arbitrary" solutions to problems that might not exist.
"If they want to do it right, they would bring in noise-monitoring equipment and record our sounds as we fly different routes and different altitudes. They don't have enough time to do that," Paul Cox said. "We aren't going to voluntarily accept something that you have arbitrarily thrown at us. You can't just do things that run us out of business."
He said his firm is willing to discuss noise-abatement strategies, time-of-day limits and other restrictions as long as such measures address actual problems with commercial overflights and will improve the park.
Questions for this story to the park service were directed to its Natural Resource Stewardship and Science program, which was unable to provide anyone for an interview.
"They should be subjected to a concession agreement," Hingson said, "just like any bus company or backpacking outfit, then [they] would be paying those fees."
"We use federally controlled airspace," Paul Cox said. "That's their [the park service's] problem. They want to control us. They would love to charge us, but we don't use their facility. We leave it the way we found it. We are not walking up and on the rim, leaving dirty diapers on the trails."
His and his son's biggest fear is that the new process will result in a management plan that will render their business unprofitable and wreck their livelihood. In that case, Paul Cox warned, the park service may find itself back in court.