In 1985 I met Karla Homolka, and again several times after, including in 2009, which is this picture shown here on the left, that I took in California at a dinner party. I sat next to her. I was never told her name. She made me uncomfortable, but at the time, I wanted to be polite during the group dinner. (Since then, I have absolutely learned how to hold my own and remain professional without being polite, as I believe that when you're next to a Scorpion, being polite can make things worse. If you look them in the eye, and they know that you know who they are and what they are, the power dynamic instantly shifts.)

She is associated with 7th Day Adventist, which relates to an adopted boy, born in 1960 from his birth certificate, who is also a felon, and who had drug parties with Homolka in the 80's. His aunt, is the same religion, and his adopted grandfather, a former New York Police Officer convicted of fraud. I found his convictions over the Thanksgiving/Christmas Holidays we just had, and I felt an emormous sense of relief. It was also interesting to me, that the historical stories I'd been told 1985-1989, from this tribe of people who engages in Black Market Adoptions, were actually largely true. They simply ommitted their comments and the details of their existing convictions which are public records.

There is a newspaper article about a racket Homolka was running, related to stealing plates from cars and switching them out, in part to confuse the issue when they used their getaway cars after commiting crime. Legally, the plate needs to match the car, and it shrowds evidence when there are discrepancies.

I believe, that Homolka works with Schleimer, and the 1960 adopted boy, now man, who has numerous felonies in California (and a religious marriage to Marlyse Honeychurch.) I believe they either work with, or are enabled by, the convicted former officers in New York State as well. They're basically a crime family.

Their activities and self-reports, disclose Modern Day Slavery with illegal recording of unsuspecting women, as well as human trafficking, black market adoptions, but also worse crimes to the general public related to financial trafficking (a major pull for me to expose as I have worked to protect assets since 2000).

In short, these are all Cluster B disordered criminals, who hurt others for profit. There cannot be a place for them to continue hurting victims in our Modern Day Society. I want to promote awareness and prevention of the crimes they commit.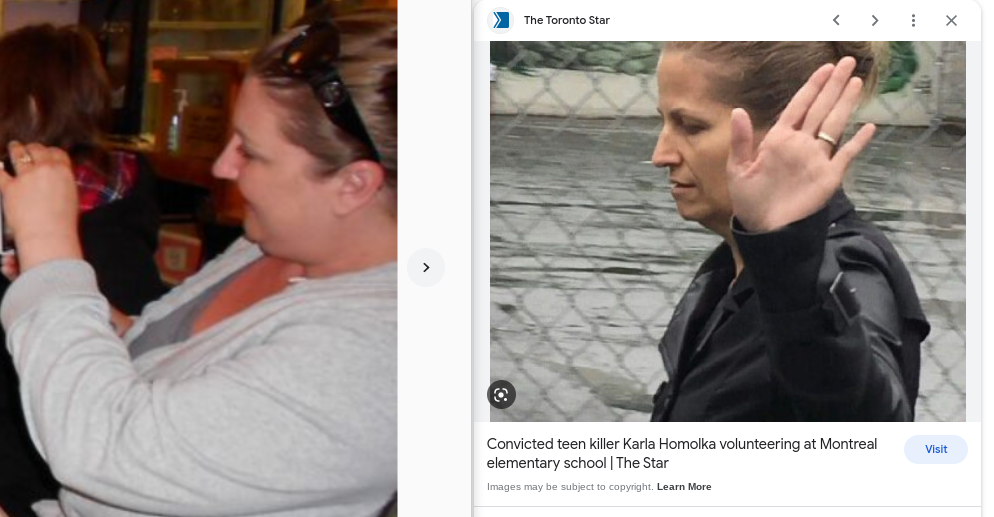 REFERENCES:
https://tinyurl.com/NYPDcorruption
https://tinyurl.com/KarlaHomolka

https://tinyurl.com/CharleyRoss
https://www.ilo.org/global/about-the-ilo/newsroom/news/WCMS_855019/lang--en/index.htm
https://www.dhs.gov/blue-campaign
OTHER INCIDENCES OF POLICE CORRUPTION:
https://casetext.com/case/oliver-v-ny-state-police-4
62M Lawsuit for Police Conspiracy which prevented a predator from being charged, even though he confessed. Won in favor of Plaintiff.
https://casetext.com/case/kristiansen-v-town-of-kittery-2
https://wgme.com/news/local/town-police-failed-to-arrest-man-who-confessed-to-raping-girl-in-77-lawsuit-claims