1. Adding and removing content
Your portfolio will always display the content of the collection(s) that you connect to it. The way this works is by logging in to your Authory account and then going to your Portfolio section.
In the left sidebar menu, you'll find an option labeled "Content" that you'll need to click:
Next you'll see a list of the collections that are currently connected to your portfolio. "Connected" in this context means that the content of these collections is displayed on your portfolio: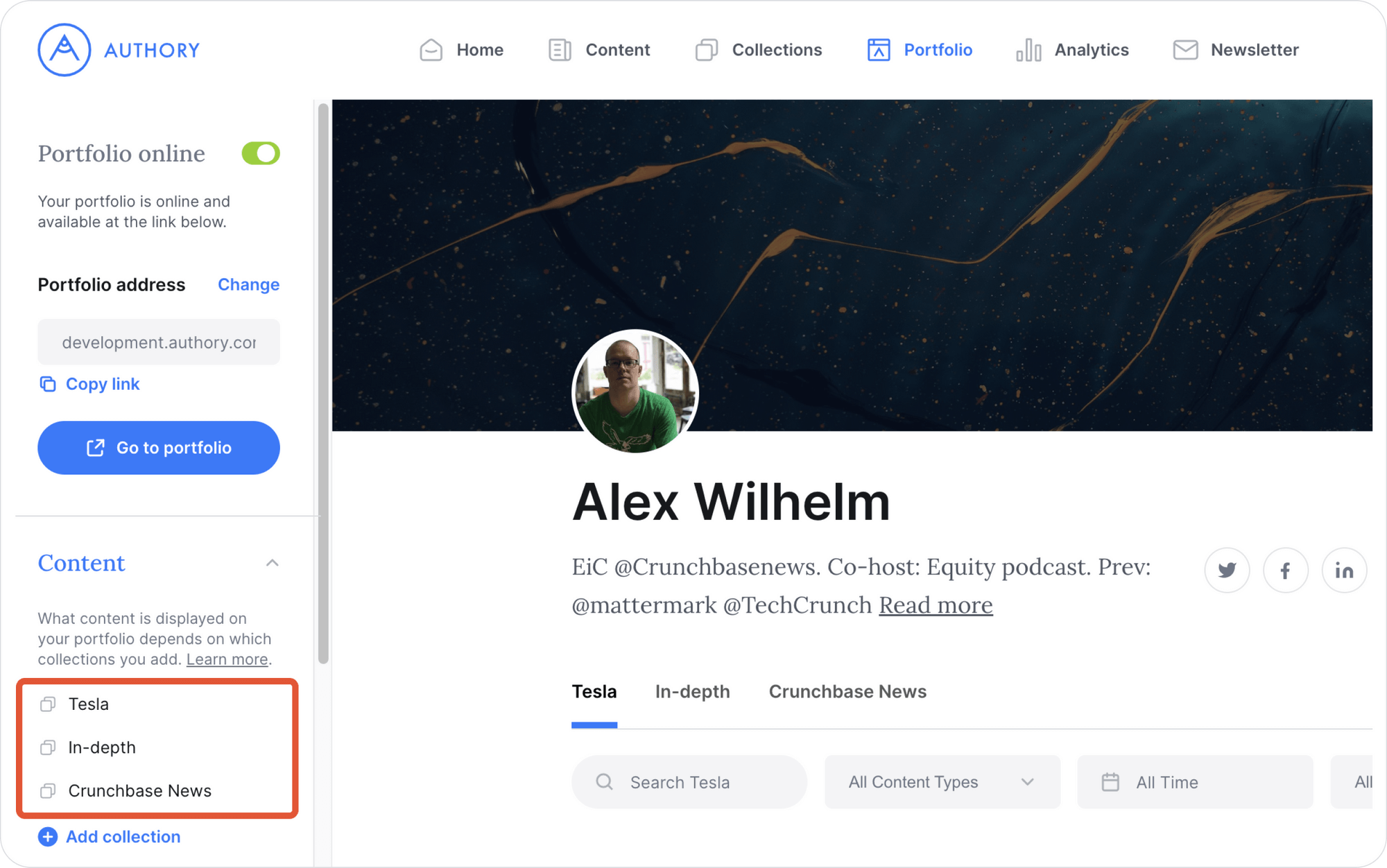 💡
If you see this setting for the first time, you'll notice that there is a single collection called "My Content" connected to your portfolio. This is an example collection created by default by our system that automatically displays all your articles. It's meant to show you how the system works, and the "My Content" collection can be edited or removed anytime.
2. Add collection
You can add collections by clicking the "Add collection" link: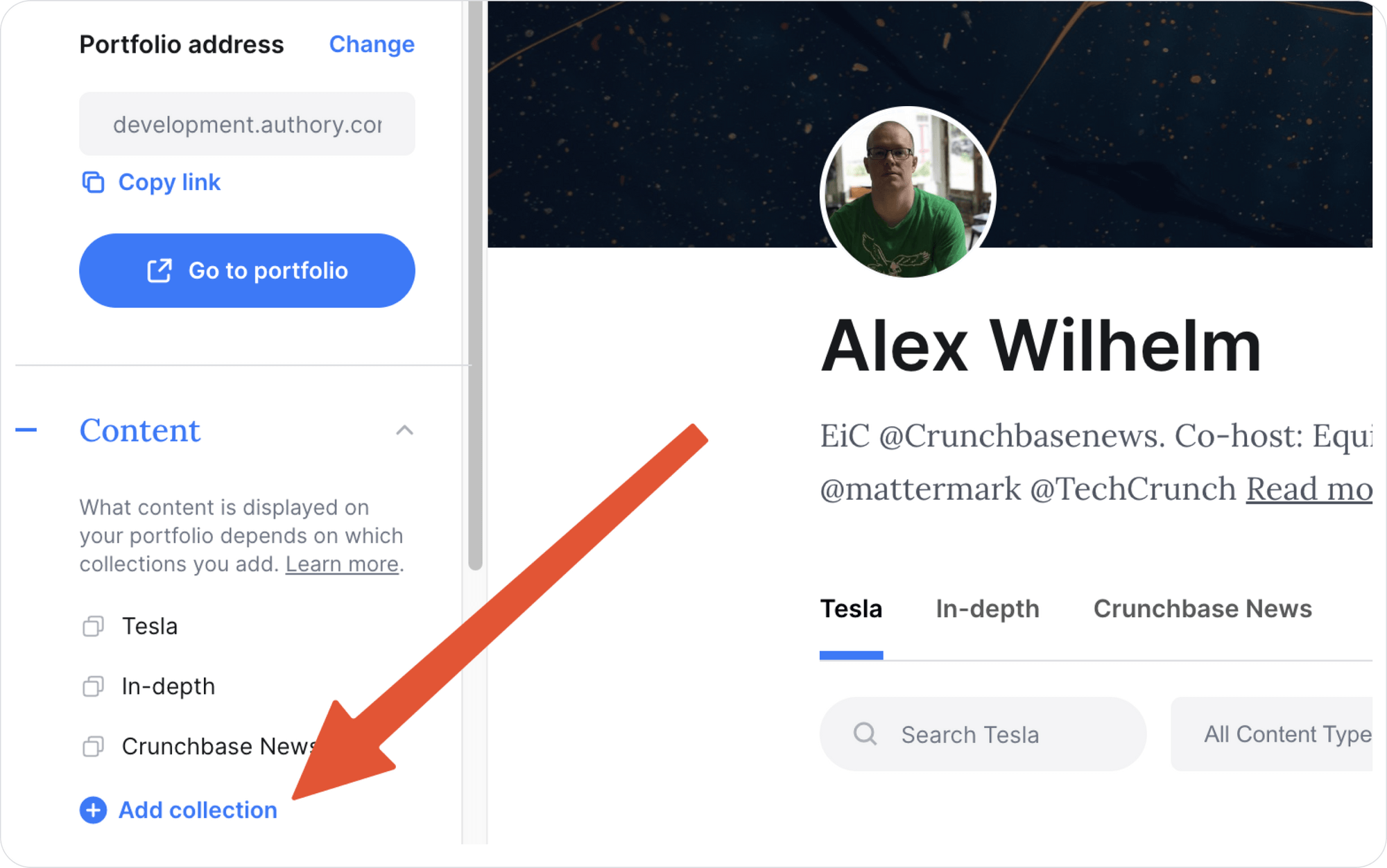 Many customers use numerous collections on their portfolio to categorize the content items that are displayed by topic, type or source.
3. Remove collection
If you don't want a particular collection to appear on your portfolio anymore, simply hover its name with your mouse and you'll see an "x" icon appearing that you'll need to click to remove it.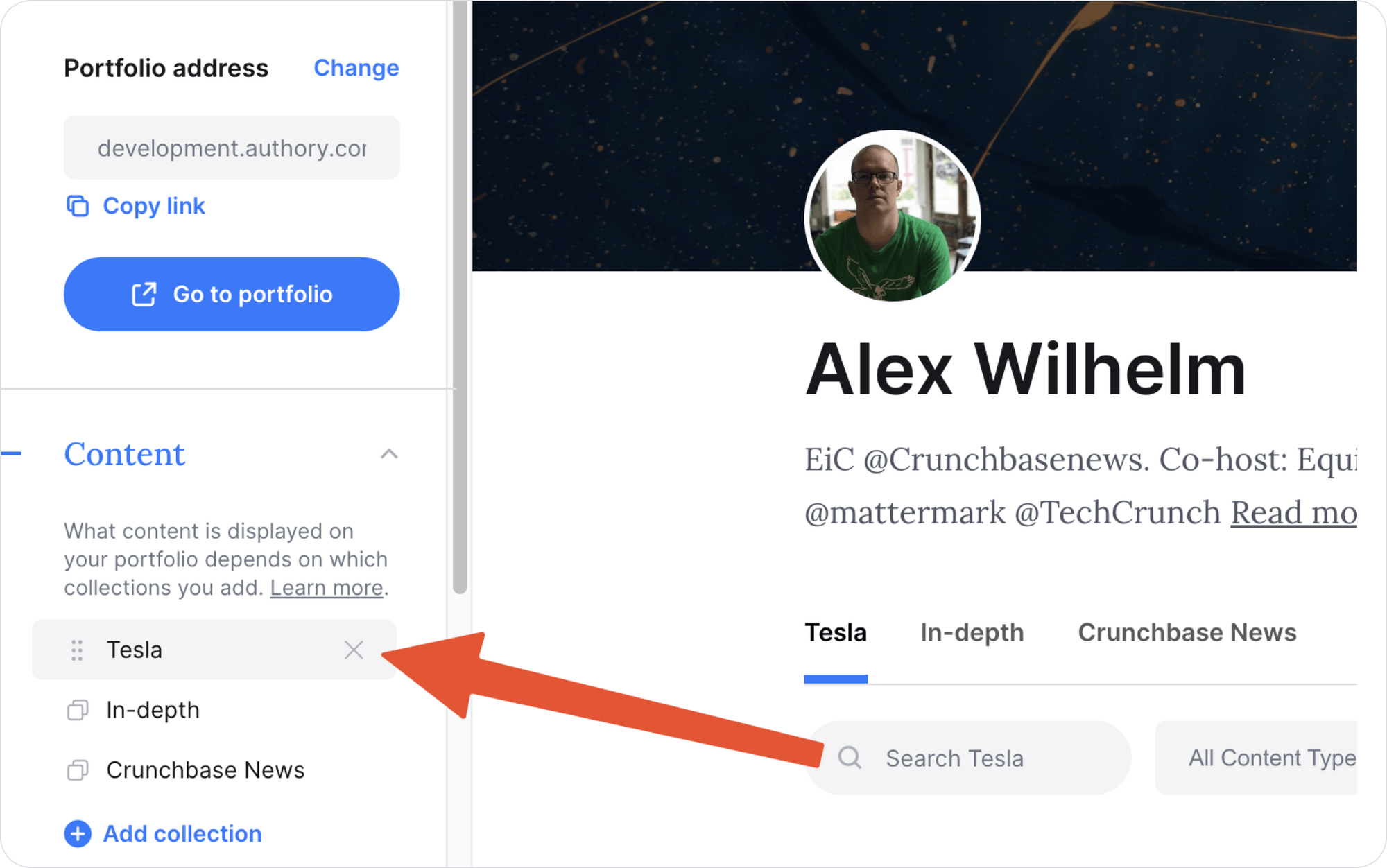 4. Change order of collections
If you connect more than one collection to your portfolio, then they'll appear as separate tabs on your portfolio. The collection that's on top in the menu bar will be displayed in the default tab that everybody sees when they visit your portfolio.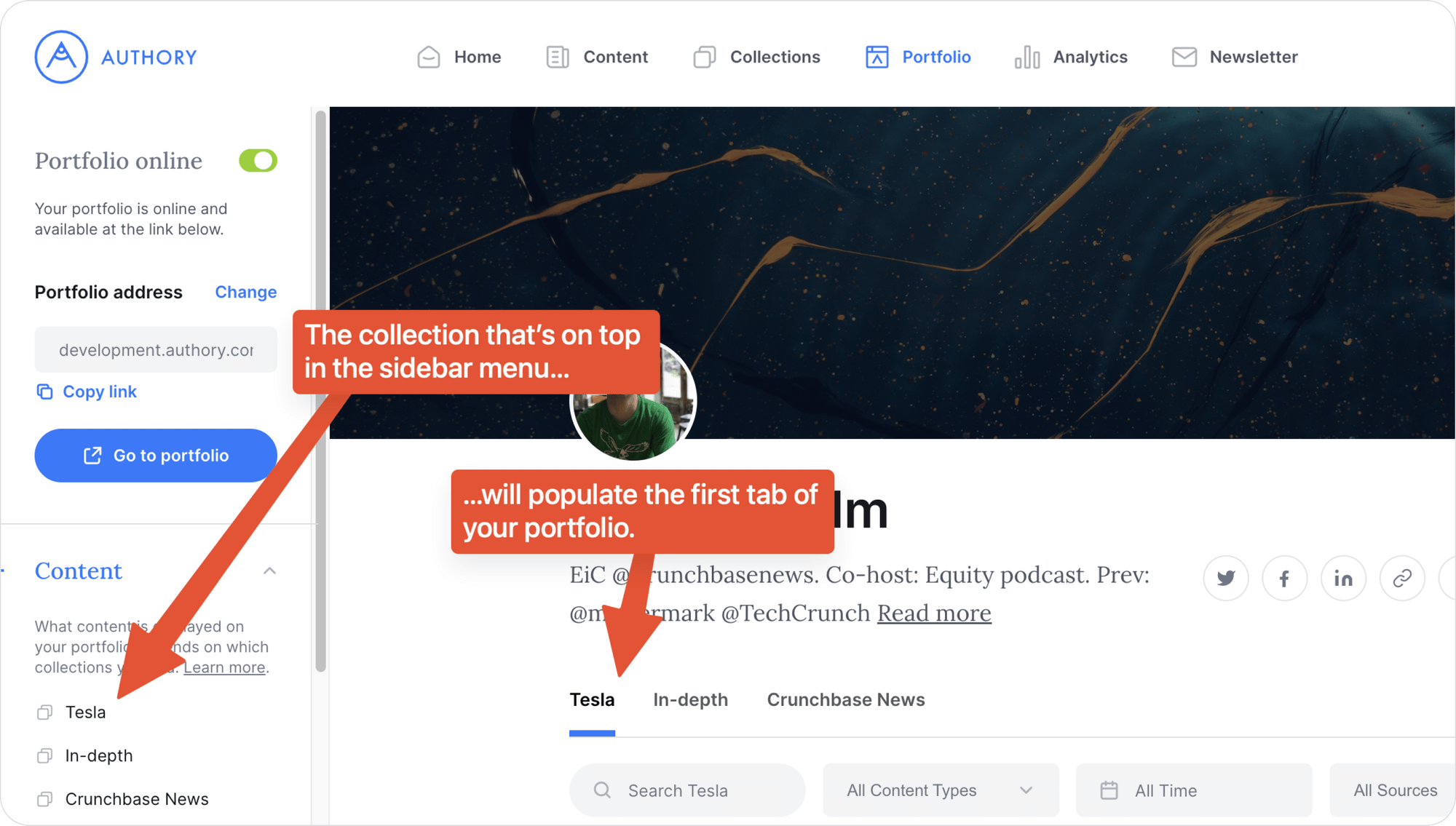 You can change the order of the tabs by dragging and dropping the respective collection in the menu with your mouse.
5. Change order of content items
The content items on your portfolio are displayed in reverse chronological, meaning the newest pieces are displayed first. While you currently can't change this order manually, you can pin specific content items to the top (see below).
6. Pin content item to the top
You can pin any content item to the top of a collection, meaning it will stay at the top even if there are content items with more recent dates in that collection.
If you want to pin an article, go to the respective collection in your Collection section and hover the content item. A menu icon with three small dots will appear in the bottom right of the content item: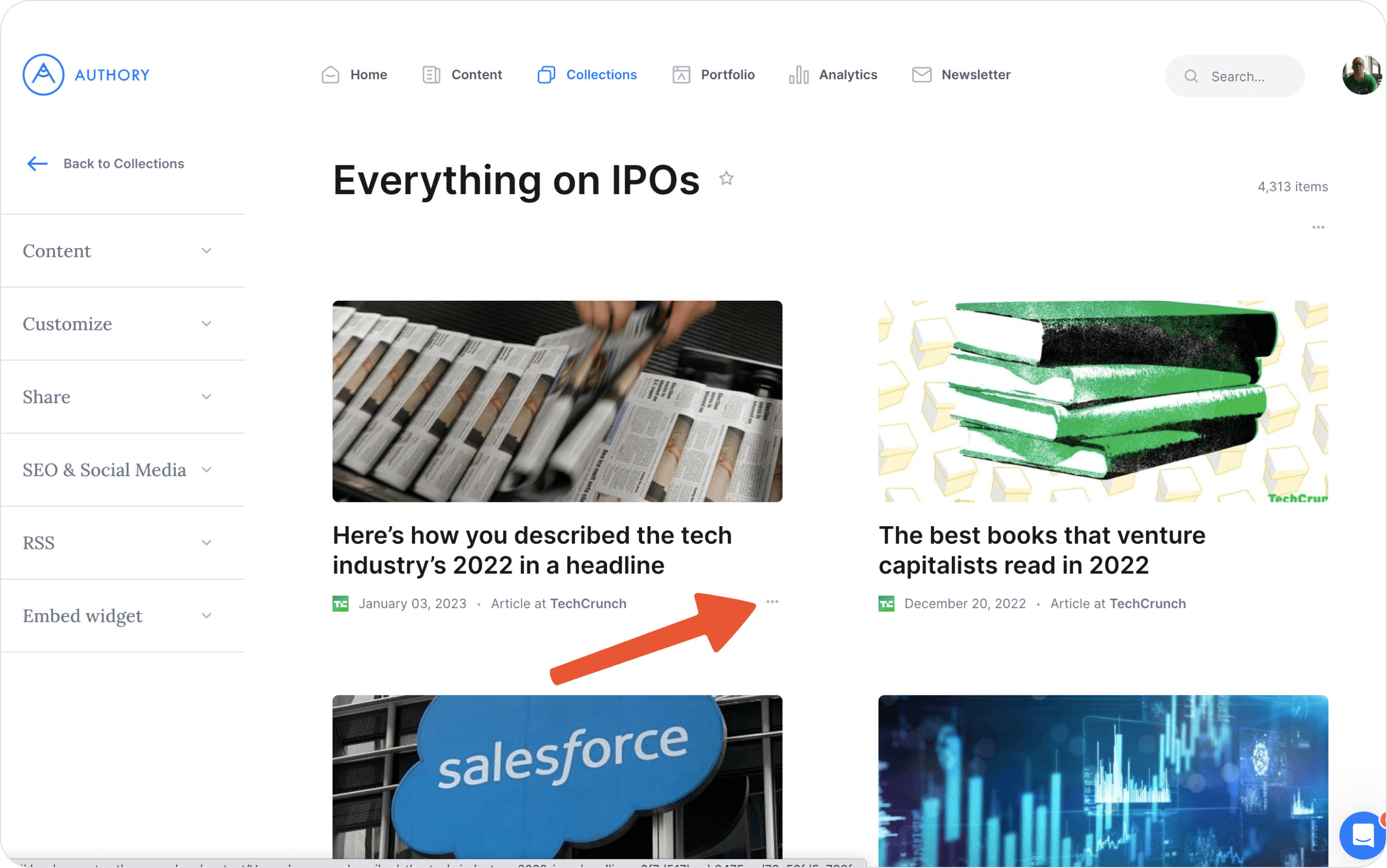 Next click the menu icon, select "Pin" from the dropdown, and the content item will appear at the top of the collection.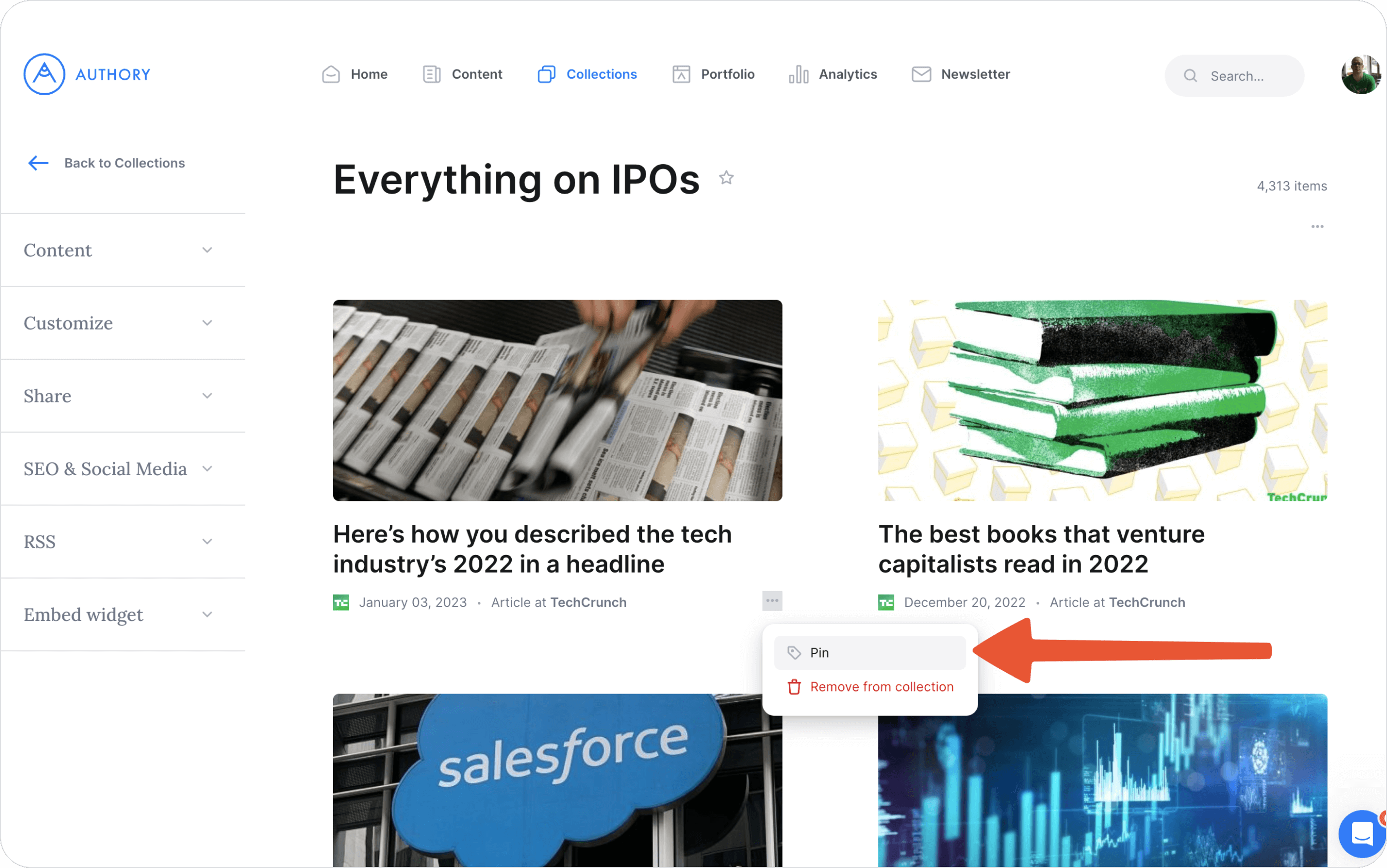 💡
Whether a content item is pinned to the top of your portfolio depends on whether you've pinned it to the top of the collection(s) that you have connected to your portfolio.
7. Remove specific content items
If you don't want certain content items to appear on your portfolio, then you can remove them from the respective collections that you've connected to your portfolio.
There are two ways to remove a content item from a collection:
1. In the collection details view
Go to your Collection section and open the respective collection. If you hover any content item you'll see a small menu icon appearing in the bottom right corner:

Click the icon and select "Remove from collection":

2. In the content details view
Simply click on the content item to open it in full view, and select "Collections" in the sidebar: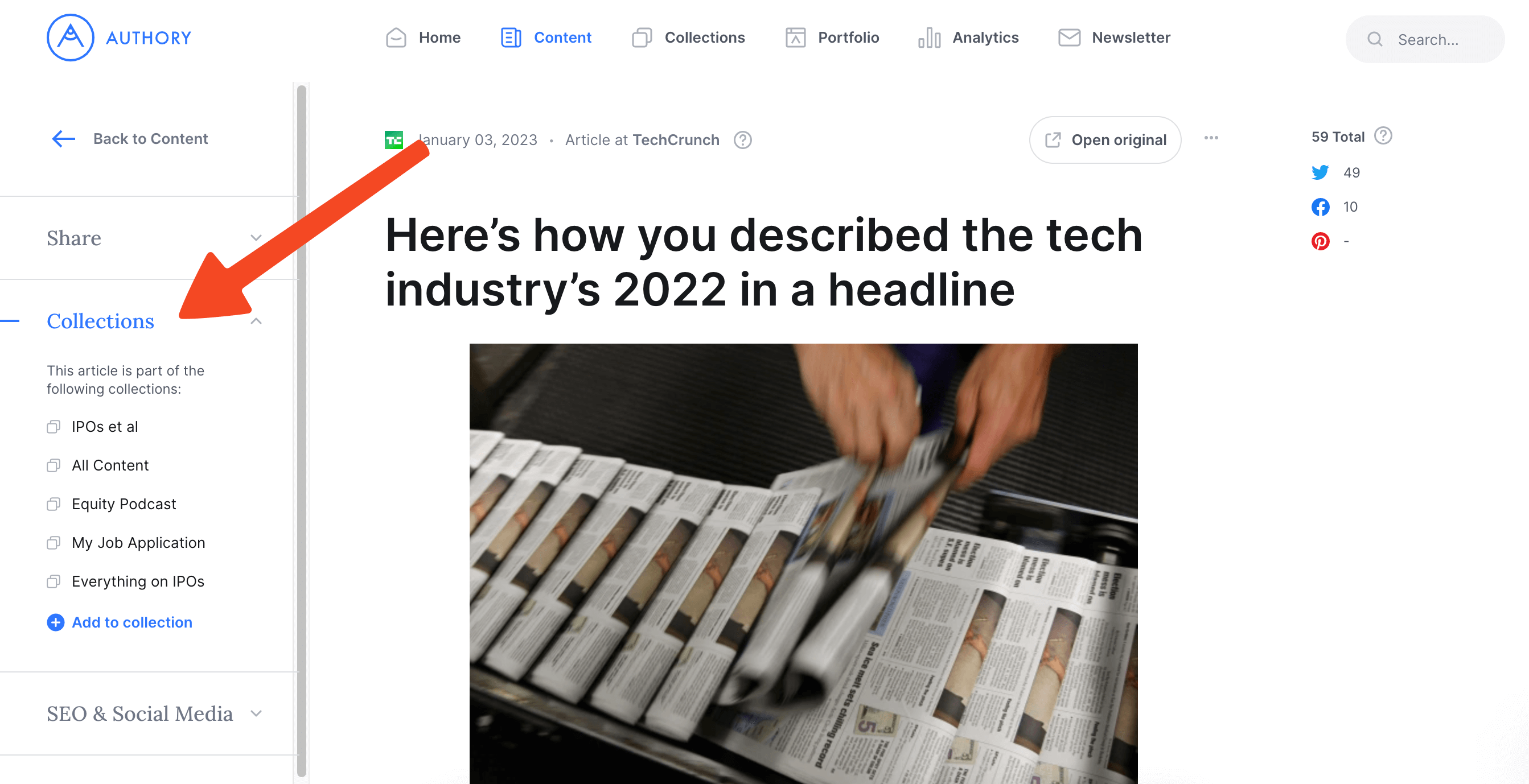 You'll see a list with all the collections that this content item is part of. Hover any collection name with your mouse and you'll see an "x" icon appearing next to the name: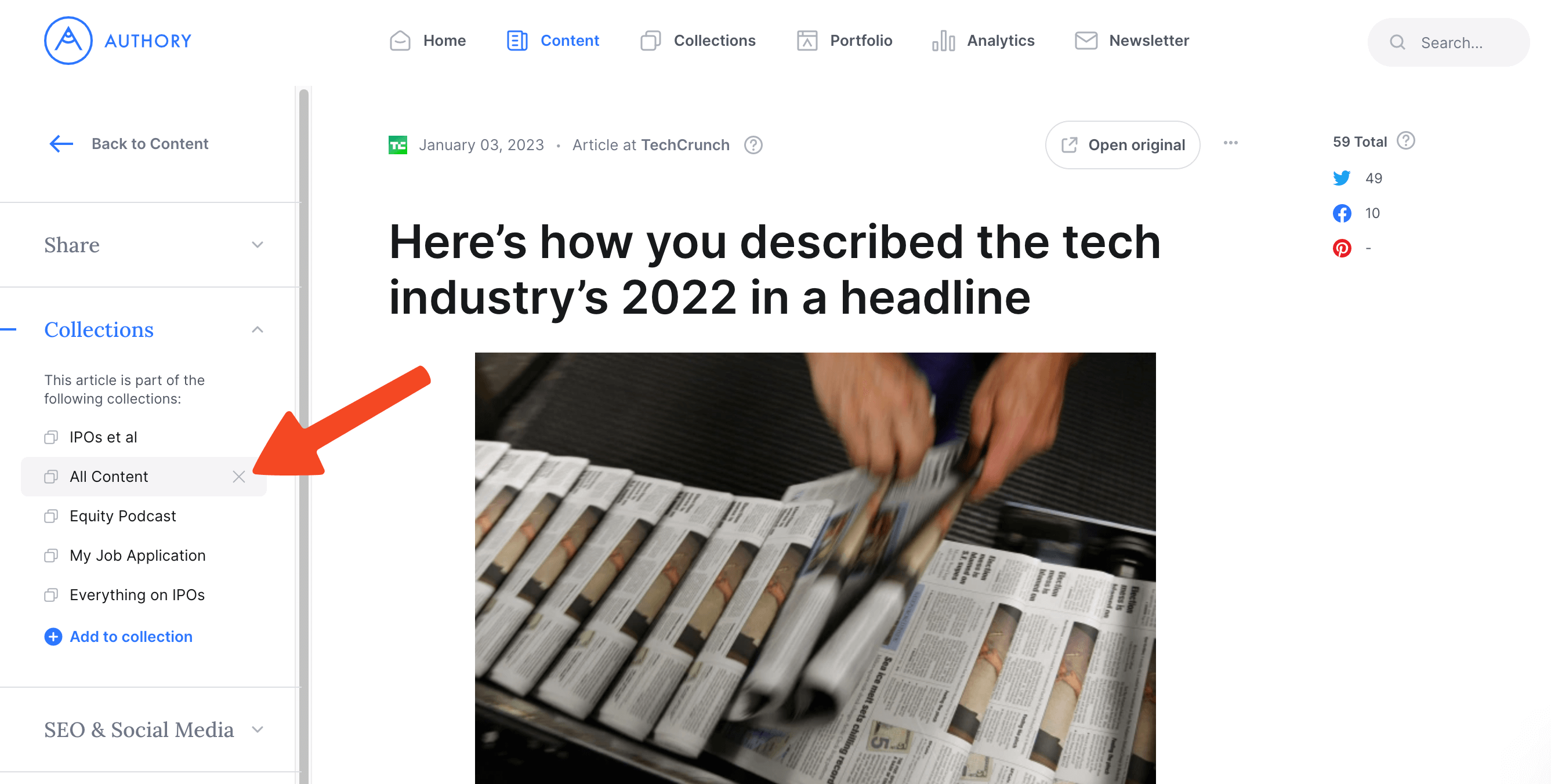 Clicking on this icon will remove the content item from the collection, and if that collection was connected to your portfolio, it will also remove this content item from your portfolio.
8. Self-updating settings
Whether your portfolio is self-updating or static depends on the settings for the collection(s) that you have connected to your portfolio.
If you go to the detailed view of the respective collection via your Collections section, you'll find a link labeled "Content" in the left sidebar menu.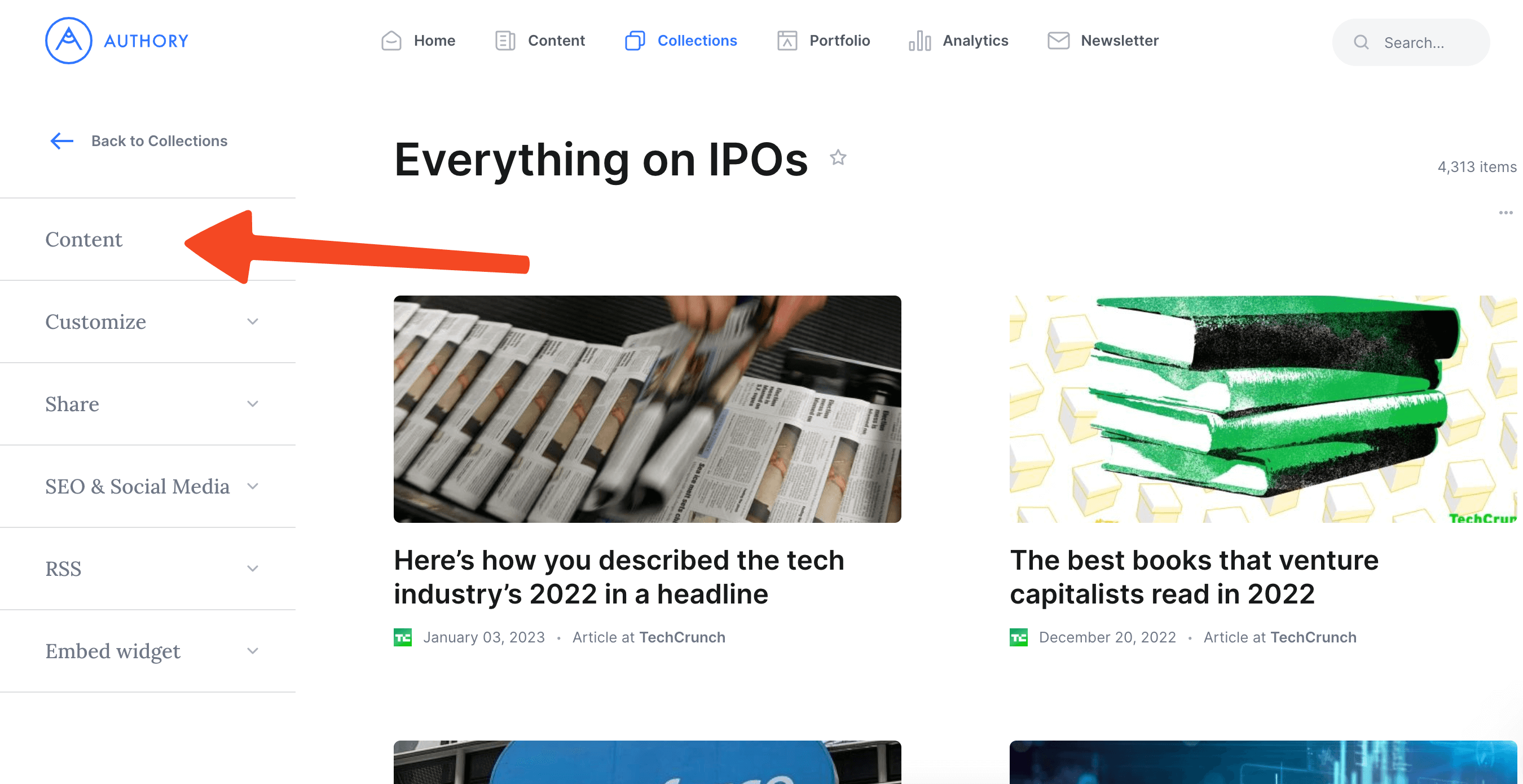 After clicking it, you'll see a toggle that determines whether the collection is auto-updating which means that new content items coming into your Authory account and matching the rules of the collection will be added to the collection automatically.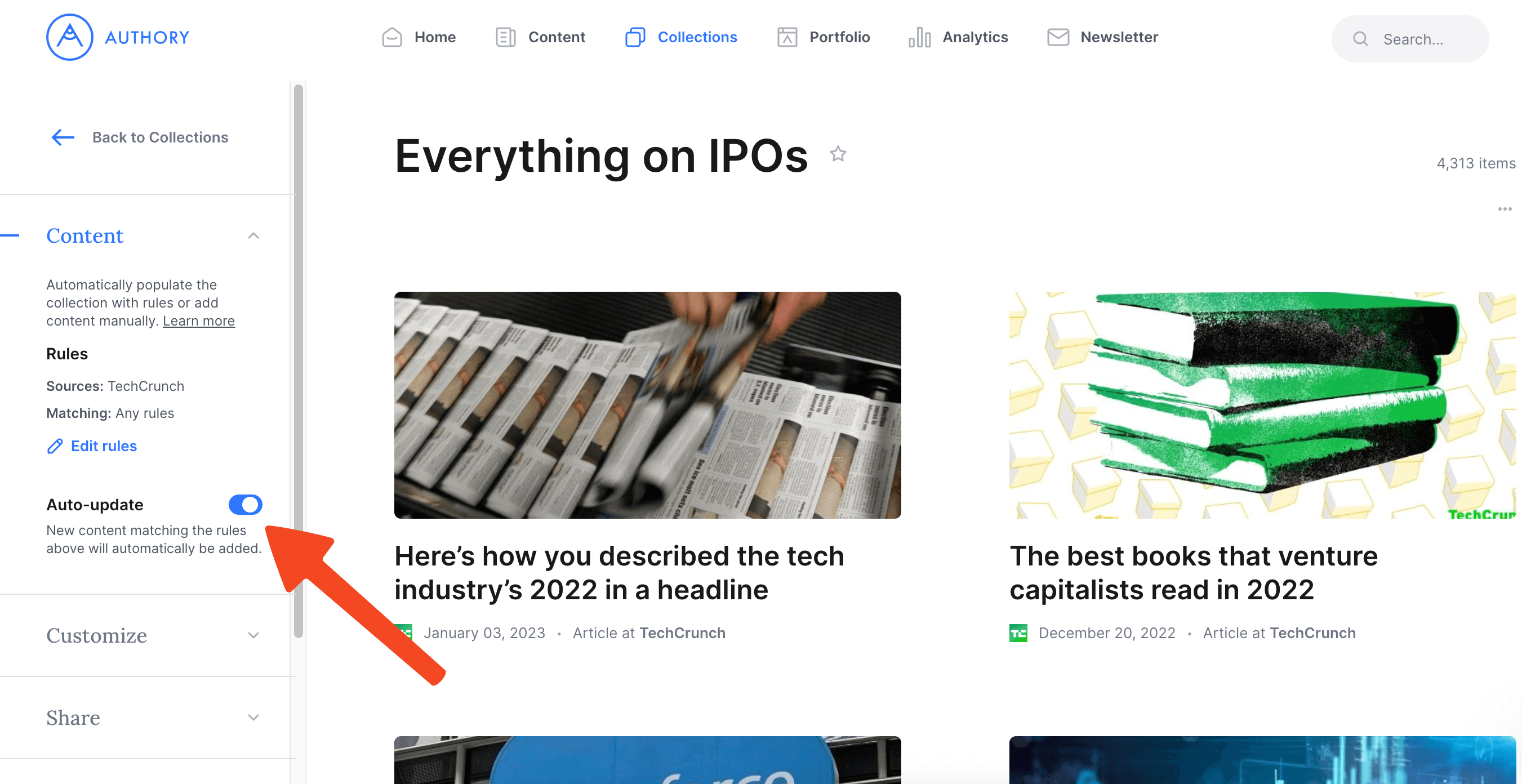 Example: You have created a collection that's based on the rule "add all content items of the content type Article" With this rule in place, the collection will contain all your articles. If new articles come into your account, they'll be automatically added to this collection. And if this collection is connected to your portfolio, then the new articles will automatically appear on your portfolio, too.
💡
Please note that only collections with Rules in place can be auto-updating. If you've populated a collection manually with content items and there are no rules, then our system can't know whether to automatically add new content items of yours to said collection or not. That's why it can't be auto-updating in that case and the toggle will be deactivated.
9. Collection Link Settings
You can set for each content item on your portfolio (or for all content items from a source) if the visitor should be forwarded to the original when they click the preview, or if they should see the copy of the content item that's stored iny our Authory account.
By default, they'll always be forwarded to the original. We have a guide here how you can change that.