In order to see the backed up version of any content item that's been imported to your Authory account, you can click on the preview in the Content section: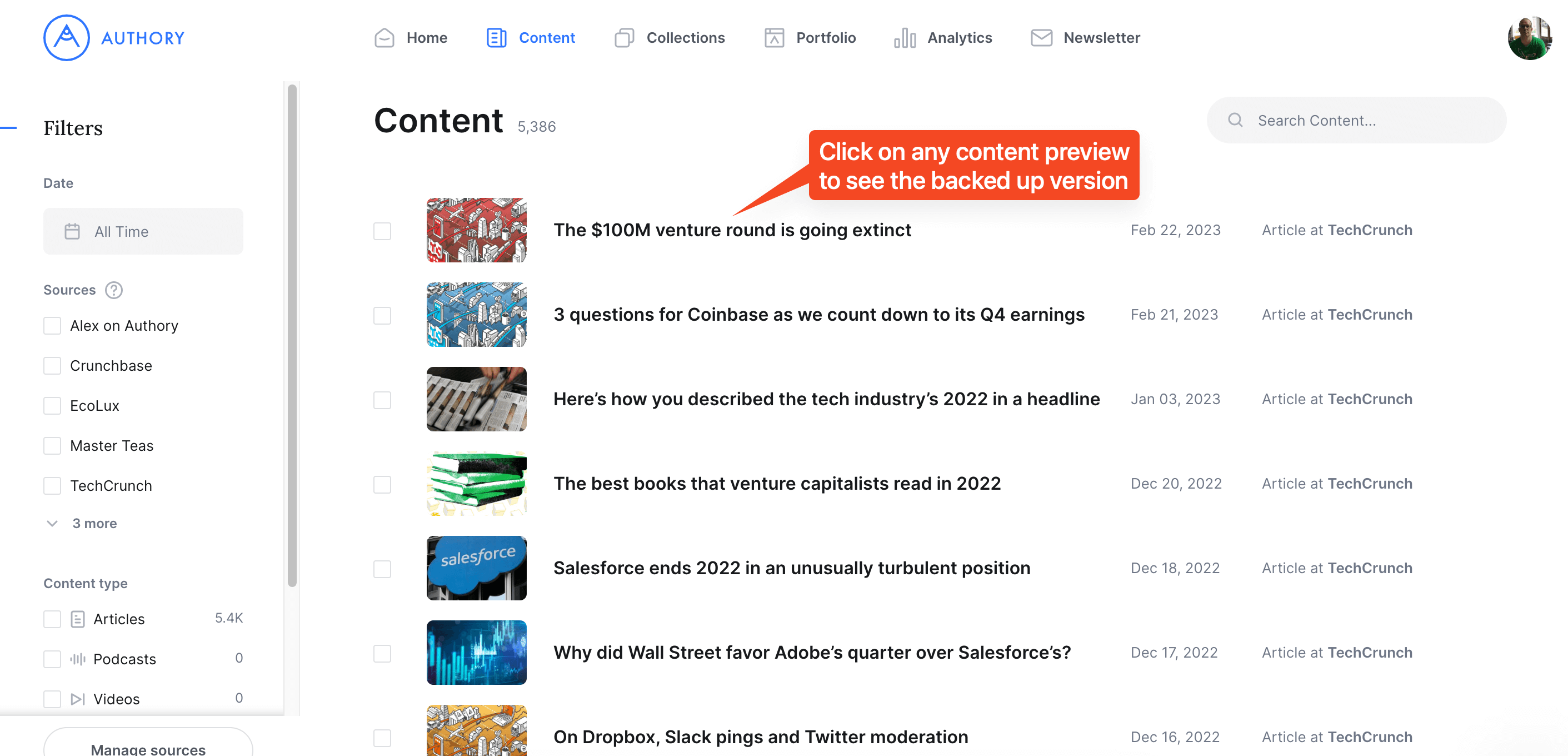 You can also access the backed up versions from any Collection details page: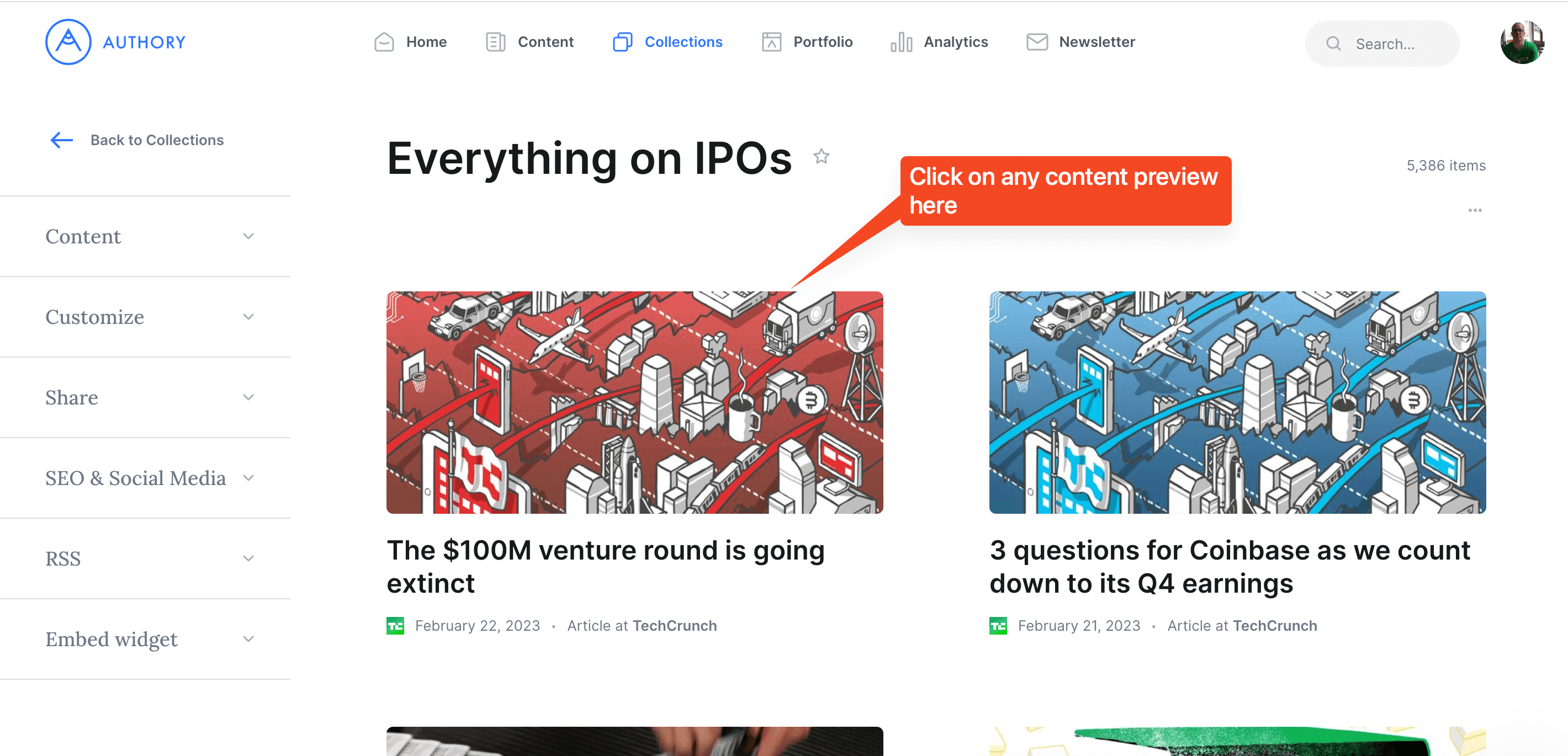 Alternatively, you can see the backed up version by clicking any content item in your portfolio section: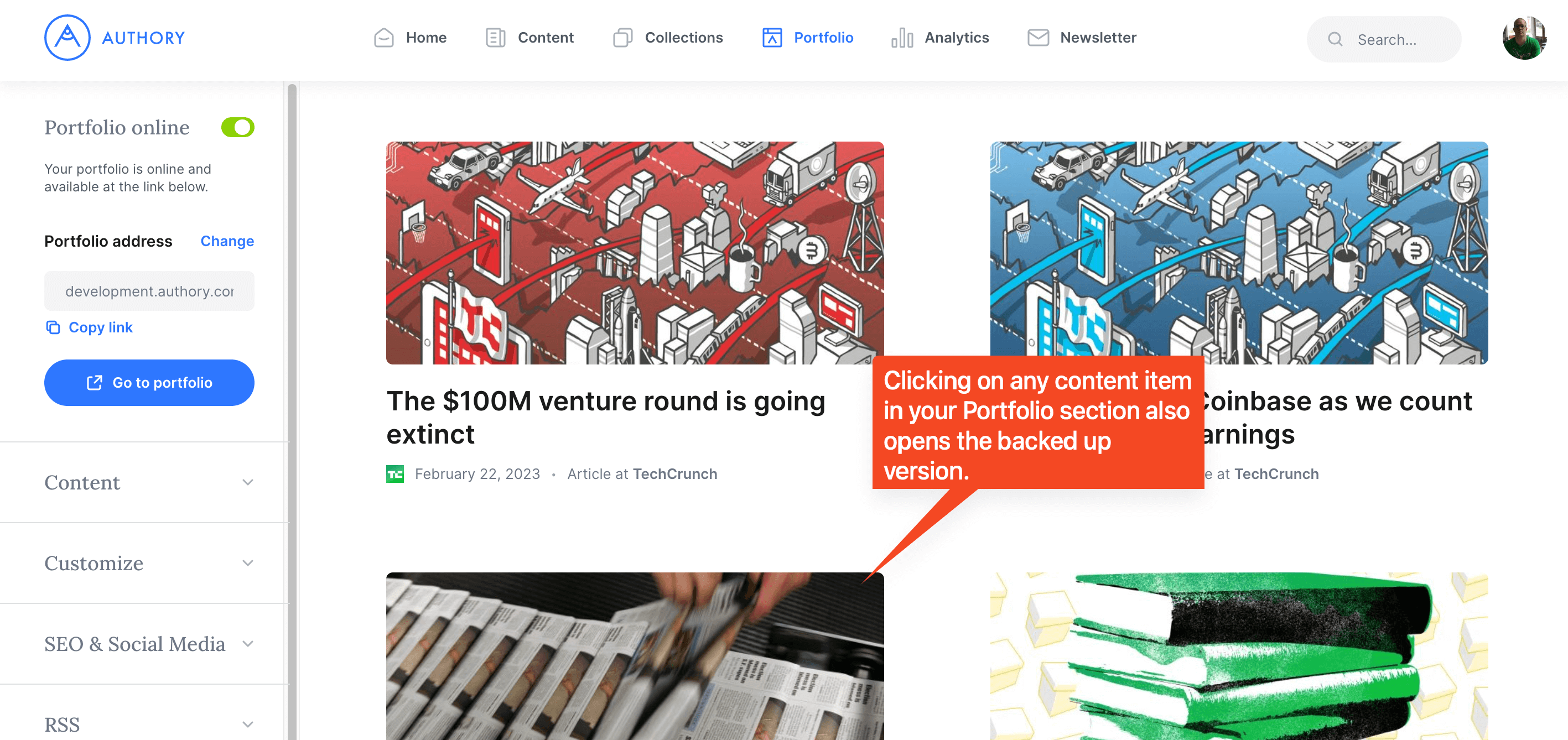 💡
The fact that you'll see a copy of the original content item when clicking on it in your Portfolio section doesn't mean the same will happen for visitors of your public portfolio. In fact, whether visitors should be forwarded to the original content when clicking the preview, or whether they should stay on your portfolio and see the copy instead is something you can set up. Here is a quick guide.
1. Article backup
Authory backs up your articles including all images in full text. Not as screenshots, not as PDFs, since both become pretty much useless when you have more than a handful, and then can't filter or search them.
With Authory you'll have the real text, and the real images instead, often looking better than the original piece.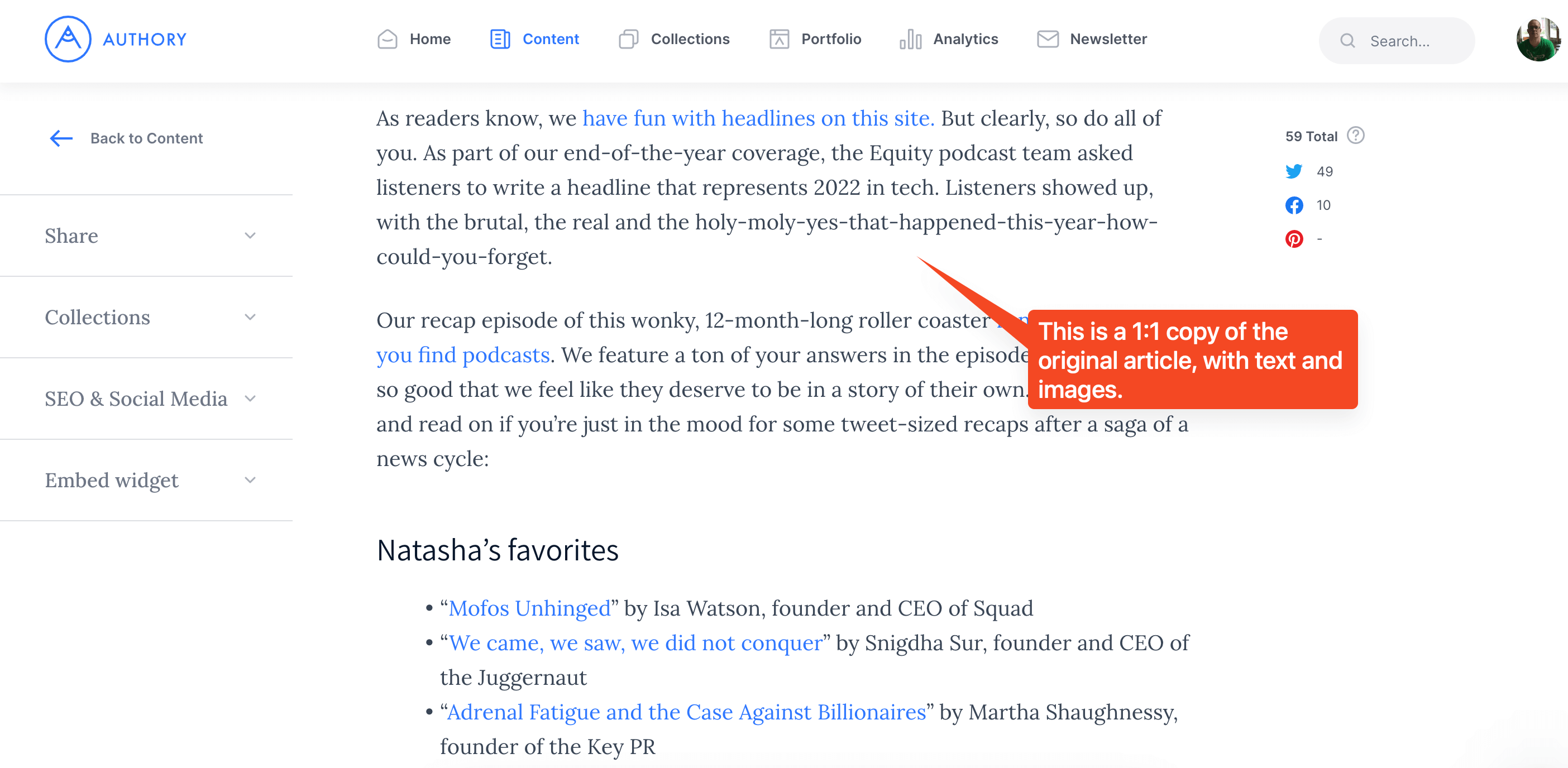 You can turn the copy in your Authory account into a PDF anytime. Simply click the menu icon and select "Download PDF":


💡
You can also download the entire archive of articles in your Authory account all at once. Simply go to your
Settings
and click the button labeled "Download" in the "Archive download" section.
2. Podcast backup
Authory creates a copy of every podcast episode that's imported to your account. On the details page of any podcast episode, you'll see an audio player that plays the backed up copy, no matter if the original still exists or not.



You can download the audio file anytime too:


3. Video backup
Authory creates a backup of all videos imported to your account, too. No matter if they come from YouTube, Facebook, LinkedIn or other sources.
As long as the original is still available, you'll see an embed of the original on the video details page: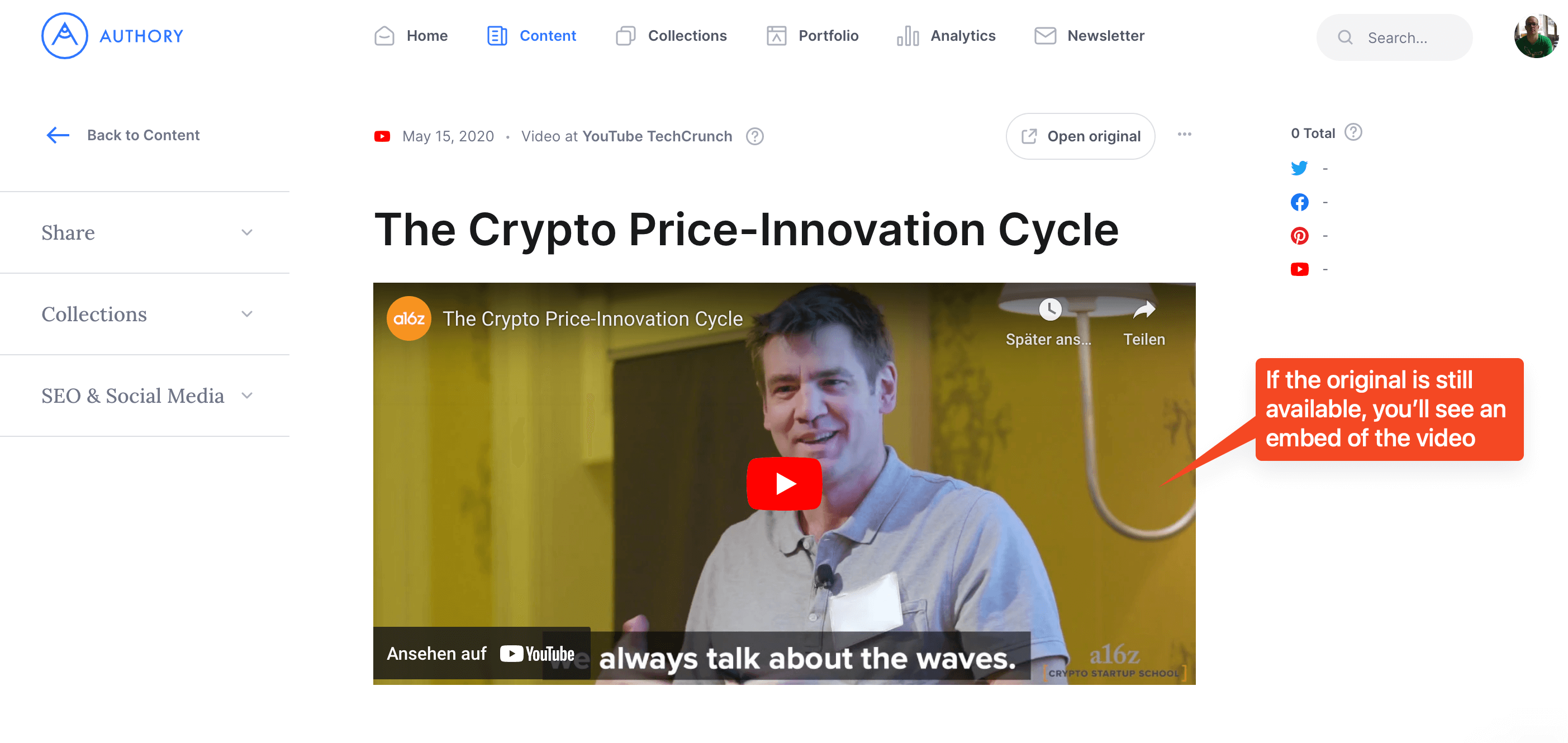 If the original is not available anymore, or can't be embedded, you'll see a custom video player instead.
You can download the original video file to your local device anytime by clicking on the Settings menu in the player, and then selecting "Download".
4. Social media backup
Authory can back up all your tweets, posts, images and videos on social media, too. The backed up versions will stay in your Authory account, no matter if you are blocked on the original social media platform:

Threaded tweets will look even better: