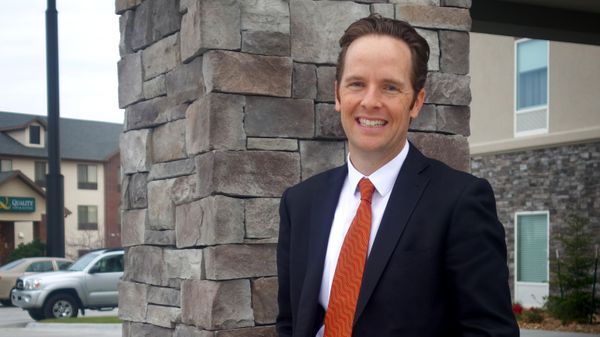 He's Midwestern all right. Looks you in the eye, dotes on his family, goes to church, makes sure to exercise. And standing in a nondescript Emporia parking lot on a November day, dressed in a black suit and orange tie and carrying a notebook and iPad, Ed O'Malley could well be selling encyclopedias — or Bibles.
But this born-and-bred Kansan is selling himself, not books, in a bid to put Republican Sam Brownback's unpopular governorship to rest. "I applaud [Brownback's] willingness to try something, but his policy lacked logic, it lacked strategy, and I believe it failed miserably," he says. "We're paying the price."
Brownback's sweeping 2012 tax cuts — enacted with a promise to bring in big business and, in turn, jobs — failed to deliver. Small businesses pocketed the savings rather than using them for hiring. And those big firms? Never showed. Now, with a huge budget deficit, the state has cut back on policing, social services, education and state contributions to the Kansas Public Employees Retirement System (KPERS). The state legislature just recently reversed the tax law, but violent crime is up, foster care is in shambles — dozens of children have reportedly gone missing in the system — and teachers are fleeing the profession. Even autumn's withered cornstalks reinforce the need for a new spring.
O'Malley's "big and bold" promise is to make Kansas schools the best on the planet by trusting teachers to determine how schools should be managed and boosting funding.
So who will lead the Sunflower State out of the clouds? There are 22 hopefuls in all — 12 Republicans, seven Democrats and three independents — and notably all but one are men. O'Malley, an ultramarathon runner who's completed two 44-mile races, isn't fazed by the considerable competition. To his right: Secretary of State Kris Kobach, a love-him-or-hate-him immigration hardliner now helping lead an election integrity commission for President Donald Trump. To his left: a resurgent and optimistic Kansas Democratic Party, which had the highest net gain of legislative seats in any state last year.
Still, O'Malley is confident, perhaps naively so, that if he goes door to door speaking to Kansans and pushes enough moderates to vote, he'll prevail by focusing on education, civil service and leadership. The 42-year-old likes to talk — gesturing with his hands and never once glancing at his giant silver watch — describing his "Forrest Gump moment" on the school bus in seventh grade when he met Joanna, the woman he'd eventually marry. It was his first day at a new school, and she was the only kid who spoke to him. Today they have three children and live in Wichita, where Joanna, a teacher by trade, is a homemaker.
O'Malley launched his political career in 1999 as an aide to Gov. Bill Graves, delving into everything from agriculture to retirement funds. He then lobbied for the Overland Park Chamber of Commerce before getting elected to the legislature in 2002 at age 29, joining what newspapers called the "kiddie caucus" alongside six other under-30s, including Stephanie Sharp. As young legislators who'd been lobbyists in the capital, Sharp says, "We knew what needed to be fixed and how to do it." She's now a political consultant and backs O'Malley's campaign.
In 2005, O'Malley worked to rewrite the school finance plan to address ongoing lawsuits demanding more school funding. Multiple plans were drawn up and kicked back by the court. Finally, Sharp explains, "[Ed] and seven others locked themselves in a room — with a good representation of rural, urban, suburban, big schools, little schools, bipartisanship — and hammered out a plan that they thought they could get passed." It worked and will be a key selling point for O'Malley during a campaign that could turn on Kansas' ability to reclaim its academic prowess.
Teachers in even the well-heeled Shawnee Mission School District in Johnson County, in suburban Kansas City, are getting fed up. Lisa Siegel, a paraprofessional in special education in the district, explains that depleted state coffers have led to fewer salary bumps, diminished resources and "plummeting" teacher morale. The situation has also resulted in larger class sizes, which means less one-on-one time with students and more behavioral problems with those who are struggling. "The Kansas legislature and governor have 'robbed' KPERS twice already to pay for other services with the promise of paying us back," Siegel adds.
O'Malley's "big and bold" promise is to make Kansas schools the best on the planet by trusting teachers to determine how schools should be managed and boosting funding. In turn, first-rate schools — goes the logic — will bring businesses and jobs to the state. But will the candidate's centrist message reach voters? Sharp points to O'Malley as the only Republican running from the "beautiful middle" — a place where she believes the majority of Republican Kansans are aligned. The trick, though, will be getting a mass of moderates to show up for a GOP primary.
And there's an additional hurdle: O'Malley has been out of the political game for a whopping 11 years, and he's going head-to-head with the high-profile Kobach. "[Kobach's] not right for Kansas," O'Malley says, noting that the state can't afford anybody "who doesn't want the job for this job." The implication? That Kobach has his sights set on a bigger target than the governor's mansion. "For seven years, Kris has been fighting for Kansas," counters his communications director, Samantha Poetter. "[Kobach] has turned down multiple opportunities in the Trump administration because his heart is here in Kansas. To suggest otherwise is nothing more than an overused political talking point."
O'Malley, meanwhile, has spent the past decade as CEO of the Kansas Leadership Center in Wichita, helping foster community leadership to tackle challenges with bipartisan solutions. This experience and his state-centric focus, O'Malley says, is why he's best qualified to lead Kansas out of crisis.
It's a long haul in a crowded race, but O'Malley is a distance runner — and he's sticking to the middle road.