This video is currently not available
LONDON — People around the world held vigils Monday to honor the victims of the Orlando shooting, with Sydney's Harbour Bridge and Auckland's Sky Tower bathed in rainbow colors as night fell in Australia and New Zealand.
In central London, a large crowd gathered on Old Compton Street to pay tribute with songs and silence. At one point, shortly after balloons were released into the air, a chant rose slowly and then loudly from the crowd: "We're here, we're queer, we will not live in fear."
One of those in attendance was Owen Jones, a British journalist who stormed off the set of Sky News after clashing with hosts who wouldn't say the shooting was definitely a homophobic attack. The exchange has touched off a debate here over whether the hosts played down the homophobic aspect of the shooting.
"To overlook the specific realities of who was targeted would be negating the significance of what happened," said Raphael Cadenhead, 28, a children's social worker at the vigil.
Gatherings were held in several other cities around the world, from Belfast to Barcelona, Calgary to Cologne.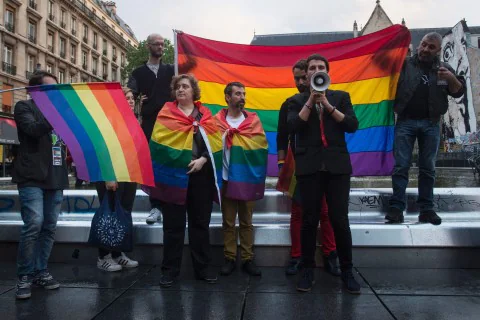 "Let's cry today and continue the fight tomorrow!" one user wrote on a Facebook page for a vigil in Hong Kong.
Some of the most impassioned comments from overseas came from countries — such as Pakistan, Israel and France — that have themselves fallen victim to terrorist acts, and there was also outrage from nations where gay sex is criminalized. Many people expressed anger at another attack committed in the name of radical Islam, while others registered concern that the shooting could further inflame passions in the highly polarized U.S. presidential election race.
Pakistan's prime minister, Nawaz Sharif, said he was deeply saddened by what he called a "gruesome act of terrorism" and an "inexcusable act of inhumanity."
Former Afghan president Hamid Karzai, visiting Washington after attending the funeral of boxer Muhammad Ali, condemned the shooting in Orlando and called it "beyond any measure of humanity and decency."
He declined to comment on the gunman's links to Afghanistan.
Narendra Modi — who as prime minister of India leads a country that, like Pakistan and Afghanistan, criminalizes gay sex — tweeted condolences and said he was "shocked." Social-media reactions there ranged from grief to extreme denunciations of Islamist terrorism.
British Queen Elizabeth II issued a statement from Buckingham Palace through Twitter. "Prince Philip and I have been shocked by the events in Orlando," she said. "Our thoughts and prayers are with all those who have been affected."
From the Vatican, Pope Francis issued a statement saying that he "joins the families of the victims and all of the injured in prayer and compassion." While the Catholic Church considers homosexuality unnatural, it also opposes discrimination against homosexuals.
In Russia, where a law against the promotion of homosexuality to minors was passed in 2013, President Vladimir Putin wrote to President Obama to say that the Russian people "share the pain and grief of those who lost family and loved ones as a result of this barbaric crime."
In a France still reeling from the Nov. 13 attacks in Paris, when Islamic State militants killed 130 people across the capital, many saw similarities in the Orlando shooting.
French President François Hollande condemned the attacks, and dozens gathered in solidarity on Place Igor Stravinsky, but Marine Le Pen, the outspoken leader of France's far-right National Front, wasted no time in denouncing Islam in general.
"Once again," she wrote on Facebook, "terrorism has killed. This time, those targeted were targeted because they were homosexuals, and we know to what extent homosexuality is attacked in the countries that live under the Islamic yoke. We must fight with all our strength this dark barbarism."
Rio de Janeiro Congressman Jean Wyllys, Brazil's best-known gay lawmaker, took to Facebook to condemn homophobia, which he said was also a deadly issue in his own country, and to express hope that the attack would not play into the sharply divided U.S. election campaign.
Israeli Prime Minister Benjamin Netanyahu said that his country stood "shoulder to shoulder with the United States at this moment of tragic loss," while Tel Aviv Mayor Ron Huldai wrote to Florida's governor and Orlando's mayor to express his solidarity.
"Violence will not and shall not break us or change the way we live," he wrote. "On the contrary, it will only unite us in guarding our citizens' rights and freedoms."
Palestinian Authority Prime Minister Rami Hamdallah called the shootings a "senseless act of terror and hate."
China's president, Xi Jinping, called Obama to express his condolences, state media reported Monday, while on social media, the country's Netizens mostly expressed horror and outrage, with many posting images of candles. But some expressed anger at Muslims or Islam in general, calling the religion an "evil cult." Others chose to make political points about the United States, with many contrasting its lax gun laws with China's strict regulations. "It's reasonable to ban guns in China," one posted. "Stronger than all prayers: 'A Farewell to Arms,' " another wrote.
In Jamaica, Prime Minister Andrew Holness issued a statement calling for an end to gun violence. "The world must finally deal with terrorism and gun violence; which continues to scar our quest for peace and brotherhood among peoples," he wrote. "We are working with our United States partners to reduce the influx of guns into Jamaica as they too are constantly reminded of the impact of gun violence on their society."
Not all of the reaction was compassionate. A Turkish newspaper aligned with the ruling party published a headline that called gay people "perverted."
On social media, some noted that you could find people celebrating the attack in various corners of the Internet.
"Go to Al Jazeera Arabic Facebook page and read the comments about the #Orlando attacks and you will see 1000's of people celebrating," a Twitter user wrote.
At the vigil in London, some people said they felt that their sense of safety had been attacked.
"Gay clubs are one of the only places where we are safe. That was taken from us," said Sophia Walker, a 31-year-old poet from London and Washington. "This has hit me harder than anything since 9/11."
Denyer reported from Beijing. Rick Noack in London, Max Bearak in Washington, Dom Phillips in Rio de Janeiro, Tim Craig in Islamabad, Joshua Partlow in Mexico City, Annie Gowen in New Delhi, William Booth and Ruth Eglash in Jerusalem, James McAuley in Paris, Andrew Roth in Moscow, Erin Cunningham in Istanbul, and Xu Jing in Beijing contributed to this report.
Read more: