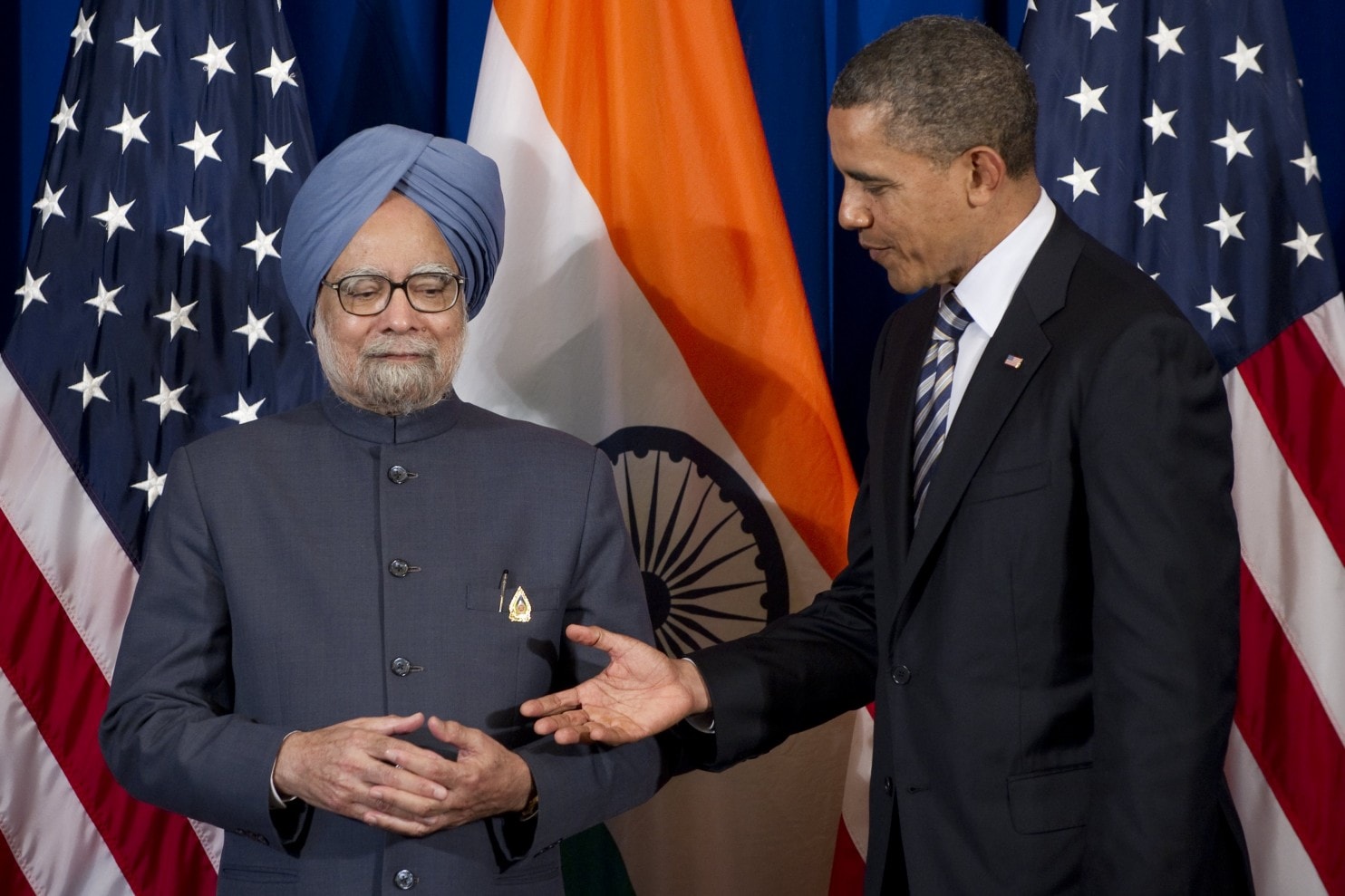 NEW DELHI — The economic relationship between the world's two largest democracies, the United States and India, is supposed to be the bedrock for what President Obama calls "one of the defining partnerships of the 21st century," but cracks are starting to appear.
India's delay in delivering promised economic reforms and its reluctance to open up its markets to U.S. companies such as Wal-Mart, together with a much tougher visa regime for Indians seeking to work in the United States, has infuriated the private sector, cooled investor enthusiasm and even prompted talk of a trade war that could strangle commercial ties.
Some experts say that the U.S.-India partnership has been grossly oversold, first by the George W. Bush administration and now by Obama, and that the two nations were never destined to become comfortable partners in a new world order despite their vaunted shared democratic values.
Much of the problem arguably stems from the nations' very democratic nature, in the form of populist pressures emanating from India's Parliament and the U.S. Congress.
"In almost every political speech, the fact that India is a democracy was celebrated, but the fact that it is a democracy also profoundly limits its economic dynamism and reform processes," said George Perkovich at the Carnegie Endowment for International Peace in Washington.
Unrealistic expectations have led to disappointment and frustration, he said.
"It is a really important relationship, and a relationship that is maturing in a friendly way, in a positive way," Perkovich said. "But that is happening at the natural pace of human development, not through this type of magical transformation that people projected."
The landmark civil nuclear agreement that the two countries signed in 2008 was supposed to lead to tens of billions of dollars in business for U.S. companies that build nuclear power plants. But it has not yielded anything except a disagreement over who would be liable in the event of a nuclear accident.
The nuclear deal was seen as the cornerstone of the broader strategic partnership between the two nations. Both countries are wary of China's growing influence, have fallen victim to Islamist extremism emanating from Pakistan and share a commitment to rebuilding Afghanistan.
But at the same time, each pursues its own independent strategic agenda. India's unwillingness to join international sanctions against Iran — which New Delhi sees as an important oil supplier — and its reluctance to intervene in other countries' internal affairs — in Libya and Syria, for example — are among the many wrinkles in the relationship.
India's decision in January to buy 126 fighter jets from France's Rafale for $11 billion instead of its American competitors was a major disappointment in Washington, though high hopes persist for business between the world's largest weapons buyer and many of the world's largest defense contractors, based in the United States.
Trade between the two countries is growing fast and reached $100 billion in 2011, but it is dwarfed by trade with China and remains a fraction of what most people see as its long-term potential. Indian concerns about U.S. agricultural policies that subsidize farmers and restrict imports are matched by American concerns about market access and jobs being outsourced to India.
This year, the bilateral strain has increased to such a degree that each country has dragged the other to the World Trade Organization's dispute settlement body, in rare if not unprecedented steps.
The United States is unhappy with an Indian ban on American poultry imports over what it sees as spurious concerns about bird flu. India is complaining about U.S. duties on carbon steel exports, which were imposed because of concerns that the products were being subsidized in India and "dumped" in the United States.
India is also threatening to refer the United States to the WTO over what it sees as a punitive and discriminatory rise in visa fees for professional travel, aimed at Indian information technology firms such as Infosys and Wipro, which employ thousands of people in the United States.
Every year, tens of thousands of skilled Indian workers get H1B and L1 visas to work for American employers in the United States, often on multiyear contracts.
Indian Commerce Ministry officials declined to comment on the dispute, but a senior official was quoted as warning of a "trade war" if the issues are not resolved at the WTO.
Although that warning strikes experts as slightly alarmist, there is also concern about a much tougher U.S. visa approval regime that companies in both countries say is undermining their ability to operate effectively across borders and closing the door to a highly educated Indian workforce that has contributed significantly to the success of the IT industry in the United States.
In March, more than 60 U.S. companies and trade bodies wrote to Obama complaining that "delays and uncertainty" about the issuance of L1 work visas for their foreign employees was harming the United States' job growth and economy.
India shares those concerns. "Most of our companies are reporting back to us about a huge number of delays and rejections, for a wide variety of reasons, none of them consistent," said Ameet Nivsarkar, vice president of the Indian software industry body NASSCOM. The rejection rate for L1 visa applications from India rose from 8 percent in 2009 to 41 percent last year.
The U.S. government, though, says India remains by far the biggest beneficiary of both types of professional visas and links the rising L1 rejection rate to an increase in applications.
At the heart of the economic relationship, though, lies the promise of American investment in the rapidly growing Indian market. But that promise has been dented by a series of decisions made by the Indian government in the past four months.
In December, the government was forced into an embarrassing flip-flop over a decision to allow Wal-Mart and other foreign companies to open stores here, after opposition from its coalition partners.
A decision announced in the budget in March to retroactively change India's tax laws relating to foreign mergers and acquisitions may have been aimed principally at Britain's Vodafone — embroiled in a $2.5 billion dispute with Indian tax officials — but it provoked strong protests from industry groups from the United States to Japan.
Seven global industry bodies, including the U.S. Council for International Business, wrote to Indian Prime Minister Manmohan Singh in March to argue that the retroactive nature of the tax threat was "prompting a widespread reconsideration of the costs and benefits of investing in India."
Treasury Secretary Timothy F. Geithner met Indian Finance Minister Pranab Mukherjee in Washington late last month and said the tax change had "raised significant concern amongst U.S. industry and dampened enthusiasm about India's investment climate," a Treasury spokeswoman said.
A decision by India's patent authority in March to force German drug manufacturer Bayer to allow a local generics manufacturer to copy its kidney and liver cancer medicine has sparked concerns about the protection of intellectual property rights, while proposals to give preference to domestically manufactured electronics in government procurement provoked another letter of protest, this time from more than 30 international technology and business groups, which warned that the move could fuel global protectionist pressures that could harm Indian IT exports.
Ron Somers of the U.S.-India Business Council says the decisions have had a chilling effect on his members' enthusiasm for investing in India.
"It sends a signal that we are not going forward, we are going backward," he said. "It is just harder to do business here."
Of course, none of these concerns mean that the U.S.-India economic relationship is over. Somers said the longer-term economic fundamentals "are still unbelievable," and U.S. automakers Ford and General Motors are investing heavily in India, with an eye on the country's rising and expanding middle class.
Indian growth may have slowed, but it is still close to 7 percent. In the past five years, India's economy has risen from the 14th largest in the world to the ninth largest and is expected to become the third largest by 2025.
"I don't see any U.S. businessperson who wants out from an opportunity of that magnitude," said Geoffrey Pyatt, a State Department official. "And as the Indian economy hits that spot, India Inc. continues to see a preferential place for the United States."
For now, Somers is advising his members to focus on "progressive" Indian states.
"We are heading into uncertainty at the center, so we have to find states where the leadership is strong and secure, and where they want investment, and look at deepening our links there," he said.