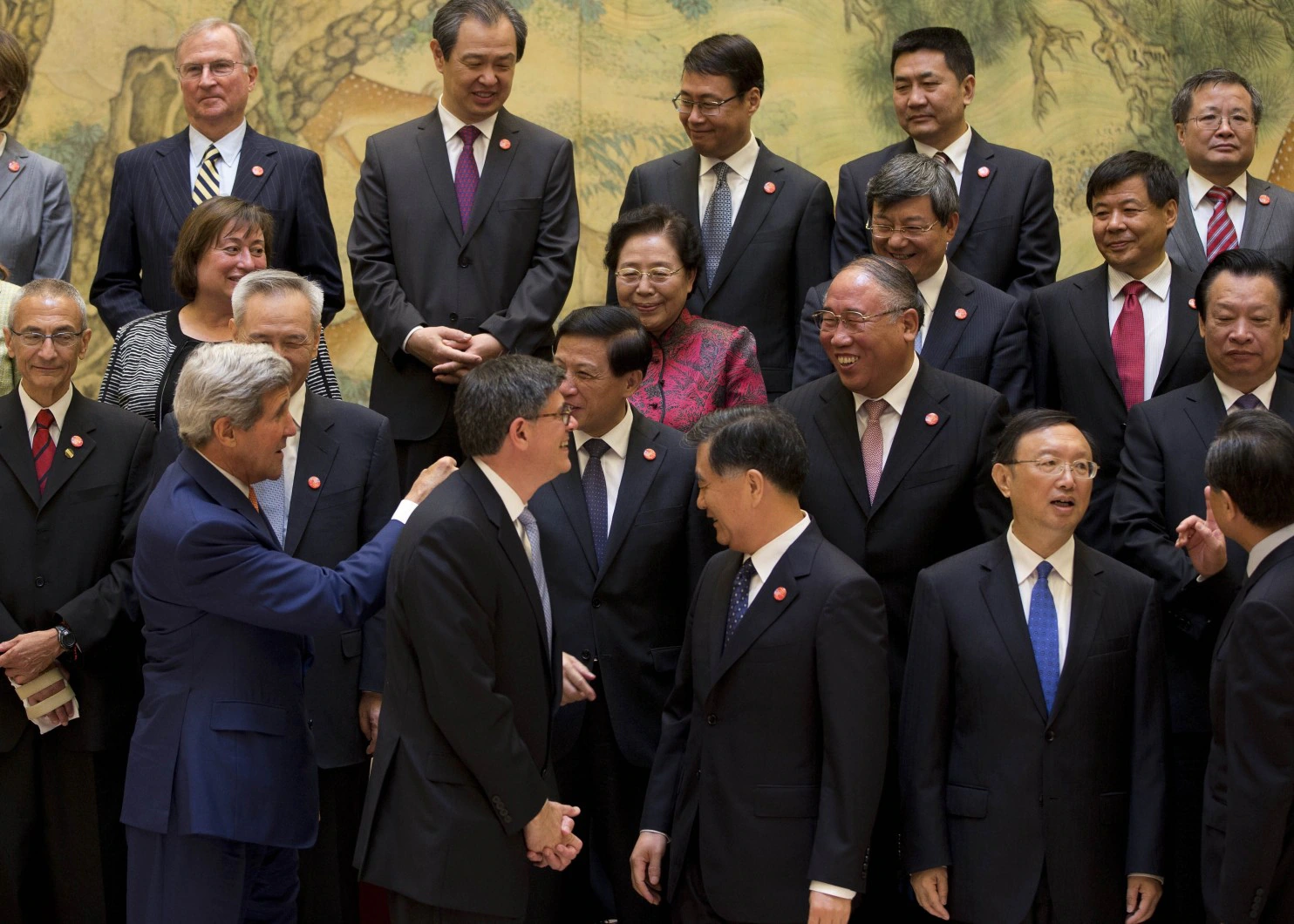 BEIJING — The United States and China said Wednesday that they are determined to avoid conflict and maintain peace with each other, but deep differences over maritime security and mutual recriminations over cyber-espionage continued to loom as high-level annual talks between the two governments began here.
Relations between the two sides have been on a downward spiral this year, but as the sixth round of the Strategic and Economic Dialogue got underway in Beijing, the United States and China were trying to calm fears about a further deterioration in ties and stressing the potential for cooperation on a broad range of issues.
"Confrontation between China and the United States would definitely spell disaster for the two countries and for the wider world," Chinese President Xi Jinping told delegates as he opened the two-day talks. He added that the countries need to respect each other's sovereignty and territorial integrity, strengthen dialogue and promote cooperation.
"The immense sea allows fish to leap at liberty, the vast sky lets birds fly freely," he said. "The broad Pacific Ocean has ample space to accommodate our two great nations."
The talks took place in the same complex of villas in western Beijing where President Richard M. Nixon met Chinese leader Mao Zedong on a historic visit in 1972.
Secretary of State John F. Kerry said the two countries have a profound stake in each other's success but need actions — not words — to avoid tension.
"It is not lost on any of us that throughout history there has been a pattern of strategic rivalry between rising and established powers," he said. But such rivalry was not preordained, he added.
"It is not inevitable; it is a choice," he said. "I can tell you that we are determined to choose the path of peace and prosperity and cooperation and, yes, even competition, but not conflict."
Before the talks, U.S. officials had criticized China for its aggressive pursuit of maritime claims in Asia. Kerry appeared to make little progress Wednesday in persuading China to take a softer line, submit its territorial claims to arbitration or enter meaningful negotiations.
"Trying to fix the problem, so to speak, through creating a new status quo, at the expense of regional stability and regional harmony, is unacceptable," a senior U.S. official said in a background briefing after the talks. "It is precisely there, the secretary pointed out, that the U.S. takes a very firm view."
China's unilateral declaration of an air defense identification zone in the East China Sea last year, including over islands administered by Japan, and its forceful assertion of claims to South China Sea waters potentially rich in oil and gas have raised the hackles of many neighboring nations.
As China has flexed its military muscles, the United States has moved to bolster its security ties with key allies Japan and the Philippines, as well as with other Asian nations. Kerry, however, tried to counter a widespread impression in Beijing that this represents an attempt to contain China or slow its rise — while simultaneously telling Beijing to play by the rules.
"Let me emphasize to you today, the United States is not trying to contain China," he said. "We welcome the emergence of a peaceful, stable, prosperous China that contributes to the stability and development of the region and chooses to play a responsible role in world affairs."
Bilateral relations have also been buffeted by mutual accusations of cyber-espionage, fueled first by reports that units of the Chinese army were systematically spying on U.S. companies — and then by Edward Snowden's revelations of widespread U.S. spying on foreign governments.
In May, the Justice Department charged five members of the Chinese military with cyber-espionage against U.S. firms. China responded by suspending talks under a cybersecurity working group that had formed part of the broader Strategic and Economic Dialogue. While the United States reiterated its call for those talks to restart, the Chinese did not agree, U.S. officials said.
Kerry also raised the issue of human rights in a "very direct, candid and constructive way," especially criticizing the repression of ethnic minorities in China's western regions of Tibet and Xinjiang, U.S. officials said.
But in an apparent snub to the United States, well-known Tibetan writer Tsering Woeser was placed under house arrest with her husband late Tuesday, the day before she was to attend a dinner at the U.S. Embassy, according to her Web site.
Woeser was awarded the 2013 International Women of Courage Award by the State Department, but Beijing banned her from traveling to Washington to receive the honor.
Raising another long-standing bone of contention, Treasury Secretary Jack Lew said it is "crucial" for China to move to a "market-determined exchange rate" as it attempts to rebalance, reform and reinvigorate its economy. The United States has long argued that China's currency, the yuan, is undervalued, giving Chinese exports an unfair advantage in global markets and exacerbating a trade deficit with the United States.
But he also noted that economic relations between the two countries have "grown beyond what anyone could have imagined" since diplomatic ties were established in 1978, with bilateral trade exceeding $520 billion last year, up from $3 billion 35 years ago.
The two sides announced small technology-sharing projects to raise energy efficiency and cut coal use, as part of gradual efforts by the world's two biggest emitters of greenhouse gases to deepen cooperation on climate change.
They also held an event affirming their "shared commitment" to combat wildlife trafficking.
Kerry said there is also room to find common ground on efforts to persuade North Korea to give up its nuclear weapons program and restrain Iran's nuclear ambitions, as well as on global hot spots such as Syria, Sudan, South Sudan and Afghanistan. President Obama echoed that sentiment.
"The United States and China will not always see eye-to-eye on every issue," Obama said in a message to participants here. "That is to be expected for two nations with different histories and cultures. It also is why we need to build our relationship around common challenges, mutual responsibilities and shared interests, even while we candidly address our differences."