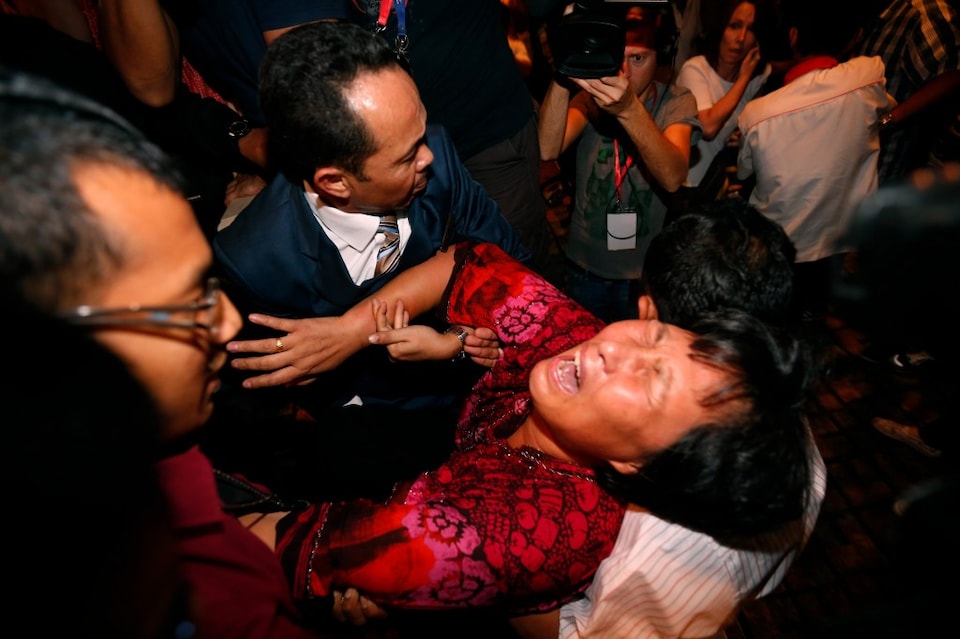 The protracted and painfully inconclusive investigation has taken its toll on the families of passengers on missing Malaysia Airlines Flight 370. Wailing with grief and anger, a handful of Chinese relatives burst into the media auditorium in the Malaysian capital Wednesday and unfurled a banner demanding that the government "tell the truth."
Chaos ensued as the relatives were surrounded by dozens of television camera operators, photographers and correspondents jostling each other for position in a narrow space at the back of the hall. A Malaysian government official appealed in vain for the relatives to leave, before they were finally bundled out the door by police in an unseemly melee.
One woman collapsed to the floor and had to be virtually carried out as she cried, "Where are they? Where are they?"
Advertisement
More than 150 Chinese were listed among the 239 passengers and crew aboard the missing Malaysia Airlines plane, which vanished in the early hours of March 8. Their relatives have been angry almost from the outset with the slow information flow coming from the Malaysian government and airline. Some have been flown to Malaysia to wait for news, although most have elected to stay behind in China.
After the family members were removed, only their banner was left behind on the floor. A government spokesman ordered it to be rolled up, saying it was not "appropriate."
Almost every major commercial aviation disaster eventually spawns its own support groups. Families bind together, lobby for new laws, try to expose oversights in the investigation. But that hasn't happened yet among relatives of passengers on Flight 370. There's still a chance, though remote, that the plane is intact, the passengers safe. Until then, scores of relatives are stuck waiting, not knowing, and desperate for any kind of information.
But that information has been scant and sometimes contradictory, prompting Chinese Ambassador Huang Huikang on Tuesday to say the Malaysians were "inexperienced and lacking the capacity" to carry out the investigation properly.
Many grieving families in Beijing are staying at the Lido Hotel, their lives spent watching television, talking to counselors, waiting for updates from Malaysian officials. Daily sessions with representatives from Malaysia Airlines often turn into shouting matches, during which the airline officials explain again that they have no information and don't know where the plane is. Among families, there has also been discussion of appointing a leader and presenting their demands to the Malaysian government. But signs of fissures among the families have also emerged.
Advertisement
The spirits of some relatives had perked up a bit last weekend when Malaysia seemed to raise hopes of a hijacking.
"That night, many finally got out for once and got a good night's sleep," said Lu Kaisheng, a volunteer from Shenzhen, who is part of group providing counseling for families at the hotel. "But since then you can feel anger start to rise again."
"Their emotions are tied to the progress of the investigation," Lu said. "One thing I worry as a counselor is we will run out of things to say to comfort them. When they get angry or sad, you say one thing to calm them down, but you cannot say the same thing over and over again. Their emotion becomes hard to contain over time."