BEIJING — Attackers in two SUVs plowed through crowds of shoppers in a busy street market in the capital of China's restive western Xinjiang region Thursday, setting off multiple explosives, killing 31 people and wounding more than 90, the government said, calling the assault a vile act of terrorism.
It was the deadliest in a series of recent attacks linked to Xinjiang, where unrest over Beijing's iron rule appears to have exploded into a wave of Islamist violence launched by separatists from the mostly Muslim Uighur community.
The two SUVs crashed through metal barriers in the city of Urumqi at 7:50 a.m., the Xinjiang regional government said in a statement. The vehicles drove over people, their occupants hurling explosives as they went, before crashing head-on into each other, according to state media reports. One of them then exploded, with flames shooting as high as a one-story building, a witness said.
Witnesses quoted by state media said the SUVs carried no number plates, but flew two small black flags carrying writing in the local Uighur language. A potato vendor was quoted by the China News Service as saying he heard about a dozen explosions.
Pictures carried on social media showed bodies lying in the street, with large flames in the distance, and other people sitting amid scattered vegetables and boxes looking dazed.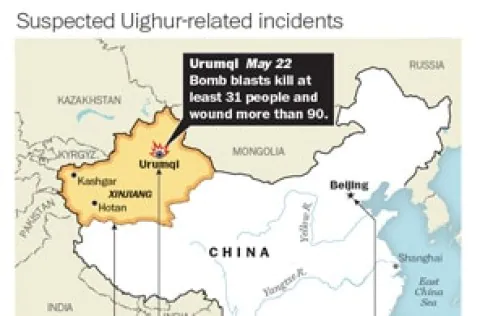 "At close to 8 this morning, there were multiple explosions at the morning market near the Cultural Palace in Urumqi," a user called Paike Luotuoci posted on the Sina Weibo microblogging service. "I was less than 100 meters from the scene and I could see flames, heavy smoke. There were vehicles and goods burning. Vendors left their goods behind and fled. "
Another Weibo user called Jiazuo Yangzhoufu said an elderly family member had been returning from a nearby park after exercising when the explosions happened. "The two cars were driving like crazy, and aiming at crowds. They drove over people in the middle repeatedly. Police went after the cars and fired shots but didn't seem to stop them," she wrote, quoting the relative. "People were running for their lives."
"The air was full of the smell of gunpowder and the sound of sobbing," one witness who passed by the scene shortly after the attack told the Reuters news agency, adding that there were "simply too many" casualties, including elderly people attending the morning market.
Many of the posts describing the attack or showing pictures of the incident were later deleted from Weibo, presumably by censors.
The Xinjiang regional government called the attack "a serious violent terrorist incident of a particularly vile nature." President Xi Jinping pledged to severely punish terrorists and spare no efforts in maintaining stability, according to the official Xinhua News Agency.
Last month, a bomb exploded at a railway station in Urumqi, just two miles to the south of Thursday's attack, killing three people, including two attackers, and injuring 79. The attack, blamed on Islamist extremists, took place as Xi was concluding a visit to the region. The militant Turkestan Islamic Party later posted a video on its Web site calling that attack "good news" that "would fill the suppressed hearts of believers with joy, and fill the apostates and infidels' hearts with fear," according to a translation by Radio Free Asia. The group's head, Abdulheq Damolla, said that attack had been carried out by "our mujahideen brothers."
Islamist extremists from Xinjiang have also been blamed for two other significant attacks outside the region in recent months. Last year, three Uighurs rammed a vehicle into crowds in a suicide attack near the main gate of the Forbidden City in Tiananmen Square in the heart of Beijing, killing themselves and two tourists.
In March, 29 people were slashed and stabbed to death by knife-wielding assailants at a train station in the southern city of Kunming.
Xinjiang, rich in resources and strategically important, lies on the borders of Central Asia and is home to the mainly Muslim Uighurs, who speak a Turkic language and are culturally distinct from China's ethnic Han majority.
For years, many Uighurs and smaller Muslim minorities in Xinjiang have agitated against China's authoritarian government. Their protests are a reaction, Uighur groups say, to oppressive official policies, including religious restrictions, widespread discrimination and large-scale immigration by Han Chinese.
Urumqi, a city of about 3 million people that lies more than 1,500 miles west of Beijing and was once a major hub on the ancient Silk Route, is about three-quarters Han Chinese.
The government has long denied oppressing Uighurs or any other ethnic group and has blamed acts of violence on separatist Muslims who want to make Xinjiang an independent state, called East Turkestan.
Ethnic rioting and clashes between Uighurs and Han Chinese in Xinjiang reached a peak in 2009, resulting in about 200 deaths and triggering a crackdown by local authorities. Renewed protests last year also turned violent and are thought to have claimed more than 100 lives.
But the recent attacks seemed to have pushed the conflict in a new direction, with civilians increasingly targeted, as opposed to the police stations that were often attacked in the past.
In recent weeks, China has tightened its crackdown on Uighurs in the region, but many foreign experts say Beijing's heavy-handed policies have consistently failed to curb unrest in the past and are unlikely to be any more successful now.
On Tuesday, courts in Xinjiang sentenced 39 people to prison for crimes including organizing and leading terrorist groups, inciting ethnic hatred, ethnic discrimination and the illegal manufacture of guns.
On Thursday, Xi and Pakistan President Mamnoon Hussain vowed to strengthen cooperation in counterterrorism operations, specifically targeting "East Turkestan" terrorist groups that have bases in Pakistan's lawless tribal areas.
Earlier in the day, Pakistani warplanes and helicopters pounded militant hideouts near the Afghan border, news services reported, with the army claiming to have killed 60 fighters including "foreigners." Pakistan's Dawn newspaper quoted a security official as saying the raid targeted strongholds of the East Turkestan Islamic Movement, whose members include militants from Uzbekistan and Xinjiang.
In a regular news conference Thursday, Chinese Foreign Ministry spokesman Hong Lei said Beijing had the confidence and ability to combat terrorists whom he described as "swollen with arrogance." He said the attack in Urumqi "should be condemned jointly by the Chinese people and the international community."
In a post on its Chinese-language microblog account, the U.S. Embassy in Beijing expressed its "deepest condolences" to the victims and families of the "violent attack on innocent civilians" in Urumqi, but stopped short of labeling it terrorism.
Xu Yangjingjing contributed to this report.