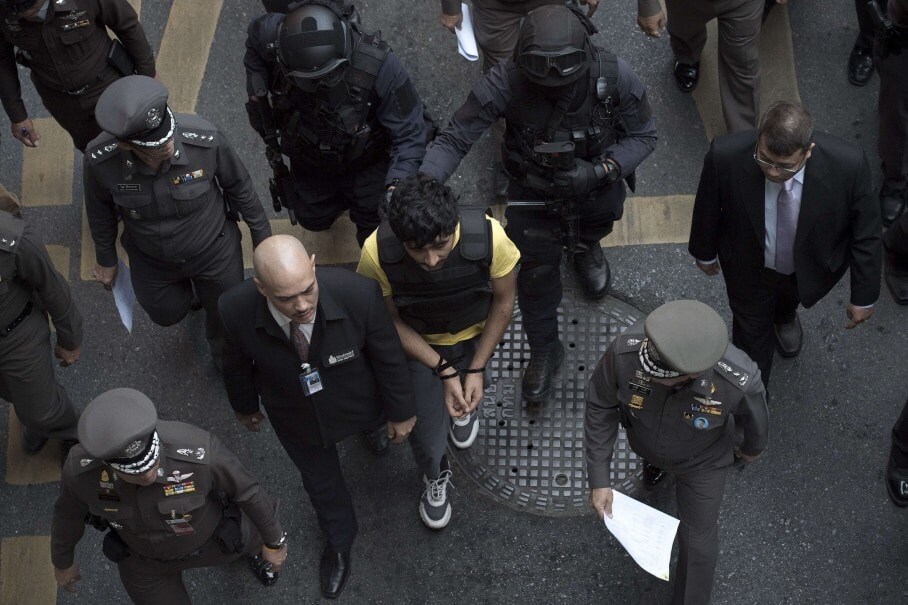 BEIJING – As evidence trickles in that Chinese nationals may have played a role in last month's Bangkok bomb attack, the government in Beijing has a headache.
Unrest among the downtrodden Muslim Uighur minority in China's western Xinjiang region has turned violent in recent years, with several attacks blamed by Beijing on Islamist radicals among the community.
But China's attempt to control the issue is complicated by the fact that its "Xinjiang problem" is no longer a local, self-contained issue but an increasingly internationalized one that may affect its relations with the Muslim world.
Thai police say the suspected ringleader and one member of a group that carried out the bomb attack on a Hindu shrine in Bangkok that left 20 people dead were traveling on Chinese passports. Police say a man known as "Izan" masterminded the bombing before fleeing to Bangladesh the day before it took place, using a Chinese passport. Another man, who reportedly admitted to playing a key role in the attack and is now in custody, was identified as Yusufu Mierili. He was arrested Sept. 1 near the Thai-Cambodia border also carrying a Chinese passport. The document, which police believe is genuine, identified him as coming from Xinjiang.
Advertisement
The motive for the attack remains unclear, but there was immediate speculation it could have been planned as retaliation for Thailand's forced deportation of more than 100 Uighurs to China in July. The fact that the shrine is popular with Chinese tourists also fed that idea.
The Thai authorities have been keen to deny the attack was an act of "international terrorism," possibly because of the impact that could have on the country's tourism industry. Instead police have suggested the perpetrators may have been human traffickers, who have been using Thailand and other South Asian nations as transit points for Turkic-speaking Uighurs to escape China and make their way to Turkey.
Advertisement
"I think we can now say with a reasonable degree of certainty that there is a Uighur/Xinjiang angle here, yet the motivations and implications remain cloudy at best," said James Leibold, an expert on China's ethnic policies at Melbourne's La Trobe University. Leibold went on to list several possibilities, including infighting among rival people-smuggling syndicates or links to the messy world of Thai politics.
"Regardless of these unanswered questions, the incident highlights the increasing internationalization of the 'Uighur issue' and the 'Xinjiang problem,'" he said. "The increasing flow of people, ideas and social media imagery into and out of Xinjiang renders these issues far more difficult for the Chinese government to deal with."
Uighur exile groups and many independent observers blame Uighur frustrations on systematic repression of their economic, cultural and religious rights. China blames the flow of radical Islamist ideas over the Internet.
Advertisement
The deportation of the Uighurs from Thailand prompted angry demonstrations in Turkey outside Thai and Chinese diplomatic missions. But Leibold says the Uighur issue could have an impact on relations with other nations, too.
"China does not want to be perceived as anti-Muslim, and the internationalization of the Uighur issue makes this task more difficult," he said.
It would be wrong to overstate this case, experts say: The Middle East faces such a multitude of problems at the moment that sympathy for a faraway Muslim population is probably in short supply.
But the Islamic State group is believed to have recruited some Uighurs to its cause and released a video in July calling on more to join its ranks. This week the Islamic State claimed to be holding a Chinese consultant captive along with a Norwegian.
Advertisement
China has tried to gain sympathy for its position by suggesting the Uighur issue is part of a global battle against terrorism. But it seems to have found the Thai bombing something of an embarrassment, at first actively scotching speculation there was a link to China and still not acknowledging it.
Chinese media have also been silent on the issue, until a piece was issued on the Web site of the nationalist Global Times newspaper Wednesday. That article cited "the related department" of the Chinese government as averring that the suspect Mierili had left China in 2013 and said it could "not be ruled out" that the attack was carried out by terrorists in revenge for the July deportation of the "illegal immigrants" from Thailand to China.
Advertisement
Zhu Feng, an international affairs expert at China's Nanjing University, said the episode was an embarrassment for the law enforcement agencies of China, Thailand and Turkey.
"There is no denying the fact that there is an underground, cross-border organized crime group and a secret conduit for international terrorists," from Xinjiang to Turkey via Thailand, he said. But he argued that the international community's criticism of the human rights record in Xinjiang was only "helping these underground criminal activities."
On Chinese social media, some people wondered why the government and media had been so silent on the issue, while others launched vitriolic attacks against Uighurs. But a few who identified as Uighurs did try to argue back against the tide of negative comments, with one writing that "we are Chinese too, and this is our land."
Advertisement
"You don't understand what we've been through all those years," wrote another. "Innocent people are paying the biggest price, and yet they have to be abused by you. Why don't you come to southern Xinjiang and see what life is like for innocent people here? Our people have suffered too much abuse and slander. Please stop."
Leibold said incidents such as the Bangkok bombing would play into the hands of China's security services "and their quest for additional resources." Human rights groups fear it may fuel more repression in Xinjiang.