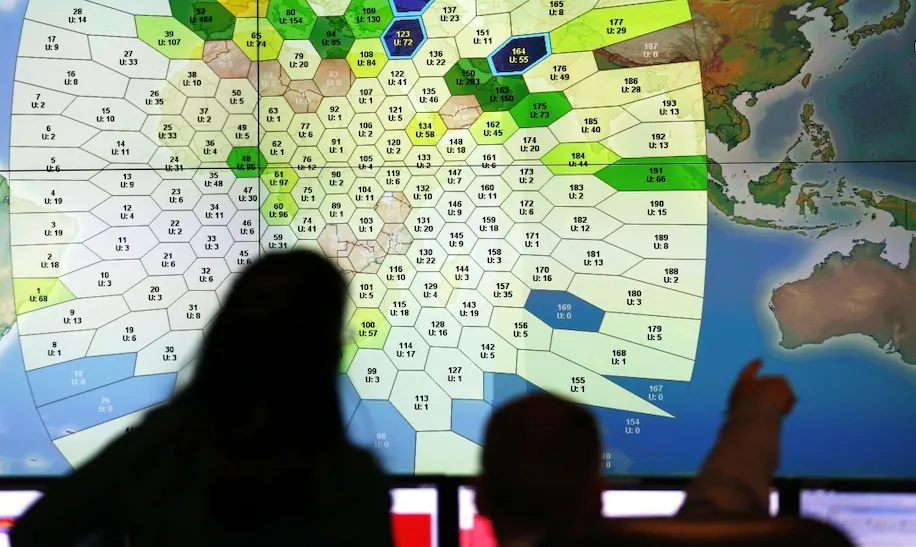 The hunt for Malaysia's missing flight MH370 is perhaps the greatest and the largest-scale search in aviation history, as well as its biggest mystery. Since March 8, thousands of military personnel and civilians from 26 countries across at least four continents have been involved in the search, which -- at its peak -- spanned an area the size of the contiguous United States. A vast region has been combed, from the mountains and plains of central Asia to the jungles of Vietnam, as well as large swaths of the Indian Ocean. The plane has still not been found.
More than 50 ships from assorted countries have helped, and at least that many aircraft and satellites, even the International Space Station. Here is a close-up look at three of the searchers.
Searcher: Francis Enriquez
Occupation: Aircrewman First Class, U.S. Navy
Age: 38
From: Jacksonville, Fla.
Area searched: South China Sea, Strait of Malacca, Indian Ocean
Advertisement
A thousand feet above the Indian Ocean, Francis Enriquez manned the radar as his P-3 Orion aircraft flew in a "ladder pattern," sweeping north to south and back, across the search area on a recent mission. Enriquez and his plane's 11-person crew are based in Okinawa, Japan, as part of the U.S. Navy's 7th Fleet. They spot submarines, assist U.S. combat forces and scour the seas for drug smugglers.
On missions, Enriquez sits near another crewman at a camera console, with two spotters at large portholes farther back in the plane, scanning the ocean by eye. Before the mission, he says his instruments could spot a coffee table at 10,000 feet.
Enriquez has been Aviation Warfare Systems operator on the Orion for 12 years and has flown over Afghanistan and Iraq. But he says he is "humbled" to be involved in the search for Malaysia Airlines Flight MH370. On his uniform, a patch shows an armored fist holding a red trident, the emblem of the Grey Knights Squadron, the "Fist of Fury."
Advertisement
On search missions, he first looks at the big picture, then narrows in on a stretch of ocean about 30 miles on either side of and ahead of the plane to pick out anything that isn't water. On his screen, he marks a number of blips yellow, or worth identifying.
One of his fellow airmen then swings that camera, known as the Advanced Imaging Multispectral System (AIMS) into action. Slewing toward the target Enriquez has specified, it zooms in and focuses. A blip about 30 miles away, for example, eventually reveals itself as a fishing trawler.
Enriquez turns the blip from yellow to green on his touch-screen console -- marked as identified. On each trip, more fishing boats, sometimes a larger tanker and often a series of buoys are gradually marked and mapped -- the latter sometimes warranting a closer, lower fly-past just to be sure.
Advertisement
At his console, one panel shows a series of zigzag lines -- the readings from a Magnetic Anomaly Detector (MAD) -- that will find any fuselage floating on the surface. For trip after trip, it stays dormant. Despite their best efforts, the Orion crew was not finding anything that looked like it could have come from a plane.
On one trip, Enriquez recalled, just as the crew members were about to head for home and their eyes were growing tired, the radar operator thought he had spotted something unusual. Thinking it might be luggage from the plane, he alerted the rest of the crew, and the plane turned and flew in low toward it.
"But as we got close, the odd-shaped object started to change," he said. "All of a sudden, a seagull flew off it. As we got closer, it turned out to be a 55-gallon oil drum that looks like it fell off a boat."
Advertisement
"It's a little disheartening," he said. "Every mission, just like everybody else, our intent is to find something."
Searcher: Harjeet Singh Jhajj
Occupation: Captain, Indian Navy
Age: 39
From: Ludhiana, Punjab
Area searched: Indian Ocean
When MH370 disappeared from radar on the morning of March 8, Indian Navy Capt. Harjeet Singh Jhajj watched the events unfold with fascination.
He would watch news reports and read the Internet in the evenings after dinner with his wife and two sons, ages 16 and 11, at his home at the Indian naval base in Arakkonam, near the southern Indian city of Chennai.
He was accustomed to flying at the controls of a $220 million state-of-the-art airplane, the Poseidon P-8I, a long-range maritime reconnaissance and anti-submarine aircraft. But he had the same question as others around the world.
Advertisement
"When I first heard the plane was lost, I was thinking, 'How did it go missing?' " he recalled by telephone. "When technology is at its peak, how could it go missing?"
But as the search area shifted west from the South China Sea, Jhajj was behind the controls flying the Poseidon from Subang air base in Malaysia deep into the Indian Ocean -- in stormy weather.
He had to carefully skirt a cyclone that was about 300 miles away on the 1,500-nautical-mile journey south. Once he reached the search area the Malaysian government had assigned him, the skies were clear. He and his co-pilot took the plane down to about 2,000 feet above sea level as, on board, two of his airmen scanned the water with binoculars for debris, while others searched on high-tech radar. Another was assigned to communicate with Australian forces in Brisbane, who were negotiating a multinational flurry of planes that had departed from Australia.
Advertisement
"It is a little tiring for a pilot. You have to be precise about your instruments and looking out," he said. "When you're doing search-and-rescue missions like this, there is a certain amount of difficulty you have to take into account. That's why we are in the military."
After about two-and-a-half hours of fruitlessly scanning the crashing waves, they flew back to Malaysia, a little dejected. It was a grueling journey, nearly 10 hours.
"We were disappointed for not sighting anything," Jhajj said. Still, "it was a great cause, for a noble cause."
Name: Stephen Graham
Occupation: Flight lieutenant, Royal New Zealand Air Force
Area searched: Southern Indian Ocean
Inside the shadowy confines of New Zealand's P-3 Orion, the spotters drop into their seats, which they swivel toward the window and inch forward before leaning into the bubble-shaped windows that extend outward from the plane, permitting them to see straight down. When the oils from their skin smudge the window, they wipe away the marks with eyeglass cloths.
Advertisement
There are two spotters on either side of the aircraft. They rest their elbows on a padded shelf, their binoculars sitting at arm's reach. A small pocket near each window contains safety manuals, paperwork and a handful of barf bags. On at least one particularly bumpy flight, the crew had to use them.
"It is incredibly fatiguing work," says Flight Lt. Stephen Graham, tactical coordinator for the crew on board a Royal New Zealand Air Force P-3 Orion that has made six sorties into the southern Indian Ocean search zone. "If it's bright and glaring, obviously sunglasses help, but there's only so much you can do."
They don't have to have naturally perfect vision; Graham, for example, sports brown thick-rimmed eyeglasses and acknowledges that his eyesight isn't as good as it once was. But they do need to be able to correct it to 20/20 with contacts or glasses, and they must exhibit excellent attention to detail.
Advertisement
Search and rescue makes up a small part of what Graham's squadron does, and visual spotting is an even smaller subset of that. But everyone on board has had to learn how to do it -- and it's not as simple as most people think. Graham learned as part of a year-long training stint in Canada, further refined his skills during a six-month course in New Zealand and has had ongoing training since.
Crew members have to know what they're doing, because the electronic equipment on board sometimes doesn't.
"The P-3 has a lot of really advanced sensors, and they're really useful in our other roles, but for search and rescue, when you can't guarantee a large or a metallic target, vision is the best that you've got," Graham said at an air base near Perth, Australia.
That's because even the tiniest detail could signify their target -- white objects, anything angular that might be man-made, anything orange -- because aircraft items that are designed to be located are generally yellow or orange. Some of the seaweed in the search area is bright orange, causing hearts to briefly race when it comes into view.
"When your eyes sit at a single focus, they do seem to lock into that and it's very easy to glaze over and start missing things," Graham says. "So one of the things we're trained to do is just shift your focal point -- so look at the wing tip or look inside just for half a second and then out again, and try and keep your mind active."
The weather further complicates their jobs. When it's calm and the seas are glassy, anything unusual is easy to spot. When the wind is up and the waves are high, the added motion and color from the whitecaps are a distraction. The speed of the aircraft, too, means there is little time to verify what an object is before it has slipped from view.
The job can be tedious, but then there's an unbeatable rush of adrenaline when they catch a glimpse of something below. Chatter picks up pace and volume. Hearts pound.
"Thinking about that is what keeps you going over what can be really, really long and quite dull missions at times," Graham says. "Is it going to be behind this next wave?"
The search for Flight MH370 remains a huge, complex mission, but for Graham, it's not an impossible one. His crew has hunted for tiny targets across massive areas before. And sometimes in the haystack, the needle emerges.
"You might be looking for a single canoe in the vastness of the Pacific, and we do find them," he says. "So there is always hope."